Abstract
Avian mixed-species flocks are a dominant feature of tropical moist forests, yet their cost–benefit balance and habitat dependence in Africa are not fully documented. We recorded the composition of mixed-species bird flocks in a pristine Afrotropical lowland forest site in Salonga NP, DRC. Our data showed that at least four types of flock existed, one of which specialized on edge habitats. We used multivariate analyses to further characterize edge effect on the most documented mixed-species flock type and found a significant effect on flock composition. While neither species guild nor preferential foraging stratum played an important role in flock participation, the nucleus role was played by a different species at the edge and in the interior, and both species abundance and associations were habitat-dependant, suggesting "domino effects" on the structure of mixed-species flocks.
Access options
Buy single article
Instant access to the full article PDF.
US$ 39.95
Tax calculation will be finalised during checkout.
Subscribe to journal
Immediate online access to all issues from 2019. Subscription will auto renew annually.
US$ 79
Tax calculation will be finalised during checkout.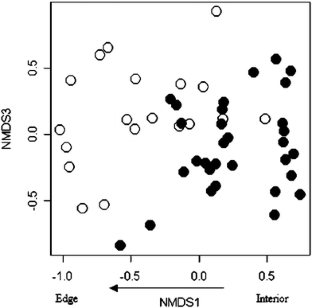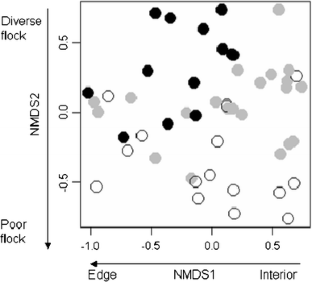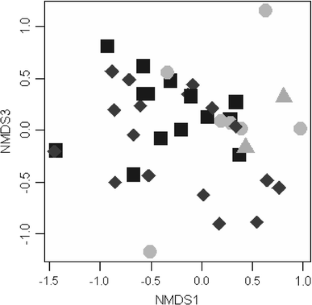 References
Achard F, Eva HD, Stibig HJ, Mayaux P, Gallego J, Richards T, Malingreau JP (2002) Determination of deforestation rates of the world's humid tropical forests. Science 297:999–1002

Anderson MJ (2001) A new method for non-parametric multivariate analysis of variance. Austral Ecol 26:32–46

Bearzi M (2006) California sea lions use dolphins to locate food. J Mammal 87:606–617

Brosset A and Erard C (1986) The forest birds of North-East Gabon. I. The species, their ecology and behaviour. Rev Ecol, Suppl 3 (in French with English summary)

Brown CR, Brown M (1996) Social foraging 1: natural history, food distribution and mechanisms of information transfer. Coloniality in the Cliff Swallow. University of Chicago Press, Chicago

Chen CC, Hsieh F (2002) Composition and foraging behaviour of mixed-species flocks led by the grey-cheeked Fulvetta in Fushan experimental forest, Taiwan. Ibis 144:317–330

Clark CW, Mangel M (1984) Foraging and flocking strategies—information in an uncertain environment. Am Nat 123:626–641

Cole LC (1949) The measurement of interspecific association. Ecology 30:411–424

Dale S, Mork K, Solvang R, Plumptre AJ (2000) Edge effects on the understorey bird community in a logged forest in Uganda. Conserv Biol 14:265–276

Develey PF, Peres CA (2000) Resource seasonality and the structure of mixed species bird flocks in a coastal Atlantic forest of south-eastern Brazil. J Trop Ecol 16:33–53

Dobbs RC, Martin PR (1998) Migrant bird participation at an army ant swarm in montane Jalisco, Mexico. Wilson Bull 110:293–295

Fruth B, Ilumbe G and Lejoly J (2003) Phytosociology for habitat assessment in the southwestern part of Salonga National Park, DRC. 2003 Bonobo workshop: behaviour, ecology and conservation of wild bonobos. In: Thompson J, Hohmann G, Furuichi T (eds). Inuyama, Japan, Kyoto Univ Primate Res Inst., pp 10–11

Fry CH, Keith S (2000) Picathartes to Oxpeckers: the birds of Africa, vol 6. Academic Press, London

Fry CH, Keith S (2004) Sparrows to Buntings: the birds of Africa, vol 7. Christopher Helm, London

Fry CH, Keith S, Urban EK (1988) Parrots to Woodpeckers: the birds of Africa, vol 3. Academic Press, London

Giraldeau LA (1984) Group foraging—the skill pool effect and frequency-dependent learning. Am Nat 124:72–79

Goodale E, Kotagama SW (2006) Vocal mimicry by a passerine bird attracts other species involved in mixed-species flocks. Anim Behav 72:471–477

Hamilton WD (1971) Geometry for selfish herd. J Theor Biol 31:295–311

Hart PJ, Freed LA (2003) Structure and dynamics of mixed-species flocks in a Hawaiian rain forest. Auk 120:82–95

Herrera CM (1979) Ecological aspects of heterospecific flocks formation in a Mediterranean passerine bird community. Oikos 33:85–96

Hino T (1998) Mutualistic and commensal organization of avian mixed-species foraging flocks in a forest of western Madagascar. J Avian Biol 29:17–24

Hohmann G and Fruth B (2003) Lui Kotal—a new site for field research on Bonobos in the Salonga National Park. Pan Africa News 10(2): 25–27. Available online at http://mahale.web.infoseek.co.jp/PAN/10_2/contents.html

Hutto RL (1994) The composition and social-organization of mixed-species flocks in a tropical deciduous forest in Western Mexico. Condor 96:105–118

Jullien M, Clobert J (2000) The survival value of flocking in neotropical birds: reality or fiction? Ecology 81:3416–3430

Jullien M, Thiollay JM (1998) Multi-species territoriality and dynamic of neotropical forest understorey bird flocks. J Anim Ecol 67:227–252

Keith S, Urban EK, Fry CH (1992) Broadbills to Chats: the birds of Africa, vol 4. Academic Press, London

King DI, Rappole JH (2000) Winter flocking of insectivorous birds in montane pine-oak forests in Middle America. Condor 102:664–672

King DI, Rappole JH (2001) Mixed species bird flocks in dipterocarp forest of north central Burma (Myanmar). Ibis 143:380–390

Korb J, Salewski V (2000) Predation on swarming termites by birds. Afr J Ecol 38:173–174

Kotagama SW, Goodale E (2004) The composition and spatial organisation of mixed-species flocks in a Sri Lankan rainforest. Forktail 20:63–70

Latta SC, Wunderle JM (1996) The composition and foraging ecology of mixed-species flocks in pine forests of Hispaniola. Condor 98:595–607

Lazarus J (1979) Early warning function of flocking in birds–experimental study with captive Quelea. Anim Behav 27:855–865

Lee TM, Soh MCK, Sodhi N, Koh LP, Lim SLH (2005) Effects of habitat disturbance on mixed species bird flocks in a tropical sub-montane rainforest. Biol Conserv 122:193–204

Lukoschek V and McCormick MI (2002) A review of multi-species foraging associations in fishes and their ecological significance. Proceedings of the 9th international coral reef symposium, pp 467–474

Maldonado-Coelho M, Marini MA (2004) Mixed-species bird flocks from Brazilian Atlantic forest: the effects of forest fragmentation and seasonality on their size, richness and stability. Biol Conserv 116:19–26

Maurer BA (1984) Interference and exploitation in bird communities. Wilson Bull 96:380–395

McCune B, Grace JB (2002) Analysis of ecological communities. Mjm Software Design, OR

Mielke PW, Berry KJ (2001) Permutation methods: distance function approach. Springer Series in Statistics. New York, USA

Morse DH (1970) Ecological aspects of some mixed-species foraging flocks of birds. Ecol Monogr 40:119–168

Moynihan M (1962) The organisation and probable evolution of some mixed-species flocks of Neotropical birds. Smithsonian Miscellaneous Collections 1437

Munn CA (1986) Birds that cry wolf. Nature 319:143–145

Munn CA, Terborgh JW (1979) Multispecies territoriality in Neotropical foraging flocks. Condor 81:338–347

Németh Z, Moore FR (2007) Unfamiliar stopover sites and the value of social information during migration. J Ornithol 148(Suppl. 2):S369–S376

Oksanen J, Kindt R, Legendre P, O'Hara B, Henry M, Stevens H (2007) vegan: Community Ecology Package. R package version 1.8–8. http://cran.r-project.org/, http://r-forge.r-project.org/projects/vegan/

Pomara LY, Cooper RJ, Petit LJ (2007) Modelling the flocking propensity of passerine birds in two Neotropical habitats. Oecologia 153:121–133

Poulsen BO (1996a) Structure, dynamics and home-range of two mixed species flocks and species composition in a montane Alder dominated secondary forest in Ecuador. J Trop Ecol 12:333–343

Poulsen BO (1996b) Relationships between frequency of mixed-species of mixed-species flocks, weather and insect activity in a montane cloud forest, Ecuador. Ibis 138:466–470

Powell GVN (1989) On the possible contribution of mixed species flocks to species richness in Neotropical avifaunas. Behav Ecol Sociobiol 24:387–393

R Development Core Team (2005) R: A language and environment for statistical computing. R Foundation for Statistical Computing, Vienna, Austria. ISBN 3-900051-07-0, http://www.R-project.org

Stensland E, Angerbjorn A, Berggren P (2003) Mixed species groups in mammals. Mammal Rev 33:205–223

Stouffer PC, Bierregaard RO (1995) Use of Amazonian forest fragments by understory insectivorous birds. Ecology 76:2429–2445

Stratford JA, Stouffer PC (1999) Local extinctions of terrestrial insectivorous birds in a fragmented landscape near Manaus, Brazil. Conserv Biol 13:1416–1423

Tabachnik BG, Fidell LS (1989) Using multivariate statistics. Allyn & Bacon, New York

Thiollay JM (1999) Frequency of mixed species flocking in tropical forest birds and correlates of predation risk: an intertropical comparison. J Avian Biol 30:282–294

Thomson RL, Ferguson JWH (2007) Composition and foraging behaviour of mixed-species flocks in two adjacent African woodland habitats: a spatial and temporal perspective. Ostrich 78(1):65–73

Urban EK, Fry CH, Keith S (1997) Thrushes to Puffbacks, Flycatchers: the birds of Africa, vol 5. Academic Press, London

Waite TA, Grubb TC (1988) Copying of foraging locations in mixed-species flocks of temperate-deciduous woodland birds—an experimental study. Condor 90:132–140

Weber W, White L, Naughton-Treves L, Vedder A (eds) (2001) African rain forest ecology and conservation: an interdisciplinary perspective. Yale University Press, New Haven
Acknowledgments
G.P. thanks G. Hohmann, leader of the project Lui Kotal, and the Max-Planck-Institute for Evolutionary Anthropology for having allowed him access to the research site. We are grateful for the helpful comments of reviewers of a previous draft of this article.
Additional information
Communicated by J. Fjieldså.
Appendices
Appendix 1
Appendix 2
About this article
Cite this article
Péron, G., Crochet, PA. Edge effect and structure of mixed-species bird flocks in an Afrotropical lowland forest. J Ornithol 150, 585–599 (2009). https://doi.org/10.1007/s10336-009-0376-4
Received:

Revised:

Accepted:

Published:

Issue Date:
Keywords
Flock size

Heterospecific

Multi-species

Mutualism

Salonga