Abstract
The "body size hypothesis" predicts that if individuals of a population migrate different distances from the breeding to the wintering grounds, the distance should be related to the differential ability to cope with adverse conditions, with larger individuals wintering further north. Data collected over a 40-year period in Essex, UK and the Camargue, southern France, revealed that the average body mass of Teal ringed in Essex during these years was actually not greater than that of Teal ringed in the Camargue. A higher proportion of males were included in the UK ringing catch than in the French catch, but we found no support for the body size hypothesis to explain such differential migration of the sexes.
Access options
Buy single article
Instant access to the full article PDF.
US$ 39.95
Tax calculation will be finalised during checkout.
Subscribe to journal
Immediate online access to all issues from 2019. Subscription will auto renew annually.
US$ 79
Tax calculation will be finalised during checkout.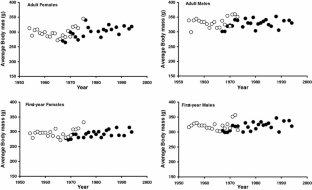 References
Alerstam T, Hedenström A (1998) The development of bird migration theory. J Avian Biol 29:343–369

Bennett JW, Bolen EG (1978) Stress response in wintering green-winged Teal. J Wildl Manage 42:81–86

Campredon P (1983) Sexe et âge ratios chez le canard siffleur Anas penelope L. en période hivernale en Europe de l'Ouest. Rev Ecol (Terre Vie) 37:117–128

Carbone C, Owen M (1995) Differential migration of the sexes of Pochard Aythya ferina: results from a European survey. Wildfowl 46:99–108

Catry P, Lecoq M, Arujo A, Conway G, Felgueiras M, King JMB, Rumsey S, Salima H, Tenreiro P (2005) Differential migration of chiffchaffs Phylloscopus collybita and P. ibericus in Europe and Africa. J Avian Biol 36:184–190

Cristol DA, Everts DC (1992) Dominance status and latitude are unrelated in wintering dark-eyed juncos. Condor 94:539–542

Cristol DA, Baker MB, Carbone C (1999) Differential migration revisited. Latitudinal segregation by age and sex class. In: Nolan V Jr, Ketterson ED, Tompson CF (eds) Current ornithology, vol 15. Kluwer, New York, pp 33–88

Gauthreaux SA Jr (1982) The ecology and evolution of avian migration systems. In: Franer DS, King JR, Parkes KC (eds) Avian biology, vol 6. Academic Press, New York, pp 93–168

Guillemain M, Mondain-Monval JY, Johnson AR, Simon G (2005a) Long-term climatic trend and body size variation in Teal Anas crecca. Wildl Biol 11:81–88

Guillemain M, Sadoul N, Simon G (2005b) European flyway permeability and abmigration in Teal (Anas crecca), an analysis based on ringing recoveries. Ibis 147:688–696

Guillemain M, Fritz H, Johnson AR, Simon G (2007) What type of lean ducks do hunters kill? Weakest local ones rather than migrants. Wildl Biol 13:102–107

Guillemain M, Hearn R, King R, Gauthier-Clerc M, Simon G, Caizergues A (2009) Comparing migration of Teal from two main wintering areas of Western Europe: a long term study from Essex, England, and Camargue, France. Ringing Migr (in press)

Haramis GM, Derleth EL, Link WA (1994) Flock size and sex ratios of canvasbacks in Chesapeake Bay and North Carolina. J Wildl Manage 58:123–131

Hepp GR, Hair JD (1984) Dominance in wintering waterfowl (Anatini): effects on distribution of sexes. Condor 86:251–257

Jenkins KD, Cristol DA (2002) Evidence of differential migration by sex in white-throated sparrows (Zonotrichia albicollis). Auk 119:539–543

Ketterson ED, Nolan V Jr (1976) Geographic variation and its climatic correlates in the sex ratio of Eastern-wintering dark-eyed juncos (Junco hyemalis hyemalis). Ecology 57:679–693

Kokko H, Gunnarsson TG, Morrell LJ, Gill JA (2006) Why do female migratory birds arrive later than males? J Anim Ecol 75:1293–1303

Lebret T (1950) The sex-ratios and the proportion of adult drakes of Teal, Pintail, Shoveler and Wigeon in The Netherlands, based on field counts made during autumn, winter and spring. Ardea 38:1–18

Mitchell C, Fox AD, Harradine J, Clausager I (2008) Measures of annual breeding success amongst Eurasian wigeon Anas penelope. Bird Study 55:43–51

Myers JP (1981) A test of the three hypotheses for latitudinal segregation of the sexes in wintering birds. Can J Zool 59:1527–1534

Nichols JD, Haramis GM (1980) Sex-specific differences in winter distribution patterns of canvasbacks. Condor 82:406–416

O'Hara PD, Fernandez G, Haase B, De la Cueva H, Lank DB (2006) Differential migration in Western sandpipers with respect to body size and wing length. Condor 108:225–232

Ogilvie MA (1983) A migration study of the Teal (Anas crecca) in Europe using ringing recoveries. PhD thesis. University of Bristol, Bristol

Owen M (1996) Review of the migration strategies of the Anatidae: challenges for conservation. Game Wildl 13:123–139

Perdeck AC, Clason C (1983) Sexual differences in migration and winter quarters of ducks ringed in The Netherlands. Wildfowl 34:137–143

Petrides GA (1944) Sex ratios in ducks. Auk 61:564–571

Prescott DRC (1994) Intraspecific and geographical trends in body size of a differential migrant, the evening grosbeak. Auk 111:693–702

Ridgill SC, Fox AD (1990) Cold weather movements of waterfowl in Western Europe. IWRB Special Pub. 13. International Waterfowl Research Bureau (IWRB), Slimbridge

Rohwer FC, Anderson MG (1988) Female-biased philopatry, monogamy, and the timing of pair formation in migratory waterfowl. In: Johnston RF (ed) Current ornithology, vol 5. Plenum Press, New York, pp 187–221

Scott DA, Rose PM (1996) Atlas of Anatidae populations in Africa and western Eurasia. Wetlands International publication 41. Wetlands International, Wageningen

Smith HG, Nilsson JA (1987) Intraspecific variation in migratory pattern of a partial migrant, the blue tit (Parus caeruleus): an evaluation of different hypotheses. Auk 104:109–115

Terrill SB, Able KP (1988) Bird migration terminology. Auk 105:205–206

Väänänen VM (2000) Waterfowl, an international game resource (in Finnish). In: Nummi P, Väänänen VM (eds) Game management. Metsälehti krustannus, Hämeenlinna

Wolff WJ (1966) Migration of Teal ringed in The Netherlands. Ardea 54:230–270
Acknowledgments
We would like to thank Baz Hughes and two anonymous referees for valuable comments on an earlier version of the manuscript. We are most grateful to Luc Hoffmann, Hubert Kowalski, Heinz Hafner, Alan Johnson and the many other individuals who ringed the Teal at the Tour du Valat over 25 years, and to George Brown and Graham Ekins who continued the ringing at Abberton during the 1990s. We would especially like to thank Marc Lutz, Paul Isenmann and the Centre de Recherche sur la Biologie des Populations d'Oiseaux (Muséum National d'Histoire Naturelle, Paris) for their help while computerizing the French Teal database. This work was partly funded by the French "Agence Nationale de la Recherche" (ANR) "Santé-Environnement/Santé au travail", the "European Union's Framework Program for Research and Technological Development (FP6)".
Additional information
Communicated by F. Bairlein.
About this article
Cite this article
Guillemain, M., Hearn, R., King, R. et al. Differential migration of the sexes cannot be explained by the body size hypothesis in Teal. J Ornithol 150, 685 (2009). https://doi.org/10.1007/s10336-009-0375-5
Received:

Revised:

Accepted:

Published:
Keywords
Age ratio

Anas crecca

Body mass

Differential migration

Sex ratio

Teal

Winter