Abstract
Parasites can have strong effects on host life-history and behaviour, and result in changes in host population dynamics and community structure. We applied a PCR-based technique and examined prevalence of malaria and related haemosporidian parasites in two arctic breeding shorebird species: the Semipalmated Sandpiper (Calidris pusilla) and the Pectoral Sandpiper (C. melanotos). During the non-breeding season, Semipalmated Sandpipers inhabit coastal marine habitats, whereas Pectoral Sandpipers are found in inland areas. In accordance with the hypothesis that the risk of parasite infection is higher in a species wintering in freshwater areas, we found Plasmodium sp. infection during the breeding season only in Pectoral Sandpipers, whereas Semipalmated Sandpipers were parasite free. However, even in Pectoral Sandpipers sampled in the arctic, prevalence of malaria parasites was very low (<3% of individuals, n = 114). Overall, three different Plasmodium sp. lineages were found, one of which has never been described before.
We're sorry, something doesn't seem to be working properly.
Please try refreshing the page. If that doesn't work, please contact support so we can address the problem.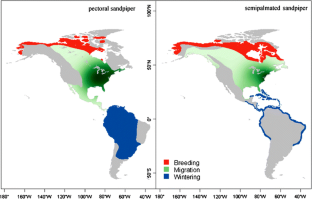 References
Ashkenazie S, Safriel UN (1979) Breeding cycle and behavior of the semipalmated sandpiper at Barrow, Alaska. Auk 96:56–67

Baddeley A, Turner R (2005) Spatstat: an R package for analyzing spatial point patterns. J Stat Softw 12:1–42

Beadell JS, Ishtiaq F, Covas R, Melo M, Warren BH, Atkinson CT, Bensch S, Graves GR, Jhala YV, Peirce MA, Rahmani AR, Fonseca DM, Fleischer RC (2006) Global phylogeographic limits of Hawaii's avian malaria. Proc R Soc Lond B 273:2935–2944

Bensch S, Waldenström J, Jonzen N, Westerdahl H, Hansson B, Sejberg D, Hasselquist D (2007) Temporal dynamics and diversity of avian malaria parasites in a single host species. J Anim Ecol 76:112–122

Borg K (1992) Blood parasites and their modes of spread among birds. Ornis Svec 2:45–54

Cardona JC, Ihejirika A, McClellan L (2002) Haemoproteus lophortyx infection in bobwhite quail. Avian Dis 46:249–255

del Hoyo J, Elliott A, Sargatal J (eds) (1996) Handbook of birds of the world, vol 3. Hoatzin to Auks. Lynx, Barcelona

Durrant LK, Beadell SJ, Istiaq F, Graves RG, Olson LS, Gering E, Peirce AM, Milensky CM, Schmidt KB, Gebhard C, Fleischer RC (2006) Avian hematozoa in South America: a comparison of temperate and tropical zones. Ornithol Monogr 60:98–111

Earlé RA, Underhill LG (1993) Absence of haematozoa in some Charadriiformes breeding in the Taimyr Peninsula, Russia. Ardea 81:21–24

Figuerola J (1999) Effects of salinity on rates of infestation of waterbirds by haematozoa. Ecography 22:681–685

Forde SE, Thompson JN, Bohannan BJM (2004) Adaptation varies through space and time in a coevolving host–parasitoid interaction. Nature 431:841–844

Garvin MC, Remsen JV (1997) An alternative hypothesis for heavier parasite loads of brightly colored birds: exposure at the nest. Auk 114:179–191

Gomulkiewicz R, Thompson JN, Holt RD, Nuismer SL, Hochberg ME (2000) Hot spots, cold spots, and the geographic mosaic theory of coevolution. Am Nat 156:156–174

Hall TA (1999) BioEdit: a user-friendly biological sequence alignment editor and analysis program for Windows 95/98/NT. ver. 6.0.6. Nucleic Acids Symp Ser, pp 95–98

Hellgren O (2005) The occurrence of haemosporidin parasites in the Fennoscandian bluethroat (Luscinia svecica) population. J Ornithol 146:55–60

Hellgren O, Waldenström J, Bensch S (2004) A new PCR assay for simultaneous studies of Leucocytozoon, Plasmodium and Haemoproteus from avian blood. J Parasitol 90:797–802

Hellgren O, Krizanauskiene A, Valkiunas G, Bensch S (2007a) Diversity and phylogeny of mitochondrial cytochrome b lineages from six morphospecies of avian Haemoproteus Haemosporida Haemoproteidae. J Parasitol 93:889–896

Hellgren O, Waldenström J, Peréz-Tris J, Szöllősi E, Hasselquist D, Krizanauskiene A, Ottosson U, Bensch S (2007b) Detecting shifts of transmission areas in avian blood parasites—a phylogenetic approach. Mol Ecol 16:1281–1290

Holmes R, Pitelka FA (1998) Pectoral sandpiper (Calidris melanotus). In: Poole A, Gill F (eds) The birds of North America, no. 348. The Birds of North America, Philadelphia

Ishtiaq F, Gering E, Rappole JH, Rahmani AR, Jhala YV, Dove CJ, Melinsky C, Olson SL, Peirce MA, Fleischer RC (2007) Prevalence and diversity of avian hematozoan parasites in Asia: a regional survey. J Wildl Dis 43:382–398

Krone O, Waldenström J, Valkiūans G, Lessow O, Müller K, Lezhova TA, Fickel J, Bensch S (2008) Haemosporidian blood parasites (Haemosporida, Haemoproteidae) in European birds of prey and owls. J Parasitol 94:709–715

Mendes L, Piersma T, Lecoq M, Spaans B, Ricklefs RE (2005) Disease-limited distributions? Contrasts in the prevalence of avian malaria in shorebird species using marine and freshwater habitats. Oikos 109:396–404

Morgan AD, Gandon S, Buckling A (2005) The effect of migration on local adaptation in a coevolving host–parasite system. Nature 437:253–256

Myers JP, Myers LP (1979) Shorebirds of coastal Buenos Aires Province, Argentina. Ibis 121:186–200

Parker TAIII, Parker SA, Plenge MA (1982) An annotated checklist of Peruvian birds. Buteo Books, Vermillion

Perkins SL, Schall JJ (2002) A molecular phylogeny of malarial parasites recovered from cytochrome b gene sequences. J Parasitol 88:972–978

Peirce MA (1981) Distribution and host–parasite check-list of the haematozoa of birds in western Europe. J Nat Hist 15:419–458

Piersma T (1997) Do global patterns of habitat use and migration strategies co-evolve with relative investments in immunocompetence due to spatial variation in parasite pressure? Oikos 80:623–631

Piersma T (2003) "Coastal" versus "inland"shorebird species: interlinked fundamental dichotomies between their life- and demographic histories? Wader Study Group Bull 100:5

Pérez-Tris J, Bensch S (2005) Dispersal increases local transmission of avian malarial parasites. Ecol Lett 8:838–845

R Development Core Team (2007) R: a language and environment for statistical computing. R Foundation for Statistical Computing, Vienna, Austria. ISBN 3-900051-07-0. http://www.R-project.org

Ridgely RS, TF Allnutt T, Brooks DK, McNicol DW, Mehlman BE, Young, JR, Zook (2007) Digital distribution maps of the birds of the western hemisphere. Version 3.0. NatureServe, Arlington

Seutin G, White BN, Boag PT (1991) Preservation of avian blood and tissue samples for DNA analyses. Can J Zool 69:82–90

Stotz DF, Fitzpatrick JW, Parker TAIII, Moskovits DK (1996) Neotropical birds: ecology and conservation. University of Chicago Press, Chicago

Tella JL, Guillermo B, Foreros MG, Gajo AL, Dona'zar A (1999) Habitat, world geographic range and embryonic development of hosts explain the prevalence of avian hematozoa at small spatial and phylogenetic scales. Proc Natl Acad Sci USA 96:1785–1789

Valkiūnas G (2005) Avian malaria parasites and other haemosporidia, 1st edn. CRC Press, Boca Raton

Waldenström J, Bensch S, Kiboi S, Hasselquist D, Ottosson U (2002) Cross-species infection of blood parasites between resident and migratory songbirds in Africa. Mol Ecol 11:1545–1554

Williams AE (1978) Avian blood parasite studies. In: Green GH, Greenwood ND (eds) Joint biological expedition to north east Greenland 1974. Dundee University N.E. Greenland Expedition, Dundee

Wood MJ, Cosgrove C, Wilkin TA, Knowles SCL, Day KP, Sheldon BC (2007) Within-population variation in prevalence and lineage distribution of avian malaria in blue tits, Cyanistes caeruleus. Mol Ecol 16:3263–3273
Acknowledgments
We are grateful to Rick Lanctot from the USFWS in Anchorage and Glenn Sheehan from the Barrow Arctic Science Consortium in Barrow for logistical support, and Richard E. Johnson and Holger Schielzeth for valuable comments. The study was supported financially by the Max Planck Society, the Swedish Research Council (VR) and the Swedish Research Council for Environment, Agricultural Sciences and Spatial Planning (FORMAS). The study was conducted under a permit of the US Fish and Wildlife Service.
Open Access
This article is distributed under the terms of the Creative Commons Attribution Noncommercial License which permits any noncommercial use, distribution, and reproduction in any medium, provided the original author(s) and source are credited.
Additional information
Communicated by F. Bairlein.
Rights and permissions
Open Access This is an open access article distributed under the terms of the Creative Commons Attribution Noncommercial License (https://creativecommons.org/licenses/by-nc/2.0), which permits any noncommercial use, distribution, and reproduction in any medium, provided the original author(s) and source are credited.
About this article
Cite this article
Yohannes, E., Križanauskienė, A., Valcu, M. et al. Prevalence of malaria and related haemosporidian parasites in two shorebird species with different winter habitat distribution. J Ornithol 150, 287–291 (2009). https://doi.org/10.1007/s10336-008-0349-z
Received:

Revised:

Accepted:

Published:

Issue Date:
Keywords
Avian malaria

Haemosporidian parasites

Shorebirds