Abstract
We studied avian dispersal of seeds from the hemiparasitic mistletoe Plicosepalus acaciae (Loranthaceae) to its tree hosts Acacia raddiana and A. tortilis in the Syrian–African Rift (Arava) valley, Israel. The Yellow-vented Bulbul (Pycnonotus xanthopygos) was the sole avian visitor observed feeding on mistletoe fruits. Bulbuls consumed mistletoe fruits whenever they were available, but the fruits only constituted a significant portion of the diet (71% of foraging attempts) when they were most abundant. These birds are potentially good dispersal vectors of P. acaciae because they swallowed the fruit whole and defecated viable seeds that were covered in a viscid pulp, which allowed the seeds to adhere to substrates when voided. In addition, bulbuls spent a large proportion (66–93%) of total observation time perched in Acacia trees, allowing for directed dispersal. Ephemeral river valleys (wadis) with high mistletoe infection were adjacent to those containing no infections, demonstrating that mistletoe dispersal is common within, but not among wadis. This is consistent with the flight behaviour in bulbuls, which do not typically move among wadis. We combined data on bulbul movements between Acacia trees with transit times of mistletoe seeds to create a hypothetical seed shadow as a function of distance from the parent mistletoe plant. Because they are directed dispersers, the movement patterns of bulbuls may explain the current distribution of P. acaciae in the Arava valley.
Access options
Buy single article
Instant access to the full article PDF.
US$ 39.95
Tax calculation will be finalised during checkout.
Subscribe to journal
Immediate online access to all issues from 2019. Subscription will auto renew annually.
US$ 79
Tax calculation will be finalised during checkout.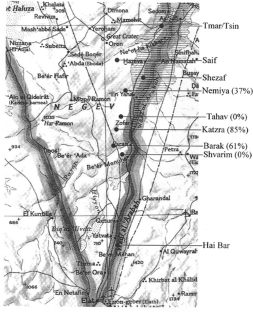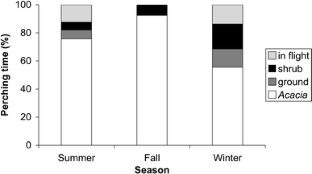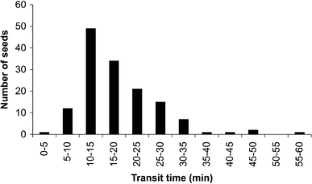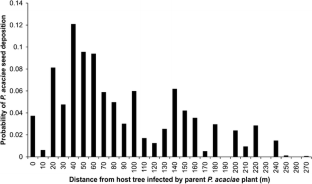 References
Aukema JE, Martínez del Rio C (2002) Where does a fruit-eating bird deposit mistletoe seeds? Seed deposition patterns and an experiment. Ecology 83:3489–3496

Bowie M, Ward D (2004) Water and nutrient status of the mistletoe Plicosepalus acaciae parasitic on isolated Negev Desert populations of Acacia raddiana differing in level of mortality. J Arid Environ 56:487–508. doi:10.1016/S0140-1963(03)00067-3

Denslow JS, Levey DJ, Moermond TC, Wentworth BC (1987) A synthetic diet for fruit-eating birds. Wilson Bull 99:131–134

Halevy G, Orshan G (1972) Ecological studies on Acacia species in the Negev and Sinai: I. Distribution of Acacia raddiana, A. tortilis and A. gerrardii ssp. negevensis as related to environmental factors. Isr J Bot 21:197–208

Howe HF, Smallwood J (1982) Ecology of seed dispersal. Annu Rev Ecol Syst 13:201–228. doi:10.1146/annurev.es.13.110182.001221

Ladley JJ, Kelly D (1996) Dispersal, germination and survival of New Zealand mistletoes (Loranthaceae): dependence on birds. NZ J Ecol 20:69–79

López de Buen L, Ornelas JF (1999) Frugivorous birds, host selection, and the mistletoe Psittacanthus schiedeanus, in central Veracruz, Mexico. J Trop Ecol 15:329–340. doi:10.1017/S0266467499000851

Martínez del Rio C, Silva A, Medel R, Hourdequin M (1996) Seed dispersers as disease vectors: bird transmission of mistletoe seeds to plant hosts. Ecology 77:912–921. doi:10.2307/2265511

Murray GK (1988) Avian seed dispersal of three neotropical gap-dependent plants. Ecol Monogr 58:271–298. doi:10.2307/1942541

O'Donnell CFJ, Dilks PJ (1994) Foods and foraging of forest birds in temperate rainforest, South Westland, New Zealand. NZ J Ecol 18:87–107

Overton JM (1994) Dispersal and infection in mistletoe metapopulations. J Ecol 82:711–723. doi:10.2307/2261437

Paz U (1987) The birds of Israel. Ministry of Defense, Tel-Aviv

Reid N (1989) Dispersal of mistletoes by honeyeaters and flowerpeckers: components of seed dispersal quality. Ecology 70:137–145. doi:10.2307/1938420

Reid N (1991) Coevolution of mistletoes and frugivorous birds. Aust J Ecol 16:457–469. doi:10.1111/j.1442-9993.1991.tb01075.x

Reid N, Stafford-Smith M (2000) Population dynamics of an arid zone mistletoe (Amyema preissii, Loranthaceae) and its host Acacia victoriae (Mimosaceae). Aust J Bot 48:45–58. doi:10.1071/BT97076

Robertson AW, Trass A, Ladley JJ, Kelly D (2006) Assessing the benefits of frugivory for seed germination: the importance of the deinhibition effect. Funct Ecol 20:58–66. doi:10.1111/j.1365-2435.2005.01057.x

Rödl T, Ward D (2002) Host recognition in a desert mistletoe: early stages of development are influenced by substrate and host origin. Funct Ecol 16:128–134. doi:10.1046/j.0269-8463.2001.00592.x

Shirihai H (1996) The birds of Israel. Academic, London

Shrestha MK, Golan-Goldhirsh A, Ward D (2002) Population genetic structure and the conservation of isolated populations of Acacia raddiana in the Negev desert. Biol Conserv 108:119–127. doi:10.1016/S0006-3207(02)00100-3

Todt H, Breckle S-W, Veste M (2000) The mistletoe Loranthus acaciae (Loranthaceae) on halophytic and non-halophytic hosts in the southern Arava-Valley (Israel). In: Breckle S-W (ed) I Schimper symposium—Ergebnisse weltweiter Forschung. Verlag Gunter Heimbach, Stuttgart, pp 475–480

Vaknin Y, Yom Tov Y, Eisikowitch D (1996) Flowering seasonality and flower characteristics of Loranthus acaciae Zucc. (Loranthaceae): implications for advertisement and bird-pollination. Sex Plant Reprod 9:279–285. doi:10.1007/BF02152703

Ward D, Shrestha MK, Musli I (2006) Are invasive mistletoes killing Ziziphus spina-christi? Isr J Plant Sci 54:113–117. doi:10.1560/IJPS_54_2_113

Watson DM (2001) Mistletoe—a keystone resource in forests and woodlands worldwide. Annu Rev Ecol Syst 32:219–249. doi:10.1146/annurev.ecolsys.32.081501.114024

Wenny DG (2001) Advantages of seed dispersal: a re-evaluation of directed dispersal. Evol Ecol Res 3:51–74

Wheelwright NT, Orians GH (1982) Seed dispersal by animals: contrasts with pollen dispersal, problems of terminology, and constraints on coevolution. Am Nat 119:402–413. doi:10.1086/283918
Acknowledgements
We thank Thomas Rödl and Iris Musli for assistance with many aspects of this research and Berry Pinshow for the use of his laboratory. Financial assistance came from Keren Keyemet L'Israel and DISUM grant 00046A from the German Ministry of Environmental Affairs and the Israeli Ministry of Science to D. Ward, Sigma Xi and NSF pre-doctoral fellowships to A.K. Green, and a Claude Leon Foundation postdoctoral fellowship to M.E. Griffiths.
Additional information
Communicated by T. Friedl.
About this article
Cite this article
Green, A.K., Ward, D. & Griffiths, M.E. Directed dispersal of mistletoe (Plicosepalus acaciae) by Yellow-vented Bulbuls (Pycnonotus xanthopygos). J Ornithol 150, 167–173 (2009). https://doi.org/10.1007/s10336-008-0331-9
Received:

Revised:

Accepted:

Published:

Issue Date:
Keywords
Directed dispersal

Foraging behaviour

Frugivory

Negev desert

Seed shadow

Transit time