Abstract
While habitat destruction is thought to be the most important reason for the decline of the Wryneck Jynx torquilla throughout Europe, it has been hypothesised that weather factors may also play a crucial role. We studied the impact of variations in ambient temperature and rainfall on feeding behaviour, nestling growth and daily brood survival probabilities in a population from the Swiss Alps. We recorded the frequency of food provisioning and measured nestlings' growth on 6 days at 17 nests, and monitored the success of 181 broods from 2002 to 2006. The mean feeding frequency was 7.9 feedings per hour, and increased with temperature and with nestling age. Changes of body mass, tarsus length and of the 8th primary feather were not strongly influenced by temperature and rainfall. Body growth was negatively influenced by the initial size of the different body measures towards the end of the growing phase of the corresponding body measure, pointing towards compensatory growth. Daily brood survival probabilities declined in the course of the season and with increasing rainfall, and they increased with increasing temperature and with increasing nestling age. Our findings highlight that the effects of adverse weather on feeding behaviour, nestling growth and nest survival in Wrynecks are complex, as they alter with the age of the nestlings and possibly with the duration of the adverse weather events.
Access options
Buy single article
Instant access to the full article PDF.
US$ 39.95
Tax calculation will be finalised during checkout.
Subscribe to journal
Immediate online access to all issues from 2019. Subscription will auto renew annually.
US$ 79
Tax calculation will be finalised during checkout.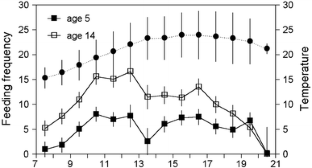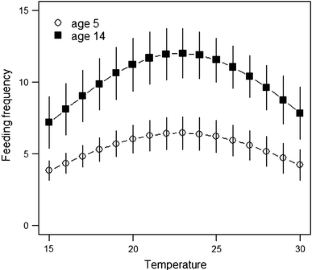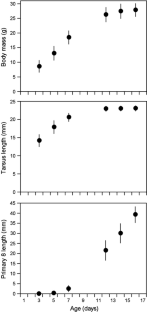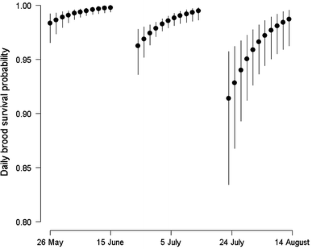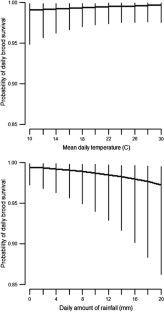 References
Anderson KE, Munger JC (2003) Effect of temperature on brood relocation in Pogonomyrmex salinus (Hymenoptera: Formicidae). West N Am Nat 63:122–128

Bitz A, Rohe W (1992) Der Einfluss der Witterung auf den Nahrungseintrag des Wendehalses (Jynx torquilla). Beitr Landespf Rheinland-Pfalz 15:575–591

Bitz A, Rohe W (1993) Nahrungsökologische Untersuchungen am Wendehals (Jynx torquilla) in Rheinland-Pfalz. Beih Veröff Naturschutz u Landschaftspflege Baden-Württ 67:83–100

Burnham KP, Anderson DR (2002) Model selection and multimodel inference. Springer, New York

Dinsmore SJ, White GC, Knopf FL (2002) Advanced techniques for modeling avian nest survival. Ecology 83:3476–3488

Ehrenbold S (2004) Habitat suitability modelling and components of reproductive success in the Wryneck Jynx torquilla. Master thesis, University of Bern, Switzerland

Freitag A (1996) Le régime alimentaire du Torcol fourmilier (Jynx torquilla) en Valais (Suisse). Nos Oiseaux 43:497–512

Freitag A (1998) Analyse de la disponibilité spatio-temporelle des fourmis et des stratégies de fourragement du torcol fourmilier (Jynx torquilla L.). PhD thesis, Université de Lausanne, Switzerland

Freitag A, Martinoli A, Urzelai J (2001) Monitoring the feeding activity of nesting birds with an autonomous system: case study of the endangered Wryneck Jynx torquilla. Bird Study 48:102–109

Glutz von Blotzheim UN, Bauer KM (1980) Handbuch der Vögel Mitteleuropas. Bd. 9. Columbiformes—Piciformes. Akademische Verlagsgesellschaft, Wiesbaden

Hafner H, Dugan PJ, Kersten M, Pineau O, Wallace JP (1993) Flock feeding and food-intake in little egrets Egretta garzetta and their effects on food provisioning and reproductive success. Ibis 135:25–32

Hölzinger J (1992) Zur Nestlingsnahrung des Wendehalses (Jynx torquilla). Beih Veröff Naturschutz u Landschaftspflege Baden-Württ 66:47–50

Keller LF, van Noordwijk AJ (1994) Effects of local environmental conditions on nestling growth in the great tit Parus major L. Ardea 82:349–362

Lepczyk CA, Karasov WH (2000) Effect of ephemeral food restriction on growth of house sparrows. Auk 117:164–174

Menzel H (1968) Der Wendehals (Jynx torquilla). Ziemsen, Wittenberg

Monk JF (1963) The past and present status of the Wryneck in the British Isles. Bird Study 10:112–132

Nagy LR, Holmes RT (2004) Factors influencing fecundity in migratory songbirds: is nest predation the most important? J Avian Biol 35:487–491

Pranschke AM, Hooper-Bùi LM (2003) Influence of abiotic factors on red imported fire ant (Hymenoptera: Formicidae) mound population ratings in Louisiana. Environ Entomol 32:204–207

R Development Core Team. 2004. R: a language and environment for statistical computing. R Foundation for Statistical Computing, Vienna

Radford AN, McCleery RH, Woodburn RJW, Morecroft MD (2001) Activity patterns of parent Great Tits Parus major feeding their young during rainfall. Bird Study 48:214–220

Sæther BE, Bakke O (2000) Avian life history variation and contribution of demographic traits to the population growth rate. Ecology 81:642–653

Sæther BE, Engen S, Möller AP, Matthysen E, Adriaensen F, Fiedler W, Leivits A, Lambrechts MM, Visser ME, Anker-Nilssen T, Both C, Dhondt AA, McCleery RH, McMeeking J, Potti J, Röstad OW, Thomson D (2003) Climate variation and regional gradients in population dynamics of two hole-nesting passerines. Proc R Soc Lond B 270:2397–2404

Sæther BE, Sutherland WJ, Engen S (2004) Climate influences on avian population dynamics. Adv Ecol Res 35:185–209

Schaub M, Kania W, Köppen U (2005) Variation of primary production during winter induces synchrony in survival rates in migratory white storks Ciconia ciconia. J Anim Ecol 74:656–666

Scherner ER (1989) Wendehals und Populationsbiologie—der "Vogel des Jahres 1988" und die Pflicht zur Forschung. Laufener Seminarbeitr 3/89:24–39

Seifert B (1996) Ameisen: beobachten, bestimmen. Naturbuch, Augsburg

Siikamäki P (1996) Nestling growth and mortality of Pied Flycatchers Ficedula hypoleuca in relation to weather and breeding effort. Ibis 138:471–478

Stearns SC (1992) The evolution of life histories. Oxford University Press, Oxford

Sutter E (1941) Beitrag zur Kenntnis der postembryonalen Entwicklung des Wendehalses (Jynx t. torquilla L.). Schweiz Archiv Ornithol 1:481–508

Tomialojc L (1994) Wryneck. In: Tucker MG, Heath MF (eds) Birds in Europe: their conservation status. BirdLife International, Cambridge, pp 342–343

Veistola S, Lehikoinen E, Eeva T (1997) Weather and breeding success at high latitudes—the Pied Flycatcher Ficedula hypoleuca and the Siberian Tit Parus cinctus. Ornis Fenn 74:89–98

Walther GR, Post E, Convey P, Menzel A, Parmesan C, Beebee TJC, Fromentin JM, Hoegh-Guldberg O, Bairlein F (2002) Ecological responses to recent climate change. Nature 416:389–395

White GC, Burnham KP (1999) Program MARK—survival estimation from populations of marked animals. Bird Study 46:120–139
Acknowledgments
We like to thank Samuel Ehrenbold, Jacques Laesser, Fabio Leippert, Paul Mosimann, Thomas Reichlin, Antoine Sierro, Aline Tagmann-Ioset and Nadja Weisshaupt for assistance in the field, Louis-Felix Bersier for renting us the video equipment, and Thomas Friedl and two reviewers for valuable comments on the manuscript. The field-work was performed respecting Swiss laws and with the necessary licences.
Additional information
Communicated by T. Friedl.
Electronic supplementary material
Below is the link to the electronic supplementary material.
About this article
Cite this article
Geiser, S., Arlettaz, R. & Schaub, M. Impact of weather variation on feeding behaviour, nestling growth and brood survival in Wrynecks Jynx torquilla . J Ornithol 149, 597–606 (2008). https://doi.org/10.1007/s10336-008-0305-y
Received:

Revised:

Accepted:

Published:

Issue Date:
Keywords
Compensatory growth

Feeding frequency

Nest survival

Temperature

Rainfall