Abstract
The diurnal pattern of foraging behaviour in birds is commonly linked to the risk of starvation and predation. During the breeding season, when offspring place additional demands on the quantity of food adults need to collect, diurnal foraging patterns may be influenced to a greater extent by food availability because adults need to balance starvation–predation risks not only for themselves but also their offspring. We used data-loggers to measure diurnal variation in rates of nest visits to 7- to 10-day-old nestlings of the insectivorous Northern Wheatear Oenanthe oenanthe in Swedish farmland habitat. Adults provisioned the nestlings with food for an average 19.5 h each day (n = 11 pairs), with visitation rates sharply increasing during the morning, remaining relatively stable between 0800 and 1700 hours, and then declining in the evening. This pattern is similar to daily temperature fluctuations and is consistent with the hypothesis that nest visit rates are a function of temperature-dependent prey availability. Higher rates of nest visits on warm days support this correlation between temperature and offspring feeding. However, without data on the rate of self-feeding by adults it is difficult to distinguish between patterns of nest visits being driven by food availability, or starvation–predation constraints being imposed on the parents; thus, future studies of patterns of offspring feeding should collect data on the self-feeding behaviour of the adults.
Access options
Buy single article
Instant access to the full article PDF.
US$ 39.95
Tax calculation will be finalised during checkout.
Subscribe to journal
Immediate online access to all issues from 2019. Subscription will auto renew annually.
US$ 79
Tax calculation will be finalised during checkout.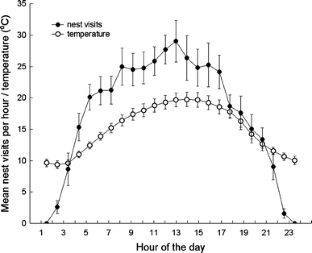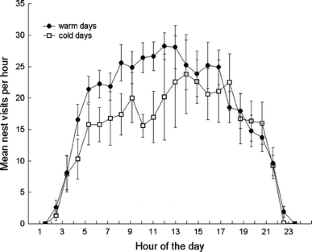 References
Aguilera E (1990) Sexual differences in nest attendance and chick-feeding rhythms of white spoonbills. Ibis 107:416–420

Arlt D, Pärt T (2007) Nonideal breeding habitat selection: a mismatch between preference and fitness. Ecology 88:792–801

Avery MI, Krebs JR (1984) Temperature and foraging success of great tits Parus major hunting for spiders. Ibis 126:33–38

Bednekoff PA, Houston AI (1994) Avian daily foraging patterns: effects of digestive constraints and variability. Evol Ecol 8:36–52

Bergman P, Molau U, Holmgren B (1996) Micrometeorological impacts on insect activity and plant reproductive success in an alpine environment, Swedish Lapland. Arctic Alp Res 28:196–202

Conder P (1989) The wheatear. Christopher Helm, London

Cowie RJ, Hinsley SA (1988) Feeding ecology of great tits (Parus major) and blue tits (Parus caeruleus) breeding in suburban gardens. J Anim Ecol 57:611–626

Duncan Rastogi A, Zanette L, Clinchy M (2006) Food availability affects diurnal nest predation and adult antipredator behaviour in song sparrows, Melospiza melodia. Anim Behav 72:933–940

Eggers S, Griesser M, Ekman J (2005) Predator-induced plasticity in nest visitation rates in the Siberian jay (Perisoreus infaustus). Behav Ecol 16:309–315

Grundel R (1987) Determinants of nestling feeding rates and parental investment in the mountain chickadee. Condor 89:319–328

Haftorn S, Reinertsen RE (1985) The effect of temperature and clutch size on the energetic cost of incubation in a free-living blue tit (Parus caeruleus). Auk 102:470–478

Hampl R, Bureš S, Baláž P, Bobek M, Pojer F (2005) Food provisioning and nestling diet of the black stork in the Czech Republic. Waterbirds 28:35–40

Hoffman K (1959) Über den Tagesrhythmus der Singvögel im arktischen Sommer. J Ornithol 100:84–89

Houston AI, McNamara JM, Hutchinson JMC (1993) General results concerning the trade-off between gaining energy and avoiding predation. Philos Trans R Soc Lond B 341:375–397

Knapton RW (1984) Parental feeding of nestling Nashville warblers: the effects of food type brood-size nestling age and time of day. Wilson Bull 96:594–602

Krams I (2000) Length of feeding day and body weight of great tits in a single- and two-predator environment. Behav Ecol Sociobiol 48:147–153

Lewis T, Taylor LR (1964) Diurnal periodicity of flight by insects. Trans R Entom Soc Lond 116:393–476

Lundberg H (1980) Effects of weather on foraging-flights of bumblebees (Hymenoptera Apidae) in a subalpine/alpine area. Holarctic Ecol 3:104–110

Macleod R, Barnett P, Clark JA, Cresswell W (2005) Body mass change strategies in blackbirds Turdus merula: the starvation–predation risk trade-off. J Anim Ecol 74:292–302

Markman S, Pinshow B, Wright J (2002) The manipulation of food resources reveals sex-specific trade-offs between parental self-feeding and offspring care. Proc R Soc Lond B 269:1931–1938

Markman S, Pinshow B, Wright J, Kotler BP (2004) Food patch use by parent birds: to gather food for themselves or for their chicks. J Anim Ecol 73:747–755

Masman DI, Dijkstra C, Daan S, Bult A (1989) Energetic limitation of avian parental effort: field experiments in the kestrel (Falco tinnunculus). J Evol Biol 2:435–455

McNamara JM, Houston AI, Lima SL (1994) Foraging routines of small birds in winter—a theoretical investigation. J Avian Biol 25:287–302

Moreno J (1983) Foraging decisions in the wheatear Oenanthe oenanthe during the breeding season. PhD dissertation, Uppsala University, Uppsala

Morton ML (1967) Diurnal feeding patterns in white-crowned sparrows Zonotrichia leucophrys gambelii. Condor 69:491–512

Pärt T (2001) The effects of territory quality on age-dependent reproductive performance in the northern wheatear Oenanthe oenanthe. Anim Behav 62:379–388

Rytkönen S, Koivula K, Orell M (1996) Patterns of pre-brood and per-offspring provisioning efforts in the willow tit Parus montanus. J Avian Biol 27:21–30

Totland O (1994) Influence of climate, time of day and season, and flower density on insect flower visitation in alpine Norway. Arctic Alp Res 26:66–71
Acknowledgments
We thank Annika Rastén and Ulf Karlsson for help in the field and Kym Newbery for technical advice. Financial support was obtained from the Swedish Research Council (to T.P.). All manipulations described in this study comply with the current laws of Sweden and in no cases did birds abandon their nests as a result of our monitoring.
Additional information
Communicated by T. Friedl.
About this article
Cite this article
Low, M., Eggers, S., Arlt, D. et al. Daily patterns of nest visits are correlated with ambient temperature in the Northern Wheatear. J Ornithol 149, 515–519 (2008). https://doi.org/10.1007/s10336-008-0300-3
Received:

Revised:

Accepted:

Published:

Issue Date:
Keywords
Diurnal variation

Offspring provisioning

Feeding rate

Food availability

Starvation–predation risk