Abstract
Males of many songbird species have peaks of singing activity at dawn and dusk. Singing during those twilight periods can function in territory proclamation, and males are suggested to adjust song output to the level of intruder pressure. We used song playback during the breeding season to simulate intrusions into territories of male Winter Wrens (Troglodytes troglodytes) shortly after dawn. We then compared male singing behaviour during the dawn and dusk chorus before and 1 day after the simulated intrusion. One day after the playback, male Wrens increased their song output before sunrise, which confirms our results from a previous study on dawn singing in autumn territories. At dusk, on the evening following the playback, males slightly increased song output after sunset, but singing activity at dusk was generally very low. We found no significant changes of song output after sunrise, before sunset, and between 2 days of control without playback. These results are consistent with the hypothesis that dawn and dusk singing is important for territory defence in spring. Unlike in autumn, however, increased singing in spring at dawn and dusk could also serve to defend other resources such as fertile mates or to strengthen the pair bond after a territorial challenge. In comparison with the results on autumnal singing, male Wrens started singing earlier at dawn during the breeding season, and they generally sang more songs at dawn and immediately after playback. The increase in absolute numbers of songs sung in the morning after playback seemed greater in spring than in autumn; however, the proportional increase relative to overall song output was similar in both seasons.
Access options
Buy single article
Instant access to the full article PDF.
US$ 39.95
Tax calculation will be finalised during checkout.
Subscribe to journal
Immediate online access to all issues from 2019. Subscription will auto renew annually.
US$ 79
Tax calculation will be finalised during checkout.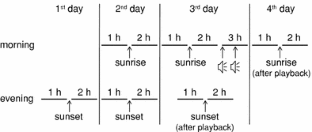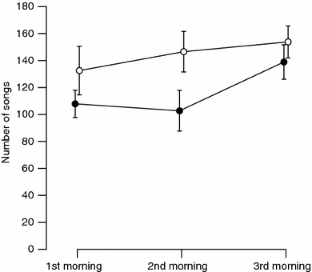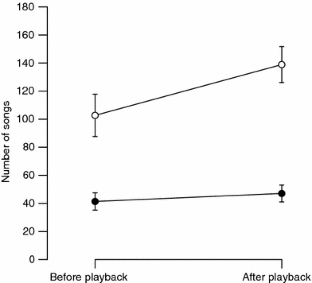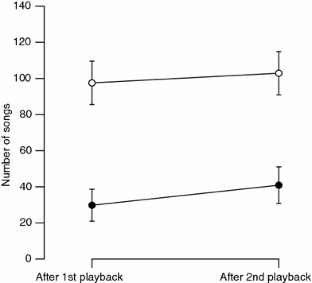 References
Amrhein V, Erne N (2006) Dawn singing reflects past territorial challenges in the winter wren. Anim Behav 71:1075–1080

Amrhein V, Kunc HP, Naguib M (2004) Non-territorial nightingales prospect territories during the dawn chorus. Proc R Soc Lond B (Suppl) 271:S167–S169

Armstrong EA (1955) The wren. Collins, London

Armstrong EA (1956) Territory in the wren Troglodytes troglodytes. Ibis 98:430–437

Armstrong EA (1977) Behavioural adaptions of the wren. Biol Rev 52:235–294

Cramp S (ed) (1988) The birds of the western palearctic, vol 5. Oxford University Press, Oxford

Cuthill IC, Macdonald WA (1990) Experimental manipulation of the dawn and dusk chorus in the blackbird Turdus merula. Behav Ecol Sociobiol 26:209–216

Dallmann M (1987) Der Zaunkönig, Troglodytes troglodytes. Neue Brehm-Bücherei, Bd. 577. Westarp Wissenschaften, Magdeburg

Davies NB, Houston AI (1984) Territory economics. In: Krebs JR, Davies NB (eds) Behavioural ecology: an evolutionary approach, 2nd edn. Blackwell, Oxford, pp 148–169

Double M, Cockburn A (2000) Pre-dawn infidelity: females control extra-pair mating in superb fairy-wrens. Proc R Soc Lond B 267:465–470

Garson PJ (1980) Male behaviour and female choice: mate selection in the wren? Anim Behav 28:491–502

Glutz von Blotzheim UN (ed) (1985) Handbuch der Vögel Mitteleuropas, Band 10/2. AULA, Wiesbaden

Hall ML, Illes A, Vehrencamp SL (2006) Overlapping signals in banded wrens: long-term effects of prior experience on males and females. Behav Ecol 17:260–269

Hutchinson JMC (2002) Two explanations of the dawn chorus compared: how monotonically changing light levels favour a short break from singing. Anim Behav 64:527–539

Hutchinson JMC, McNamara JM, Cuthill IC (1993) Song, sexual selection, starvation and strategic handicaps. Anim Behav 45:1153–1177

Hyman J (2005) Seasonal variation in response to neighbors and strangers by a territorial songbird. Ethology 111:951–961

Kacelnik A (1979) The foraging efficiency of great tits (Parus major) in relation to light intensity. Anim Behav 27:237–241

Kacelnik A, Krebs JR (1983) The dawn chorus in the great tit (Parus major): proximate and ultimate causes. Behaviour 83:287–309

Kunc HP, Amrhein V, Naguib M (2005) Seasonal variation in dawn song characteristics in the common nightingale. Anim Behav 70:1265–1271

Liu W-C (2004) The effect of neighbours and females on dawn and daytime singing behaviours by male chipping sparrows. Anim Behav 68:39–44

Mace R (1987) The dawn chorus in the great tit Parus major is directly related to female fertility. Nature 330:745–746

McDonald MV (1989) Function of song in Scott's seaside sparrow, Ammodramus maritimus peninsulae. Anim Behav 38:468–485

McNamara JM, Mace RH, Houston AI (1987) Optimal daily routines of singing and foraging in a bird singing to attract a mate. Behav Ecol Sociobiol 20:399–405

Mennill DJ, Ratcliffe LM, Boag PT (2002) Female eavesdropping on male song contests in songbirds. Science 296:873

Naguib M, Amrhein V, Kunc HP (2004) Effects of territorial intrusions on eavesdropping neighbors: communication networks in nightingales. Behav Ecol 15:1011–1015

R Development Core Team (2006) R: a language and environment for statistical computing. R Foundation for Statistical Computing, Vienna. http://www.R-project.org

Schmidt R, Amrhein V, Kunc HP, Naguib M (2007) The day after: effects of vocal interactions on territory defence in nightingales. J Anim Ecol 76:168–173

Slagsvold T, Dale S, Sætre G-P (1994) Dawn singing in the great tit (Parus major): mate attraction, mate guarding, or territorial defence? Behaviour 131:115–138

Staicer CA, Spector DA, Horn AG (1996) The dawn chorus and other diel patterns in acoustic signaling. In: Kroodsma DE, Miller EH (eds) Ecology and evolution of acoustic communication in birds. Cornell University Press, Ithaca, pp 426–453

Stamps JA, Krishnan VV (2001) How territorial animals compete for divisible space: a learning-based model with unequal competitors. Am Nat 157:154–169

Switzer PV, Stamps JA, Mangel M (2001) When should a territory resident attack? Anim Behav 62:749–759

Tobias J, Seddon N (2000) Territoriality as a paternity guard in the European robin, Erithacus rubecula. Anim Behav 60:165–173

Trillo PA, Vehrencamp SL (2005) Song types and their structural features are associated with specific contexts in the banded wren. Anim Behav 70:921–935

Welling P, Koivula K, Lahti K (1995) The dawn chorus is linked with female fertility in the Willow tit Parus montanus. J Avian Biol 26:241–246
Acknowledgments
For helpful comments and discussions, we thank David Basler, Fleur Daugey, Dieter Ebert, Heinrich Erne, Pius Korner, Fraenzi Korner-Nievergelt, Hansjoerg Kunc, Martin Lutsch, Marc Naguib and Rouven Schmidt. The research was funded by the Swiss Association Pro Petite Camargue Alsacienne and the Freiwillige Akademische Gesellschaft Basel. Our experiments comply with the current laws of France.
Additional information
Communicated by F. Bairlein.
About this article
Cite this article
Erne, N., Amrhein, V. Long-term influence of simulated territorial intrusions on dawn and dusk singing in the Winter Wren: spring versus autumn. J Ornithol 149, 479–486 (2008). https://doi.org/10.1007/s10336-008-0288-8
Received:

Accepted:

Published:

Issue Date:
Keywords
Dawn chorus

Dusk chorus

Bird song

Song playback

Territory defence