Abstract
Most ground nesters lay pigmented eggs, and egg pigmentation generally matches the environment. Pigmentation of eggs has evolved as a protective device against predation, but dark-pigmented eggs can be susceptible to overheating when exposed to solar radiation. The Ostrich (Struthio camelus) lays white eggs that are unattended for the first few weeks before incubation, and are quite visible to predators. To evaluate the effect of colour on the surface and core temperatures, we painted some Ostrich eggs dark brown or white, and left some unpainted (control), and exposed all of them directly to the sun during the day. The surface and core temperatures of brown eggs were significantly higher than those of the white-painted and control eggs. In addition, the core temperature of brown eggs exceeded 37.5°C, which is the temperature at which embryo mortality starts to increase. In a second experiment, we placed eggs (brown-painted and control) in various types of vegetation to study their visibility to an observer walking towards them. The white eggs were discovered from a significantly longer distance than the brown eggs, indicating that the predation risk may be much higher for white eggs. The results thus suggest that white eggs minimise overheating and allow the Ostrich to leave its eggs unattended before incubation starts, but they are more susceptible to predation.
Access options
Buy single article
Instant access to the full article PDF.
US$ 39.95
Tax calculation will be finalised during checkout.
Subscribe to journal
Immediate online access to all issues from 2019. Subscription will auto renew annually.
US$ 79
Tax calculation will be finalised during checkout.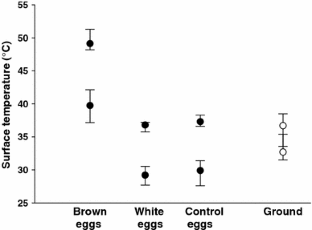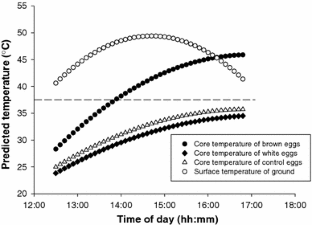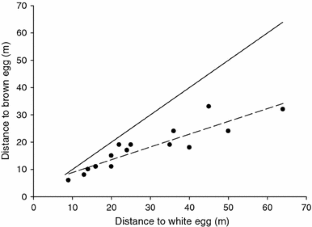 References
Bakken GS, Vanderbilt VC, Buttemer WA, Dawson WR (1978) Avian eggs: thermoregulatory value of very high near-infrared reflectance. Science 200:321–323

Bertram BCR (1992) The ostrich communal nesting system. Princeton University Press, Princeton

Bertram BCR, Burger AE (1981) Are ostrich Struthio camelus eggs the wrong colour? Ibis 123:207–210

Caro T (2005) Antipredator defences in birds and mammals. The University of Chicago Press, Chicago

Collias NE, Collias EC (1984) Nest building and bird behaviour. Princeton University Press, Princeton

Crawley MJ (2002) Statistical computing. An introduction to data analysis using S-plus. Wiley, West Sussex, UK

Davies NB (2000) Cuckoos, cowbirds and other cheats. Poyser, London

Deeming DC (1993) The incubation requirements of ostrich (Struthio camelus) eggs and embryos. In: Bryden DI (ed) Ostrich odyssey. Proceedings of the meeting of the Australian Ostrich Association Inc. (Vic.), No. 217. University of Sydney, Sydney, pp 85–92

Gosler AG, Higham JP, Reynolds SJ (2005) Why are birds' eggs speckled? Ecol Lett 8:1105–1113

Götmark F (1992) Blue eggs do not reduce nest predation in the song Thrush, Turdus philomelos. Behav Ecol Sociobiol 30:245–252

Götmark F (1993) Conspicuous nests may select for non-cryptic eggs: a comparative study of avian families. Ornis Fenn 70:102–105

Hassan SM, Siam AA, Mady ME, Cartwright AL (2004) Incubation temperature for Ostrich (Struthio camelus) eggs. Poult Sci 83:495–499

Hoyt DF (1979) Practical methods of estimating volume and fresh weight of bird eggs. Auk 96:73–77

Ipek A, Sahan U, Yilmaz B (2003) The effect of different incubation temperatures on the incubation performance of ostrich (Struthio camelus) eggs. Czech J Anim Sci 48:271–274

Kilner RM (2006) The evolution of egg colour and patterning in birds. Biol Rev 81:383–406

Lack D (1968) Ecological adaptations for breeding in birds. Methuen, London

Lloyd P, Plaganyi E, Lepage D, Little RM, Crowe TM (2000) Nest-site selection, egg pigmentation and clutch predation in the ground-nesting Namaqua Sandgrouse Pterocles namaqua. Ibis 142:123–131

Martin TE (1993) Nest predation among vegetation layers and habitat types: revising the dogma. Am Nat 141:897–913

Martin TE, Martin PR, Olson CR, Heidinger BJ, Fontaine JJ (2000) Parental care and clutch sizes in North and South American birds. Science 287:1482–1485

Montevecchi WA (1976) Field experiments on the adaptive significance of avian egg shell pigmentation. Behaviour 58:26–39

Portmann A (1959) Animal camouflage. University of Michigan Press, Ann Arbor

Rothstein SI (1990) A model system for coevolution: avian brood parasitism. Annu Rev Ecol Syst 21:481–508

Solís JC, de Lope F (1995) Nest and egg crypsis in the ground-nesting Stone Curlew Burhinus oedicnemus. J Avian Biol 26:135–138

Wallace AR (1889) Darwinism: an exposition of the theory of natural selection with some of its applications. Macmillan, London

Webb DR (1987) Thermal tolerance of avian embryos: a review. Condor 89:874–898

Weidinger K (2001) Does egg colour affect predation rate on open passerine nests? Behav Ecol Sociobiol 49:456–464
Acknowledgments
We thank the Wildlife Division of the Tanzania Ministry of Natural Resources and Tourism (MNRT) and Tanzania Wildlife Research Institute (TAWIRI) for research permits. Ragna K. Sortland kindly assisted in preparing the eggs and the experiments. We thank G. Mwakalebe, N. Masawe, J. Kabondo and O. Mwakabejela for excellent field assistance. Thanks are due to Odd Arne Indset for designing the temperature equipment. We also thank R. Binnis for correcting the English and two anonymous referees for constructive comments on the manuscript. The study was funded by the World Bank sponsored Lower Kihansi Environmental Management Project. The experiment complies with the current laws of the country in which they were performed.
Additional information
Communicated by F. Bairlein.
About this article
Cite this article
Magige, F.J., Moe, B. & Røskaft, E. The white colour of the Ostrich (Struthio camelus) egg is a trade-off between predation and overheating. J Ornithol 149, 323–328 (2008). https://doi.org/10.1007/s10336-008-0273-2
Received:

Revised:

Accepted:

Published:

Issue Date:
Keywords
Eggs

Ostrich

Predation

Serengeti

Temperature