Abstract
We investigated individual variation in diet in relation to age-sex class and kin relationship in 28 of 40 members of a small group of wild Japanese macaques (Macaca fuscata). We used stable isotope ratios from hair as an index of individual dietary profiles, genetic relatedness as an index of kin relationship, and mitochondrial DNA (mtDNA) haplotype as a marker of being an immigrant or native member of the group. The range of carbon and nitrogen stable isotope ratios from hair of individual macaques (δ13C: −24.1‰ to −22.6‰, δ15N:3.8–5.5‰), which reflected their diet over a period of ~ 6 months, implied small individual variation in diet. The results of PERMANOVA implied that there were no significant effects of age class, sex, or mtDNA haplotype on hair stable isotope ratios between individuals, or on the variation in individual diet. However, the isotope values of males with mtDNA haplotypes that differed from those of the native females appeared to differ from those of other group members, which implies that immigrant males might have had a different diet profile from that of native group members. Furthermore, there was a weak correlation trend between genetic relatedness and differences in stable isotope ratios between pairs of individuals. Differences in stable isotope values were more marked in pairs with a more distant genetic relationship. This implies that within the group, closely related kin tended to forage together to avoid competing for food. However, this effect might have been weak because the size of the group was small relative to the size of the food patches, thereby reducing competition.
Access options
Buy single article
Instant access to the full article PDF.
US$ 39.95
Tax calculation will be finalised during checkout.
Subscribe to journal
Immediate online access to all issues from 2019. Subscription will auto renew annually.
US$ 79
Tax calculation will be finalised during checkout.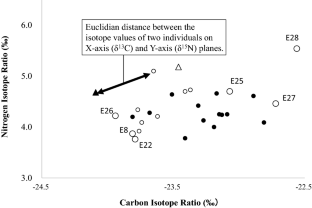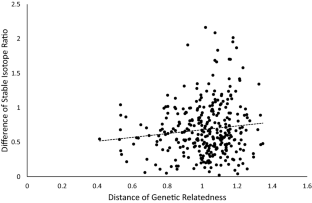 References
Agetsuma N (2001) Relation between age-sex classes and dietary selection of wild Japanese monkeys. Ecol Res 16:759–763

Anderson MJ (2001) A new method for non-parametric multivariate analysis of variance. Austral Ecol 26:32–46

Chapman CA, Chapman LN (2000) Determinant of group size in primates: the importance of travel cost. In: Boinski S, Garber PA (eds) On the move: how and why animals travel in groups. University of Chicago Press, Chicago, pp 24–41

Codron D, Luyt J, Lee-Thorp JA, Sponheimer M, de Ruiter D, Codron J (2005) Utilization of savanna-based resources by Plio-Pleistocene baboons. S Afr J Sci 101:245–248

Codron D, Lee-Thorp JA, Sponheimer M, Ruiter D, Codron J (2006) Inter- and intrahabitat dietary variability of Chacma Baboons (Papio ursinus) in south African savannas based on fecal 13C, 15N, and %N. Am J Phys Anthropol 129:204–214

Core Team R (2018) R: a language and environment for statistical computing. R Foundation for Statistical Computing, Vienna

Crowley BE, Carter ML, Karpanty SM, Zihlman AL, Koch PL, Dominy NJ (2010) Stable carbon and nitrogen isotope enrichment in primate tissues. Oecologia 164:611–626

Crowley BE, Thoren S, Rasoazanabary E, Vogel ER, Barrett A, Zohdy S, Blanco MB, McGroogan KC, Arrigo-Nelson SJ, Irwin MT, Wright PC, Radespiel U, Godfrey LR, Koch PL, Dominy NJ (2011) Explaining geographic variation in the isotope composition of mouse lemurs (Microcebus). J Biogeogr 38:2106–2121

Crowley BE, Rasoazanabary E, Godfrey R (2014) Stable isotopes compliment focal individual observation and confirm dietary variability in reddish-gray mouse lemur (Microcebus griseorufus) from southwestern Madagascar. Am J Phys Anthrop 155:77–90

Crowley BE, Reitsema LJ, Oelze VM, Sponheimer M (2016) Advances in primate stable ecology—achievements and prospects. Am J Primatol 78:995–1003

Dammhahn M, Kappeler PM (2010) Scramble or contest competition over food in solitary foraging mouse lemur (Microcebus spp.): new insights from stable isotopes. American J Phys Anthropol 141:181–189

DeNiro MJ, Epstein S (1981) Influence of diet on the distribution of nitrogen isotopes in animals. Geochim Cosmochim Acta 45:341–351

Fahy GE, Richards M, Riedel J, Hublin J-J, Boesch C (2013) Stable isotope evidence of meat eating and hunting specialization in adult male chimpanzees. PNAS 110:5829–5833

Fahy GE, Richards M, Riedel J, Hublin J-J, Boesch C (2014) Stable nitrogen isotope analysis of dentine serial sections elucidate sex differences in weaning patterns of wild chimpanzees (Pan troglodytes). Am J Phys Anthropol 153:642–653

Fourie NH, Lee-Thorp JA, Ackermann RR (2008) Biogeochemical and craniometric investigation of dietary ecology, niche separation, and taxonomy of Plio-Pleistocene cercopithecoids from the Makapansgat Limeworks. Am J Phys Anthropol 135:121–135

Furuichi T (1984) Symmetrical pattern in non-agonistic social interactions found in unprovisioned Japanese macaques. J Ethol 2:109–119

Furuichi T (1985) Inter-male association in a wild Japanese macaque troop on Yakushima Island, Japan. Primates 26:219–237

Hanya G (2003) Age differences in food intake and dietary selection of wild male Japanese macaques. Primates 44:333–339

Houle A, Chapman CA, Vickery WL (2010) Intratree vertical variation of fruit density and the nature of contest competition in frugivores. Behav Ecol Sociobiol 64:429–441

Inagaki H, Nigi H (1988) Annual changes in hair length of the Japanese Money (Macaca fuscata fuscata). Primates 29:81–89

Inoue E, Inoue-Murayama M, Vigilant L, Tanenaka O, Nishida T (2008) Relatedness in wild chimpanzees: influence of paternity, male philopatry, and demographic factors. Am J Phys Anthrop 137:256–262

Isbell LA, Young TP (2002) Ecological models of female social relationships in primates: similarities, disparities, and some directions for future clarity. Behaviour 139:177–202

Iwamoto T (1988) Food and energetic of provisioned wild Japanese macaques (Macaca fuscata). In: Fa JE, Southwick CH (eds) Ecology and Behaviour of Food-enhanced primate groups. Alan R. Liss, Inc., New York, pp 79–94

Janson CH, van Schaik CP (1988) Recognizing the many faces of primate food competition: methods. Behaviour 105:165–186

Kanthaswamy S, von Dollen A, Kurushima JD, Alminas O, Rogers J, Ferguson B, Leche NW, Allen PC, Smith DG (2006) Microsatellite markers for standardized genetic management of captive colonies of rhesus macaques (Macaca mulatta). Am J Primatol 68:73–95

Kawamoto Y, Shotake T, Nozawa K, Kawamoto S, Tomari K, Kawai S, Shirai K, Morimitsu Y, Takagi N, Akaza H, Fujii H, Hagihara K, Aizawa K, Akachi S, Oi T, Hayashi S (2007) Postglacial population expansion of Japanese macaques (Macaca fuscata) inferred from mitochondrial DNA phylogeography. Primates 48:27–40

Kawamoto Y, Tomari K, Kawai S, Kawamoto S (2008) Genetics of the Shimokita macaque population suggests an ancient bottleneck. Primates 49:32–40

Kawamura S (1958) Matrilineal social rank in the Minoo-B troop: a study of the rank system of Japanese monkeys. Primates 1:149–156

Koenig A (2002) Competition for resources and its behavioral consequences among female primates. Int J Primatol 23:759–783

Koike S, Nakashita R, Kozakai C, Nakajima A, Nemoto Y, Yamazaki K (2016) Baseline characterization of the diet and stable isotope signatures of bears that consume natural foods in central Japan. Eur J Wildl Res 62:23–31

Krigbaum J, Berger MH, Daegling DJ, McGraw WS (2013) Stable isotope canopy effect for sympatric monkeys at Taї Forest, Côte D'Ivoire. Biol Lett 9(2013):0466

Legendre P, Legendre L (1998) Numerical ecology, 2nd English Edition edn. Elsevier, Amsterdam

Lewis MC, West AG, O'Riain MJ (2018) Isotopic assessment of marine food consumption by natural-foraging chacma baboons on the Cape Peninsula, South Africa. Am J Phys Anthropol 165:77–93

Litivaitis JA (2000) Investigating food habits of terrestrial vertebrate. In: Fuller TK (ed) LB Boitani. Research techniques in animal ecology. Columbia University Press, New York, pp 21–34

Loudon JE, Sponheimer M, Sauther ML, Cuozzo FP (2007) Intraspecific variation in hair δ13C and δ15N values of ring-tailed lemurs (Lemur catta) with known individual histories, behavior, and feeding ecology. Am J Phys Anthropol 133:978–985

Loudon JE, Sandberg PA, Wrangham RW, Fahey B, Sponheimer M (2016) The stable isotope ecology of Pan in Uganda and beyond. Am J Primatol 78:1070–1085

Majolo B, Ventura R, Koyama NF, Hardie SM, Jones BM, Knapp LA, Schino G (2009) Analysing the effects of group size and food competition on Japanese macaque social relationships. Behaviour 146:113–137

Martin P, Bateson P (1987) Measuring Behaviour – an introductory guide. Cambridge University Press, Cambridge

Medina E, Minchin P (1980) Stratification of δ13C values of leaves in Amazonian rain forests. Oecologia 45:377–378

Minagawa M (1992) Reconstruction of human diet from δ13C and δ15 N in contemporary Japanese hair: a stochastic method for estimating multi-source contribution by double isotopic tracers. Appl Geochem 7:145–158

Minagawa M (2001) Dietary pattern of prehistoric Japanese populations inferred from stable carbon and nitrogen isotopes in bone protein. Bull Natl Mus Jpn Hist 86:333–357 (in Japanese)

Minagawa M, Akazawa T (1988) Food intake by Jomon people. Iden 42:15–23 (in Japanese)

Minagawa M, Wada E (1984) Stepwise enrichment of 15N along food chains: further evidence and the relation between delta 15N and animal age. Geochim Cosmochim Acta 48:1135–1140

Miyama K (2005) Nitrogen stable isotope of plants in mountain ecosystem. Bachelor thesis: Tokyo University of Agriculture and Technology, Tokyo, Japan, 10 pp. (in Japanese)

Mori A (1995) Rank and age related feeding strategy observed through field experiments in the Koshima group of Japanese macaques. Primates 36:11–26

Nakagawa N (2000) Foraging energetic in Patas monkeys (Erythrocebus patas) and Tantalus monkeys (Cercopithecus aethiops tantalus): implications for reproductive seasonality. Am J Primatol 52:169–185

Nakashita R (2006) Reconstruction of the feeding history of Asiatic black bear (Ursus thibetanus) by carbon and nitrogen stable isotope. Doctoral dissertation: Tokyo University of Agriculture and Technology

Nakashita R, Hamada Y, Hirasaki E, Suzuki J, Oi T (2013) Characteristics of stable isotope signature of diet in the tissues of captive Japanese monkeys, revealed by controlled feeding. Primate 54:271–281

Nakayama Y, Matsuoka S, Watanuki Y (1999) Feeding rates and energy deficit of juvenile and adult Japanese monkeys in a cool temperate area with snow coverage. Ecol Res 14:291–301

Narita R. (2003) Dietary analysis on Asiatic black bears by stable isotope signature—importance of animal matter. Master's thesis: Kyoto University, p 37, Kyoto, Japan

Nicholson AJ (1954) An outline of the dynamics of animal population. Aust J Zool 2:9–65

O'Regan HJ, Chenery C, Lamb A, Stevens RE, Rook L, Elton S (2008) Modern macaque dietary heterogeneity assessed using stable isotope analysis of hair and bone. J Hum Evol 55:617–626

Oelze VM (2016) Reconstructing temporal variation in great ape and other primate diets: a methodological framework for isotope analysis in hair. Am J Primatol. https://doi.org/10.1002/ajp.22497

Oelze VM, Fuller BT, Richards MP, Fruth B, Surbeck M, Hubblin J, Hofmann G (2011) Exploring the contribution and significance of animal protein in the diet of bonobos by stable isotope ratio analysis of hair. Proc Natl Acad Sci USA 108:1–6

Oelze VM, Head JS, Robbins MM, Richard M, Boesch C (2014) Niche differentiation and dietary seasonality among sympatric gorillas and chimpanzees in Loango National Park (Gabon) revealed by stable isotope analysis. J Hum Evol 66:95–106

Oftedal OT, Whiten A, Southgate D, Soest PV (1991) The nutritional consequences of foraging primates: the relationship of nutritional intakes to nutrient requirements. Philos Trans R Soc Lond B Biol Sci 334:161–170

Oi T (2014) Inter-species relationship between Asiatic black bears and Japanese macaques, a deduction from the comparison of feeding behaviors. Reichorui Kenkyu [Primate Research] 29:123–135 (in Japanese with English summary)

Otani Y, Sawada A, Hanya G (2014) Short-term separation from groups by male Japanese macaques: cost and benefits in feeding behavior and social interaction. Am J Primatol. https://doi.org/10.1002/ajp.22241

Otsu and Shiga Association for Monkey Management (2006) Management Plan for Otsu-E (Keiji-1) Japanese Macaque Group. Otsu City Government (in Japanese)

Portman OW (1970) Nutritional requirements (NRC) of nonhuman primates. In: Harris RS (ed) Feeding and nutrition of non-human primates. Academic Press, New York, pp 98–115

Primate Research Institute (2008) Guideline for field research of non-human primates. (http://www.pri.kyoto-u.ac.jp/research/guide-e2008.html)

Queller DC, Goodnight KF (1989) Estimating relatedness using genetic markers. Evolution 43:258–275

Reitsema LJ (2012) Introducing fecal stable isotope analysis in primate weaning studies. Am J Primatol 74:926–939

Saito C (1996) Dominance and feeding success in female Japanese macaques, Macaca fuscata: effects of food patch size and inter-patch distance. Anim Behav 51:967–980

Schillaci MS, Castellini JM, Stricker CA, Jones-Engel L, Lee BPH, O'Hara TM (2014) Variation in hair δ13C and δ15N values in long-tailed macaques (Macaca fascicularis) from Singapore. Primated 55:25–34

Schillaci MS, Lintlop J, Sumra M, Pizarro M, Jones-Engel L (2019) Hair cortisol and stable carbon and nitrogen isotope ratios in barbary macaques (Macaca Sylvanus) from Gibraltar. Rapid Commun Mass Spectrom 33:831–838

Schoeninger MJ, DeNiro MJ (1983) Stable nitrogen isotope ratios of bone collagen reflect marine and terrestrial components of prehistoric human diet. Science 220:1381–1383

Schoeninger MJ, Iwaniec UT, Glander KE (1997) Stable isotope ratios indicate diet and habitat use in New world monkeys. Am J Phys Anthropol 103:69–83

Schoeninger MJ, Moore J, Sept JM (1999) Subsistence strategy of two "Savanna" chimpanzee populations: the stable isotope evidence. Am J Primatol 49:297–314

Schoeninger MJ, Most CA, Moore JJ, Somerville AD (2016) Environmental variables across Pan troglodytes study sites correspond with the carbon, but not the nitrogen, stable isotope rations of Chimpanzee hair. Am J Primatol 78:1055–1069

Schurr MR, Fuentes A, Luecke E, Cortes J, Shaw E (2011) Intergroup variation in stable isotope ratios reflects anthropogenic impact on the Barbary macaques (Macaca sylvanus) of Gibraltar. Primates. https://doi.org/10.1007/s10329-011-0268-0

Sponheimer M, Loudon JE, Codon D, Howell ME, Pruetz JD, Codron J, de Ruiter DJ, Lee-Thorp JA (2006) Do "savanna" chimpanzees consume C4 resources? J Hum Evol 51:128–133

Sponheimer M, Codon D, Passey BH, de Ruiter DJ, Cerling TE, Lee-Thorp JA (2009) Using carbon isotope to track dietary change in modern, historical, and ancient primates. Am J Phys Anthropol 140:661–670

Sprague DS, Suzuki S, Takahashi H, Sato S (1998) Male life history in natural population of Japanese macaques: migration, dominance rank, and troop participation of males in two habitats. Primates 39:351–363

Sterck EHM, Watts DP, van Schaik CP (1997) The evolution of female social relationships in nonhuman primates. Behav Ecol Sociobiol 41:291–309

Sukmak M, Malaivijitnond S, Schülke O, Ostner J, Hamada Y, Wajjwaku W (2014) Preliminary study of the genetic diversity of eastern Assamese macaques (Macaca assamensis assamensis) in Thailand based on mitochondrial DNA and microsatellite markers. Primates 55:189–197

Taniguchi H (2015) How the physical properties of food influence it selection by infant Japanese macaques inhabiting a snow-covered area. Am J Primatol 77:285–295

Terbogh J, Johnson CH (1986) Socioecology of primate groups. Ann Rev Ecol Syst 17:111–135

Thackeray JF, Henzi SP, Brain CK (1996) Stable carbon and nitrogen isotope analysis of bone collagen in Papiocynocephalus ursinus: comparison with ungulates and Homo sapiens from southern and East African environments. S Afr J Sci 92:209–221

Tsuji Y (2010) Regional, temporal, and interindividual variation in the feeding ecology of Japanese macaques. In: Nakagawa N, Nakamichi M, Sugiura H (eds) The Japanese macaques. Springer, Tokyo, pp 99–127

Tsuji Y, Takatsuki S (2012) Interannual variation in nut abundance is related to agonistic interactions of foraging female Japanese macaques (Macaca fuscata). Int J Primatol 33:489–512

van Schaik CP (1989) The ecology of social relationships among female primates. In: Staden V, Foley RA (eds) Comparative socioecology. The behavioural ecology of human and other mammals. Blackwell, Oxford, pp 195–218

van Schaik CP, van Noordwijk MA (1986) The hidden costs of sociality: intra-group variation in feeding strategies in Sumatran long-tailed macaques (Macaca fascicularis). Behaviours 99:296–315

Wrangham RW (1980) An ecological model of female-bonded primate groups. Behaviour 75:262–300

Yamagiwa J, Hill DA (1998) Intraspecific variation in the social organization of Japanese macaques: past and present scope of field studies in natural habitats. Primates 39:257–273
Acknowledgements
We appreciate the kind support of the Shiga prefectural government and the Otsu city government in collecting samples and background data. We thank Dr. N. Nakagawa for useful advice on a previous draft of the manuscript, and Ms. S. Segawa and Ms. S. Ohkubo for support during sample preparation. All aspects of this research adhered to the Guidelines of Field Research on Non-Human Primates established by the Primate Research Institute, Kyoto University (Primate Research Institute 2008), for the ethical treatment of nonhuman primates.
Additional information
Publisher's Note
Springer Nature remains neutral with regard to jurisdictional claims in published maps and institutional affiliations.
About this article
Cite this article
Oi, T., Hamasaki, Si., Seino, H. et al. Inter-individual variation in the diet within a group of Japanese macaques and its relationship with social structure investigated by stable isotope and DNA analyses. Primates 62, 103–112 (2021). https://doi.org/10.1007/s10329-020-00840-3
Received:

Accepted:

Published:

Issue Date:
Keywords
Japanese macaque

Food habit

Individual variation

Stable isotope analyses

Genetic relatedness

mtDNA