Abstract
Social bonds have been construed as differentiated and enduring affiliative relationships. Strong bonds will improve fitness through interchanging with coalition formation or tolerance over resources. Social bonds have been found in a variety of taxa and predict the formation of coalitions even amongst males. However, in species exhibiting steeply linear dominance hierarchies, coalitions are hypothesized to be suppressed due to severe competition amongst males, and thus strong bonds may manifest in other forms of behavior, notably social tolerance. The aim of this study was to examine the effects of male–male social bonds and dominance on agonistic supports and aggressive interaction in one of the most despotic primate species, Japanese macaques. I conducted focal samples on male individuals, recording their grooming, proximity to other members, agonistic supports and membership, and aggressive interactions over a 2-year observation period. Male macaques formed differentiated affiliative relationships across dyads and those relationships showed positive relations between the non-mating and the mating seasons. Steep dominance hierarchies were found amongst males. The occurrence of agonistic supports was not explained by the strength of social bonds but by the dominance of the participants, whereas strong bonds predicted less frequent aggressive interaction. These results are in line with the hypothesis that dominance is a major mechanism underlying coalition formation amongst males. Unlike more egalitarian species, strong bonds do not predict coalition formation but rather tolerance in despotic species. These results suggest male–male social bonds will bring alternative consequences according to dominance structures.
This is a preview of subscription content, log in to check access.
Access options
Buy single article
Instant access to the full article PDF.
US$ 39.95
Price includes VAT for USA
Subscribe to journal
Immediate online access to all issues from 2019. Subscription will auto renew annually.
US$ 99
This is the net price. Taxes to be calculated in checkout.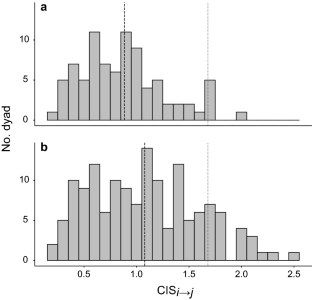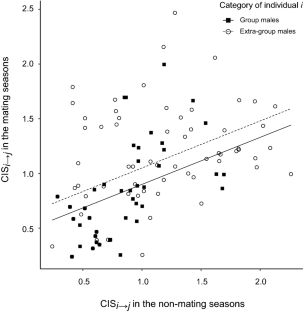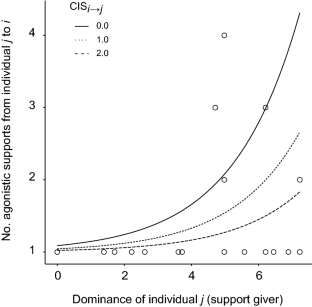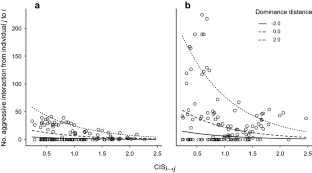 References
Altmann J (1974) Observational study of behavior: sampling methods. Behaviour 49:227–267

Balasubramaniam KN, Berman CM, Ogawa H, Li J (2011) Using biological markets principles to examine patterns of grooming exchange in Macaca thibetana. Am J Primatol 73:1269–1279

Barrett L, Henzi S, Weingrill T, Lycett J, Hill R (1999) Market forces predict grooming reciprocity in female baboons. Proc R Soc B 266:665–670

Barrett L, Gaynor D, Henzi SP (2002) A dynamic interaction between aggression and grooming reciprocity among female chacma baboons. Anim Behav 63:1047–1053

Bercovitch FB, Harvey NC (2004) Reproductive life history. In: Thierry B, Singh M, Kaumanns W (eds) Macaque societies: a model for the study of social organization. Cambridge University Press, Cambridge, pp 61–80

Berghänel A, Ostner J, Schröder U, Schülke O (2011) Social bonds predict future cooperation in male Barbary macaques, Macaca sylvanus. Anim Behav 81:1109–1116

Berman CM, Ionica C, Li J (2007) Supportive and tolerant relationships among male Tibetan macaques at Huangshan, China. Behaviour 144:631–661

Bissonnette A, de Vries H, van Schaik CP (2009) Coalitions in male Barbary macaques, Macaca sylvanus: strength, success and rules of thumb. Anim Behav 78:329–335

Bissonnette A, Franz M, Schülke O, Ostner J (2014) Socioecology, but not cognition, predicts male coalitions across primates. Behav Ecol 25:794–801

Cameron EZ, Setsaas TH, Linklater WL (2009) Social bonds between unrelated females increase reproductive success in feral horses. Proc Natl Acad Sci 106:13850–13853

Carne C, Wiper S, Semple S (2011) Reciprocation and interchange of grooming, agonistic support, feeding tolerance, and aggression in semi-free-ranging Barbary macaques. Am J Primatol 73:1127–1133

Chapais B (1995) Alliances as a means of competition in primates: evolutionary, developmental, and cognitive aspects. Am J Phys Anthropol 38:115–136

Chapais B, Gauthier C, Prud'homme J (1995) Dominance competition through affiliation and support in Japanese macaques: an experimental study. Int J Primatol 16:521–536

Chase ID, Tovey C, Spangler-Martin D, Manfredonia M (2002) Individual differences versus social dynamics in the formation of animal dominance hierarchies. Proc Natl Acad Sci 99:5744–5749

Clutton-Brock T (2009) Cooperation between non-kin in animal societies. Nature 462:51–57

Connor RC, Smolker RA, Richards AF (1992) Two levels of alliance formation among male bottlenose dolphins (Tursiops sp.). Proc Natl Acad Sci 89:987–990

Connor RC, Heithaus MR, Barre LM (2001) Complex social structure, alliance stability and mating access in a bottlenose dolphin 'super-alliance'. Proc R Soc Lond Seri B: Biol Sci 268:263–267

Cords M (2000) The number of males in guenon groups. In: Kappeler PM (ed) Primate males: causes and consequences of variation in group composition. Cambridge University Press, Cambridge, pp 84–96

Cowlishaw G, Dunbar RI (1991) Dominance rank and mating success in male primates. Anim Behav 41:1045–1056

de Villiers MS, Richardson PR, Van Jaarsveld AS (2003) Patterns of coalition formation and spatial association in a social carnivore, the African wild dog (Lycaon pictus). J Zool 260:377–389

de Waal FB, Harcourt A (1992) Coalitions and alliances: a history of ethological research. In: Harcourt A, de Waal FB (eds) Coalitions and alliances in humans and other animals. Oxford University Press, Oxford, pp 1–19

de Waal FB, Luttrell LM (1989) Toward a comparative socioecology of the genus Macaca: different dominance styles in rhesus and stumptail monkeys. Am J Primatol 19:83–109

Enomoto T (1974) The sexual behavior of Japanese monkeys. J Hum Evol 3:351–372

Fournier DA, Skaug HJ, Ancheta J, Ianelli J, Magnusson A, Maunder MN et al (2012) AD Model Builder: using automatic differentiation for statistical inference of highly parameterized complex nonlinear models. Optim Methods Softw 27:233–249

Fujita S (2010) Interaction between male and female mating strategies and factors affecting reproductive outcome. In: Nakagawa N, Nakamichi M, Sugiura H (eds) The Japanese macaques. Springer, Tokyo, pp 221–239

Fujita S, Sugiura H, Mitsunaga F, Shimizu K (2004) Hormone profiles and reproductive characteristics in wild female Japanese macaques (Macaca fuscata). Am J Primatol 64:367–375

Gehrt SD, Gergits WF, Fritzell EK (2008) Behavioral and genetic aspects of male social groups in raccoons. J Mammal 89:1473–1480

Greenwood PJ (1980) Mating systems, philopatry and dispersal in birds and mammals. Anim Behav 28:1140–1162

Haunhorst CB, Heesen M, Ostner J, Schülke O (2017) Social bonds with males lower the costs of competition for wild female Assamese macaques. Anim Behav 125:51–60

Higham JP, Maestripieri D (2010) Revolutionary coalitions in male rhesus macaques. Behaviour 147:1889–1908

Hill DA (1994) Affiliative behaviour between adult males of the genus Macaca. Behaviour 130:293–308

Hongo S, Nakashima Y, Akomo-Okoue EF, Mindonga-Nguelet FL (2016) Female reproductive seasonality and male influxes in wild mandrills (Mandrillus sphinx). Int J Primatol 37:416–437

Hrdy SB (1979) Infanticide among animals: a review, classification, and examination of the implications for the reproductive strategies of females. Ethol Sociobiol 1:13–40

Huffman MA (1987) Consort intrusion and female mate choice in Japanese macaques (Macaca fuscata). Ethology 75:221–234

Inoue E, Takenaka O (2008) The effect of male tenure and female mate choice on paternity in free-ranging Japanese macaques. Am J Primatol 70:62–68

Kawazoe T (2016) Association patterns and affiliative relationships outside a troop in wild male Japanese macaques, Macaca fuscata, during the non-mating season. Behaviour 153:69–89

Kutsukake N, Hasegawa T (2005) Dominance turnover between an alpha and a beta male and dynamics of social relationships in Japanese macaques. Int J Primatol 26:775–800

Leiva D, de Vries H (2014) Steepness: testing steepness of dominance hierarchies. R package version 0.2.2

Martin P, Bateson PPG (2007) Measuring behaviour: an introductory guide, 3rd edn. Cambridge University Press, Cambridge

Matsumura S (1999) The evolution of "egalitarian" and "despotic" social systems among macaques. Primates 40:23–31

Mitani JC, Watts DP, Pepper JW, Merriwether DA (2002) Demographic and social constraints on male chimpanzee behaviour. Anim Behav 64:727–737

Nakagawa N (1997) Determinants of the dramatic seasonal changes in the intake of energy and protein by Japanese monkeys in a cool temperate forest. Am J Primatol 41:267–288

Nishida T (1966) A sociological study of solitary male monkeys. Primates 7:141–204

Noë R, Sluijter AA (1990) Reproductive tactics of male savanna baboons. Behaviour 113:117–170

Nunn CL (2000) Collective benefits, free-riders, and male extra-group conflict. In: Kapeeler PM (ed) Primate males: causes and consequences of variation in group composition. Cambridge University Press, Cambridge, pp 192–204

Ohsawa H (2003) Long-term study of the social dynamics of patas monkeys (Erythrocebus patas): group male supplanting and changes to the multi-male situation. Primates 44:99–107

Ostner J, Schülke O (2014) The evolution of social bonds in primate males. Behaviour 151:871–906

Ostner J, Berghänel A, Schülke O (2011) Coalitions destabilize dyadic dominance relationships in male Barbary macaques (Macaca sylvanus). Behaviour 148:11–13

Pandit SA, van Schaik CP (2003) A model for leveling coalitions among primate males: toward a theory of egalitarianism. Behav Ecol Sociobiol 55:161–168

Paul A (2002) Sexual selection and mate choice. Int J Primatol 23:877–904

Perry S, Barrett HC, Manson JH (2004) White-faced capuchin monkeys show triadic awareness in their choice of allies. Anim Behav 67:165–170

Pusey AE, Packer C (1987) Dispersal and philopatry. In: Smuts BB, Cheney DL, Seyfarth RM, Wrangham RW, Struhsaker TT (eds) Primate societies. University of Chicago Press, Chicago, pp 250–266

R Core Team (2017) R: a language and environment for statistical computing. R Foundation for Statistical Computing, Vienna

Schino G (2006) Grooming and agonistic support: a meta-analysis of primate reciprocal altruism. Behav Ecol 18:115–120

Schino G, Aureli F (2010) Primate reciprocity and its cognitive requirements. Evol Anthropol 19:130–135

Schülke O, Bhagavatula J, Vigilant L, Ostner J (2010) Social bonds enhance reproductive success in male macaques. Curr Biol 20:2207–2210

Shultz S, Dunbar RI (2010) Social bonds in birds are associated with brain size and contingent on the correlated evolution of life-history and increased parental investment. Biol J Lin Soc 100:111–123

Silk JB (1992) Patterns of intervention in agonistic contests among male bonnet macaques. In: Harcourt A, de Waal FB (eds) Coalitions and alliances in humans and other animals. Oxford University Press, Oxford, pp 215–232

Silk JB (1994) Social relationships of male bonnet macaques: male bonding in a matrilineal society. Behaviour 130:271–291

Silk JB (2002) Using the 'F'-word in primatology. Behaviour 139:421–446

Silk JB (2007) The adaptive value of sociality in mammalian groups. Philos Trans R Soc Lond B: Biol Sci 362:539–559

Silk JB, Alberts SC, Altmann J (2003) Social bonds of female baboons enhance infant survival. Science 302:1231–1234

Silk JB, Altmann J, Alberts SC (2006) Social relationships among adult female baboons (Papio cynocephalus) I. Variation in the strength of social bonds. Behav Ecol Sociobiol 61:183–195

Silk JB, Beehner JC, Bergman TJ, Crockford C, Engh AL, Moscovice LR et al (2009) The benefits of social capital: close social bonds among female baboons enhance offspring survival. Proc R Soc B: Biol Sci 276:3099–3104

Skaug H, Fournier D, Bolker B, Magnusson A, Nielsen A (2016) Generalized linear mixed models using 'AD model builder' (version 0.8.3.3.) [R package]

Soltis J, Thomsen R, Takenaka O (2001) The interaction of male and female reproductive strategies and paternity in wild Japanese macaques, Macaca fuscata. Anim Behav 62:485–494

Sprague DS, Suzuki S, Takahashi H, Sato S (1998) Male life history in natural populations of Japanese macaques: migration, dominance rank, and troop participation of males in two habitats. Primates 39:351–363

Sugiyama Y (1976) Life history of male Japanese monkeys. Adv Study Behav 7:255–284

Suzuki S, Hill DA, Sprague DS (1998) Intertroop transfer and dominance rank structure of nonnatal male Japanese macaques in Yakushima, Japan. Int J Primatol 19:703–722

Takahashi H (2001) Influence of fluctuation in the operational sex ratio to mating of troop and non-troop male Japanese macaques for four years on Kinkazan Island, Japan. Primates 42:183–191

Takatsuki S, Gorai T (1994) Effects of Sika deer on the regeneration of a Fagus crenata forest on Kinkazan Island, northern Japan. Ecol Res 9:115–120

Thierry B, Iwaniuk AN, Pellis SM (2000) The influence of phylogeny on the social behaviour of macaques (Primates: Cercopithecidae, genus Macaca). Ethology 106:713–728

Tiddi B, Aureli F, di Sorrentino EP, Janson CH, Schino G (2011) Grooming for tolerance? Two mechanisms of exchange in wild tufted capuchin monkeys. Behav Ecol 22:663–669

Trivers RL (1971) The evolution of reciprocal altruism. Q Rev Biolo 46:35–57

van Schaik CP (1989) The ecology of social relationships amongst female primates. In: Standen V, Foley RA (eds) Comparative socioecology: the behavioural ecology of humans and other mammals. Blackwell Scientific Publications, Oxford, pp 195–218

van Schaik CP, Pandit SA, Vogel ER (2004) A model for within-group coalitionary aggression among males. Behav Ecol Sociobiol 57:101–109

van Schaik CP, Pandit SA, Vogel ER (2006) Toward a general model for male–male coalitions in primate groups. In: Kappeler P, van Schaik CP (eds)  Cooperation in primates and humans. Springer, Berlin, pp 151–171

Ventura R, Majolo B, Koyama NF, Hardie S, Schino G (2006) Reciprocation and interchange in wild Japanese macaques: grooming, cofeeding, and agonistic support. Am J Primatol 68:1138–1149

Watts DP (2002) Reciprocity and interchange in the social relationships of wild male chimpanzees. Behaviour 139:343–370

Xia DP, Li JH, Garber PA, Matheson MD, Sun BH, Zhu Y (2013) Grooming reciprocity in male Tibetan macaques. Am J Primatol 75:1009–1020

Young C, Majolo B, Schülke O, Ostner J (2014) Male social bonds and rank predict supporter selection in cooperative aggression in wild Barbary macaques. Anim Behav 95:23–32
Acknowledgements
I would like to thank Drs. Nakagawa N., Yamagiwa J., Inoue E., and colleagues for their encouragement, valuable comments and discussions. I would also like to thank Dr. Izawa K. for his permission and supports during field investigation. I appreciate Dr. Yamamoto H. for his supports for data analysis and Drs. Peter T. and Sha JCM. for their help for editing this paper. Dr. Furuichi T. and two anonymous reviewers gave valuable comments to improve this work. This study was financially supported by the Cooperation Research Program of the Primate Research Institute, Kyoto University (H20-F30 and H21-B23) and a Grant-in-Aid for Scientific Research (B, No. 23370099) from Japan Society for the Promotion of Science (JSPS).
Additional information
Publisher's Note
Springer Nature remains neutral with regard to jurisdictional claims in published maps and institutional affiliations.
About this article
Cite this article
Kawazoe, T. Male–male social bonds predict tolerance but not coalition formation in wild Japanese macaques. Primates (2020). https://doi.org/10.1007/s10329-020-00838-x
Received:

Accepted:

Published:
Keywords
Male bonds

Dominance

Agonistic support

Coalition

Tolerance

Macaca fuscata