Abstract
Arboreal primates use loud vocalisations to transmit information in densely vegetated habitats. These vocalisations are likely to show adaptations to increase their propagation and to transmit information. Golden-backed uakaris, Cacajao melanocephalus, emit a loud vocalization termed the "tchó" call, which seems to function as a contact call and encodes information on the individual signaler and behavioural context. Because the call is often used for communication over relatively large distances, we were interested in its propagation in the wild. The aim of the present study was to investigate the degradation patterns of the tchó call in the flooded igapó forest. We examined via playback experiments how the acoustic parameters of this call changed with increasing distance from the playback speaker. We broadcast 12 tchó calls and rerecorded them along a transect at distances of 10, 20, 40, 80 and 160 m from the speaker in two igapó forest patches in Jaú National Park, Amazonas, Brazil. At 160 m from the speaker, the tchó call degraded in both patches and was barely recordable. Up to a distance of 80 m, the bandwidth and number of harmonics in the call decreased with increasing distance, while the lowest frequency increased. The highest frequency (HF) did not gradually decrease with increasing distance. However, when we compared the HF at distances of 10 and 80 m, we could see a clear decrease in this parameter. Call duration increased compared with the broadcast signal up to 40 m because of reverberation, but decreased at 80 m as the weaker echoes of the call attenuated. These changes may reveal information about the signaler's distance during signal transmission. The frequency of maximum energy (FME) of the tchó call decreased significantly when comparing recordings made at 10 and 80 m. Nevertheless, it did not show a consistent and gradual decrease with increasing rerecording distance (at least up to 80 m). FME remained relatively stable (±50 Hz on average, at least up to 80 m) when compared to the other call parameters, suggesting that the tchó call may be adapted to transmit information with some efficiency throughout the igapó forest.
Access options
Buy single article
Instant access to the full article PDF.
US$ 39.95
Tax calculation will be finalised during checkout.
Subscribe to journal
Immediate online access to all issues from 2019. Subscription will auto renew annually.
US$ 79
Tax calculation will be finalised during checkout.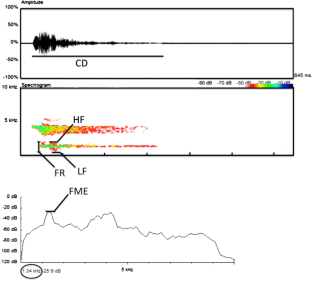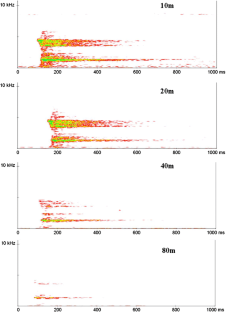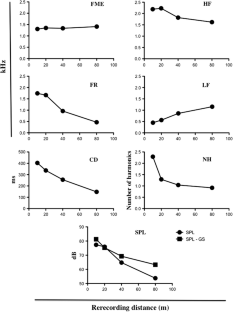 References
Altmann SA (1967) The structure of primate social communication. In: Altman SA (ed) Social communication among primates. University of Chicago Press, Chicago, pp 325–336

Barnett AA, Brandon-Jones D (1997) The ecology, biogeography and conservation of the uakaris, Cacajao (Pitheciinae). Folia Primatol 68:223–235

Barnett AA, de Castilho CV, Shapley RL, Anicácio A (2005) Diet, habitat selection, and natural history of Cacajao melanocephalus ouakary in Jaú National Park, Brazil. Int J Primatol 264:961–981

Bezerra BM, Souto AS (2008) The structure and usage of the vocal repertoire of common marmosets. Int J Primatol 29:671–701

Bezerra BM, Souto AS, Jones G (2010) Vocal repertoire of golden-backed uakaris (Cacajao melanocephalus): call structure and context. Int J Primatol 5:759–778

Bezerra BM, Barnett A, Souto AS, Jones G (2011) Ethogram and natural history of golden-backed uakaris, Cacajao melanocephalus. Int J Primatol 32:46–68

Borges SH, Carvalhaes A (2000) Bird species of black water inundation forests in the Jaú National Park (Amazonas state, Brazil): their contribution to regional species richness. Biodiv Conserv 9:201–214

Borges SH, Henriques LM, Carvalhaes A (2004) Density and habitat use by owls in two Amazonian forest types. J Field Ornithol 75:176–192

Bradbury JW, Vehrencamp SL (1998) Principles of animal communication. Sinauer, Sunderland

Brown CH (1989) The active space of blue monkey and grey cheeked mangabey vocalizations. Anim Behav 37:1023–1034

Brown CH, Warser PM (1988) Environmental influences on the structure of primate vocalizations. In: Todt S, Goedeking P, Symmes D (eds) Primate vocal communication. Springer, London, pp 51–68

Brumm H, Slater PJB (2006) Animals can vary signal amplitude with receiver distance: evidence from zebra finch song. Anim Behav 72:699–705

De la Torre S, Snowdon CT (2002) Environmental correlates of vocal communication of wild pygmy marmosets, Cebuella pygmaea. Anim Behav 63:847–856

Defler TR (1999) Fission–fusion behaviour in Cacajao melanocephalus ouakary. Neotrop Primates 7:5–8

Defler TR (2003) Primates of Colombia (Conservation International). Spring Press, New York

Dietz JM, Peres CA, Pinder L (1997) Foraging ecology and use of space in wild golden lion tamarins (Leontopithecus rosalia). Am J Primatol 41:289–305

Ferreira LV (1997a) Effects of the duration of flooding on species richness and floristic composition in three hectares in the Jaú National Park in floodplain forests in central Amazonia. Biodiv Conserv 6:1353–1363

Ferreira LV (1997b) Is there a difference between the water floodplain forest (várzea) and black water floodplain forest in relation to number of species and density? Braz J Ecol 2:60–62

Ferreira LV (2000) Effects of flooding duration on species richness, floristic composition and forest structure in river margin habitat in Amazonian black water floodplain forests: implications for future design of protected areas. Biodiv Conserv 9:1–14

Ferreira LV, Parolin P (2011) Effects of flooding duration on plant demography in a black-water floodplain forest in central Amazonia. Pesqui Bot 62:323–332

Ferreira LV, Stohlgren TJ (1999) Effects of river level fluctuation in species richness, diversity, and plant distribution in a floodplain in Central Amazonia. Oecologia 120:582–587

Fundação Vitória Amazônica (1998) Plano de manejo do parque nacional do Jaú. FVA/IBAMA, Manaus

Geiss S, Schrader L (1996) Temporal and structural features of infant calls in relation to care giving behaviour in common marmosets, Callithrix j. jacchus. Behav Process 38:183–191

Gouzoules H, Gouzoules S (2007) The conundrum of communication. In: Campbell C, Fuentes A, MacKinnon K, Panger M, Bearder S (eds) Primates in perspective. Oxford University Press, Oxford, pp 621–635

Hubrech RC (1985) Home-range size and use and territorial behavior in the common marmoset, Callithrix jacchus jacchus, at the Tapacurá Field Station, Recife, Brazil. Int J Primatol 6:533–550

Ingard U (1953) A review of the influence of meteorological conditions on sound propagation. J Acoust Soc Am 25:405–411

Lameira AR, Wich SA (2008) Orangutan long call degradation and individuality over distance: a playback approach. Int J Primatol 29:615–625

Maciej P, Fischer J, Hammerschmidt K (2011) Transmission characteristics of primate vocalizations: implications for acoustic analyses. PLoS ONE 6(8):e23015

Marten K, Quine D, Marler P (1977) Sound transmission and its significance for animal vocalization. Behav Ecol Sociobiol 2:291–302

Mathevon NM, Aubin T, Dabelsteen T, Vielliard JME (2004) Are communication activities shaped by environmental constraints in reverberating and absorbing forest habitats? An Acad Bras Cienc 76(2):259–263

Mendes Pontes AS, Monteiro da Cruz AS (1995) Home range, intergroup transfers, and reproductive status of common marmosets Callithrix jacchus in a forest fragment in North-eastern Brazil. Primates 36:335–347

Mitani CJ, Stuht J (1998) The evolution of nonhuman primate loud calls: acoustic adaptation for long-distance transmission. Primates 39:171–182

Morton ES (1975) Ecological sources of selection in avian sounds. Am Nat 109:17–34

Naguib M, Wiley H (2001) Estimating the distance to a sound source of sound: mechanisms and adaptations for long-range communication. Anim Behav 62:825–837

Napier JR, Napier PH (1996) The natural history of the primates. The MIT Press, Cambridge

Norconk MA (2007) Sakis, uakaris and titi monkeys. In: Campbell CJ, Fuentes A, MacKinnon K, Panger M, Bearder S (eds) Primates in perspective. Oxford University Press, New York, pp 123–138

Owings DH, Morton ES (1998) Animal vocal communication: a new approach. Cambridge University Press, Cambridge

Parolin P, Wittmann F (2010) Struggle in the flood: tree responses to flooding stress in four tropical floodplain systems. AoB Plant. doi:10.1093/aobpla/plq003

Parolin P, Worbes M (2000) Wood density of trees in black water floodplains of Rio Jaú National Park, Amazonia, Brazil. Acta Amazonica 30:441–448

Prance GT (1979) Notes on the vegetation of Amazonia III. Terminology of Amazonian forest types subjected to inundation. Brittonia 31:26–38

Prescott M (2006) Primate sensory capabilities and communication signals: implications for care and use in the laboratory. NC3Rs 4:1–23

Richards DG, Wiley RH (1980) Reverberations and amplitude fluctuations in the propagation of sound in a forest: implications for animal communications. Am Nat 115:381–399

Sabatini V, Ruiz Miranda CR (2008) Acoustical aspects of the propagation of long calls of wild Leontopithecus rosalia. Int J Primatol 29:207–223

Snowdon S, de la Torre S (2002) Multiple environmental contexts and communication in pygmy marmosets (Cebuella pygmaea). J Comp Psychol 116:182–188

Speaks CE (2005) Introduction to sound: acoustics for the hearing and speech sciences. Singular, London

Sugiura H, Tanaka T, Masataca N (2006) Sound transmission in the habitats of Japanese macaques and its possible effect on population differences in coo calls. Behaviour 143:993–1012

Waser PM, Brown CH (1986) Habitat acoustics and primate communication. Am J Primatol 10:135–157

Waser PM, Waser MS (1977) Experimental studies of primate vocalization: specializations for long distance propagation. Z Tierpsychol 43:239–263

Wiley RH, Richards DG (1978) Physical constraints on acoustic communication in the atmosphere: implications for the evolution of animal vocalizations. Behav Ecol Sociobiol 3:69–94
Acknowledgments
In the field, we are grateful to Maria de Jesus Santos Melo, Eduardo Elízio de Souza, Jacó Saldanha de Souza, Ilo José Severino di Almeida, Roberto da Silva and Liu Ying (field assistants), to all of the staff of Jaú National Park-IBAMA, and to all Fundação Vitória Amazônica staff. Also, we are grateful to Adrian Barnett for all of his help and the initial contacts with the local field guides at Jaú National Park. We would like to thank Dr. Peter Waser and Dr. John Mitani for revising the manuscript. We would like to thank Terrence Keasey and Susan Keasey for their comments on early versions of the manuscript. BMB received support from Programme Alban (the European Union Programme of High Level Scholarships for Latin America, grant number E06D103405BR); an ORS award (Overseas Research Students Award Scheme); Faculty of Sciences, School of Biological Sciences, University of Bristol; a Rufford Small Conservation Grant; an IDEA WILD grant, Amazon Ecopark Lodge and Living Rain Forest Foundation. The present study was noninvasive and complies with Brazilian law (Ibama licenses numbers: 01/1007 Parna Jaú and 13618-1).
About this article
Cite this article
Bezerra, B.M., Souto, A.S. & Jones, G. Propagation of the loud "tchó" call of golden-backed uakaris, Cacajao melanocephalus, in the black-swamp forests of the upper Amazon. Primates 53, 317–325 (2012). https://doi.org/10.1007/s10329-012-0312-8
Received:

Accepted:

Published:

Issue Date:
Keywords
Sound propagation

Igapó forest

Golden-backed uakaris

Call structure

Playback