Abstract
Eggplant brown leaf spot caused by Rhizoctonia solani AG-3 was first found in Japan in 1976, but its subgroup remained undetermined for over 40 years. We conducted a molecular phylogenetic analysis using three loci (rDNA-ITS, rDNA-IGS1, and tef-1α) of two Iwate isolates, newly obtained in this study, and one Tokyo isolate, which was previously identified as AG-2-2 IV and reported as an additional pathogen causing this disease. The phylogenetic tree based on these three loci revealed that the three isolates belonged to AG-3 TM. Eggplant is the first non-tomato host of AG-3 TM to be identified in Japan.
Access options
Buy single article
Instant access to the full article PDF.
US$ 39.95
Tax calculation will be finalised during checkout.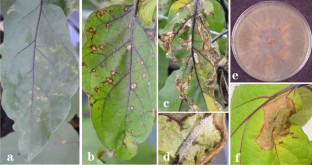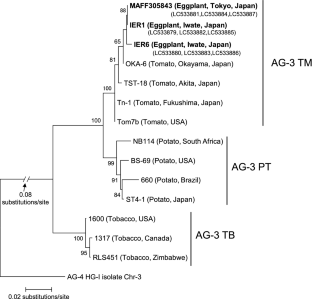 References
Carling DE (1996) Grouping in Rhizoctonia solani by hyphal anastomosis reaction. In: Sneh B, Jabaji-Hare S, Neate S, Dijst G (eds) Rhizoctonia species taxonomy, molecular biology, ecology, pathology and disease control. Springer, Dordrecht, pp 37–47

Horie H, Iijaima T (1990) Occurrence of brown leaf spot of eggplant by Thanatephorus cucumeris (Rhizoctonia solani AG-2-2) (in Japanese with English summary). Bull Tokyo Metropol Agric Exp Stat 22:81–96

Horimoto K, Kodama T (1983) Brown leaf spot of eggplant caused by Thanatephorus cucumeris (Frank) Donk. (in Japanese with English summary). Bull Nara Agric Exp Stat 14:66–70

Martin B (1987) Rapid tentative identification of Rhizoctonia spp. associated with diseased turfgrasses. Plant Dis 71:47–49

Misawa T, Kurose D, Kuninaga S (2017) First report of leaf sheath rot of Welsh onion caused by nine taxa of Rhizoctonia spp. and characteristics of the pathogens. J Gen Plant Pathol 83:121–130

Misawa T, Kurose D, Shishido K, Toda T, Kuninaga S (2020) Characterization of a new subgroup of Rhizoctonia solani anastomosis group 3 (AG-3 TM) associated with tomato leaf blight. J Gen Plant Pathol 86:457–467

Ogoshi A (1987) Ecology and pathogenicity of anastomosis and intraspecific groups of Rhizoctonia solani Kühn. Annu Rev Phytopathol 25:125–143

Zhao YQ, Wu YH, Fu Y, An MN, Chen JG, Zhao XX (2013) Characterization of Rhizoctonia solani AG-3 isolates causing target spot of flue-cured tobacco in China. Adv Mater Res 726–731:4321–4325
Ethics declarations
Conflict of interest
The authors declare that they have no conflict of interest.
Human and animal rights
This article does not contain any studies with human participants or animals performed by any of the authors.
Additional information
Publisher's Note
Springer Nature remains neutral with regard to jurisdictional claims in published maps and institutional affiliations.
The nucleotide sequence data reported are available in the DDBJ/EMBL/ GenBank databases as accessions LC533879–533887.
About this article
Cite this article
Misawa, T., Iwadate, Y. & Kurose, D. Phylogenetic analysis of the pathogen causing eggplant brown leaf spot. J Gen Plant Pathol 87, 123–126 (2021). https://doi.org/10.1007/s10327-021-00982-2
Received:

Accepted:

Published:

Issue Date:
Keywords
Brown leaf spot

Eggplant

Rhizoctonia solani AG-3 TM
Solanaceae