Abstract
In plant antiviral breeding, R genes encoding nucleotide-binding site and leucine-rich repeat (NB-LRR) proteins serve as major genetic resources to introduce antiviral traits to crop cultivars. However, interfamily transfer—heterologous expression in a plant belonging to a taxonomically different family from the source plant of the transferred gene—of an NB-LRR gene is difficult because it often leads to inappropriate autoimmunity that results in inhibition of plant growth or lack of resistance. We previously identified a non-NB-LRR-type resistance gene, JACALIN-TYPE LECTIN REQUIRED FOR POTEXVIRUS RESISTANCE1 (JAX1), from Arabidopsis thaliana (Brassicaceae). Here, we used a transient expression assay to demonstrate that JAX1 confers broad resistance to potexviruses including pepino mosaic virus (PepMV), which causes severe damage to greenhouse tomato production worldwide. JAX1-transgenic Nicotiana benthamiana and tomato plants in the Solanaceae family exhibited broad and a high level resistance to multiple PepMV isolates. Our results suggest that non-NB-LRR-type resistance genes, especially lectin-family genes, will be useful for interfamily transfer and are promising genetic resources for producing virus-resistant crop cultivars.
This is a preview of subscription content, log in to check access.
Access options
Buy single article
Instant access to the full article PDF.
US$ 39.95
Price includes VAT for USA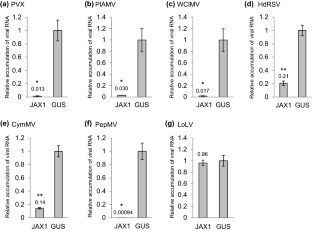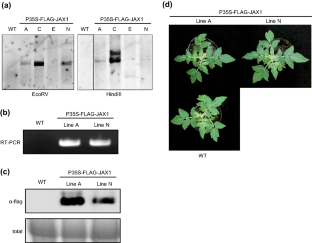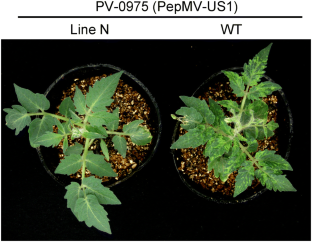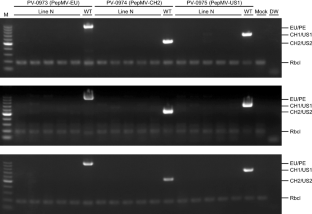 References
Alfaro-Fernández A, Sánchez-Navarro J, Cebrián M, Córdoba-Sellés M, Pallás V, Jordá C (2009) Simultaneous detection and identification of Pepino mosaic virus (PepMV) isolates by multiplex one-step RT-PCR. Eur J Plant Pathol 125:143–158

Anonymous (2019) EPPO Global Database 2019 (available online). https://gd.eppo.int. Cited 7 Aug 2019

Bouwmeester K, Han M, Blanco-Portales R, Song W, Weide R, Guo LY, van der Vossen EA, Govers F (2014) The Arabidopsis lectin receptor kinase LecRK-I.9 enhances resistance to Phytophthora infestans in Solanaceous plants. Plant Biotechnol J 12:10–16

Candresse T, Marais A, Faure C, Dubrana MP, Gombert J, Bendahmane A (2010) Multiple coat protein mutations abolish recognition of Pepino mosaic potexvirus (PepMV) by the potato Rx resistance gene in transgenic tomatoes. Mol Plant Microbe Interact 23:376–383

Chisholm ST, Coaker G, Day B, Staskawicz BJ (2006) Host–microbe interactions: shaping the evolution of the plant immune response. Cell 124:803–814

Cosson P, Schurdi-Levraud V, Le QH, Sicard O, Caballero M, Roux F, Le Gall O, Candresse T, Revers F (2012) The RTM resistance to potyviruses in Arabidopsis thaliana: natural variation of the RTM genes and evidence for the implication of additional genes. PLoS One 7:e39169

de Ronde D, Butterbach P, Kormelink R (2014) Dominant resistance against plant viruses. Front Plant Sci 5:307

Ding SW, Voinnet O (2007) Antiviral immunity directed by small RNAs. Cell 130:413–426

Earley KW, Haag JR, Pontes O, Opper K, Juehne T, Song KM, Pikaard CS (2006) Gateway-compatible vectors for plant functional genomics and proteomics. Plant J 45:616–629

Hanssen IM, Thomma BP (2010) Pepino mosaic virus: a successful pathogen that rapidly evolved from emerging to endemic in tomato crops. Mol Plant Pathol 11:179–189

Hanssen IM, Paeleman A, Vandewoestijne E, Van Bergen L, Bragard C, Lievens B, Vanachter A, Thomma B (2009) Pepino mosaic virus isolates and differential symptomatology in tomato. Plant Pathol 58:450–460

Hanssen IM, Lapidot M, Thomma BP (2010) Emerging viral diseases of tomato crops. Mol Plant Microbe Interact 23:539–548

Himeno M, Maejima K, Komatsu K, Ozeki J, Hashimoto M, Kagiwada S, Yamaji Y, Namba S (2010) Significantly low level of small RNA accumulation derived from an encapsidated mycovirus with dsRNA genome. Virology 396:69–75

Hoshi A, Oshima K, Kakizawa S, Ishii Y, Ozeki J, Hashimoto M, Komatsu K, Kagiwada S, Yamaji Y, Namba S (2009) A unique virulence factor for proliferation and dwarfism in plants identified from a phytopathogenic bacterium. Proc Natl Acad Sci USA 106:6416–6421

Huang PY, Yeh YH, Liu AC, Cheng CP, Zimmerli L (2014) The Arabidopsis LecRK-VI.2 associates with the pattern-recognition receptor FLS2 and primes Nicotiana benthamiana pattern-triggered immunity. Plant J 79:243–255

Ishibashi K, Masuda K, Naito S, Meshi T, Ishikawa M (2007) An inhibitor of viral RNA replication is encoded by a plant resistance gene. Proc Natl Acad Sci USA 104:13833–13838

Jones JD, Dangl JL (2006) The plant immune system. Nature 444:323–329

Jones RAC, Koenig R, Lesemann DE (1980) Pepino mosaic virus, a new potexvirus from pepino (Solanum muricatum). Ann Appl Biol 94:61–68

Joshi RK, Nayak S (2011) Functional characterization and signal transduction ability of nucleotide-binding site-leucine-rich repeat resistance genes in plants. Genet Mol Res 10:2637–2652

Komatsu K, Hashimoto M, Ozeki J, Yamaji Y, Maejima K, Senshu H, Himeno M, Okano Y, Kagiwada S, Namba S (2010) Viral-induced systemic necrosis in plants involves both programmed cell death and the inhibition of viral multiplication, which are regulated by independent pathways. Mol Plant Microbe Interact 23:283–293

Lacombe S, Rougon-Cardoso A, Sherwood E, Peeters N, Dahlbeck D, van Esse HP, Smoker M, Rallapalli G, Thomma B, Staskawicz B, Jones JDG, Zipfel C (2010) Interfamily transfer of a plant pattern-recognition receptor confers broad-spectrum bacterial resistance. Nat Biotechnol 28:365–369

Maejima K, Himeno M, Netsu O, Ishikawa K, Yoshida T, Fujita N, Hashimoto M, Komatsu K, Yamaji Y, Namba S (2014) Development of an on-site plum pox virus detection kit based on immunochromatography. J Gen Plant Pathol 80:176–183

Mahajan SK, Chisholm ST, Whitham SA, Carrington JC (1998) Identification and characterization of a locus (RTM1) that restricts long-distance movement of tobacco etch virus in Arabidopsis thaliana. Plant J 14:177–186

Moffett P (2009) Mechanisms of recognition in dominant R gene mediated resistance. Adv Virus Res 75:1–33

Okano Y, Senshu H, Hashimoto M, Neriya Y, Netsu O, Minato N, Yoshida T, Maejima K, Oshima K, Komatsu K, Yamaji Y, Namba S (2014) In planta recognition of a double-stranded RNA synthesis protein complex by a potexviral RNA silencing suppressor. Plant Cell 26:2168–2183

Ozeki J, Takahashi S, Komatsu K, Kagiwada S, Yamashita K, Mori T, Hirata H, Yamaji Y, Ugaki M, Namba S (2006) A single amino acid in the RNA-dependent RNA polymerase of Plantago asiatica mosaic virus contributes to systemic necrosis—brief report. Arch Virol 151:2067–2075

Ranf S, Gisch N, Schaffer M, Illig T, Westphal L, Knirel YA, Sánchez-Carballo PM, Zahringer U, Huckelhoven R, Lee J, Scheel D (2015) A lectin S-domain receptor kinase mediates lipopolysaccharide sensing in Arabidopsis thaliana. Nat Immunol 16:426–433

Ratcliff FG, MacFarlane SA, Baulcombe DC (1999) Gene silencing without DNA: RNA-mediated cross-protection between viruses. Plant Cell 11:1207–1215

Rodriguez-Moreno L, Song Y, Thomma BPHJ (2017) Transfer and engineering of immune receptors to improve recognition capacities in crops. Curr Opin Plant Biol 38:42–49

Soosaar JL, Burch-Smith TM, Dinesh-Kumar SP (2005) Mechanisms of plant resistance to viruses. Nat Rev Microbiol 3:789–798

Spence NJ, Basham J, Mumford RA, Hayman G, Edmondson R, Jones DR (2006) Effect of Pepino mosaic virus on the yield and quality of glasshouse-grown tomatoes in the UK. Plant Pathol 55:595–606

Sun HJ, Uchii S, Watanabe S, Ezura H (2006) A highly efficient transformation protocol for Micro-Tom, a model cultivar for tomato functional genomics. Plant Cell Physiol 47:426–431

Takahashi S, Komatsu K, Kagiwada S, Ozeki J, Mori T, Hirata H, Yamaji Y, Ugaki M, Namba S (2006) The efficiency of interference of Potato virus X infection depends on the target gene. Virus Res 116:214–217

van der Vlugt RAA, Stijger CCMM, Verhoeven JTJ, Lesemann DE (2000) First report of Pepino mosaic virus on tomato. Plant Dis 84:103

Voinnet O, Rivas S, Mestre P, Baulcombe D (2003) An enhanced transient expression system in plants based on suppression of gene silencing by the p19 protein of tomato bushy stunt virus. Plant J 33:949–956

Whitham SA, Yamamoto ML, Carrington JC (1999) Selectable viruses and altered susceptibility mutants in Arabidopsis thaliana. Proc Natl Acad Sci USA 96:772–777

Yamaji Y, Maejima K, Ozeki J, Komatsu K, Shiraishi T, Okano Y, Himeno M, Sugawara K, Neriya Y, Minato N, Miura C, Hashimoto M, Namba S (2012) Lectin-mediated resistance impairs plant virus infection at the cellular level. Plant Cell 24:778–793

Yoshida T, Shiraishi T, Hagiwara-Komoda Y, Komatsu K, Maejima K, Okano Y, Fujimoto Y, Yusa A, Yamaji Y, Namba S (2019) The plant non-canonical antiviral resistance protein JAX1 inhibits potexviral replication by targeting the viral RNA-dependent RNA polymerase. J Virol 93:e01506–18

Yusa A, Neriya Y, Hashimoto M, Yoshida T, Fujimoto Y, Hosoe N, Keima T, Tokumaru K, Maejima K, Netsu O, Yamaji Y, Namba S (2019) Functional conservation of EXA1 among diverse plant species for the infection by a family of plant viruses. Sci Rep 9:12

Ziebell H, Carr JP (2010) Cross-protection: a century of mystery. In: Carr JP, Loebenstein G (eds) Advances in virus research, vol 76. Academic Press, San Diego, pp 211–264
Acknowledgements
This research was supported by Grants-in-Aid for Scientific Research (16K14848, 17H03770 and 25221201) from the Japan Society for the Promotion of Science, the Science and Technology Research Promotion Program for Agriculture, Forestry, Fisheries and Food Industry (28009A) from MAFF of Japan and Mishima Kaiun Memorial Foundation.
Ethics declarations
Conflicts of interest
The authors declare that they have no conflict of interest.
Human and animal rights
This article does not contain any studies with human participants or animals performed by any of the authors.
Additional information
Publisher's Note
Springer Nature remains neutral with regard to jurisdictional claims in published maps and institutional affiliations.
Electronic supplementary material
Below is the link to the electronic supplementary material.
About this article
Cite this article
Okano, Y., Maejima, K., Yoshida, T. et al. Interfamily transfer of Arabidopsis lectin-mediated antiviral gene confers resistance to pepino mosaic virus in tomato. J Gen Plant Pathol 86, 274–282 (2020). https://doi.org/10.1007/s10327-020-00917-3
Received:

Accepted:

Published:

Issue Date:
Keywords
Pepino mosaic virus

Resistance

Transgenic plants