Abstract
Downy mildew caused by Plasmopara viticola is a devastating disease of grapevines. Grape cultivar Shine Muscat, bred in Japan, is moderately resistant to downy mildew in Japanese vineyards and produces grapes with good flavor. In infection assays, sporangia production on leaves inoculated with P. viticola was repressed in Shine Muscat and resistant cultivar Kober 5BB in comparison with susceptible culivar Katta Kurgan. Transcriptional analyses of these cultivars after inoculation with P. viticola revealed that the defense-related gene PR-2 was induced in Shine Muscat and Kober 5BB but not Katta Kurgan. These results demonstrate that Shine Muscat has a defense mechanism(s) that includes induction of defense-related genes such as PR-2. Analysis of the breeding line of Shine Muscat suggests that the mechanism(s) of disease resistance was transferred from Stueben to Shine Muscat.
Access options
Buy single article
Instant access to the full article PDF.
US$ 39.95
Tax calculation will be finalised during checkout.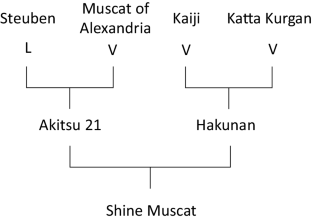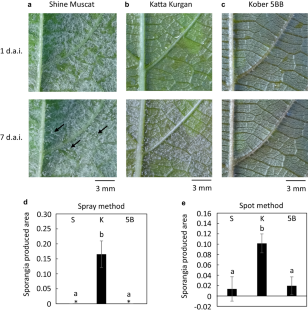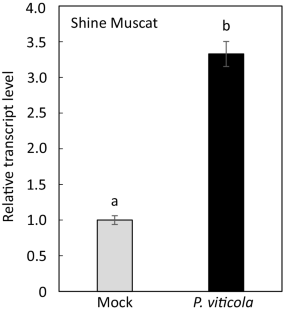 References
Armijo G, Schlechter R, Agurto M, Muñoz D, Nuñez C, Arce-Johnson P (2016) Grapevine pathogenic microorganisms: understanding infection strategies and host response scenarios. Front Plant Sci 7:382

Aziz A, Poinssot B, Daire X, Adrian M, Bézier A, Lambert B, Joubert JM, Pugin A (2003) Laminarin elicits defense responses in grapevine and induces protection against Botrytis cinerea and Plasmopara viticola. Mol Plant Microbe Interact 16:1118–1128

Ebrahim S, Usha K, Singh B (2011) Pathogenesis related (PR) proteins in plant defense mechanism. In: Méndez-Vilas A (ed) Science against microbial pathogens: communicating current research and technological advances. Formatex Research Center, Badajoz, pp 1043–1054

Fesel PH, Zuccaro A (2016) β-Glucan: crucial component of the fungal cell wall and elusive MAMP in plants. Fungal Genet Biol 90:53–60

Gessler C, Pertot I, Perazzolli M (2011) Plasmopara viticola: a review of knowledge on downy mildew of grapevine and effective disease management. Phytopathol Mediterr 50:3–44

Kishi K (ed) (1998) Plant diseases in Japan. Zenkoku Noson Kyoiku Kyokai, Tokyo, pp 853 (in Japanese)

Kono A, Ban Y, Sato A, Mitani N (2014) Evaluation of 17 table grape accessions for foliar resistance to downy mildew. In: Proceedings of the XIth International Conference on Grapevine Breeding and Genetics, Beijing, China. International Society for Horticultural Science, Leuven, Belgium, pp 207–209

Kortekamp A (2006) Expression analysis of defence-related genes in grapevine leaves after inoculation with a host and a non-host pathogen. Plant Physiol Biochem 44:58–67

Kono A, Sato A, Reisch B, Cadle-Davidson L (2015) Effect of detergent on the quantification of grapevine downy mildew sporangia from leaf discs. HortScience 50:656–660

Kortekamp A, Zyprian E (1999) Leaf hairs as a basic protective barrier against downy mildew of grape. J Phytopathol 147:453–459

Legay G, Marouf E, Berger D, Neuhaus JM, Mauch-Mani B, Slaughter A (2011) Identification of genes expressed during the compatible interaction of grapevine with Plasmopara viticola through suppression subtractive hybridization (SSH). Eur J Plant Pathol 129:281–301

Lenzi L, Caruso C, Bianchedi PL, Pertot I, Perazzolli M (2016) Laser microdissection of grapevine leaves reveals site-specific regulation of transcriptional response to Plasmopara viticola. Plant Cell Physiol 57:69–81

Malacarne G, Vrhovsek U, Zulini L, Cestaro A, Stefanini M, Mattivi F, Delledonne M, Velasco R, Moser C (2011) Resistance to Plasmopara viticola in a grapevine segregating population is associated with stilbenoid accumulation and with specific host transcriptional responses. BMC Plant Biol 11:114

Polesani M, Desario F, Ferrarini A, Zamboni A, Pezzotti M, Kortekamp A, Polverari A (2008) cDNA-AFLP analysis of plant and pathogen genes expressed in grapevine infected with Plasmopara viticola. BMC Genom 9:142

Polesani M, Bortesi L, Ferrarini A, Zamboni A, Fasoli M, Zadra C, Lovato A, Pezzotti M, Delledonne M, Polverari A (2010) General and species-specific transcriptional responses to downy mildew infection in a susceptible (Vitis vinifera) and a resistant (V. riparia) grapevine species. BMC Genom 11:117

Reid KE, Olsson N, Schlosser J, Peng F, Lund ST (2006) An optimized grapevine RNA isolation procedure and statistical determination of reference genes for real-time RT-PCR during berry development. BMC Plant Biol 6:27

Staudt G, Kassemeyer HH (1995) Evaluation of downy mildew resistance in various accessions of wild Vitis species. Vitis 34:225–228

Yamada M, Sato A (2016) Advances in table grape breeding in Japan. Breed Sci 66:34–45

Yamada M, Yamane H, Sato A, Hirakawa N, Iwanami H, Yoshinaga K, Ozawa T, Mitani N, Shiraishi M, Yoshioka M, Nakajima I, Nakano M, Nakaune R (2008) New grape cultivar 'Shine Muscat' (in Japanese with English summary). Bull Natl Fruit Tree Res Stn 7:21–38

Yu Y, Zhang Y, Yin L, Lu J (2012) The mode of host resistance to Plasmopara viticola infection of grapevines. Phytopathology 102:1094–1101
Ethics declarations
Conflict of interest
The authors declare that they have no conflict of interest.
Ethical approval
This article does not contain any studies with human participants or animals performed by any of the authors.
About this article
Cite this article
Shimizu, T., Kono, A. & Suzaki, K. Transcriptional analysis of defense-related genes induced by infection with the causal agent of downy mildew, Plasmopara viticola, in grapevine cultivar Shine Muscat. J Gen Plant Pathol 85, 182–188 (2019). https://doi.org/10.1007/s10327-019-00840-2
Received:

Accepted:

Published:

Issue Date:
Keywords
Defense-related gene

Downy mildew

Grapevine

Plasmopara viticola

Transcriptional analysis