Abstract
Phytophthora root and stem rot of soybean is a destructive disease in many countries caused by the soil-borne pathogen Phytophthora sojae. The interaction between soil-borne pathogens and plant roots before invasion is a focus of interest for revealing host and nonhost resistance mechanisms to soil-borne pathogens. In the present study, soybean cvs. Sloan (susceptible), Williams 82 (resistant) and nonhost common bean cv. Yidianhong were used to determine the effect of roots, root exudates, and isoflavones, amino acids, sugars, and citric acid from the root exudates on the pre-infection behavior (taxis, encystment and cyst germination) of zoospores of P. sojae. The elongation zone of roots of both host soybeans attracted significantly more zoospores than did that of the nonhost bean, and that of the susceptible cultivar attracted significantly more zoospores than did that of the resistant cultivar. Similarly, the host soybean root exudates attracted zoospores and promoted zoospore encystment and cyst germination, but nonhost root exudates had no effect on zoospores. Thus, P. sojae apparently selects its host depending on the root exudates. Of the 26 total components detected from root exudates, the exudates from susceptible and resistant soybeans and nonhost common bean had 12, 17, and 25 components respectively. The differences between the host and nonhost were mainly in the type and concentration of amino acids. Most components were significant chemoattractants of P. sojae zoospores. However, when these attractants were mixed at their relative concentrations in the root exudates, the chemoattraction was significantly reduced compared to that of the sum of each components, and the reduction from strongest to weakest was nonhost common bean, resistant and susceptible soybeans, indicating that these components in the root exudates interact with each other, and the intensity of the interaction relates to the type and concentration of the components. This phenomenon is because some components may share the same receptor, thus causing an obstructive effect. This result may also be a reason that common bean is a nonhost of P. sojae. In addition, the relative local concentrations of citric acid in the root exudates of both nonhost cv. Yidianhong and resistant cv. Williams 82 were repellent to zoospores of P. sojae. Root exudates of susceptible cv. Sloan amended with two concentrations of citric acids especially reduced zoospore chemoattraction, indicating that citric acid in the root exudates also plays an important role in host and nonhost resistance to P. sojae.
Access options
Buy single article
Instant access to the full article PDF.
US$ 39.95
Tax calculation will be finalised during checkout.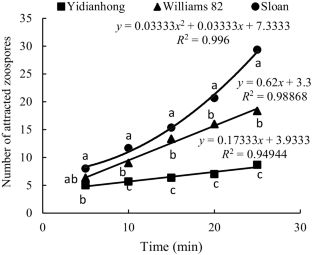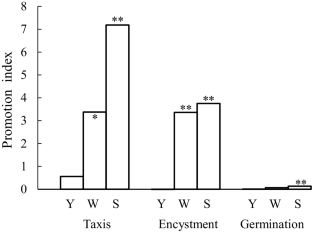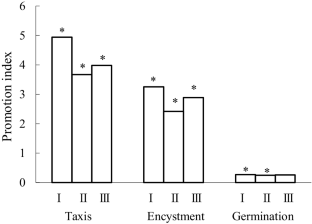 References
Badri DV, Vivanco JM (2009) Regulation and function of root exudates. Plant Cell Environ 32:666–681

Costamilan LM, Clebsch CC, Soares RM, Seixas CDS, Godoy CV, Dorrance AE (2013) Pathogenic diversity of Phytophthora sojae pathotypes from Brazil. Eur J Plant Pathol 135:845–853

Donaldson SP, Deacon JW (1993) Effects of amino acids and sugars on zoospore taxis, encystment and cyst germination in Pythium aphanidermatum (Edson) Fitzp., P. catenulatum Matthews and P. dissotocum Drechs. New Phytol 123:289–295

Dong Y, Dong K, Zheng Y, Yang Z, Tang L, Xiao J (2014) Allelopathic effects and components analysis of root exudates of faba bean cultivars with different degrees of resistance to Fusarium oxysporum (in Chinese with English summary). Chin. J Eco-Agr 22:292–299

Dorrance AE, Mills D, Robertson AE, Draper MA, Giesler L, Tenuta A (2007) Phytophthora root and stem rot of soybean. The Plant Health Instructor. https://doi.org/10.1094/PHI-I-2007-0830-07 (Reviewed 2012)

Graham TL (1991) Flavonoid and isoflavonoid distribution in developing soybean seedling tissues and in seed and root exudates. Plant Physiol 95:594–603

Hao WY, Ran W, Shen QR, Ren LX (2010) Effects of root exudates from watermelon, rice plants and phenolic acids on Fusarium oxysporum f. sp. niveum (in Chinese with English summary). Sci Agric Sin 43:2443–2452

Hua C, Yang X, Wang Y (2015) Phytophthora sojae and soybean isoflavones, a model to study zoospore chemotaxis. Physiol Mol Plant Pathol 92:161–165

Huang WB, Ma R, Yang D, Liu XP, Song JF (2014) Organic acids secreted from plant roots under soil stress and their effects on ecological adaptability of plants. Agric Sci Technol 15:1167–1173

Morris PF, Ward EWB (1992) Chemoattraction of zoospores of the soybean pathogen, Phytophthora sojae, by isoflavones. Physiol Mol Plant Pathol 40:17–22

Riggs K (2010) Chemotaxis of Phytophthora sojae zoospores to soybean roots is altered by isoflavone silencing. Honors thesis, Ohio State University, Columbus, OH, USA

Schmitthenner AF, Bhat RG (1994) Useful methods for studying Phytophthora in the laboratory. Special circular 143. Ohio Agricultural Research Development Center, Wooster

Subramanian S, Graham MY, Yu O, Graham TL (2005) RNA interference of soybean isoflavone synthase genes leads to silencing in tissues distal to the transformation site and to enhanced susceptibility to Phytophthora sojae. Plant Physiol 137:1345–1353

Suo B, Chen Q, Wu W, Wu D, Tian M, Jie Y, Zhang B, Wen J (2016) Chemotactic responses of Phytophthora sojae zoospores to amino acids and sugars in root exudates. J Gen Plant Pathol 82:142–148

Tyler BM (2002) Molecular basis of recognition between Phytophthora pathogens and their hosts. Annu Rev Phytopathol 40:137–167

Tyler BM (2007) Phytophthora sojae: root rot pathogen of soybean and model oomycete. Mol Plant Pathol 8:1–8

Uren NC (2000) Types, amounts, and possible functions of compounds released into the rhizosphere by soil-grown plants. In: Pinton R, Varanini Z, Nannipieri P (eds) The rhizosphere: biochemistry and organic substances at the soil–plant interface. Marcel Dekker, New York, pp 19–40

Wang JY, Lv YY, Yu D, Zhang WN, Pu FZ, Shen SS (2014) Effects of root exudates from different resistant pepper varieties on Phytophthora capsici (in Chinese with English summary). China Vegetables 1:13–16

Wang YL, Almvik M, Clarke N, Eich-Greatorex S, Øgaard AF, Krogstad T, Lambers H, Clarke JL (2015) Contrasting responses of root morphology and root-exuded organic acids to low phosphorus availability in three important food crops with divergent root traits. AoB Plants 7:1–11

Xu BH, Xie LX, Zhang LY (2014) Advanced in group irritability phenomenon in fungi (in Chinese with English summary). J Microbiol 34:100–105

Zhang XB, Wu Y, Lin H (2006) Study on method of hydrolyze isoflavone in soybean by HPLC (in Chinese with English summary). Cereals Oils 4:19–21

Zhang L, Fang Y, Ji S, Jiao Y, Liao J, Li J, Deng W, Zhu S, Yin J, Yang M (2015) Inhibitory activity of maize root exudates against Phytophthora nicotianae and antifungal compounds analysis (in Chinese with English summary). Chinese J Biol Control 31:115–122
Acknowledgements
This research was supported by the National Natural Science Foundation of China (grant nos. 31670444, 31370449).
Ethics declarations
Conflict of interest
The authors declare that they have no conflict of interest.
Human participants or animals
This article does not contain any studies with human participants or animals performed by any of the authors.
Electronic supplementary material
Below is the link to the electronic supplementary material.
About this article
Cite this article
Zhang, Z., Xu, Y., Song, G. et al. Phytophthora sojae zoospores differ in chemotaxis to the root and root exudates of host soybean and nonhost common bean. J Gen Plant Pathol 85, 201–210 (2019). https://doi.org/10.1007/s10327-019-00839-9
Received:

Accepted:

Published:

Issue Date:
Keywords
Phytophthora sojae

Chemotaxis

Root exudates

Host soybean

Nonhost common bean