Abstract
The recent development of ionic liquids may induce environmental pollution, yet there is a lack of sensitive analytical methods to detect traces of ionic liquids, notably for quaternary ammonium ionic liquids. Here, we set up a method based on solid-phase extraction and ion chromatography combined to analyze quaternary ammonium ionic liquid cations in river water samples. Cations included tetramethylammonium, tetraethylammonium, tetrapropylammonium and tetrabutylammonium. We used methanesulfonic acid–acetonitrile as mobile phase in a cation-exchange column with carboxylic acid functional groups. A strong acid cation-exchange solid-phase extraction column was used for extraction and enrichment, then water–methanol was eluted to wash impurities, and finally the analytes were eluted with H3PO4–KH2PO4 buffer solution because this buffer has a low conductivity signal which avoids interferences with cation detection. We obtained a detection limit of 0.003 mg/L for river samples. Precision and accuracy met the requirements of quantitative analysis.
Access options
Buy single article
Instant access to the full article PDF.
US$ 39.95
Tax calculation will be finalised during checkout.
Subscribe to journal
Immediate online access to all issues from 2019. Subscription will auto renew annually.
US$ 79
Tax calculation will be finalised during checkout.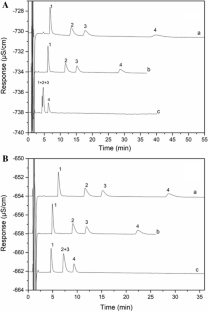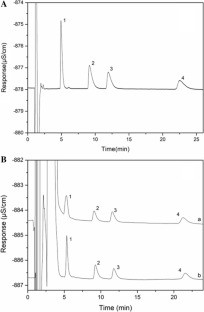 Acknowledgements
This work was supported by the State Key Laboratory of Environmental Chemistry and Ecotoxicology, Research Center for Eco-Environmental Sciences, Chinese Academy of Sciences (KF2017-21).
Ethics declarations
Conflicts of interest
The authors declare that they have no conflict of interest.
Additional information
Publisher's Note
Springer Nature remains neutral with regard to jurisdictional claims in published maps and institutional affiliations.
About this article
Cite this article
Liu, S., Yu, H., Ma, Yj. et al. Extraction and detection of quaternary ammonium ionic liquid cations in water samples. Environ Chem Lett (2021). https://doi.org/10.1007/s10311-020-01163-x
Received:

Accepted:

Published:
Keywords
Environmental water

Ion chromatography

Ionic liquids

Quaternary ammonium cations

Solid-phase extraction