Zusammenfassung
Wir berichten über einen heute 27 Jahre alten Patienten mit molekulargenetisch und elektroklinisch eindeutigem Dravet-Syndrom. Der Verlauf war bis ins Erwachsenenalter desolat. Zahlreiche Stürze hatte bereits zu schwerwiegenden und bedrohlichen Verletzungen der Wirbelsäule geführt. Auch Cannabidiol war wirkungslos. Es gelang, ihn in eine offene Behandlungsstudie mit Fenfluramin (ZX1503) einzuschließen. Unter niedrig dosiertem Fenfluramin in Kombination mit einer Basismedikation mit Valproinsäure und Zonisamid ist er seit März 2019 vollständig anfallsfrei, EEG und klinischer Befund sind dramatisch gebessert. Wir halten diesen Fall aufgrund des spektakulären Verlaufs für mitteilenswert.
Abstract
We report on a 27-year-old male patient with unequivocal molecular genetic and electroclinical evidence for Dravet syndrome. The course was devastating even up to adulthood. Frequent falls had already led to massive and threatening spinal injuries. Even cannabidiol had been used without success. We were able to include him in the open label fenfluramine trial (ZX1503). With adjunct low-dose fenfluramine added to valproic acid and zonisamide he has remained completely seizure-free since March 2019. Accordingly, the EEG and clinical findings have impressively improved. We believe that this case should be reported due to its promising and spectacular course.
Access options
Buy single article
Instant access to the full article PDF.
US$ 39.95
Tax calculation will be finalised during checkout.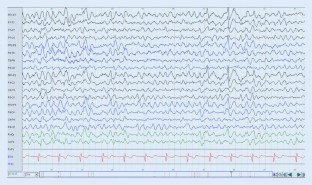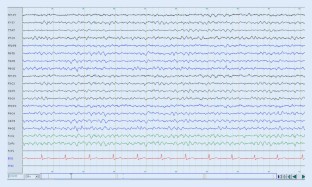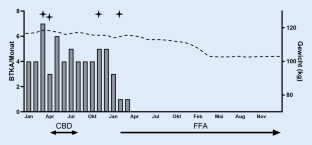 Literatur
1.

Anwar A, Saleem S, Patel UK, Aumaithurai K, Malik P (2020) Dravet syndrome: an overview. Cureus 11(6):e5006. https://doi.org/10.7759/cureus.5006

2.

Conolly HM, Crarym JL, McGoon MD, Hensrud DD, Edwards BS, Schaff HV (1997) Valvular heart disease associated with fenfluramine-phentermine. N Engl J Med 337(9):581–588. https://doi.org/10.1056/NEJM199708283370901

3.

Devinsky O, Cross JH, Laux L, Marsh E, Miller I, Nabbout R, Scheffer IE, Thiele EA, Wright S, Cannabidiol in Dravet Syndrome Study Group (2017) Trial of Cannabidiol in drug-resistant seizures in the Dravet syndrome. N Engl J Med 376(21):2011–2020. https://doi.org/10.1056/NEJMoa1611618

4.

Devinsky O, Nabbout R, Miller I, Laux L, Zolnowska M, Wright S, Roberts C (2019) Long-term cannabidiol treatment in patients with Dravet syndrome: an open-label extension trial. Epilepsia 60(2):294–302. https://doi.org/10.1111/epi.14628

5.

Dravet C (2011) Dravet syndrome history. Dev Med Child Neurol 53(Suppl 2):1–6. https://doi.org/10.1111/j.1469-8749.2011.03964.x

6.

Lagae L, Sullivan J, Knupp K, Laux L, Polster T, Nikanorova M, Devinsky O, Cross JH, Guerrini R, Talwar D, Miller I, Farfel G, Galer BS, Gammaitoni A, Mistry A, Morrison G, Lock M, Agarwal A, Lai WW, Ceulemans B, FAIRE DS Study Group (2019) Fenfluramine hydrochloride for the treatment of seizures in Dravet syndrome: a randomised, double-blind, placebo-controlled trial. Lancet 394(10216):2243–2254. https://doi.org/10.1016/S0140-6736(19)32500-0

7.

Lai WW, Galer BS, Wong PC, Farfel G, Pringsheim M, Keane MG, Agarwal A (2020) Cardiovascular safety of fenfluramine in the treatment of Dravet syndrome: analysis of an ongoing long-term open-label safety extension study. Epilepsia. https://doi.org/10.1111/epi.16638

8.

Nabbout R, Mistry A, Zuberi S, Villeneuve N, Gil-Nagel A, Sanchez-Carpintero R, Stephani U, Laux L, Wirrell E, Knupp K, Chiron C, Farfel G, Galer BS, Morrison G, Lock M, Agarwal A, Auvin S, FAIRE DS Study Group (2020) Fenfluramine for treatment-resistant seizures in patients with Dravet syndrome receiving stiripentol-inclusive regimens: a randomized clinical trial. JAMA Neurol 77(3):300–308. https://doi.org/10.1001/jamaneurol.2019.4113

9.

Shmuely S, Sisodiya SM, Boudewijn Gunning W, Sander JW, Thijs RD (2016) Mortality in Dravet syndrome: a review. Epilepsy Behav 64(Pt A):69–74. https://doi.org/10.1016/j.yebeh.2016.09.007

10.

Steinhoff BJ, Bast T (2019) Vademecum Antiepilepticum 2019/2020. Deutsche Gesellschaft für Epileptologie, Berlin

11.

Sullivan J, Scheffer IE, Lagae L, Nabbout R, Pringsheim M, Talwar T, Polster T, Galer B, Lock M, Agarwal A, Gammaitoni A, Morrison G, Farfel G (2020) Fenfluramine HCl (Fintepla®) provides long-term clinically meaningful reductions in seizure frequency: analysis of an ongoing open-label extension study. Epilepsia. https://doi.org/10.1111/epi.16722

12.

Wallace A, Wirrell E, Kenney-Jung DL (2016) Pharmacotherapy for Dravet syndrome. Paediatr Neurol 18(3):197–208. https://doi.org/10.1007/s40272-016-0171-7

13.

Wirrell EC, Donner E, Jatte N, Knupp K, Meskis MA, Miller I, Sullivan J, Welborn M, Berg AT (2017) Optimizing the diagnosis and management of Dravet syndrome: recommendations from a North American consensus panel. Pediatr Neurol 68:18–34.e3. https://doi.org/10.1016/j.pediatrneurol.2017.01.025
Ethics declarations
Interessenkonflikt
B.J. Steinhoff hat in den letzten beiden Jahren Vortragshonorare von den Firmen Desitin, Eisai, GW Pharmaceuticals, UCB und Zogenix erhalten und bezahlte Berater- oder Gutachterfunktionen für die Firmen Arvelle, B. Braun Melsungen, GW Pharmaceuticals Neuraxpharm und UCB wahrgenommen. K.A. Klotz hat in den letzten beiden Jahren Honorare für Vorträge und Beratertätigkeiten der Firmen GW Pharmaceuticals, Zogenix und PTC Therapeutics erhalten. Dieses Manuskript wurde ohne fremde inhaltliche oder finanzielle Unterstützung erstellt.
Für diesen Beitrag wurden von den Autoren keine Studien an Menschen oder Tieren durchgeführt. Für die aufgeführten Studien gelten die jeweils dort angegebenen ethischen Richtlinien. Für Bildmaterial oder anderweitige Angaben innerhalb des Manuskripts, über die Patienten zu identifizieren sind, liegt von ihnen und/oder ihren gesetzlichen Vertretern eine schriftliche Einwilligung vor.
About this article
Cite this article
Steinhoff, B.J., Klotz, K.A. Dramatische Besserung eines Dravet-Syndroms unter Fenfluramin. Z. Epileptol. (2021). https://doi.org/10.1007/s10309-021-00400-9
Schlüsselwörter
Dravet-Syndrom

Antikonvulsiva

Fenfluramin

Wirksamkeit

Anfallsfreiheit
Keywords
Dravet syndrome

Antiseizure drugs

Fenfluramine

Efficacy

Seizure freedom