Abstract
We report a dynamic programming algorithm which, given a set of efficient (or even inefficient) portfolios, constructs an optimal portfolio trading strategy that maximizes the probability of attaining an investor's specified target wealth at the end of a designated time horizon. Our algorithm also accommodates periodic infusions or withdrawals of cash with no degradation to the dynamic portfolio's performance or runtime. We explore the sensitivity of the terminal wealth distribution to restricting the segment of the efficient frontier available to the investor. Since our algorithm's optimal strategy can be on the efficient frontier and is driven by an investor's wealth and goals, it soundly beats the performance of target date funds in attaining investors' goals. These optimal goals-based wealth management strategies are useful for independent financial advisors to implement behavioral-based FinTech offerings and for robo-advisors.
Access options
Buy single article
Instant access to the full article PDF.
US$ 39.95
Tax calculation will be finalised during checkout.
Subscribe to journal
Immediate online access to all issues from 2019. Subscription will auto renew annually.
US$ 79
Tax calculation will be finalised during checkout.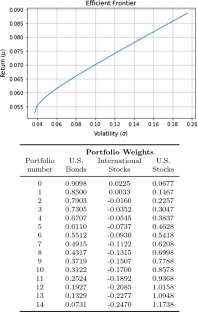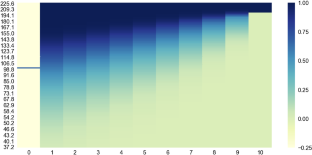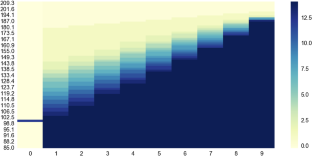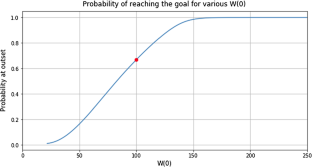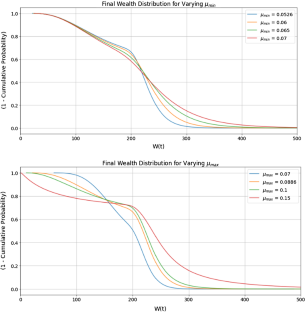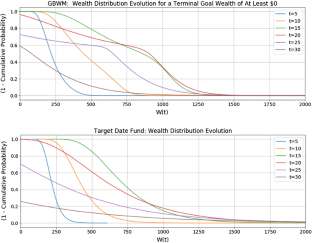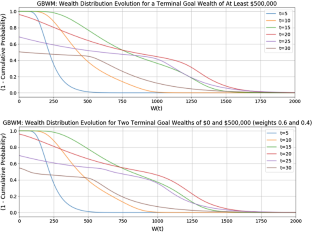 Notes
1.

The three index funds used are (i) Vanguard Total Bond Market II Index Fund Investor Shares (VTBIX), representative of U.S. Fixed Income (Intermediate-Term Bond), (ii) Vanguard Total International Stock Index Fund Investor Shares (VGTSX), representative of Global Equity (Large Cap Blend), (iii) Vanguard Total Stock Market Index Fund Investor Shares (VTSMX), representative of U.S. Equity (Large Cap Blend). These three funds have been chosen only as representatives of their respective asset categories for illustrative purposes.
References
Birge JR, Louveaux FV (1997) Introduction to stochastic programming. Springer, New York

Browne S (1995) Optimal investment policies for a firm with a random risk process: exponential utility and minimizing the probability of ruin. Math Oper Res 20(04):937–958

Browne S (1997) Survival and growth with a liability: optimal portfolio strategies in continuous time. Math Oper Res 22(02):468–493

Browne S (1999a) Reaching goals by a deadline: digital options and continuous-time active portfolio management. Adv Appl Probab 31(02):551–577

Browne S (1999b) The risk and rewards of minimizing shortfall probability. J Portfolio Manag 25(04):76–85

Browne S (2000) Risk-constrained dynamic active portfolio management. Manag Sci 46(09):1188–1199

Brunel JLP (2015) Goals-based wealth management: an integrated and practical approach to changing the structure of wealth advisory practices. Wiley, Hoboken

Chhabra A (2005) Beyond Markowitz: a comprehensive wealth allocation framework for individual investors. J Wealth Manag 7(4):8–34

Cox JC, Huang C (1989) Optimal consumption and portfolio policies when asset prices follow a diffusion process. J Econ Theory 49(1):33–83

Das SR, Markowitz H, Scheid J, Statman M (2010) Portfolio optimization with mental accounts. J Financ Quant Anal 45(2):311–334

Das SR, Ostrov D, Radhakrishnan A, Srivastav D (2018) Goals-based wealth management: a new approach. J Invest Manag 16(3):1–27

Deguest R, Martellini L, Milhau V, Suri A, Wang H (2015) Introducing a comprehensive risk allocation framework for goals-based wealth management. EDHEC-Risk Institute, Lille

Kahneman D, Tversky A (1979) Prospect theory: an analysis of decision under risk. Econometrica 47:263–291

Lopes L (1987) Between hope and fear: the psychology of risk. Adv Exp Soc Psychol 20:255–295

Markowitz H (1952) Portfolio selection. J Finance 6:77–91

Merton RC (1969) Lifetime portfolio selection under uncertainty: the continuous-time case. Rev Econ Stat 51(3):247–257

Merton RC (1971) Optimum consumption and portfolio rules in a continuous-time model. Journal of Economic Theory 3(4):373–413

Nevins D (2004) Goals-based investing: integrating traditional behavioral finance. J Wealth Manag 6(4):8–23

Roy AD (1952) Safety-first and the holding of assets. Econometrica 20:431–449

Shefrin HM, Statman M (1985) The disposition to sell winners too early and ride losers too long: theory and evidence. J Finance 40:777–790

Shefrin HM, Statman M (2000) Behavioral portfolio theory. J Financ Quant Anal 35(2):127–151

Thaler RH (1985) Mental accounting and consumer choice. Mark Sci 4:199–214

Thaler RH (1999) Mental accounting matters. J Behav Decis Mak 12:183–206

Wallace SW, Ziemba WT (eds) (2005) Applications of stochastic programming. MPS-SIAM mathematical series on optimization, SIAM and MPS, Philadelphia

Wang H, Suri A, Laster D, Almadi H (2011) Portfolio selection in goals-based wealth management. J Wealth Manag 14(1):55–65
Additional information
Publisher's Note
Springer Nature remains neutral with regard to jurisdictional claims in published maps and institutional affiliations.
We are grateful for discussions and contributions from many of the team at Franklin Templeton Investments.
About this article
Cite this article
Das, S.R., Ostrov, D., Radhakrishnan, A. et al. Dynamic portfolio allocation in goals-based wealth management. Comput Manag Sci 17, 613–640 (2020). https://doi.org/10.1007/s10287-019-00351-7
Received:

Accepted:

Published:

Issue Date:
Keywords
Goals

Wealth management

Behavioral portfolio theory

Dynamic portfolios

Efficient portfolios