Access options
Buy single article
Instant access to the full article PDF.
US$ 39.95
Tax calculation will be finalised during checkout.
Subscribe to journal
Immediate online access to all issues from 2019. Subscription will auto renew annually.
US$ 159
Tax calculation will be finalised during checkout.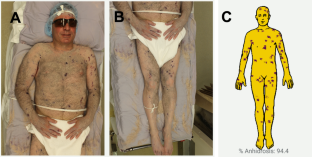 References
1.

Ross AT (1958) Progressive selective sudomotor denervation; a case with coexisting Adie's syndrome. Neurology 8(11):809–817. https://doi.org/10.1212/wnl.8.11.809

2.

Nolano M, Provitera V, Perretti A, Stancanelli A, Saltalamacchia AM, Donadio V, Manganelli F, Lanzillo B, Santoro L (2006) Ross syndrome: a rare or a misknown disorder of thermoregulation? A skin innervation study on 12 subjects. Brain 129(Pt 8):2119–2131. https://doi.org/10.1093/brain/awl175

3.

Shin RK, Galetta SL, Ting TY, Armstrong K, Bird SJ (2000) Ross syndrome plus: beyond horner, Holmes-Adie, and harlequin. Neurology 55(12):1841–1846. https://doi.org/10.1212/wnl.55.12.1841

4.

Baran A, Balbaba M, Demir CF, Ozdemir HH (2014) A case of Ross syndrome presented with Horner and chronic cough. J Neurosci Rural Pract 5(4):394–397. https://doi.org/10.4103/0976-3147.139997

5.

Kimber J, Mitchell D, Mathias CJ (1998) Chronic cough in the Holmes-Adie syndrome: association in five cases with autonomic dysfunction. J Neurol Neurosurg Psychiatry 65(4):583–586. https://doi.org/10.1136/jnnp.65.4.583

6.

Sarao MS, Elnahry AG, Sharma S (2020) Adie Syndrome. In: StatPearls. StatPearls Publishing Copyright © 2020, StatPearls Publishing LLC., Treasure Island (FL)

7.

Klimiuk PS, Taylor L, Baker RD, Jayson MI (1988) Autonomic neuropathy in systemic sclerosis. Ann Rheum Dis 47(7):542–545. https://doi.org/10.1136/ard.47.7.542

8.

Sommer C, Lindenlaub T, Zillikens D, Toyka KV, Naumann M (2002) Selective loss of cholinergic sudomotor fibers causes anhidrosis in Ross syndrome. Ann Neurol 52(2):247–250. https://doi.org/10.1002/ana.10256

9.

Vasudevan B, Sawhney M, Vishal S (2010) Ross syndrome with ANA positivity: a clue to possible autoimmune origin and treatment with intravenous immunoglobulin. Indian J Dermatol 55(3):274–276. https://doi.org/10.4103/0019-5154.70694

10.

Csak T, Folhoffer A, Horvath A, Halász J, Diczházi C, Schaff Z, Szalay F (2006) Holmes-Adie syndrome, autoimmune hepatitis and celiac disease: a case report. World J Gastroenterol 12(9):1485–1487. https://doi.org/10.3748/wjg.v12.i9.1485

11.

Mishra AK, Kharkongor M, Kuriakose CK, George AA, Peter D, Carey RAB, Mathew V, Hansdak SG (2017) Is Ross syndrome an autoimmune entity? A case series of 11 patients. Can J Neurol Sci 44(3):318–321. https://doi.org/10.1017/cjn.2016.417
Ethics declarations
Conflict of interest
The corresponding author affirms that none of the authors has a conflict of interest.
Informed consent
Informed consent was obtained from the patient.
About this article
Cite this article
Lamotte, G., Sandroni, P. A case of Ross syndrome associated with systemic sclerosis. Clin Auton Res (2021). https://doi.org/10.1007/s10286-021-00773-x
Received:

Accepted:

Published:
Keywords
Ross syndrome

Anhidrosis

Systemic sclerosis