Abstract
Background
Prior studies have reported ECG (Electrocardiogram) changes during tilt table testing (TTT), specifically during repolarization with ST-segment and T-wave changes. The correlation with ischemic evaluation remains unclear. The purpose of this study was to analyze the prevalence of ST-segment changes during TTT in a young, otherwise healthy population of patients with postural tachycardia syndrome (POTS), and correlate them with exercise stress test results.
Methods
Two hundred and fifty-five patients with POTS who underwent TTT and an exercise treadmill test (ETT) were analyzed.
Results
Forty-five had ST-segment changes/depressions during TTT (91% female, average age 36 years). Of the 45, three had ST-segment depression during ETT; all three had negative exercise stress echocardiograms (ESEs). Two others had ST-segment depressions on ETT (but not TTT), with negative ESEs.
Conclusion
In a cohort of young, female, otherwise healthy patients with POTS, ST-segment changes occurred in a significant portion (18%) of patients during TTT. When evaluated with exercise stress testing, these patients had no evidence of underlying ischemia on ETT or ESE.
Access options
Buy single article
Instant access to the full article PDF.
US$ 39.95
Tax calculation will be finalised during checkout.
Subscribe to journal
Immediate online access to all issues from 2019. Subscription will auto renew annually.
US$ 159
Tax calculation will be finalised during checkout.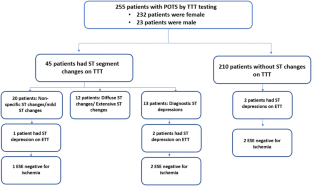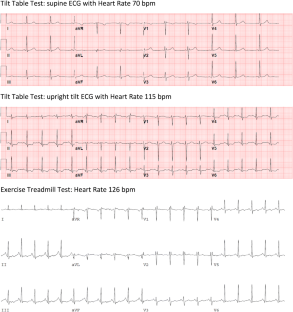 References
1.

Sheldon RS, Grubb BP 2nd, Olshansky B, Shen W-K, Calkins H, Brignole M, Raj SR, Krahn AD, Morillo CA, Stewart JM, Sutton R, Sandroni P, Friday KJ, Hachul DT, Cohen MI, Lau DH, Mayuga KA, Moak JP, Sandhu RK, Kanjwal K (2015) 2015 heart rhythm society expert consensus statement on the diagnosis and treatment of postural tachycardia syndrome, inappropriate sinus tachycardia, and vasovagal syncope. Heart Rhythm 12:e41–e63

2.

Raj SR (2013) Postural tachycardia syndrome (POTS). Circulation 127:2336–2342

3.

Schondorf R, Low PA (1993) Idiopathic postural orthostatic tachycardia syndrome: an attenuated form of acute pandysautonomia? Neurology 43:132–137

4.

Robertson D (1999) The epidemic of orthostatic tachycardia and orthostatic intolerance. Am J Med Sci 317:75–77

5.

Fedorowski A (2019) Postural orthostatic tachycardia syndrome: clinical presentation, aetiology and management. J Intern Med 285:352–366

6.

Suryanarayana PG, Kandala J, Marcus FI (2017) High incidence of ST-T changes in women during tilt-table testing. J Electrocardiol 50:884–888

7.

Mayuga KA, Butters KB, Fouad-Tarazi F (2008) Early versus late postural tachycardia: a re-evaluation of a syndrome. Clin Auton Res 18:155–157

8.

Sicari R, Cortigiani L (2017) The clinical use of stress echocardiography in ischemic heart disease. Cardiovasc Ultrasound 15:7

9.

Endres S, Mayuga KA, de Cristofaro A, Taneja T, Goldberger JJ, Kadish AH (2006) Age and gender difference in ST height at rest and after double autonomic blockade in normal adults. Ann Noninvasive Electrocardiol 11:253–258

10.

Endres S, Mayuga KA, Cristofaro A, Taneja T, Goldberger JJ, Kadish AH (2004) Menstrual cycle and ST height. Ann Noninvasive Electrocardiol 9:121–126

11.

Mayuga KA, Fouad-Tarazi F (2007) Dynamic changes in T-wave amplitude during tilt table testing: correlation with outcomes. Ann Noninvasive Electrocardiol 12:246–250

12.

Baumert M, Lambert E, Vaddadi G, Sari CI, Esler M, Lambert G, Sanders P, Nalivaiko E (2011) Cardiac repolarization variability in patients with postural tachycardia syndrome during graded head-up tilt. Clin Neurophysiol 122:405–409
Ethics declarations
Conflict of interest
On behalf of all authors, the corresponding author states that there is no conflict of interest.
Additional information
This article is updated to correct the 3rd author name as Erik H. Van Iterson.
About this article
Cite this article
Vajapey, R., Hutt Centeno, E., Van Iterson, E.H. et al. ST-segment changes during tilt table testing for postural tachycardia syndrome: correlation with exercise stress test results. Clin Auton Res 30, 79–83 (2020). https://doi.org/10.1007/s10286-019-00633-9
Received:

Accepted:

Published:

Issue Date:
Keywords
Tilt table test

Postural tachycardia syndrome

Electrocardiogram

Exercise stress test