Abstract
Subtraction ictal single-photon emission computed tomography (SPECT) coregistered to MRI (SISCOM) is a well-established technique for quantitative analysis of ictal vs interictal SPECT images that can contribute to the identification of the seizure onset zone in patients with drug‐resistant epilepsy. However, there is presently a lack of user-friendly free and open-source software to compute SISCOM results from raw SPECT and MRI images. We aimed to develop a simple graphical desktop application for computing SISCOM. MNI SISCOM is a new free and open-source software application for computing SISCOM and producing practical MRI/SPECT/SISCOM image panels for review and reporting. The graphical interface allows any user to quickly and easily obtain SISCOM images with minimal user interaction. Additionally, MNI SISCOM provides command line and Python interfaces for users who would like to integrate these features into their own scripts and pipelines. MNI SISCOM is freely available for download from: https://github.com/jeremymoreau/mnisiscom.
Access options
Buy single article
Instant access to the full article PDF.
US$ 39.95
Tax calculation will be finalised during checkout.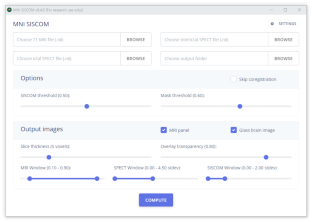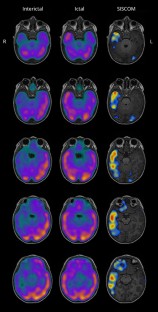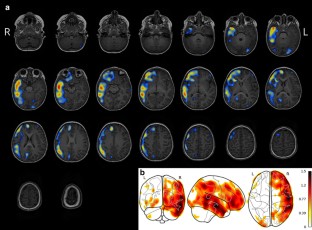 References
1.

O'Brien TJ, So EL, Mullan BP, Hauser MF, Brinkmann BH, Bohnen NI, et al. Subtraction ictal SPECT co-registered to MRI improves clinical usefulness of SPECT in localizing the surgical seizure focus. Neurology. 1998;50(2):445–54.

2.

Hong SB, Tae WS. SISCOM (Subtraction Ictal SPECT Coregistered to MRI). In: Dierckx RAJO, Otte A, de Vries EFJ, van Waarde A, Leenders KL, editors. PET and SPECT in Neurology. Berlin, Heidelberg: Springer Berlin Heidelberg; 2014. p. 829–41.

3.

von Oertzen TJ, Mormann F, Urbach H, Reichmann K, Koenig R, Clusmann H, et al. Prospective use of subtraction ictal SPECT coregistered to MRI (SISCOM) in presurgical evaluation of epilepsy. Epilepsia. 2011;52(12):2239–48.

4.

Chen T, Guo L. The role of SISCOM in preoperative evaluation for patients with epilepsy surgery: A meta-analysis. Seizure. 2016;41:43–50.

5.

Delev D, Quesada CM, Grote A, Boström JP, Elger C, Vatter H, et al. A multimodal concept for invasive diagnostics and surgery based on neuronavigated voxel-based morphometric MRI postprocessing data in previously nonlesional epilepsy. J Neurosurg. 2018;128(4):1178–86.

6.

Foiadelli T, Lagae L, Goffin K, Theys T, De Amici M, Sacchi L, et al. Subtraction Ictal SPECT coregistered to MRI (SISCOM) as a guide in localizing childhood epilepsy. Epilepsia Open. 2020;5(1):61–72.

7.

Penny WD, Friston KJ, Ashburner JT, Kiebel SJ, Nichols TE. Statistical Parametric Mapping: The Analysis of Functional Brain Images. Elsevier; 2011. 656 p.

8.

Oliveira Young C, Etchbehere ECSC, Souza EM, Brunetto SQ, Santos A de O, Lima MCL, et al. Clinical Usefulness of SISCOM-SPM Compared to Visual Analysis to Locate the Epileptogenic Zone. Front Neurol. 2020;11:467.

9.

Martí Fuster B, Esteban O, Planes X, Aguiar P, Crespo C, Falcon C, et al. FocusDET, a new toolbox for SISCOM analysis. Evaluation of the registration accuracy using Monte Carlo simulation. Neuroinformatics. 2013;11(1):77–89.

10.

Li X, Morgan PS, Ashburner J, Smith J, Rorden C. The first step for neuroimaging data analysis: DICOM to NIfTI conversion. J Neurosci Methods. 2016 May 1;264:47–56.

11.

Abraham A, Pedregosa F, Eickenberg M, Gervais P, Mueller A, Kossaifi J, et al. Machine learning for neuroimaging with scikit-learn. Front Neuroinform. 2014 Feb 21;8:14.

12.

Collins DL, Neelin P, Peters TM, Evans AC. Automatic 3D intersubject registration of MR volumetric data in standardized Talairach space. J Comput Assist Tomogr. 1994 Mar;18(2):192–205.

13.

Brett M, Johnsrude IS, Owen AM. The problem of functional localization in the human brain. Nat Rev Neurosci. 2002;3(3):243–9.

14.

Kazemi NJ, Worrell GA, Stead SM, Brinkmann BH, Mullan BP, O'Brien TJ, et al. Ictal SPECT statistical parametric mapping in temporal lobe epilepsy surgery. Neurology. 2010;74(1):70–6.

15.

Long Z, Hanson DP, Mullan BP, Hunt CH, Holmes DR 3rd, Brinkmann BH, et al. Analysis of Brain SPECT Images Coregistered with MRI in Patients with Epilepsy: Comparison of Three Methods. J Neuroimaging. 2018;28(3):307–12.
Ethics declarations
Conflict of Interest
The authors declare that they have no conflict of interest.
Ethical Approval
This study received full approval by the McGill University Health Centre's Research Institute Ethics Board, and all involved patients and/or parents/guardians signed an informed consent form to be enrolled in the study.
Additional information
Publisher's Note
Springer Nature remains neutral with regard to jurisdictional claims in published maps and institutional affiliations.
About this article
Cite this article
Moreau, J.T., Saint-Martin, C., Baillet, S. et al. MNI SISCOM: an Open-Source Tool for Computing Subtraction Ictal Single-Photon Emission CT Coregistered to MRI. J Digit Imaging (2021). https://doi.org/10.1007/s10278-021-00422-9
Received:

Revised:

Accepted:

Published:
Keywords
Epilepsy

SISCOM

SPECT

MRI

Software

Open-source

Python

Nuclear Imaging

Functional Neurosurgery