Abstract
Minghuai 1 (MH1) is a yam (Dioscorea alata) cultivar with high tolerance to flooding but sensitivity to chilling. MH1 responded differently to chilling and flooding according to various physiological parameters and antioxidant enzymes. Flooding led to an increase in ascorbate peroxidase (APX) activity in both roots and leaves, while chilling did not affect APX activity. The full length DaAPX ORF sequence from MH1 (750 bp) was then cloned. Phylogenetic analysis showed that plant cytosolic APXs into four major clusters and DaAPX was closely related to Oncidium. The DaAPX gene driven by a 35S promoter was transferred into Arabidopsis. The gene expression and enzyme activity of APX in the DaAPX transgenic lines 1–3 were significantly higher than in wild type (WT) plants. Compared to WT plants, seedling growth characteristics were significantly better in all transgenic lines under chilling, flooding, and oxidative stresses, indicating that the overexpression of DaAPX in Arabidopsis enhanced tolerance to several abiotic stresses. MH1 plants supplied with H2O2 presented an increase in the activity of APX leading to enhanced tolerance to chilling. Functional characterization of the APX gene should improve our understanding of the chilling- and flood-response mechanism in the yam.
Access options
Buy single article
Instant access to the full article PDF.
US$ 39.95
Tax calculation will be finalised during checkout.
Subscribe to journal
Immediate online access to all issues from 2019. Subscription will auto renew annually.
US$ 79
Tax calculation will be finalised during checkout.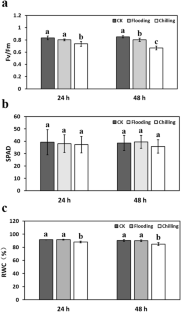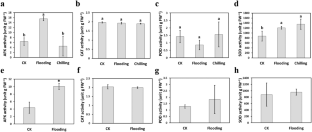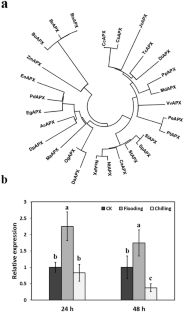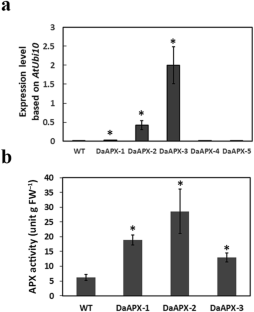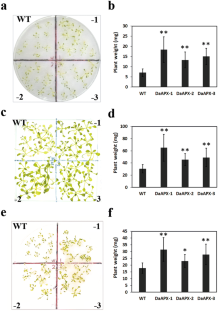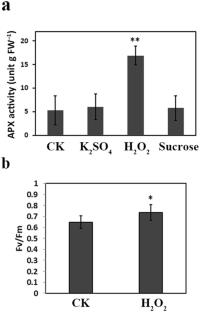 References
Ahanger MA, Agarwal R, Tomar NS, Shrivastava M (2015) Potassium induces positive changes in nitrogen metabolism and antioxidant system of oat (Avena sativa L. cultivar Kent). J Plant Interact 10:211–223

Bonifacio A, Martins MO, Ribeiro CW, Fontenele AV, Carvalho FE, Margis-Pinheiro M, Silveira JA (2011) Role of peroxidases in the compensation of cytosolic ascorbate peroxidase knockdown in rice plants under abiotic stress. Plant, Cell Environ 34:1705–1722

Cao S, Du X-H, Li L-H, Liu Y-D, Zhang L, Pan X, Li Y, Li H, Lu H (2017) Overexpression of Populus tomentosa cytosolic ascorbate peroxidase enhances abiotic stress tolerance in tobacco plants. Russ J Plant Physiol 64:224–234

Chen SP, Lin IW, Chen X, Huang YH, Chang SC, Lo HS, Lu HH, Yeh KW (2016) Sweet potato NAC transcription factor, Ib NAC 1, upregulates sporamin gene expression by binding the SWRE motif against mechanical wounding and herbivore attack. Plant J 86:234–248

Chiang CM, Kuo WS, Lin KH (2014) Cloning and gene expression analysis of sponge gourd ascorbate peroxidase gene and winter squash superoxide dismutase gene under respective flooding and chilling stresses. Hortic Environ Biotechnol 55:129–137

Chiang C, Chien H, Chen L, Hsiung T, Chiang M, Chen S, Lin K (2015a) Overexpression of the genes coding ascorbate peroxidase from Brassica campestris enhances heat tolerance in transgenic Arabidopsis thaliana. Biol Plant 59:305–315

Chiang CM, Chen LFO, Shih SW, Lin KH (2015b) Expression of eggplant ascorbate peroxidase increases the tolerance of transgenic rice plants to flooding stress. J Plant Biochem Biotechnol 24:257–267

Chin DC, Shen CH, SenthilKumar R, Yeh KW (2014) Prolonged exposure to elevated temperature induces floral transition via up-regulation of cytosolic ascorbate peroxidase 1 and subsequent reduction of the ascorbate redox ratio in Oncidium hybrid orchid. Plant Cell Physiol 55:2164–2176

Chinnusamy V, Zhu J-K, Sunkar R (2010) Gene regulation during cold stress acclimation in plants. Methods Mol Biol 639:39–55

Clough SJ, Bent AF (1998) Floral dip: a simplified method for Agrobacterium-mediated transformation of Arabidopsis thaliana. Plant J 16:735–743

De Buck S, Windels P, De Loose M, Depicker A (2004) Single-copy T-DNAs integrated at different positions in the Arabidopsis genome display uniform and comparable β-glucuronidase accumulation levels. Cell Mol Life Sci 61:2632–2645

Hossain Z, López-Climent MF, Arbona V, Pérez-Clemente RM, Gómez-Cadenas A (2009) Modulation of the antioxidant system in citrus under waterlogging and subsequent drainage. J Plant Physiol 166:1391–1404

Hsu F-C, Chou M-Y, Peng H-P, Chou S-J, Shih M-C (2011) Insights into hypoxic systemic responses based on analyses of transcriptional regulation in Arabidopsis. PLoS One 6:e28888

Huynh LN, VanToai T, Streeter J, Banowetz G (2005) Regulation of flooding tolerance of SAG12: ipt Arabidopsis plants by cytokinin. J Exp Bot 56:1397–1407

Hwang S-Y, VanToai TT (1991) Abscisic acid induces anaerobiosis tolerance in corn. Plant Physiol 97:593–597

Jang IC, Park SY, Kim KY, Kim JG, Kwak SS (2004) Differential expression of 10 sweetpotato peroxidase genes in response to bacterial pathogen, Pectobacterium chrysanthemi. Plant Physiol Chem 42:451–455

Jardim-Messeder D, Caverzan A, Rauber R, Cunha JR, Carvalho FE, Gaeta ML, da Fonseca GC, Costa JM, Frei M, Silveira JA (2018) Thylakoidal APX modulates hydrogen peroxide content and stomatal closure in rice (Oryza sativa L.). Environ Exp Bot 150:46–56

Kavitha K, Venkataraman G, Parida A (2008) An oxidative and salinity stress induced peroxisomal ascorbate peroxidase from Avicennia marina: molecular and functional characterization. Plant Physiol Biochem 46:794–804

Kim SI, Veena Gelvin SB (2007) Genome-wide analysis of Agrobacterium T-DNA integration sites in the Arabidopsis genome generated under non-selective conditions. Plant J 51:779–791

Kim JH, Chung BY, Kim JS, Wi SG, Yang DH, Lee CH, Lee MC (2004) Construction of gene-specific primers for various antioxidant isoenzyme genes and their expressions in rice (Oryza sativa L.) seedlings obtained from gamma-irradiated seeds. J Photosci 11:115–120

Kreslavski VD, Lyubimov VY, Shabnova NI, Balakhnina TI, Kosobryukhov AA (2009) Heat-induced impairments and recovery of photosynthetic machinery in wheat seedlings. Role of light and prooxidant-antioxidant balance. Physiol Mol Biol Plant 15:115–122

Kumar M, Sirhindi G, Bhardwaj R, Jain G (2001) Effect of exogenous H2O2 on antioxidant enzymes of Brassica juncea L. seedlings in relation to 24-epibrassinolide under chilling stress. Indian J Biochem Biophys 47:378–382

Lim S, Kim Y-H, Kim S-H, Kwon S-Y, Lee H-S, Kim J-S, Cho K-Y, Paek K-Y, Kwak S-S (2007) Enhanced tolerance of transgenic sweetpotato plants that express both CuZnSOD and APX in chloroplasts to methyl viologen-mediated oxidative stress and chilling. Mol Breed 19:227–239

Lin K, Pu S (2010) Tissue-and genotype-specific ascorbate peroxidase expression in sweet potato in response to salt stress. Biol Plant 54:664–670

Lin K-HR, Weng C-C, Lo H-F, Chen J-T (2004) Study of the root antioxidative system of tomatoes and eggplants under waterlogged conditions. Plant Sci 167:355–365

Malecka A, Jarmuszkiewiez W, Tomazewska B (2001) Antioxidative defense to lead stress in subcellular compartments of pea root cells. Acta Biochem Pol 40:687–698

Morita S, Kaminaka H, Masumura T, Tanaka K (1999) Induction of rice cytosolic ascorbate peroxidase mRNA by oxidative stress; the involvement of hydrogen peroxide in oxidative stress signalling. Plant Cell Physiol 40:417–422

Nakano Y, Asada K (1981) Hydrogen peroxide is scavenged by ascorbate-specific peroxidase in spinach chloroplasts. Plant Cell Physiol 22:867–880

Park S-Y, Ryu S-H, Jang I-C, Kwon S-Y, Kim J-G, Kwak S-S (2004) Molecular cloning of a cytosolic ascorbate peroxidase cDNA from cell cultures of sweetpotato and its expression in response to stress. Mol Genet Genom 271:339–346

Passaia G, Fonini LS, Caverzan A, Jardim-Messeder D, Christoff AP, Gaeta ML, de Araujo Mariath JE, Margis R, Margis-Pinheiro M (2013) The mitochondrial glutathione peroxidase GPX3 is essential for H2O2 homeostasis and root and shoot development in rice. Plant Sci 208:93–101

Polycarp D, Afoakwa E, Budu A, Otoo E (2012) Characterization of chemical composition and anti-nutritional factors in seven species within the Ghanaian yam (Dioscorea) germplasm. Int Food Res J19:985–992

Qin Y-M, Hu C-Y, Zhu Y-X (2008) The ascorbate peroxidase regulated by H2O2 and ethylene is involved in cotton fiber cell elongation by modulating ROS homeostasis. Plant Signal Behav 3:194–196

Rosa SB, Caverzan A, Teixeira FK, Lazzarotto F, Silveira JA, Ferreira-Silva SL, Abreu-Neto J, Margis R, Margis-Pinheiro M (2010) Cytosolic APX knockdown indicates an ambiguous redox responses in rice. Phytochemistry 71:548–558

Rzhetsky A, Nei M (1992) A simple method for estimating and testing minimum evolution trees. Mol Biol Evol 9:945–967

Saitou N, Nei M (1987) The neighbor-joining method: a new method for reconstructing phylogenetic trees. Mol Biol Evol 4:406–425

Saltveit ME (2001) Chilling injury is reduced in cucumber and rice seedlings and in tomato pericarp discs by heat-shocks applied after chilling. Postharvest Biol Technol 21:169–177

Sato Y, Murakami T, Funatsuki H, Matsuba S, Saruyama H, Tanida M (2001) Heat shock-mediated APX gene expression and protection against chilling injury in rice seedlings. J Exp Bot 52:145–151

Sato Y, Masuta Y, Saito K, Murayama S, Ozawa K (2011) Enhanced chilling tolerance at the booting stage in rice by transgenic overexpression of the ascorbate peroxidase gene, OsAPXa. Plant Cell Rep 30:399–406

Thompson JD, Gibson TJ, Plewniak F, Jeanmougin F, Higgins DG (1997) The CLUSTAL_X windows interface: flexible strategies for multiple sequence alignment aided by quality analysis tools. Nucleic Acids Res 25:4876–4882

Wahid A, Gelani S, Ashraf M, Foolad MR (2007) Heat tolerance in plants: an overview. Environ Exp Bot 61:199–223

Wang J, Wu B, Yin H, Fan Z, Li X, Ni S, He L, Li J (2017) Overexpression of CaAPX induces orchestrated reactive oxygen scavenging and enhances cold and heat tolerances in tobacco. Biomed Res Int 354:1–15

Wise AA, Liu Z, Binns AN (2006) Three methods for the introduction of foreign DNA into Agrobacterium. Agrobacterium protocols. Springer, Berlin, pp 43–54

Xu F, Tang Y, Dong S, Shao X, Wang H, Zheng Y, Yang Z (2016) Reducing yellowing and enhancing antioxidant capacity of broccoli in storage by sucrose treatment. Postharvest Biol Technol 112:39–45
Acknowledgements
This work was supported by the Science and Technology Department of Fujian Province, China (Grant 2017S0034 and 2018N0069). We really appreciate to Institute of Biotechnology, Sanming Academy of Agricultural Sciences for the facility supporting.
Ethics declarations
Conflict of interest
The authors declare that they have no conflict of interest.
Additional information
Publisher's Note
Springer Nature remains neutral with regard to jurisdictional claims in published maps and institutional affiliations.
Electronic supplementary material
Below is the link to the electronic supplementary material.
About this article
Cite this article
Chen, Z., Lu, HH., Hua, S. et al. Cloning and overexpression of the ascorbate peroxidase gene from the yam (Dioscorea alata) enhances chilling and flood tolerance in transgenic Arabidopsis. J Plant Res 132, 857–866 (2019). https://doi.org/10.1007/s10265-019-01136-4
Received:

Accepted:

Published:

Issue Date:
Keywords
Ascorbate peroxidase

Chilling tolerance

Dioscorea alata

Flood tolerance

Transgenic Arabidopsis