Abstract
This study examines the importance of tourism as a factor for regional economic development in Mainland Portugal, emphasizing the inter-regional spatial spillover effects. A spatial analysis of the main variables of the tourism sector revealed strong evidence of positive spatial autocorrelation across the municipalities of Portugal. A significant spatial clustering of these activities on coastal locations was identified, leading to the formation of hot spots in coastal regions and cold spots in inland regions. Furthermore, this work specifies spatial econometric models aiming to estimate the relevance of the tourism sector in regional economic development, on a municipal level. The econometric model, which highlights the role performed by interregional spatial spillovers, regresses the regional gross value added against a group of variables, which reflect the contribution of the tourism sector and, furthermore, control variables for the classic determinants of income, for the 278 municipalities of Portugal. The results show that tourism is a significant driver of regional economic development. Moreover, they revealed the presence of positive and significant inter-regional spillover effects, which strongly enhance tourism's economic impact.
This is a preview of subscription content, log in to check access.
Access options
Buy single article
Instant access to the full article PDF.
US$ 39.95
Price includes VAT for USA
Subscribe to journal
Immediate online access to all issues from 2019. Subscription will auto renew annually.
US$ 99
This is the net price. Taxes to be calculated in checkout.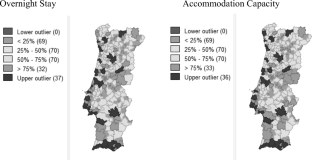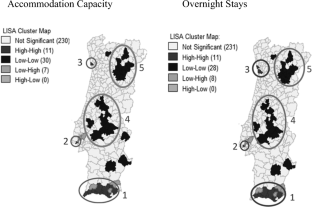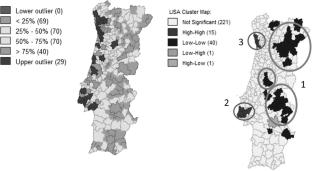 Notes
1.

Mainland Portugal (hereafter referred to simply as Portugal) is divided into 278 municipalities, with an average surface area of 371 km2, corresponding to the administrative division of the country at the level of LAU 1 (Local Administrative Unit level 1, former NUTS 4).

2.

In Portugal there is no data on "Gross Domestic Product" at the municipal level, therefore GVA was selected. The suitability of its use stems from the strong correlation between the two variables: for 2012, at NUTS 3 level, these two variables have a correlation coefficient of 0.9935.

3.

All the statistical analyses and econometric estimations were performed using the software GeoDa and SpaceGeoDa, Copyright © 2011–2015 by Luc Anselin.

4.

It is possible to express the degree of spatial proximity of N geographic units through a spatial weight matrix W (NxN). For each location i (in line), wij = 1 if locations i and j are neighbours and wij = 0 otherwise. Additionally, it is assumed that wii = 0, that is, that a location is never its own neighbour. Typically, the criterion used to define whether two geographic units are neighbours or not is based on the geographic arrangement of the observations, more specifically on the contiguity or the geographical distance between them. On the definition of matrix W, particularly on the range of criteria that can be used to define neighbourhood and on the relevance of the matrix, see Getis and Aldstadt (2004), Getis (2009) and Harris et al. (2011).

5.

With a value of 0.114 for overnight stays (p value: 0.013) and of 0.159 for accommodation capacity (p value: 0.003).

6.

The National Strategic Reference Framework (QREN) was the framework for the application of Community economic and social cohesion policy in Portugal for the period 2007–2013.

7.

8.

The alternative spatial econometric models used were the spatial lag, the mixed-regressive, the spatial error, the combo spatial lag + spatial error and the combo mixed-regressive + spatial error models (see Anselin 2014) but as mentioned the best results were obtained for the mixed regressive-spatial cross-regressive.

9.

10.

See, for instance, Banco de Portugal (2014).
References
Adamou A, Chlorides S (2010) Prospects and limits of tourism-led growth: the international evidence. Review of Economic Analysis 2(3):287–303

Andraz M, Norte M, Gonçalves S (2015) Effects of tourism on regional asymmetries: empirical evidence for Portugal. Tour Manag 50(3):257–267

Anselin L (1988) Spatial econometrics: methods and models. Kluwer Academic, Dordrecht

Anselin L (1999) Spatial econometrics. Texas: Bruton Center, School of Social Sciences,University of Texas at Dallas

Anselin L (2003) Spatial externalities, spatial multipliers, and spatial econometrics. Int Reg Sci Rev 26(2):153–166

Anselin L (2014) Modern spatial econometrics in practice. GeoDa Press LLC, Chicago

Anselin L, Kelejian H (1997) Testing for spatial error autocorrelation in the presence of endogenous regressors. Int Reg Sci Rev 20(1):153–182

Antonakakis N, Dragouni M, Filis G (2015) How strong is the linkage between tourism and economic growth in Europe? Econ Model 44:142–155

Balaguer J, Cantavella-Jordà M (2002) Tourism as a long-run economic growth factor: the Spanish case. Appl Econ 34(7):877–884

Banco de Portugal (2014) Análise do Setor do Turismo – Estudos da Central de Balanços, Lisboa

Barro RJ (1991) Economic growth in a cross section of countries. Q J Econ 106:407–443

Barros C, Alves F (2004) Productivity in the tourism industry. Int Adv Econ Res 10(3):215–225

Bellini E, Gasparino U, Del Corpo B, Malizia W (2007) Impact of cultural tourism upon urban economies: an econometric exercise (working paper, no. 85.2007). Milano: Fondazione Eni Enrico Mattei

Brau R, Lanza A, Pigliaru F (2007) How fast are small tourism countries growing? Evidence from the data for 1980–2003. Tour Econ 13(4):603–613

Brida JG, Cortes-Jimenez I, Pulina M (2016) Has the tourism-led growth hypothesis been validated? A literature review. Curr Issue Tour 19(5):394–430

Capó J, Font A, Nadal J (2007) Tourism and long-term growth: a Spanish perspective. Ann Tour Res 34(3):709–726

Capone F, Boix R (2008) Sources of growth and competitiveness of local tourist production systems: an application to Italy (1991–2001). Ann Reg Sci 42(1):209–224

Chhetri P, Corcoran J, Hall M (2008) Modelling the patterns and drivers of tourism related employment for south-East Queensland, Australia—a spatial econometric approach. Tour Recreat Res 33(1):25–38

Cliff A, Ord K (1972) Testing for spatial autocorrelation among regression residuals. Geogr Anal 4(3):267–284

Constantin D, Reveiu A (2015) A spatial analysis of tourism activity in Romania. Paper presented at the 55th congress of the European regional science association, Lisboa

Corfu A, Breda Z, Costa C (2006) EU Integration and Tourist Destination Management: The Case of Portugal. Proceedings of the 2006. In: International conference on commerce. Academy of Economic Studies of Bucharest, Bucharest

Dritsakis N (2004) Tourism as a long-run economic growth factor: an empirical investigation for Greece using causality analysis. Tour Econ 10(3):305–316

Figini P, Vici L (2010) Tourism and growth in a cross-section of countries. Tour Econ 16(4):789–805

Fingleton B, López-Bazo E (2006) Empirical growth models with spatial effects. Pap Reg Sci 85(2):177–198

Florax R, Folmer H (1992) Specification and estimation of spatial linear regression models: Monte Carlo evaluation of pre-test estimators. Reg Sci Urban Econ 22(3):405–432

Gavilán M, Márquez M, Rangel E (2015) Spatial distribution of tourism supply in Andalusia. Tour Manag Perspect 15(1):29–45

Getis A (2009) Spatial weights matrices. Geogr Anal 41:404–410

Getis A, Aldstadt J (2004) Constructing the spatial weights matrix using a local statistics. Geogr Anal 36(2):90–104

Getis A, Ord K (1992) The analysis of spatial association by use of distance statistics. Geogr Anal 24(3):189–206

Hall CM (2005) Tourism: rethinking the social science of mobility. Pearson Education, Harlow

Harris R, Moffat J, Kravtsova V (2011) In search of 'W'. Spat Econ Anal 6(3):249–270

Kastenholz E, Davis D, Paul G (1999) Segmenting tourism in rural areas: the case of north and Central Portugal. J Travel Res 37(4):353–363

Kelejian H, Prucha I (1998) A generalized spatial two-stage least squares procedure for estimating a spatial autoregressive model with autoregressive disturbances. J Real Estate Financ Econ 17(1):99–121

Kelejian H, Prucha I (2010) Specification and estimation of spatial autoregressive models with autoregressive and heteroskedastic disturbances. J Econ 157(1):53–67

Lanza A, Pigliaru F (2000) Tourism and economic growth: does country's size matter? Rivista Internazionale di Scienze Economiche e Commerciali 47(1):77–85

Lazzeretti L, Capone F (2009) Spatial spillovers and employment dynamics in local tourist systems in Italy (1991–2001). Eur Plan Stud 17:1665–1683

Lee C, Chang C (2008) Tourism development and economic growth: a closer look to panels. Tour Manag 29(1):80–192

Leitão C (2011) Tourism and economic growth: a panel data approach. Actual Problems of Economics 9:343–349

Ma T, Hong T, Zhang H (2015) Tourism spatial spillover effects and urban economic growth. J Bus Res 68(1):74–80

Milio S (2014) Impact of the economic crisis on social, economic and territorial cohesion of the European Union Vol. 1. Brussels: directorate-general for internal policies, policy department B (structural and cohesion policies)

Moran P (1950) Notes on continuous stochastic phenomena. Biometrika 37(1/2):17–23

OCDE (2003) Regional indicators for territorial competitiveness policies. OCDE, Paris

Oh C (2005) The contribution of tourism development to economic growth in the Korean economy. Tour Manag 26(1):39–44

Paci R, Marrocu E (2013) Tourism and regional growth in Europe. Pap Reg Sci 93(1):25–50

Payne JE, Mervar A (2010) The tourism–growth nexus in Croatia. Tour Econ 16(4):1089–1094

Pearce D (1995) tourism today: a geographical analysis (2nd ed.), Longman, Harlow

Read R (2004) The implications of increasing globalization and regionalism for the economic growth of Small Island states. World Dev 32(2):365–378

Regional Economic Forecasting Panel (2010) Long-term forecast for the North West's 2010–2030. Accessed 10 November 2015, from http://www.knowsley.gov.uk/pdf/LC15_RegionalEconomicForecasting PanelState-of-the-NorthwestEconomy.pdf

Romão J, Guerreiro J, Rodrigues P (2016) Tourism growth and regional resilience: the "beach disease" and the consequences of the global crisis of 2007. Tour Econ 22(4):699–714

Sala-i-Martin X, Doppelhofer G, Miller RI (2004) Determinants of long-term growth: a Bayesian averaging of classical estimates (BACE) approach. Am Econ Rev 94:813–835

Shi B, Zhao J, Chen P -J (2016) Exploring urban tourism crowding in Shanghai via crowdsourcing geospatial data. Current Issues in Tourism DOI: https://doi.org/10.1080/13683500.2016.1224820

Song H, Dwyer L, Li G, Cao Z (2012) Tourism economics research: a review and assessment. Ann Tour Res 39(3):1653–1682

Soukiazis E, Proença S (2008) Tourism as an alternative source of regional growth in Portugal: a panel data analysis at NUTS II and III levels. Port Econ J 7(1):43–61

Turismo de Portugal (2013) Anuário das Estatísticas do Turismo 2012. Departamento de Estudos e Planeamento, Lisboa

Turismo de Portugal (2015) Os resultados do Turismo 2014, https://www.turismodeportugal.pt/Português/ProTurismo/Estatisticas/Anexos/OsresultadosdoTurismo2014.pdf. Accessed 03 October 2015

Vieira A (2016) O Impacto Económico do Turismo – Uma Abordagem Espacial. Master Thesis Faculdade de Economia da Universidade do Porto

World Economic Forum (2015) The Travel & Tourism Competitiveness Report, http://reports.weforum.org/travel-and-tourism-competitiveness-report-2015/the-travel-tourism-competitiveness-index-2015 . Accessed 16 January 2016

Yang Y, Fik T (2014) Spatial effects in regional tourism growth. Ann Tour Res 46(3):144–162

Yang Y, Wong KF (2012) A spatial econometric approach to model spillover effects in tourism flows. J Travel Res 51:768–778

Yang Y, Wong KF (2013) Spatial distribution of tourist flows to China's cities. Tour Geogr 15(2):338–363

Zhang J (2009) Spatial distribution of inbound tourism in China: determinants and implications. Tour Hosp Res 9(1):32–49

Zhang Y, Xu J, Zhuang P (2011) The spatial relationship of tourist distribution in Chinese cities. Tour Geogr 13(1):75–90
Funding
This research has been financed by Portuguese public funds through FCT - Fundação para a Ciência e a Tecnologia, I.P., in the framework of the project with reference UIDB/04105/2020.
Additional information
Publisher's note
Springer Nature remains neutral with regard to jurisdictional claims in published maps and institutional affiliations.
About this article
Cite this article
Santos, L.D., Vieira, A.C. Tourism and regional development: a spatial econometric model for Portugal at municipal level. Port Econ J (2020). https://doi.org/10.1007/s10258-020-00179-z
Received:

Accepted:

Published:
Keywords
Tourism sector

Spillover effects

Spatial econometrics

Portugal
JEL