Abstract
On the basis of large-scale literature research, the evaluation and element model for the successful implementation of e-commerce are established, and the key elements (customer, strategy, leadership, technology) and the evaluation elements (system quality, system quality, information quality, service quality) affect the success of e-commerce. First, learn the effective features of the items from the content data through deep learning in advance, and then transform the learned features into the learning task of the collaborative filtering target, and add balance and no relevant constraints to the e-commerce strategic planning behavior values of users and items, using alternating optimization algorithms to learn the value of e-commerce strategic planning behavior and fine-tuning the deep network, and finally get the compact and informative e-commerce strategic planning behavior value of users and items, effectively solving the data sparse problem and cold start in the collaborative filtering algorithm problem. Secondly, the combination of conceptual model and structural equation model has innovated research methods and introduced structural equation model method, which effectively handles the complex relationship between multi-dimensional variables and revises and verifies the hypothetical model. Through path analysis, the interaction and influence between key success factors, success evaluation factors, and successful implementation of e-commerce are explored, and useful attempts are made to expand relevant research data analysis methods.
Access options
Buy single article
Instant access to the full article PDF.
US$ 39.95
Tax calculation will be finalised during checkout.
Subscribe to journal
Immediate online access to all issues from 2019. Subscription will auto renew annually.
US$ 79
Tax calculation will be finalised during checkout.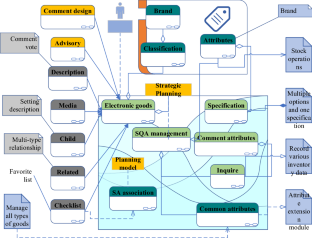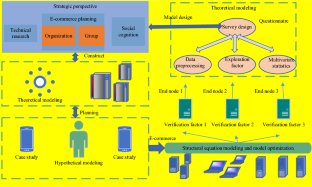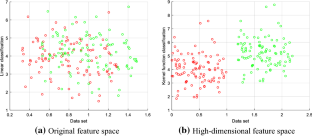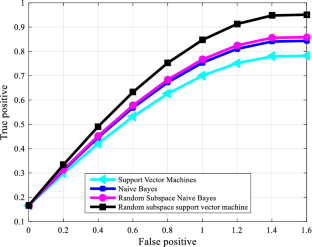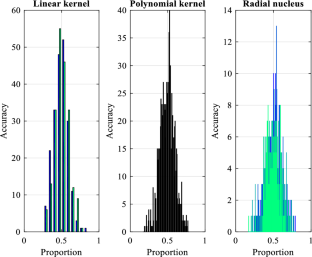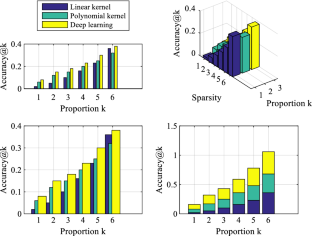 References
Aringhieri R, Duma D, Fragnelli V (2018) Modeling the rational behavior of individuals on an e-commerce system. Oper Res Perspect 5:22–31

Bai X (2017) Research on the customer churn model of e-commerce based on the improved combined intelligent algorithm. C E Ca 42(4):1460–1464

Chen C (2015) Research on college students' safety awareness and behavior in food consumption: an empirical study based on the college students in Suzhou. Adv J Food Sci Technol 7(12):977–982

Choi JG, Che MS (2016) An empirical study on the relationship of personal optimistic bias and information security awareness and behavior in the activity of information ethics. Inst Secur Cryptol 17(5):538–547

Dai T, Wen D (2016) An empirical study on the customer channel choice behavior in the overall process of shopping under 020 mode. Int J Web Portals 8(1):13–31

Dhote S, Vichoray C, Pais R (2020) Hybrid geometric sampling and AdaBoost based deep learning approach for data imbalance in E-commerce. Electron Commer Res 20:259–274

Ding K, Jiang P, Zheng M (2017) Environmental and economic sustainability-aware resource service scheduling for industrial product service systems. J Intell Manuf 28:1303–1316

Mocanu E, Mocanu DC, Nguyen PH (2019) On-line building energy optimization using deep reinforcement learning. IEEE Trans Smart Grid 10(4):3698–3708

Menning L, Garg G, Pokharel D (2017) Communications, immunization, and polio vaccines: lessons from a global perspective on generating political will, informing decision-making and planning, and engaging local support. J Infect Dis 216(1):24–32

Guo M (2017) An empirical study on user acceptance behavior of mobile location-based service. Boletin Tecnico/Tech Bull 55(11):352–357

Hamamoto M (2019) An empirical study on the behavior of hybrid-electric vehicle purchasers. Energy Policy 125(2):286–292

Jipp M, Ackerman PL (2016) The impact of higher levels of automation on performance and situation awareness: a function of information-processing ability and working-memory capacity. J Cogn Eng Dec Mak 10(2):138–166

Myint K, See-Ziau H, Husain R (2016) Dental students' educational environment and perceived stress: the University of Malaya experience. Malays J Med Sci 23(3):49–56

Qu B, Zhang Z, Zhu X (2015) An empirical study of morphing on behavior-based network traffic classification. Secur Commun Netw 8(1):68–79

Ramírez-Martínez IF, Gallardo-Matienzo G, Mita-Arancibia Á et al (2015) Estrategias de aprendizaje según los enfoques de aprendizaje en estudiantes del internado rotatorio de la Facultad de Medicina de la Universidad San Francisco Xavier de Chuquisaca (Sucre, Bolivia). Fem Revista De La Fundación Educación Médica 18(1):15–25

Tang M, Wu Z (2015) Research on the mechanisms of big data on consumer behavior using the models of C2C e-commerce and countermeasures. Afr J Bus Manage 9(1):3–15

Vandecasteele F, Vandenbroucke K, Schuurman D (2017) Spott: on-the-spot e-commerce for television using deep learning-based video analysis techniques. Acm Trans Multimed Comput Commun Appl 13(3s):1–16

Wang T, Liu K, Chen J (2018) Study on the image object recognition and simulation based on deep learning algorithm. Paper Asia 1(9):14–16

Wang S, Wang J, Zhao S (2019) Information publicity and resident's waste separation behavior: an empirical study based on the norm activation model. Waste Manage 87:33–42

Wu D, Wu Q, Yin X (2020) Lameness detection of dairy cows based on the YOLOv3 deep learning algorithm and a relative step size characteristic vector. Biosyst Eng 189:150–163

Yang G, Xu N, Hong Z (2018) Identification of navel orange lesions by nonlinear deep learning algorithm. Engenharia Agrícola 38(5):783–796

Yang P, Ma Z, Zhang C (2020) A high-performance deep learning algorithm for the automated optical inspection of laser welding. Appl Sci 10(3):933–946

Zhang C, Zheng X, Zhao H (2017) An intervention study of college student' dietary behavior based on the health action process approach[J]. J Hyg Res 46(5):755–760

Zhang H (2016) Research and modelling on the e-commerce consumer behavior based on intelligent recommendation system and machine learning. Int Technol Manag 7:61–63

Zhou H, Zuo G, Wan X (2017) An empirical study on the behavior of motor imagery based on mental rotation. J Biomed Eng 34(2):173–179
Acknowledgements
This work is supported by the Program of Liaoning Social Science Planning Fund Project: Research on the Reform and Development of Urban Public Utilities PPP in Northeast China (Grant No.L19CJL004).
Ethics declarations
Conflict of interest
The authors declare that they have no conflict of interest.
Ethical approval
All procedures performed in studies involving human participants were in accordance with the ethical standards of the institutional and/or national research committee and with the 1964 Helsinki declaration and its later amendments or comparable ethical standards.
Informed consent
Informed consent was obtained from all individual participants included in the study.
Additional information
Publisher's Note
Springer Nature remains neutral with regard to jurisdictional claims in published maps and institutional affiliations.
About this article
Cite this article
Ren, X., He, J. & Huang, Z. An empirical study on the behavior of e-commerce strategic planning based on deep learning algorithm. Inf Syst E-Bus Manage (2021). https://doi.org/10.1007/s10257-021-00504-9
Received:

Revised:

Accepted:

Published:
Keywords
E-commerce

Key success factors

Evaluation

Structural equation model

Deep learning algorithm

Data sparse