Abstract
The role of gut microbiota on immune regulation and the development of autoimmune diseases such as rheumatoid arthritis (RA) is an emerging research topic. Multiple studies have demonstrated alterations on gut microbiota composition and/or function (referred to as dysbiosis) both in early and established RA patients. Still, research delineating the molecular mechanisms by which gut microorganisms induce the loss of immune tolerance or contribute to disease progression is scarce. Available data indicate that gut microbiota alterations are involved in RA autoimmune response by several mechanisms including the post-translational modification of host proteins, molecular mimicry between bacterial and host epitopes, activation of immune system and polarization toward inflammatory phenotypes, as well as induction of intestinal permeability. Therefore, in this review we analyze recent clinical and molecular evidence linking gut microbiota with the etiopathogenesis of RA. The potential of the gut microbiota as a diagnostic or severity biomarker is discussed, as well as the opportunity areas for the development of complementary therapeutic strategies based on the modulation of gut microbiota in the rheumatic patient.
Access options
Buy single article
Instant access to the full article PDF.
US$ 39.95
Tax calculation will be finalised during checkout.
Subscribe to journal
Immediate online access to all issues from 2019. Subscription will auto renew annually.
US$ 79
Tax calculation will be finalised during checkout.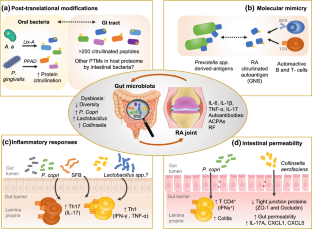 References
1.

McInnes IB, Schett G. The pathogenesis of rheumatoid arthritis. N Engl J Med. 2011;365:2205–19.

2.

Dougados M, Soubrier M, Antunez A, Balint P, Balsa A, Buch MH, et al. Prevalence of comorbidities in rheumatoid arthritis and evaluation of their monitoring: results of an international, cross-sectional study (COMORA). Ann Rheum Dis. 2014;73:62–8.

3.

Scherer HU, Häupl T, Burmester GR. The etiology of rheumatoid arthritis. J Autoimmun. 2020;110:102400.

4.

Okada Y, Eyre S, Suzuki A, Kochi Y, Yamamoto K. Genetics of rheumatoid arthritis: 2018 status. Ann Rheum Dis. 2019;78:446–53.

5.

Holers VM, Demoruelle MK, Kuhn KA, et al. Rheumatoid arthritis and the mucosal origins hypothesis: protection turns to destruction. Nat Rev Rheumatol. 2018;14:542–57.

6.

Benedek TG. The history of bacteriologic concepts of rheumatic fever and rheumatoid arthritis. Semin Arthritis Rheum. 2006;36:109–23.

7.

Sakkas LI, Daoussis D, Liossis S-N, Bogdanos DP. The infectious basis of ACPA-positive rheumatoid arthritis. Front Microbiol. 2017. https://doi.org/10.3389/fmicb.2017.01853/full.

8.

Balandraud N, Roudier J. Epstein-Barr virus and rheumatoid arthritis. Joint Bone Spine. 2018;85:165–70.

9.

Scher JU, Sczesnak A, Longman RS, et al. Expansion of intestinal Prevotella copri correlates with enhanced susceptibility to arthritis. eLife. 2013. https://doi.org/10.7554/eLife.01202.

10.

Maeda Y, Kurakawa T, Umemoto E, Motooka D, Ito Y, Gotoh K, et al. Dysbiosis contributes to arthritis development via activation of autoreactive T cells in the intestine. Arthritis Rheumatol. 2016;68:2646–61.

11.

Alpizar-Rodriguez D, Lesker TR, Gronow A, Gilbert B, Raemy E, Lamacchia C, et al. Prevotella copri in individuals at risk for rheumatoid arthritis. Ann Rheum Dis. 2019;78:590–3.

12.

Chen J, Wright K, Davis JM, et al. An expansion of rare lineage intestinal microbes characterizes rheumatoid arthritis. Genome Med. 2016. https://doi.org/10.1186/s13073-016-0299-7.

13.

Zhang X, Zhang D, Jia H, et al. The oral and gut microbiomes are perturbed in rheumatoid arthritis and partly normalized after treatment. Nat Med. 2015;21:895–905.

14.

Ahluwalia B, Magnusson MK, Öhman L. Mucosal immune system of the gastrointestinal tract: maintaining balance between the good and the bad. Scand J Gastroenterol. 2017;52:1185–93.

15.

Geuking MB, Köller Y, Rupp S, McCoy KD. The interplay between the gut microbiota and the immune system. Gut Microbes. 2014;5:411–8.

16.

Thaiss CA, Zmora N, Levy M, Elinav E. The microbiome and innate immunity. Nature. 2016;535:65–74.

17.

Jiao Y, Wu L, Huntington ND, Zhang X. Crosstalk between gut microbiota and innate immunity and its implication in autoimmune diseases. Front Immunol. 2020. https://doi.org/10.3389/fimmu.2020.00282/full.

18.

Lloyd-Price J, Abu-Ali G, Huttenhower C. The healthy human microbiome. Genome Med. 2016. https://doi.org/10.1186/s13073-016-0307-y.

19.

Bokulich NA, Chung J, Battaglia T, et al. Antibiotics, birth mode, and diet shape microbiome maturation during early life. Sci Transl Med. 2016;8:343ra82.

20.

Li J, Jia H, MetaHIT Consortium, et al. An integrated catalog of reference genes in the human gut microbiome. Nat Biotechnol. 2014;32:834–41.

21.

Tomkovich S, Jobin C. Microbiota and host immune responses: a love-hate relationship. Immunology. 2016;147:1–10.

22.

Round JL, Mazmanian SK. The gut microbiota shapes intestinal immune responses during health and disease. Nat Rev Immunol. 2009;9:313–23.

23.

Smith K, McCoy KD, Macpherson AJ. Use of axenic animals in studying the adaptation of mammals to their commensal intestinal microbiota. Semin Immunol. 2007;19:59–69.

24.

Östman S, Rask C, Wold AE, Hultkrantz S, Telemo E. Impaired regulatory T cell function in germ-free mice. Eur J Immunol. 2006;36:2336–46.

25.

Ishikawa H, Tanaka K, Maeda Y, et al. Effect of intestinal microbiota on the induction of regulatory CD25 CD4 T cells. Clin Exp Immunol. 2008;153:127–35.

26.

Arpaia N, Campbell C, Fan X, et al. Metabolites produced by commensal bacteria promote peripheral regulatory T-cell generation. Nature. 2013;504:451–5.

27.

Corrêa-Oliveira R, Fachi JL, Vieira A, Sato FT, Vinolo MA. Regulation of immune cell function by short-chain fatty acids. Clin Transl Immunol. 2016;5:e73.

28.

Singh N, Gurav A, Sivaprakasam S, et al. Activation of Gpr109a, receptor for niacin and the commensal metabolite butyrate, suppresses colonic inflammation and carcinogenesis. Immunity. 2014;40:128–39.

29.

Shimada Y, Kinoshita M, Harada K, et al. Commensal bacteria-dependent indole production enhances epithelial barrier function in the colon. PLoS ONE. 2013;8:e80604.

30.

Berndt BE, Zhang M, Owyang SY, et al. Butyrate increases IL-23 production by stimulated dendritic cells. Am J Physiol-Gastrointest Liver Physiol. 2012;303:G1384–92.

31.

Wen L, Ley RE, Volchkov PY, et al. Innate immunity and intestinal microbiota in the development of Type 1 diabetes. Nature. 2008;455:1109–13.

32.

Picchianti-Diamanti A, Rosado MM, D'Amelio R. Infectious agents and inflammation: the role of microbiota in autoimmune arthritis. Front Microbiol. 2018. https://doi.org/10.3389/fmicb.2017.02696.

33.

Kalinkovich A, Gabdulina G, Livshits G. Autoimmunity, inflammation, and dysbiosis mutually govern the transition from the preclinical to the clinical stage of rheumatoid arthritis. Immunol Res. 2018;66:696–709.

34.

Ege MJ. The hygiene hypothesis in the age of the microbiome. Ann Am Thorac Soc. 2017;14:S348–53.

35.

Strachan DP. Hay fever, hygiene, and household size. BMJ. 1989;299:1259–60.

36.

Bach JF. The hygiene hypothesis in autoimmunity: the role of pathogens and commensals. Nat Rev Immunol. 2018;18:105–20.

37.

Savin Z, Kivity S, Yonath H, Yehuda S. Smoking and the intestinal microbiome. Arch Microbiol. 2018;200:677–84.

38.

OToole PW, Jeffery IB. Gut microbiota and aging. Science. 2015;350:1214–5.

39.

Kolde R, Franzosa EA, Rahnavard G, et al. Host genetic variation and its microbiome interactions within the Human Microbiome Project. Genome Med. 2018. https://doi.org/10.1186/s13073-018-0515-8.

40.

Molina-Torres G, Rodriguez-Arrastia M, Roman P, Sanchez-Labraca N, Cardona D. Stress and the gut microbiota-brain axis. Behav Pharmacol. 2019;30:187–200.

41.

Ogrendik M. Antibiotics for the treatment of rheumatoid arthritis. Int J Gen Med. 2013;7:43–7.

42.

Daïen CI, Sellam J. Obesity and inflammatory arthritis: impact on occurrence, disease characteristics and therapeutic response. RMD Open. 2015;1:e000012.

43.

Kishikawa T, Maeda Y, Nii T, et al. Metagenome-wide association study of gut microbiome revealed novel aetiology of rheumatoid arthritis in the Japanese population. Ann Rheum Dis. 2020;79:103–11.

44.

Breban M, Tap J, Leboime A, et al. Faecal microbiota study reveals specific dysbiosis in spondyloarthritis. Ann Rheum Dis. 2017;76:1614–22.

45.

Chiang HI, Li JR, Liu CC, et al. An association of gut microbiota with different phenotypes in chinese patients with rheumatoid arthritis. J Clin Med. 2019;8:1770.

46.

Liu X, Zou Q, Zeng B, Fang Y, Wei H. Analysis of fecal Lactobacillus community structure in patients with early rheumatoid arthritis. Curr Microbiol. 2013;67:170–6.

47.

Picchianti-Diamanti A, Panebianco C, Salemi S, et al. Analysis of gut microbiota in rheumatoid arthritis patients: disease-related dysbiosis and modifications induced by etanercept. Int J Mol Sci. 2018;19:2938.

48.

Liu X, Zhang J, Zou Q, et al. Lactobacillus salivarius isolated from patients with rheumatoid arthritis suppresses collagen-induced arthritis and increases Treg frequency in mice. J Interferon Cytokine Res. 2016;36:706–12.

49.

Liu X, Zeng B, Zhang J, et al. Role of the gut microbiome in modulating arthritis progression in mice. Sci Rep. 2016. https://doi.org/10.1038/srep30594.

50.

Vaghef-Mehrabany E, Alipour B, Homayouni-Rad A, Sharif S-K, Asghari-Jafarabadi M, Zavvari S. Probiotic supplementation improves inflammatory status in patients with rheumatoid arthritis. Nutrition. 2014;30:430–5.

51.

Zamani B, Golkar HR, Farshbaf S, et al. Clinical and metabolic response to probiotic supplementation in patients with rheumatoid arthritis: a randomized, double-blind, placebo-controlled trial. Int J Rheum Dis. 2016;19:869–79.

52.

de los Angeles Pineda M, Thompson SF, Summers K, de Leon F, Pope J, Reid G. A randomized, double-blinded, placebo-controlled pilot study of probiotics in active rheumatoid arthritis. Med Sci Monit. 2011;17:CR347–54.

53.

Hatakka K, Martio J, Korpela M, et al. Effects of probiotic therapy on the activity and activation of mild rheumatoid arthritis—a pilot study. Scand J Rheumatol. 2003;32:211–5.

54.

Sánchez B, Delgado S, Blanco-Míguez A, Lourenço A, Gueimonde M, Margolles A. Probiotics, gut microbiota, and their influence on host health and disease. Mol Nutr Food Res. 2017;61:1600240.

55.

Kalinkovich A, Livshits G. A cross talk between dysbiosis and gut-associated immune system governs the development of inflammatory arthropathies. Semin Arthritis Rheum. 2019;49:474–84.

56.

Darrah E, Andrade F. Rheumatoid arthritis and citrullination. Curr Opin Rheumatol. 2018;30:72–8.

57.

Volkov M, Schie KA, Woude D. Autoantibodies and B cells: The ABC of rheumatoid arthritis pathophysiology. Immunol Rev. 2020;294:148–63.

58.

Farquharson D, Butcher JP, Culshaw S. Periodontitis, Porphyromonas, and the pathogenesis of rheumatoid arthritis. Mucosal Immunol. 2012;5:112–20.

59.

Wegner N, Wait R, Sroka A, et al. Peptidylarginine deiminase from Porphyromonas gingivalis citrullinates human fibrinogen and α-enolase: Implications for autoimmunity in rheumatoid arthritis. Arthritis Rheum. 2010;62:2662–72.

60.

Goulas T, Mizgalska D, Garcia-Ferrer I, et al. Structure and mechanism of a bacterial host-protein citrullinating virulence factor, Porphyromonas gingivalis peptidylarginine deiminase. Sci Rep. 2015. https://doi.org/10.1038/srep11969.

61.

Konig MF, Abusleme L, Reinholdt J, et al. Aggregatibacter actinomycetemcomitans-induced hypercitrullination links periodontal infection to autoimmunity in rheumatoid arthritis. Sci Transl Med. 2016;8:369ra176.

62.

Rosenstein ED, Greenwald RA, Kushner LJ, Weissmann G. Hypothesis: the humoral immune response to oral bacteria provides a stimulus for the development of rheumatoid arthritis. Inflammation. 2004;28:311–8.

63.

du Teil Espina M, Gabarrini G, Harmsen HJM, Westra J, van Winkelhoff AJ, van Dijl JM. Talk to your gut: the oral-gut microbiome axis and its immunomodulatory role in the etiology of rheumatoid arthritis. FEMS Microbiol Rev. 2019;43:1–18.

64.

Jeong SH, Nam Y, Jung H, et al. Interrupting oral infection of Porphyromonas gingivalis with anti-FimA antibody attenuates bacterial dissemination to the arthritic joint and improves experimental arthritis. Exp Mol Med. 2018;50:e460.

65.

Carrion J, Scisci E, Miles B, et al. Microbial carriage state of peripheral blood dendritic cells (DCs) in chronic periodontitis influences DC differentiation, atherogenic potential. J Immunol. 2012;189:3178–87.

66.

El-Awady AR, Miles B, Scisci E, et al. Porphyromonas gingivalis evasion of autophagy and intracellular killing by human myeloid dendritic cells involves DC-SIGN-TLR2 crosstalk. PLoS Pathog. 2015;11:e1004647.

67.

Totaro M, Cattani P, Ria F, et al. Porphyromonas gingivalis and the pathogenesis of rheumatoid arthritis: analysis of various compartments including the synovial tissue. Arthritis Res Ther. 2013;15:R66.

68.

Reichert S, Haffner M, Keyßer G, et al. Detection of oral bacterial DNA in synovial fluid. J Clin Periodontol. 2013;40:591–8.

69.

Nakajima M, Arimatsu K, Kato T, et al. Oral administration of P. gingivalis induces dysbiosis of gut microbiota and impaired barrier function leading to dissemination of enterobacteria to the liver. PLoS ONE. 2015;10:e0134234.

70.

Flak MB, Colas RA, Muñoz-Atienza E, Curtis MA, Dalli J, Pitzalis C. Inflammatory arthritis disrupts gut resolution mechanisms, promoting barrier breakdown by Porphyromonas gingivalis. JCI Insight. 2019;4:e125191.

71.

Bennike TB, Ellingsen T, Glerup H, et al. Proteome analysis of rheumatoid arthritis gut mucosa. J Proteome Res. 2017;16:346–54.

72.

Kinslow JD, Blum LK, Deane KD, et al. Elevated IgA plasmablast levels in subjects at risk of developing rheumatoid arthritis. Arthritis Rheumatol. 2016;68:2372–83.

73.

Clavel C, Nogueira L, Laurent L, et al. Induction of macrophage secretion of tumor necrosis factor α through Fcγ receptor IIa engagement by rheumatoid arthritis–specific autoantibodies to citrullinated proteins complexed with fibrinogen. Arthritis Rheum. 2008;58:678–88.

74.

Harre U, Georgess D, Bang H, et al. Induction of osteoclastogenesis and bone loss by human autoantibodies against citrullinated vimentin. J Clin Invest. 2012;122:1791–802.

75.

Juarez M, Bang H, Hammar F, et al. Identification of novel antiacetylated vimentin antibodies in patients with early inflammatory arthritis. Ann Rheum Dis. 2016;75:1099–107.

76.

Christensen DG, Xie X, Basisty N, et al. Post-translational protein acetylation: an elegant mechanism for bacteria to dynamically regulate metabolic functions. Front Microbiol. 2019. https://doi.org/10.3389/fmicb.2019.01604.

77.

Simon GM, Cheng J, Gordon JI. Quantitative assessment of the impact of the gut microbiota on lysine -acetylation of host proteins using gnotobiotic mice. Proc Natl Acad Sci. 2012;109:11133–8.

78.

Kim GW, Gocevski G, Wu CJ, Yang XJ. Dietary, metabolic, and potentially environmental modulation of the lysine acetylation machinery. Int J Cell Biol. 2010;2010:1–14.

79.

Pianta A, Arvikar S, Strle K, et al. Evidence of the immune relevance of Prevotella copri, a gut microbe, in patients with rheumatoid arthritis. Arthritis Rheumatol. 2017;69:964–75.

80.

Marietta EV, Murray JA, Luckey DH, et al. Suppression of inflammatory arthritis by human gut-derived Prevotella histicola in humanized mice. Arthritis Rheumatol. 2016;68:2878–88.

81.

Pianta A, Arvikar SL, Strle K, et al. Two rheumatoid arthritis–specific autoantigens correlate microbial immunity with autoimmune responses in joints. J Clin Invest. 2017;127:2946–56.

82.

Rodríguez-Carrio J, Hähnlein JS, Ramwadhdoebe TH, et al. Brief report: altered innate lymphoid cell subsets in human lymph node biopsy specimens obtained during the at-risk and earliest phases of rheumatoid arthritis. Arthritis Rheumatol. 2017;69:70–6.

83.

Fine RL, Manfredo Vieira S, Gilmore MS, Kriegel MA. Mechanisms and consequences of gut commensal translocation in chronic diseases. Gut Microbes. 2020;11:217–30.

84.

Zhou L, Zhang M, Wang Y, et al. Faecalibacterium prausnitzii produces butyrate to maintain Th17/Treg balance and to ameliorate colorectal colitis by inhibiting histone deacetylase 1. Inflamm Bowel Dis. 2018;24:1926–40.

85.

Guilloteau P, Martin L, Eeckhaut V, Ducatelle R, Zabielski R, Van Immerseel F. From the gut to the peripheral tissues: the multiple effects of butyrate. Nutr Res Rev. 2010;23:366–84.

86.

Sun Y, Chen Q, Lin P, et al. Characteristics of gut microbiota in patients with rheumatoid arthritis in Shanghai, China. Front Cell Infect Microbiol. 2019. https://doi.org/10.3389/fcimb.2019.00369.

87.

Jones RM, Mulle JG, Pacifici R. Osteomicrobiology: the influence of gut microbiota on bone in health and disease. Bone. 2018;115:59–67.

88.

Novince CM, Whittow CR, Aartun JD, et al. Commensal gut microbiota immunomodulatory actions in bone marrow and liver have catabolic effects on skeletal homeostasis in health. Sci Rep. 2017. https://doi.org/10.1038/s41598-017-06126-x.

89.

Saad R, Rizkallah MR, Aziz RK. Gut pharmacomicrobiomics: the tip of an iceberg of complex interactions between drugs and gut-associated microbes. Gut Pathog. 2012;4:16.

90.

Pan H, Guo R, Ju Y, et al. A single bacterium restores the microbiome dysbiosis to protect bones from destruction in a rat model of rheumatoid arthritis. Microbiome. 2019. https://doi.org/10.1186/s40168-019-0719-1.

91.

Costa NT, Scavuzzi BM, Iriyoda TMV, et al. Metabolic syndrome and the decreased levels of uric acid by leflunomide favor redox imbalance in patients with rheumatoid arthritis. Clin Exp Med. 2018;18:363–72.

92.

Philippou E, Nikiphorou E. Are we really what we eat? Nutrition and its role in the onset of rheumatoid arthritis. Autoimmun Rev. 2018;17:1074–7.

93.

Hu Y, Sparks JA, Malspeis S, et al. Long-term dietary quality and risk of developing rheumatoid arthritis in women. Ann Rheum Dis. 2017;76:1357–64.

94.

Hu Y, Costenbader KH, Gao X, Hu FB, Karlson EW, Lu B. Mediterranean diet and incidence of rheumatoid arthritis in women: association between a mediterranean diet and risk of RA. Arthritis Care Res. 2015;67:597–606.

95.

Tedeschi SK, Costenbader KH. Is there a role for diet in the therapy of rheumatoid arthritis? Curr Rheumatol Rep. 2016. https://doi.org/10.1007/s11926-016-0575-y.

96.

Johansson K, Askling J, Alfredsson L, Di Giuseppe D, EIRA Study Group. Mediterranean diet and risk of rheumatoid arthritis: a population-based case-control study. Arthritis Res Ther. 2018. https://doi.org/10.1186/s13075-018-1680-2.

97.

Maruotti N, d'Onofrio F, Cantatore FP. Metabolic syndrome and chronic arthritis: effects of anti-TNF-α therapy. Clin Exp Med. 2015;15:433–8.

98.

Bertin S, Aoki-Nonaka Y, de Jong PR, et al. The ion channel TRPV1 regulates the activation and proinflammatory properties of CD4 + T cells. Nat Immunol. 2014;15:1055–63.

99.

Kunnumakkara AB, Bordoloi D, Padmavathi G, et al. Curcumin, the golden nutraceutical: multitargeting for multiple chronic diseases. Br J Pharmacol. 2017;174:1325–48.

100.

Illescas-Montes R, Melguizo-Rodríguez L, Ruiz C, Costela-Ruiz VJ. Vitamin D and autoimmune diseases. Life Sci. 2019;233:116744.

101.

Neve A, Corrado A, Cantatore FP. Immunomodulatory effects of vitamin D in peripheral blood monocyte-derived macrophages from patients with rheumatoid arthritis. Clin Exp Med. 2014;14:275–83.

102.

Häger J, Bang H, Hagen M, et al. The role of dietary fiber in rheumatoid arthritis patients: a feasibility study. Nutrients. 2019;11:2392.

103.

Antushevich H. Fecal microbiota transplantation in disease therapy. Clin Chim Acta. 2020;503:90–8.
Ethics declarations
Conflict of interest
The authors declare that they have no conflict of interest.
Ethics approval
Not applicable.
Consent to participate
Not applicable.
Consent for publication
The authors declare that the content of the manuscript, tables and figures is original and has not been published or submitted for publication elsewhere. All authors accept the responsibility for releasing this material and agree in transferring to the Editorial Springer the respective publication rights.
Additional information
Publisher's Note
Springer Nature remains neutral with regard to jurisdictional claims in published maps and institutional affiliations.
About this article
Cite this article
Reyes-Castillo, Z., Valdés-Miramontes, E., Llamas-Covarrubias, M. et al. Troublesome friends within us: the role of gut microbiota on rheumatoid arthritis etiopathogenesis and its clinical and therapeutic relevance. Clin Exp Med 21, 1–13 (2021). https://doi.org/10.1007/s10238-020-00647-y
Received:

Accepted:

Published:

Issue Date:
Keywords
Rheumatoid arthritis

Autoimmunity

Microbiome

Gut dysbiosis

Probiotics

Fecal microbiota transplant