Abstract
Lone Tree pit lake became acidic during groundwater recovery at a gold mine in Nevada. Alkalinity was added periodically to shift the lake to a neutral pH. Improved knowledge of the pit lake's sources of acidity was essential for water quality prediction. The primary source of acidity and metals at Lone Tree appears to be dissolution of chemical loads by groundwater flowing through sulfide-enriched rocks exposed in the highwall. About 60% of the highwall consisted of potentially acid-generating rock based on analysis of sulfur and carbon in blast-hole samples collected during mining. Analysis of acid ingress over time indicated that complete oxidation of about 2.3 m of highwall would account for the sulfate and acidity mass balance in the pit lake. In addition, the analysis showed that chemical loading stored in the submerged highwall was likely released over many years by influent groundwater. A synthetic rinsing curve was calibrated against measured water quality to simulate chemical releases from the weathered rock.
Zusammenfassung
Der Lone Tree Tagebausee versauerte im Zuge des Grundwasser-Wiederanstiegs in einem Goldbergwerk in Nevada. Wiederholt wurde Alkalinität zugeführt, um den pH-Wert des Sees neutral zu halten. Für die Prognose der Wasserqualität war ein verbessertes Verständnis der der Särequellen des Tagebausees entscheidend. Die Hauptquelle von Azidität und Metallen im Lone Tree Tagebausee scheint die Auswaschung Sulfid-reiches Gesteins der Endböschung durch Grundwasser zu sein. Etwa 60% der Endböschung bestehen aus potenziell Säure-produzierendem Gestein, ausgehend von Schwefel- und Kohlenstoffbestimmungen im Bohrmaterial aus Sprenglöchern aus der Zeit des Abbaus. Die Analyse des Versauerungsverlaufs zeigte, dass die Oxidation von etwa 2,3 m der Endböschung die Sulfat- und Säurebilanz des Tagebausees erklären würde. Außerdem zeigte sich, dass der in der im überstauten Bereich der Endböschung gespeicherte Vorrat an Oxidationsprodukten wahrscheinlich über viele Jahre durch Grundwasser in den See eingetragen werden wird. Mit Hilfe der gemessenen Wasserqualität wurde eine synthetische Anstiegskurve kalibriert, um die Freisetzungen aus dem verwitterten Gestein zu simulieren.
Resumen
El lago de la mina de Lone Tree se volvió ácido durante la recuperación del agua subterránea en una mina de oro en Nevada. Se alcalinizó periódicamente para que el lago tuviera un pH neutro. Un mayor conocimiento de las fuentes de acidez del lago resultaba esencial para la predicción de la calidad del agua. La principal fuente de acidez y metales en Lone Tree parece ser la disolución de cargas químicas por el agua subterránea que fluye a través de las rocas enriquecidas con sulfuro y expuestas en la pared de la autopista. Alrededor del 60% de la pared superior consistía en roca potencialmente generadora de ácido, basada en el análisis del azufre y el carbono en muestras de explosivos recogidas durante la explotación minera. El análisis de la entrada de ácido a lo largo del tiempo indicó que la oxidación completa de unos 2,3 m de la pared de la autopista explicaría el equilibrio de sulfato y masa de acidez en el lago del pozo. Además, el análisis demostró que la carga química almacenada en la pared superior sumergida probablemente fue liberada a lo largo de muchos años por las aguas subterráneas afluentes. Se calibró una curva de lavado sintética en función de la calidad del agua medida para simular las liberaciones de productos químicos de la roca erosionada.
抽象
随着地下水位恢复,华达州Lone Tree金矿矿坑湖水质由中变为酸性。只有定期投碱才能使湖水pH值变为中性。提升矿坑湖产酸来源认识对湖水水质预测至关重要。Lone Tree矿坑湖酸度和金属的主要来源是地下水流经富含硫化物的裸露坑壁时产生的化学溶解荷载。根据采矿期间炮眼岩样的硫和碳分析,约60%坑壁都属于产酸岩层。酸度汇入量分析表明,完全氧化约2.3 m厚岩壁将达到矿坑湖内硫酸盐和碱度质量平衡。此外,浸没岩壁储存的化学荷载可能已被汇入地下水溶解释放多年。利用实测水质数据校正合成冲刷试验曲线,以模拟风化岩石的化学溶蚀过程。
This is a preview of subscription content, log in to check access.
Access options
Buy single article
Instant access to the full article PDF.
US$ 39.95
Price includes VAT for USA
Subscribe to journal
Immediate online access to all issues from 2019. Subscription will auto renew annually.
US$ 99
This is the net price. Taxes to be calculated in checkout.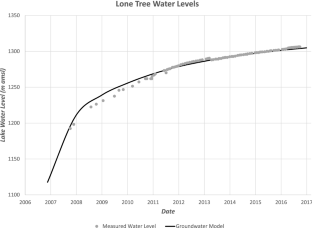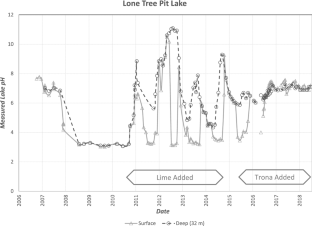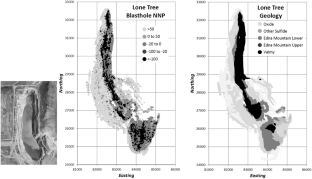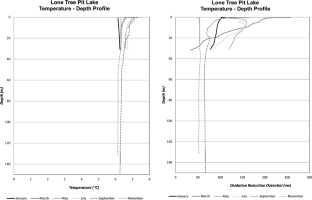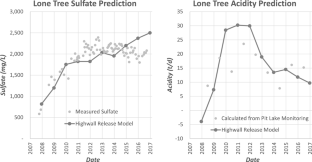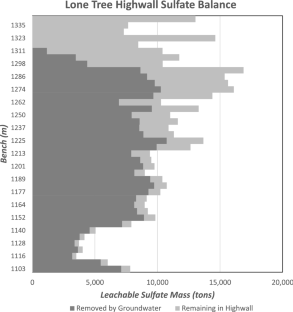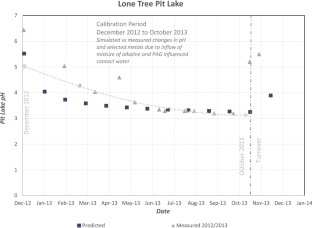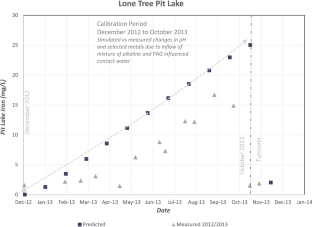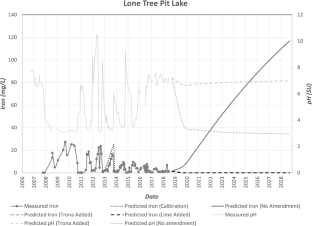 References
Bloomstein E, Braginton B, Owen R, Parratt R, Raabe K, Thompson W (1993) Geology and geochemistry of the lone tree gold deposit, Humboldt County, Nevada. Preprint 93–205. In: Annual Meeting of the Soc for Mining, Metallurgy, and Exploration

Davis GB, Doherty G, Ritchie AIM (1986) A model of oxidation in pyritic mine wastes: part 2: comparison of numerical and approximate solutions. Appl Math Model 10:323–329

Eary LE (1999) Geochemical and equilibrium trends in mine pit lakes. Appl Geochem 14:963–987

Itasca (2018) Update of the lone tree groundwater flow model and predictions of future pit-lake infilling. In: Technical memorandum to Newmont Mining (unpubl)

Parkhurst DL, Appelo CAJ (2013) Description of input and examples for PHREEQC version 3—a computer program for speciation, batch-reaction, one-dimensional transport, and inverse geochemical calculations. US Geological Survey Techniques and Methods, book 6, ch A43, https://pubs.usgs.gov/tm/06/a43. Accessed July 2018
About this article
Cite this article
Schafer, W.M., Croall, J. & Schmidt, J. Predicting Water Quality Trends in Lone Tree Pit Lake, Nevada (USA). Mine Water Environ (2020). https://doi.org/10.1007/s10230-020-00698-3
Received:

Accepted:

Published:
Keywords
ARD

Mitigation

Wall rock

Geochemical modeling