Abstract
A new snailfish, Elassodiscus nyctereutes, previously confused with Elassodiscus caudatus, is described on the basis of genetic evidence and morphometric and meristic analysis of 55 specimens. The new species is most similar to E. caudatus in having a greatly reduced pelvic disk, two suprabranchial pores, trilobed teeth, and long pectoral-fin rays in the lower lobe that reach to the anal-fin origin. However, the new species is clearly distinguished from the latter by having more vertebrae (67–75 vs. 56–60), dorsal- (59–69 vs. 51–54), and anal-fin rays (52–63 vs. 45–50). The two species are parapatrically distributed in the North Pacific: E. nyctereutes is widely known from the southern part of the Sea of Okhotsk, off Rausu, eastern Hokkaido, Japan; the Pacific Ocean off Kamchatka and the Kuril Islands; the Aleutian Islands; and the Bering Sea at depths of 362–1,200 m; whereas E. caudatus is only known from the eastern North Pacific, from the eastern Gulf of Alaska to California at depths of 335–925 m. We also provide an emended diagnosis of the genus Elassodiscus, as well as a key to the known species.
We're sorry, something doesn't seem to be working properly.
Please try refreshing the page. If that doesn't work, please contact support so we can address the problem.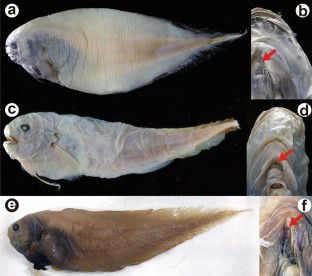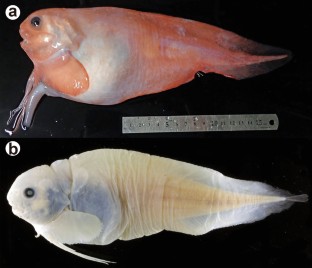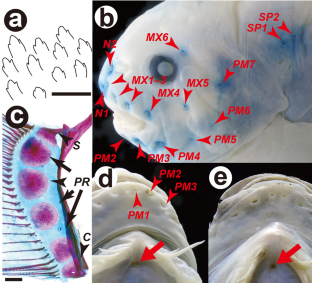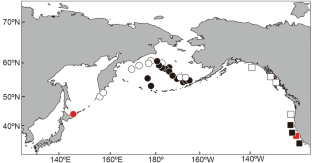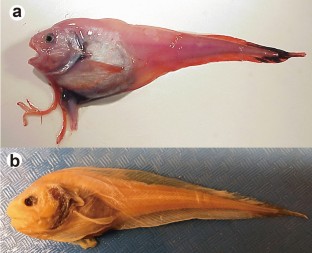 References
Anderson ME, Cailliet GM, Antrim BS (1979) Notes on some uncommon deep-sea fishes from the Monterey Bay Area, California. Calf Fish Game 65:256–264

Barnard KH (1927) Diagnoses of new genera and species of South African marine fishes. Ann Mag Natl Hist (Ser 9) 20:66–79

Burke CV (1912) A new genus and six new species of fishes of the family Cyclogasteridae. Proc US Natl Mus 43 (1941):567–574

Burton EJ, Lea RN (2019) Annotated checklist of fishes from Monterey Bay National Marine Sanctuary with notes on extralimital species. ZooKeys 887:1–119

Chernova NV (2001) A review of the genus Psednos (Pisces, Liparidae) with description of ten new species from the north Atlantic and southwestern Indian Ocean. Bull Mus Comparat Zool 155:477–507

Chernova NV, Stein DL, Andriashev AP (2004) Family Liparidae Scopoli 1777—Snailfishes. Cal Acad Sci Annotated Checklist Fish 31:1–72

Collett R (1879) Fiske fra Nordhavs-Expeditionens sidste Togt, Sommeren 1878. Forhandl Videnskabs-selskabet Christ 14:1–106

Duhamel G, Hautecoeur M, Dettaï A, Causse R, Pruvost P (2010) Liparids from the eastern sector of Southern Ocean and first information from molecular studies. Cybium 34:319–343

Folmer O, Black M, Hoeh W, Lutz R, Vrijenhoek R (1994) DNA primers for amplification of mitochondrial cytochrome c oxidase subunit I from diverse metazoan invertebrates. Mol Mar Biol Biotechnol 3:294–299

Gardner JR, Orr JW, Stevenson DE, Spies I, Somerton DA (2016) Reproductive parasitism between distant phyla: molecular identification of snailfish (Liparidae) egg masses in the gill cavities of king crabs (Lithodidae). Copeia 104:645–657

Gilbert CH (1896) The ichthyological collections of the steamer Albatross during the years 1890 and 1891. US Comm Fish Fisher Rep Comm 19:393–476

Gilbert CH (1915) Fishes collected by the United States Fisheries steamer "Albatross" in southern California in 1904. Proc US Natl Mus 48:305–380

Gilbert CH, Burke CV (1912) Fishes from Bering Sea and Kamchatka. Bull Bureau Fish 30:31–96

Grant WS, Liu M, Gao TX, Yanagimoto T (2012) Limits of Bayesian skyline plot analysis of mtDNA sequences to infer historical demographies in Pacific herring (and other species). Mol Phylogenet Evol 65:203–212

Imamura H, Nobetsu T (2002) Careproctus parvidiscus, a new species of liparid fish (Teleostei: Scorpaeniformes) collected from the southern Okhotsk Sea, Japan. Ichthyol Res 49:156–158

Kai Y, Ikeguchi S, Nakabo T (2011) A new species of the genus Careproctus (Liparidae) from the Sea of Japan. Ichthyol Res 58:350–354

Kamikawa D (2017). Survey fishes: an illustrated list of the fishes captured during the Northwest Fisheries Science Center's Fishery Resource Analysis and Monitoring Division's West Coast Surveys. NOAA Tech Memo NMFS-NWFSC-138:1–436

Katoh K, Standley DM (2013) MAFFT multiple sequence alignment software version 7: improvements in performance and usability. Mol Biol Evol 30:772–780

Kawamura K, Hosoya K (1991) A modified double staining technique for making a transparent fish-skeletal specimen. Bull Natl Res Inst Aquacul 20:11–18

Kido K (1983) New and rare liparidid species from the Okhotsk and Bering seas and their adjacent waters. Jpn J Ichthyol 29:374–384

Kido K (1988) Phylogeny of the family Liparididae, with the taxonomy of the species found around Japan. Mem Fac Fisher Hokkaido Univ 35:125–256

Kido K (1992) Redescription of Paraliparis tremebundus (Liparididae). Jpn J Ichthyol 39:251–254

Knudsen SW, Møller PR, Gravlund P (2007) Phylogeny of the snailfishes (Teleostei: Liparidae) based on molecular and morphological data. Mol Phylogenet Evol 44:649–666

Krøyer HN (1862) Nogle Bidrag til Nordisk ichthyologi. Naturhist Tidsskr (Kjøbenhavn) (Ser 3) 1:233–310

Kumar S, Stecher G, Li M, Knyaz C, Tamura K (2018) MEGA X: molecular evolutionary genetics analysis across computing platforms. Mol Biol Evol 35:1547–1549

Lauth RR (2001) The 2000 Pacific west coast upper continental slope survey of groundfish resources off Washington, Oregon, and California: Estimates of distribution, abundance, and length composition. U. S. Dep. Commer., NOAA Tech. Memo. NMFS-AFSC-120.

Liu M, Lin LS, Gao TX, Yanagimoto T, Sakurai Y, Grant WS (2012) What maintains the central North Pacific genetic discontinuity in Pacific herring? PloS One 7:e50340

Liu JX, Tatarenkov A, Beacham TD, Gorbachev V, Wildes S, Avise JC (2011). Effects of Pleistocene climatic fluctuations on the phylogeographic and demographic histories of Pacific herring (Clupea pallasii). Mol Ecol 20:3879–3893

Logerwell EA, Aydin K, Barbeaux S, Brown E, Conners ME, Lowe S, Orr JW, Ortiz I, Reuter R, Schaufler L, Spencer P (2005) Geographic patterns in the demersal ichthyofauna of the Aleutian Islands shelf. Fisher Oceanogr 14 (Suppl 1):1–20

Love MS, Mecklenburg CW, Mecklenburg TA, Thorsteinson LK (2005) Resource inventory of marine and estuarine fishes of the West Coast and Alaska: a checklist of North Pacific and Arctic Ocean species from Baja California to the Alaska-Yukon border. US Department of the Interior, US Geological Survey, Biological Resources Division, Seattle

Love MS, Passarelli JK (eds) (2020) Miller and Lea's guide to the coastal marine fishes of California, 2nd ed. Cabrillo Marine Aquarium, San Pedro

Matsuzaki K, Kamiunten M, Yanagimoto T (2020) The eggs of two snailfish species in gill cavity of golden king crab Lithodes aequispinus from the Nemuro Strait, southwestern Sea of Okhotsk, Japan. Aquacult Sci 68:25–32

Mecklenburg CW, Mecklenburg TA, Thorsteinson LK (2002) Fishes of Alaska. American Fisher Soc, Bethesda, Maryland

Nakabo T, Kai Y (2013) Liparidae. In: Nakabo T (ed) Fishes of Japan with pictorial keys to the species. Third edition. Tokai University Press, Hadano, pp 1205–1218, 2072–2076

Orlov AM, Tokranov AM (2011) Some rare and insufficiently studied snailfishes (Liparidae, Scorpaeniformes, Pisces) in the Pacific waters off the northern Kuril Islands and southeastern Kamchatka, Russia. ISRN Zool 2011 (341640):1–12

Orr JW, Maslenikov KP (2007) Two new variegated snailfishes of the genus Careproctus (Teleostei: Scorpaeniformes: Liparidae) from the Aleutian Islands, Alaska. Copeia 2007:699–710

Orr JW, Drumm DT, Hoff GR, Stevenson DE (2014a) Species identification confidence in the Bering Sea slope groundfish surveys (1976–2010). Alaska Fisheries Science Center Processed Report, NOAA, NMFS, Seattle

Orr JW, Drumm DT, Laman EA, Stevenson DE, Hoff GR (2014b) Species identification confidence in the Gulf of Alaska and Aleutian Islands groundfish surveys (1980–2011). Alaska Fisheries Science Center Processed Report, NOAA, NMFS, Seattle

Orr, JW, Spies I, Stevenson DE, Longo GC, Kai Y, Ghodes S, Hollowed M (2019) Molecular phylogenetics of snailfishes (Liparidae: Cottoidei) based on mtDNA and RADseq genomic analyses, with comments on selected morphological characters. Zootaxa 4642:1–79

Pitruk DL, Fedorov VV (1993) The validity of the genus Elassodiscus Gilbert and Burke, 1912 (Scorpaeniformes, Liparidae) with a description of a new species from the Sea of Okhotsk. Vopr Ikhtiol 33:165–175

Schmidt PY (1916) Ichthyological notes: 1 On some new and little known Cottidae of North Pacific; 2 On a new cyclogasterid fish with a rudimentary ventral disk. Ezheg, Zool Muz Imper Akad Nauk 20:611–630

Shen Y, Dai W, Gao Z, Yan G, Gan X, He S (2017) Molecular phylogeny and divergence time estimates using the mitochondrial genome for the hadal snailfish from the Mariana trench. Sci Bull 62:1106–1108

Somerton DA, Donaldson W (1998) Parasitism of the golden king crab, Lithodes aequispinus, by two species of snailfish, genus Careproctus. Fish Bull 96:871–884

Stein DL (1978) A review of the deepwater Liparidae (Pisces) from the coast of Oregon and adjacent waters. Occ Pap Cal Acad Sci 127:1–55

Stein DL, Chernova NV, Andriashev AP (2001) Snailfishes (Pisces: Liparidae) of Australia, including descriptions of thirty new species. Rec Austral Mus 53:341–406

Steinke D, Zemlak TS, Boutillier JA, Hebert PD (2009) DNA barcoding of Pacific Canada's fishes. Mar Biol 156:2641–2647
Acknowledgments
We are grateful to Shigeki Fujimoto and Shigetada Fujimoto for their help in collecting specimens. We also thank the staff of the RACE Groundfish and Shellfish Assessment Programs of the US NOAA Fisheries Alaska Fisheries Science Center, especially J. Hoff, D. Stevenson, and L. Britt, as well as the fishing vessel crews for their assistance in collections. Our appreciation is also extended to H. Imamura, T. Kawai, and F. Tashiro (HUMZ), K. P. Maslenikov and L. Tornabene (UW), and J. T. Williams, D.G. Smith, S. Raredon, and K. Murphy (USNM) for access to collections, and to Y. Abe (Executive Director, AMF) and A. Komoda (General Curator, AMF) for their valuable advice and encouragement, D. A. Somerton (NOAA), H. Taira, and S. Yamauchi (staffs of AMF) for their assistance during the study. We sincerely thank F. Tashiro (HUMZ) for assistance in taking radiographs. This study was supported in part by JSPS KAKENHI (Grant Number: 19K06808).
Additional information
Publisher's Note
Springer Nature remains neutral with regard to jurisdictional claims in published maps and institutional affiliations.
This article was registered in the Official Register of Zoological Nomenclature (ZooBank) as F82DCC83-4C59-4C81-B328-AA7D3D151B67.
This article was published as an Online First article on the online publication date shown on this page. The article should be cited by using the doi number.
About this article
Cite this article
Kai, Y., Matsuzaki, K., Orr, J.W. et al. A new species of Elassodiscus (Cottoidei: Liparidae) from the North Pacific with an emended diagnosis of the genus. Ichthyol Res 68, 55–66 (2021). https://doi.org/10.1007/s10228-020-00764-4
Received:

Revised:

Accepted:

Published:

Issue Date:
Keywords
Elassodiscus nyctereutes
Elassodiscus caudatus

Redescription

COI

Key to species