Abstract
The population of Arctic lamprey (Lethenteron camtschaticum) is declining at the southern limit of its distribution in the Northern Hemisphere. Rising river water temperatures due to global warming may impact the metabolism of larval lamprey and limit their distribution. We evaluated the upper thermal tolerance of young-of-year larval Arctic lamprey using the incipient lethal temperature (ILT) and the acclimated chronic exposure (ACE) methods. According to the ILT method, the ultimate incipient lethal temperature for 7 days of culture was estimated to be 29.3 ºC (95% CI: 28.2–30.2 ºC). According to the ACE method, marked growth inhibition occurred at temperatures higher than 28 ºC.
Access options
Buy single article
Instant access to the full article PDF.
US$ 39.95
Tax calculation will be finalised during checkout.
Subscribe to journal
Immediate online access to all issues from 2019. Subscription will auto renew annually.
US$ 79
Tax calculation will be finalised during checkout.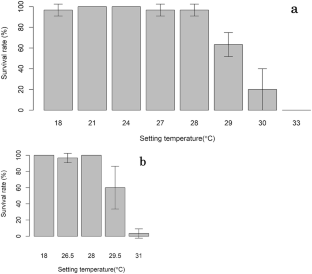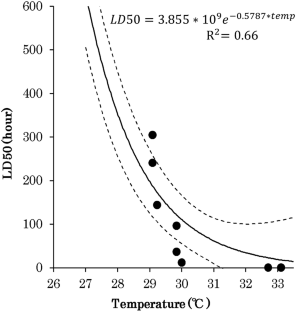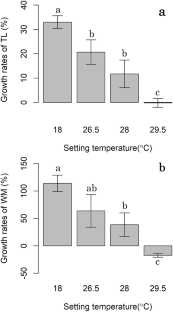 References
Arakawa H, Ichion E, Nakano E, Yanai S (2019) Factors that Affect Arctic Lampreys' Ascent Behavior on Fishway Weirs. J Rainwater Catchment Syst 25:15‒21

Arakawa H, Shima Y, Yanai S (2018) Reginal culture for Arctic Lamprey and its harvest change in rural rivers of Noto Peninsula, Ishikawa Prefecture, Japan. Departmental Bulletin Paper of Ishikawa Pref Univ 1:11‒21 (In Japanese)

Arakawa H, Yanai S (2017) Autumn microhabitat for larvae of endangered arctic lamprey (Lethenteron japonicum) in Noto Peninsula, Ishikawa Prefecture, Japan. Ecol Civil Eng 20:11‒24 (In Japanese)

Arakawa H, Yanai S (2018) Maturation and artificial propagation of Arctic lamprey Lethenteron japonicum. Report of the Noto Marine Center 24:29‒39 (In Japanese)

Brett JR (1952) Temperature Tolerance in Young Pacific Salmon,Genus Oncorhynchus. J Fish Res Board Can 9:265‒323

Clemens BJ, Van De Wetering S, Kaufman J, Holt RA, Schreck CB (2009) Do summer temperatures trigger spring maturation in Pacific lamprey, Entosphenus tridentatus? Ecol Freshw Fish 18:418‒426

Clemens BJ, Schreck CB, Sower SA, van de Wetering SJ (2016) The potential roles of river environments in selecting for stream- and ocean-maturing Pacific Lamprey, Entosphenus tridentatus (Gairdner, 1836). In: Orlov AM, Beamish RJ (ed) Jawless fishes of the world, vol 2. Cambridge Scholars Publishing, New Castle upon Tyne, pp 299‒322

Clarke A, Johnston NM (1999) Scaling of metabolic rate with body mass and temperature in teleost fish. J Anim Ecol 68:893‒905

Derosier AL, Jones ML, Scribner KT (2007) Dispersal of sea lamprey larvae during early life: relevance for recruitment dynamics. Environ Biol Fishes 78:271‒284

Ebersole JL, Liss WJ, Frissell CA (2003) Cold water patches in warm streams: physicochemical characteristics and the influence of shading. J Am Water Resour As 39:355‒368

Evans EC, Greenwood MT, Petts GE (1995) Thermal profiles within river beds. Hydrol Process 9:19‒25

Ferguson RG (1958) The Preferred Temperature of Fish and their Midsummer Distribution in Temperate Lakes and Streams. J Fish Res Board Can 15:607‒624

Hardisty MW (1944) The life history and growth of the brook lamprey (Lampetra planeri). J of Anim Ecol 13:110–122

Hardisty MW, Potter IC (1971) The behaviour, ecology and growth of larval lampreys. In: Hardisty MW, Potter IC (ed) The Biology of Lampreys Volume 1. Academic Press, London. pp 85‒125

Holmes JA, Lin P (1994) Thermal niche of larval sea lamprey, Petromyzon marinus. Can J Fish Aquat Sci 51:253‒262

Kawanabe H, Mizuno N (1989) Freshwater fishes of Japan. Yama to Keikoku-sha, Tokyo (In Japanese)

Namiki H (2014) Testing methods for industrial wastewater JIS K 0102:2013. Japanese Standards Association, Tokyo (In Japanese)

Kawanishi R, Inoue M (2018) Hyporheic zone as a fish habitat: ecological significance of vertical hydrological connectivity. J Groundw Hydrol 60:157‒167

Kitano F, Nakano S, Maekawa K, Ono Y (1995) Effect of stream temperatures on longitudinal distribution of fluvial Dolly Varden and potential habitat loss due to global warming. Wildl Conserv Jpn 1:1‒11 (In Japanese)

Maitland PS, Renaud CB, Quintella BR, Close DA, Docker MF (2015) Conservation of native lampreys. In Docker MF (ed) Lampreys: biology, conservation and control. Springer, Dordrecht. pp 375‒428

Meeuwig MH, Bayer JM, Seelye JG (2005) Effects of temperature on survival and development of early life stage Pacific and western brook lampreys. Trans Am Fish Soc 134:19‒27

Meisner JD (1990) Effect of climatic warming on the southern margins of the native range of brook trout, Salvelinus fontinalis. Can J Fish Aquat Sci 47:1065‒1070

Ministry of Land (2020) River Environmental Database. Electronic version, updated 15 January 2020. https://www.nilim.go.jp/lab/fbg/ksnkankyo/. Accessed 27 January 2020

Murano N, Yagi C, Sawada T, Nagatsu M, Kojima E (2008) Japanese Lamprey Lethenteron japonicum in the Ishikari River - Filed work and the creation of supplemental guide book-. J of Rakuno Gakuen Univ 32:183‒220 (In Japanese)

Nakano S, Kitano F, Maekawa K (1996) Potential fragmentation and loss of thermal habitats for charrs in the Japanese archipelago due to climatic warming. Freshw Bio 36:711‒722

Orlov AM, Baitalyuk AA, Pelenev DV (2014) Distribution and size composition of the arctic lamprey Lethenteron camtschaticum in the North Pacific. Oceanol 54:180‒194

Potter IC, Beamish FWH. (1975) Lethal Temperatures in Ammocoetes of Four Species of Lampreys. Acta Zool 56:85‒91

Potter IC, Hilliard RW, Bradley JS, McKay RJ (1986) The influence of environmental variables on the density of larval lampreys in different seasons. Oecol 70:433‒440

Rieman BE, Chandler GL (1999) Empirical evaluation of temperature effects on bull trout distribution in the Northwest. Final report. . U.S. Forest Service, Rocky Mountain Research Station, Boise, Idaho

Ryan PA (1991) Environmental effects of sediment on New Zealand streams: a review. New Zeal J Mar Fresh 25:207‒221

Schlosser IJ (1987) The Role of Predation in Age- and Size-Related Habitat Use by Stream Fishes. Ecol 68:651‒659

Selong JH, McMahon TE, Zale AV, Barrows TB (2001) Effect of Temperature on Growth and Survival of Bull Trout, with Application of an Improved Method for Determining Thermal Tolerance in Fishes. Trans Am Fish Soc 130:1026‒1037

Shirakawa H, Yanai S, Kouchi K (2009) Habitat selection of fluvial lamprey larvae Lethenteron japonicum change with growth stage. Ecol Civil Eng 12:87‒98 (In Japanese)

Takami T, Kitano F, Nakano S (1997) High water temperature influences on foraging responses and thermal deaths of Dolly Varden Salvelinus malma and white-spotted charr S. leucomaenis in a laboratory. Fish Sci 63:6‒8

Thomas MLH (1962) Observations on ecology of ammocoetes Petromyzon marinus L. and Entosphenus lamottei (Le sueur). Thesis, Univ of Tronto, Ontario

Zale AV (1984) Applied aspects of the thermal biology, ecology, and life history of the blue tilapia, Tilapia aurea (Pisces: Cichlidae). Doctoral dissertation, Univ of Florida, Gainesville
Acknowledgments
We would like to thank all members of the Watershed Conservation & Management Laboratory in Ishikawa Prefectural University. Ralph T. Lampman (Yakama Nation Fisheries) and Mary L. Moser (NOAA) provided insightful advices for rearing larval lampreys. This study was supported by a Japan Society for the Promotion of Science (JSPS) Kaken nos. 26340092 and 18J23444. This study was conducted while observing the Guidelines for the use of fish in research published by the Ichthyological Society of Japan in 2003.
Additional information
Publisher's Note
Springer Nature remains neutral with regard to jurisdictional claims in published maps and institutional affiliations.
About this article
Cite this article
Arakawa, H., Yanai, S. Upper thermal tolerance of larval Arctic lamprey (Lethenteron camtschaticum). Ichthyol Res 68, 158–163 (2021). https://doi.org/10.1007/s10228-020-00757-3
Received:

Revised:

Accepted:

Published:

Issue Date:
Keywords
Lampreys

Ammocoetes

Lethal temperature

Global warming