Abstract
We report here the first case of natural hybridization between two yellowtails, Seriola quinqueradiata and Seriola lalandi, based on AFLP and mtDNA sequence data. Analysis of AFLP data using Bayesian model-based clustering methods revealed that 25 of 28 suspected hybrids are F1 hybrids and the remaining three are backcrosses to S. lalandi. Analysis of the mtDNA sequence indicated that hybridization is highly directional, as the majority of the F1 hybrids were offspring of S. quinqueradiata males and S. lalandi females. Considering the recent rapid distributional shift of S. quinqueradiata, our data indicate the need for further investigation of ongoing hybridization.
Access options
Buy single article
Instant access to the full article PDF.
US$ 39.95
Tax calculation will be finalised during checkout.
Subscribe to journal
Immediate online access to all issues from 2019. Subscription will auto renew annually.
US$ 79
Tax calculation will be finalised during checkout.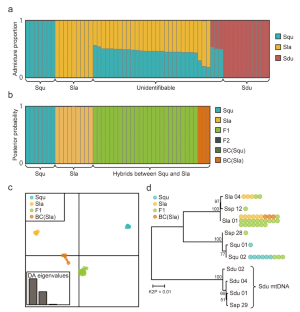 References
Albert V, Jónsson B, Bernatchez L (2006) Natural hybrids in Atlantic eels (Anguilla anguilla, A. rostrata): evidence for successful reproduction and fluctuating abundance in space and time. Mol Ecol 15:1903–1916

Allendorf FW, Leary RF, Spruell P, Wenburg JK (2001) The problems with hybrids: setting conservation guidelines. Trends Ecol Evol 16:613–622

Anderson EC, Thompson EA (2002) A model-based method for identifying species hybrids using multilocus genetic data. Genetics 160:1217–1229

Bensch S, Åkesson M (2005) Ten years of AFLP in ecology and evolution: why so few animals? Mol Ecol 14:2899–2914

Duchesne P, Bernatchez L (2002) AFLPOP: a computer program for simulated and real population allocation, based on AFLP data. Mol Ecol Notes 2:380–383

Earl DA, von Holdt BM (2012) STRUCTURE HARVESTER: a website and program for visualizing STRUCTURE output and implementing the Evanno method. Conserv Genet Res 4:359–361

Evanno G, Regnaut S, Goudet J (2005) Detecting the number of clusters of individuals using the software STRUCTURE: a simulation study. Mol Ecol 14:2611–2620

Falush D, Stephens M, Pritchard JK (2007) Inference of population structure using multilocus genotype data: dominant markers and null alleles. Mol Ecol Notes 7:574–578

Hoshino N (2017) Migration of the Japanese yellowtail Seriola quinqueradiata in Hokkaido. Hokusuishi-dayori 94:1–4

Iguchi J, Takashima Y, Namikoshi A, Yamashita M (2012) Species identification method for marine products of Seriola and related species. Fish Sci 78:197–206

Jombart T (2008) adegenet: a R package for the multivariate analysis of genetic markers. Bioinformatics 24:1403–1405

Jombart T, Devillard S, Balloux F (2010) Discriminant analysis of principal components: a new method for the analysis of genetically structured populations. BMC Genet 11:94. https://doi.org/10.1186/1471-2156-11-94

Koyama T, Nakamoto M, Morishima K, Yamashita R, Yamashita T, Sasaki K, Kuruma Y, Mizuno N, Suzuki M, Okada Y, Ieda R, Uchino T, Tasumi S, Hosoya S, Uno S, Koyama J, Toyoda A, Kikuchi K, Sakamoto T (2019) A SNP in a steroidogenic enzyme is associated with phenotypic sex in Seriola fishes. Curr Biol 29:1901–1909.e8. https://doi.org/10.1016/j.cub.2019.04.069

Kubota H, Furukawa S, Watari S (2019) Stock assessment and evaluation for yellowtail Seriola quinqueradiata (fiscal year 2018). In: Marine fisheries stock assessment and evaluation for Japanese waters (fiscal year 2018/2019). Fisheries Agency and Fisheries Research and Education Agency of Japan, Tokyo and Yokohama, pp. 1364–1401. https://abchan.fra.go.jp/digests2018/details/201842.pdf

Kumar S, Stecher G, Li M, Knyaz C, Tamura K (2018) MEGA X: molecular evolutionary genetics analysis across computing platforms. Mol Biol Evol 35:1547–1549

Martinez-Takeshita N, Purcell CM, Chabot CL, Craig MT, Paterson CN, Hyde JR, Allen LG (2015) A tale of three tails: cryptic speciation in a globally distributed marine fish of the genus Seriola. Copeia 103:357–368

Montanari SR, Hobbs JPA, Pratchett MS, Van Herwerden L (2016) The importance of ecological and behavioural data in studies of hybridisation among marine fishes. Rev Fish Biol Fisheries 26:181–198

Nakabo T (2013) Fishes of Japan with pictorial keys to the species, 3rd edn. Tokai University Press, Tokyo

Pompanon F, Bonin A, Bellemain E, Taberlet P (2005) Genotyping errors: causes, consequences and solutions. Nat Rev Genet 6:847–859

Potts WM, Henriques R, Santos CV, Munnik K, Ansorge I, Dufois F, Booth AJ, Kirchner C, Sauer WHH, Shaw PW (2014) Ocean warming, a rapid distributional shift, and the hybridization of a coastal fish species. Glob Change Biol 20:2765–2777

Pritchard JK, Stephens M, Donnelly P (2000) Inference of population structure using multilocus genotype data. Genetics 155:945–959

R Development Core Team (2015) R: a language and environment for statistical computing. R Foundation for Statistical Computing, Vienna. https://www.R-project.org/. Accessed 20 January 2016

Sassa C, Takahashi M, Konishi Y, Yoshimasa A, Tsukamoto Y (2020) The rapid expansion of yellowtail (Seriola quinqueradiata) spawning ground in the East China Sea is linked to increasing recruitment and spawning stock biomass. ICES J Mar Sci 77:581–592

Shiraishi T, Ohshimo S, Yukami R (2010) Age, growth and reproductive characteristics of gold striped amberjack Seriola lalandi in the waters off western Kyushu, Japan. New Zeal J Mar Fresh 44:117–127

Shiraishi T, Ohshimo S, Yukami R (2011) Age, growth and reproductive characteristics of yellowtail (Seriola quinqueradiata) caught in the waters off western Kyushu. Bull Jpn Soc Fish Oceanogr 75:1–8

Takahashi H, Toyoda A, Yamazaki T, Narita S, Mashiko T, Yamazaki Y (2017) Asymmetric hybridization and introgression between sibling species of the pufferfish Takifugu that have undergone explosive speciation. Mar Biol 164: 90. https://doi.org/10.1007/s00227-017-3120-2

Takatsuki Y, Kuragano T, Shiga T, Bungi Y, Inoue H, Fujiwara H, Ariyoshi M (2007) Long-term trends in sea surface temperature adjacent to Japan. Sokko Jiho 74:S33–S87

Tian Y, Kidokoro H, Watanabe T, Igeta Y, Sakaji H, Ino S (2012) Response of yellowtail, Seriola quinqueradiata, a key large predatory fish in the Japan Sea, to sea water temperature over the last century and potential effects of global warming. J Mar Syst 91:1–10

Yamano H, Sugihara K, Nomura, K (2011) Rapid poleward range expansion of tropical reef corals in response to rising sea surface temperatures. Geophys Res Lett 38. https://doi.org/10.1029/2010GL046474

Vähä JP, Primmer CR (2006) Efficiency of model-based Bayesian methods for detecting hybrid individuals under different hybridization scenarios and with different numbers of loci. Mol Ecol 15:63–72

Vekemans X, Beauwens T, Lemaire M, Roldán-Ruiz I (2002) Data from amplified fragment length polymorphism (AFLP) markers show indication of size homoplasy and of a relationship between degree of homoplasy and fragment size. Mol Ecol 11:139–151

Vos P, Hogers R, Bleeker M, Reijans M, van de Lee T, Hornes M, Frijters A, Pot J, Peleman J, Kuiper M, Zabeau M (1995) AFLP: a new technique for DNA fingerprinting. Nucl Acids Res 23:4407–4414

Ward RD, Zemlak TS, Innes BH, Last PR, Hebert PDN (2005) DNA barcoding Australia's fish species. Philos Trans R Soc Lond B 360:1847–1857

Wirtz P (1999) Mother species–father species: unidirectional hybridization in animals with female choice. Anim Behav 58:1–12
Acknowledgements
We wish to thank Hiroshi Terado, the captain of the fishing boat "Kanryou-maru," for his cooperation and support of this study. We are also grateful to Takeshi Matsuoka, Takafumi Ito, and many recreational anglers for kindly providing genetic samples and to Yasuko Ino for her help in the laboratory. This work was supported in part by JSPS KAKENHI (Grant number 17H03629).
Additional information
Publisher's Note
Springer Nature remains neutral with regard to jurisdictional claims in published maps and institutional affiliations.
Electronic supplementary material
Below is the link to the electronic supplementary material.
About this article
Cite this article
Takahashi, H., Kurogoushi, T., Shimoyama, R. et al. First report of natural hybridization between two yellowtails, Seriola quinqueradiata and S. lalandi. Ichthyol Res 68, 139–144 (2021). https://doi.org/10.1007/s10228-020-00752-8
Received:

Revised:

Accepted:

Published:

Issue Date:
Keywords
Amberjacks

Sea of Japan

Climate change

Rapid distributional shifts