Abstract
Reproductive behavior of the blenniid fish Meiacanthus kamoharai was investigated in Tachibanaura Bay, Kochi Prefecture, Japan in 2016–2018. The species is sexually dimorphic, with males having more elongated caudal-fin rays and longer pelvic-fin rays than females. During the spawning season, males exhibited two types of coloration, 'blackening' and 'whitening', which were observed during male–male competition and the increase of sexual motivation in males, respectively. The mating system was suggestive of male-territory-visiting polygamy, with males assuming exclusive parental care of multiple batches in the nest. Courtship displays by a female towards males were frequent in June and July, while males positively exhibited displays in August, indicating that the courtship roles of individuals changed seasonally during a single spawning season.
This is a preview of subscription content, log in to check access.
Access options
Buy single article
Instant access to the full article PDF.
US$ 39.95
Price includes VAT for USA
Subscribe to journal
Immediate online access to all issues from 2019. Subscription will auto renew annually.
US$ 99
This is the net price. Taxes to be calculated in checkout.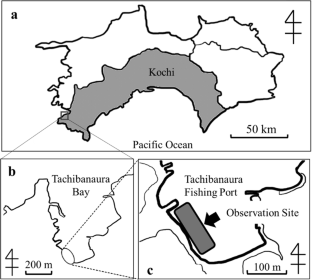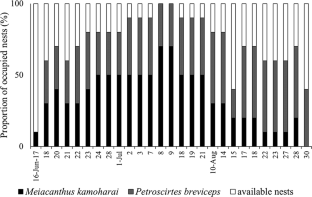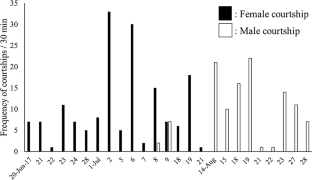 References
Abel EF (1961) Freiwassertudien über das Fortpflanzungsverhalten des Mönckfisches Chromis chromis Linné, einem Vertreter der Pomacentriden im Mittelmeer. Z Tierpsychol 18:441–449

Ahnesjö I, Kvarnemo C, Merilaita S (2001) Using potential reproductive rates to predict mating competition among individuals qualified to mate. Behav Ecol 12:397–401

Almada VC, Gonçalves EJ, Oliveira RF, Santos AJ (1995) Courting females: ecological constraints affect sex roles in a natural population of the blenniid fish Salaria pavo. Anim behav 49:1125–1127

Borg ÅA, Forsgren E, Magnhagen C (2002) Plastic sex-roles in the common goby – the effect of nest availability. OIKOS 98:105–115

Darwin C (1871) The descent of man, and selection in relation to sex. Murray, London

Emlen ST, Oring LW (1977) Ecology, sexual selection, and the evolution of mating systems. Science 197:215–223

Fishelson L (1963) Observations on littoral fishes of Israel. I. Behaviour of Blennius pavo Risso (Teleostei, Blenniidae). Isr J Zool 12:67–80

Fishelson L (1975) Observations on behaviour of the fish Meiacanthus nigrolineatus Smith-Vaniz (Blenniidae) in nature (Red Sea) and in captivity. Freshwat Res 26:329–341

Forsgren E, Amundsen T, Brog ÅA, Bjelvenmark J (2004) Unusually dynamic sex roles in a fish. Nature 429:551–554

Gwnynne DT (1991) Sexual competition among females: what causes courtship-role reversal? Trends Ecol Evol 6:118–121

Hanstings PA (1988) Correlates of male reproductive success in the browncheek blenny, Acanthemblemaria crockeri (Blennioidea : Chaenopsidae) Bhav Ecol Sociobiol 22:95–102

Hayashi M, Tokutake M, Ishida M (1978) Fishes in the coast of Tenjinshima and Kasashima, Sashima, Yokosuka city Japan. III. Ecology of the blennid fish, Omobrachus trossulus, around Tenjinshima. Ann Rep Yokosuka City Mus 24:16–27

Hoelzer GA (1990) Male-male competition and female choice in the Cortes damselfish, Stegastes rectifraenum. Anim Behav 40:339–349

Kraak SBM (1996) A quantitative discrimination of the reproductive biology of the Mediterranean blenny Aidablennius sphynx (Teleostei, Blenniidae) in its natural habitat. Environ Biol Fishes 46:329–342

Kuwamura T (1997) The evolution of parental care and mating systems among Tanganyikan cichlids. In: Kawanabe H, Hori M and Nagoshi M (eds) Fish communities in Lake Tanganyika. Kyoto University Press, Kyoto, p 59–86

Kvarnemo C, Ahnesjö I (1996) The dynamics of operational sex ratios and competition for mates. Trends Ecol Evol 11:404–408

Miyano T, Takegaki T, Natsukari Y (2006) Spawning and egg-tending behavior of the barred-chin blenny Rhabdoblennius ellipes. Bull Fac Fish Nagasaki Univ 87:1–5

Morioka T, Hotta K, Tomoda T, Nakamura K (2005) A possible factor influencing the color variation in Japanese sandfish Arctoscopus japonicus egg masses. NSUGAF 71:212–214

Ohshiro N, Ohshiro M, Nishijima S (1976) A note on the spawning sites and eggs of twenty-two fishes of the family Blenniidae in the Ryukyu Islands. Biol Mag Okinawa 14:67–70

Oliveira RF, Almada VC, Forsgren E, Gonçalves EJ (1999) Temporal variation in male traits, nesting aggregations and mating success in the peacock blenny. J Fish Biol 54:499–512

Orlando-Bonaca M, Lipej L (2008) Ecological survey of endolithic blennies spawning in a sandstone habitat in the Gulf of Trieste. Acta Adriat 49:233–244

Patzner RA, Seiwald M, Adlgasser M, Kaurin G (1986) The reproduction of Blennius pavo (Teleostei, Blenniidae) V. Reproductive behavior in natural environment. Zool Anz 216:338–350

Shibata J, Kohda M (2006) Seasonal sex role changes in the blenniid Pteoscirtes breviceps, a nest brooder with paternal care. J Fish Biol 69:203–214

Sunobe T (1998) Notes on the mating system of Omobranchus elegans and O. fasciolatoceps (Blenniidae) at Maizuru, Japan. Ichthyol Res 45:319–321

Suzuki H, Ishida E, Ohashi M (2001) Reproductive behavior eggs and larvae of two blenniid fishes, Ecsenius bicolor (DAY) and E. midas STARCK, in the aquarium. Sci Rep Mus Tokai Univ 3:29–42

Suzuki H (2003) Reproductive behavior, eggs, larvae and rearing of the Blenny, Scartella cristata in the aquarium. Sci Rep Mus Tokai Univ 5:1–10

Suzuki H, Nakayama H (2005) Reproductive behavior, egg, larval development and rearing in the blenny, Meiacanthus atrodorsalis, in the aquarium. Bull Inst Oceanic Res & Develop, Tokai Univ 26:33–43

Suzuki H, Tsuzuki N, Tanabe K, Miyake T, Tanaka Y (2006) Reproductive behavior, egg, larval development and rearing of the blenny, Meiacanthus grammistes (Valenciennes) in the aquarium. Bull Inst Oceanic Res & Develop, Tokai Univ 27:47–60

Tomiyama I (1951) On a Japanese blennioid fish, Dasson trossulus (Jordan et Snyder). Zool Magazine 60:90–92

Vincent A, Ahnesjö I, Berglund A, Rosenqvist G (1992) Pipefishes and seahorses: are they all sex role reversed? Trends Ecol Evol 7:237–241

Yoshino T (1984) Meiacanthus kamoharai Tomiyama. In: Masuda H, Amaoka K, Araga C, Uyeno T, Yoshino T (eds) The Fishes of the Japanese Archipelago. Tokai University Press, Tokyo, p 296–297
Acknowledgements
We are grateful to T. Mezaki, T. Koido, K. Yamashita (Biological Institute on Kuroshio), S. Adachi, F. Fukuzaki, Y. Maruyama, A. Kido, M. Chiba and M. Arimatsu (Tokai University) for supporting us throughout the study. We also thank Dr. G. S. Hardy (Ngunguru, New Zealand) for his critical reading of the manuscript. All investigations in this study complied with the current laws of Japan.
Additional information
Publisher's Note
Springer Nature remains neutral with regard to jurisdictional claims in published maps and institutional affiliations.
About this article
Cite this article
Oyama, T., Komeno, S., Ai, Y. et al. Seasonal courtship role change and reproductive behavior of the combtooth blenny Meiacanthus kamoharai. Ichthyol Res 67, 416–421 (2020). https://doi.org/10.1007/s10228-020-00736-8
Received:

Revised:

Accepted:

Published:

Issue Date:
Keywords
Blenniidae

Courtship behavior

Courtship role change

Nest site availability

Reproductive behavior