Abstract
Aphyocypris chinensis is a small cyprinid that is widely distributed in lowland areas of continental China, the Korean Peninsula, and the northwestern part of Kyushu, Japan. However, this species is severely threatened in Japan due to human impacts; thus, several facilities and citizen groups implemented captive breeding and reintroduction/reinforcement programs using several dozen founder fish collected from Tanushimaru, the location with the only known natural population, in the 1980s and 1990s. To determine the phylogenetic position and genetic authenticity of Japanese populations of A. chinensis, we conducted mtDNA and genome-wide SNP analyses using a total of 254 specimens from 31 wild and captive samples, including specimens of Chinese and Korean A. chinensis and the close relative A. kikuchii from Taiwan. The mtDNA divergence and phylogeny indicated that the haplotypes found exclusively in Japan were differentiated from the Chinese/Korean haplotypes (uncorrected p = 2.6% in the cytochrome b gene) to the same extent as they were from A. kikuchii haplotypes (p = 2.9%). Results from mtDNA sequences and 47–359 SNPs, obtained using the MIG-seq method with different parameter sets, revealed that the initial captive populations and an extinct wild population in Ukiha, adjacent to Tanushimaru, were genuine Japanese populations, whereas all extant captive and wild populations in Japan are hybrids between Japanese A. chinensis and A. kikuchii, or A. kikuchii itself. The details of the captive breeding and exchange programs, as well as evidence for the aquarium trade of A. kikuchii since the 1990s, strongly suggest that the mixture of A. kikuchii into Japanese populations occurred within the first several years of the establishment of captive populations in 1994. The present case of the highly probable extinction of genuine Japanese populations of A. chinensis emphasizes the importance of confirmation and management of the genetic authenticity of conservation-targeted species.
This is a preview of subscription content, log in to check access.
Access options
Buy single article
Instant access to the full article PDF.
US$ 39.95
Price includes VAT for USA
Subscribe to journal
Immediate online access to all issues from 2019. Subscription will auto renew annually.
US$ 99
This is the net price. Taxes to be calculated in checkout.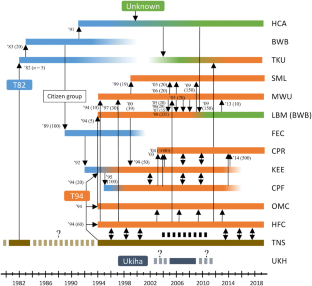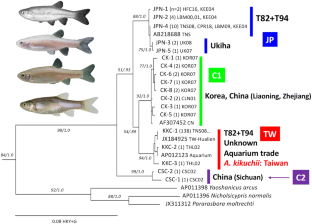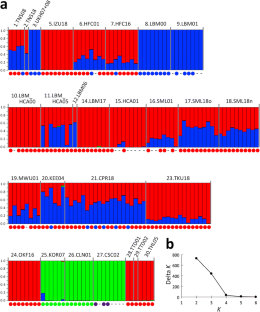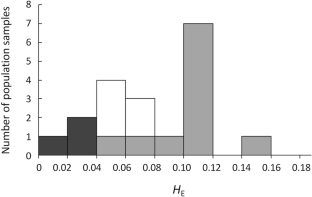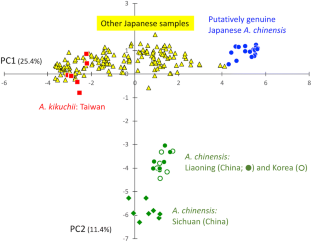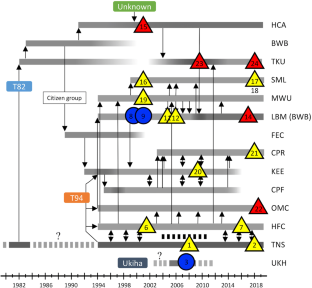 References
Akiyama N (1988) Artificial breeding of Rhodeus suigensis and Aphyocypris chinensis. Tansuigyo-hogo (1):54–55

Akiyama N, Kitano T, Ueda M (2003) Complete guide for breeding freshwater fish. MPJ, Tokyo

Aoyama S, Watanabe S, Ishikawa S, Nishida M, Tsukamoto K (2000) Are morphological characters distinctive enough to discriminate between two species of freshwater eels, Anguilla celebesensis and A. interioris? Ichthyol Res 47:157–161

Catchen J, Hohenlohe PA, Bassham S, Amores A, Cresko WA (2013) Stacks: an analysis tool set for population genomics. Mol Ecol 22:3124–3140

Darriba D, Taboada GL, Doallo R, Posada D (2012) jModelTest 2: more models, new heuristics and parallel computing. Nat Methods 9:772

Earl DA, vonHoldt BM (2012) STRUCTURE HARVESTER: a website and program for visualizing STRUCTURE output and implementing the Evanno method. Conserv Genet Resour 4:359–361

Evanno G, Regnaut S, Goudet J (2005) Detecting the number of clusters of individuals using the software STRUCTURE: a simulation study. Mol Ecol 14:2611–2620

Excoffier L, Lischer HEL (2010) Arlequin suite ver 3.5: a new series of programs to perform population genetics analyses under Linux and Windows. Mol Ecol Resour 10:564–567

Frankham R, Ballou JD, Briscoe DA (2002) Introduction to conservation genetics. Cambridge University Press, Cambridge

Harada S, Jeon SR, Kinoshita I, Tanaka M, Nishida M (2002) Phylogenetic relationships of four species of floating gobies (Gymnogobius) as inferred from partial mitochondrial cytochrome b gene sequences. Ichthyol Res 49:324–332

He S, Liu H, Chen Y, Kuwahara M, Nakajima T, Zhong Y (2004) Molecular phylogenetic relationships of Eastern Asian Cyprinidae (Pisces: Cypriniformes) inferred from cytochrome b sequences. Sci China C Life Sci 47:130–138

IUCN/SSC (2014). Guidelines on the use of ex situ management for species conservation. Version 2.0. Gland, Switzerland: IUCN Species Survival Commission. https://portals.iucn.org/library/sites/library/files/documents/2014-064.pdf. Accessed 25 March 2019

Jang-Liaw NH, Tsai CL, Watanabe K (2013) Complete mitochondrial genome of the Kikuchi's minnow Aphyocypris kikuchii (Teleostei, Cyprinidae). Mitochondrial DNA 24:11–13

Jang-Liaw NH, Tominaga K, Zhang C, Zhao Y, Nakajima J, Onikura N, Watanabe K (2019) Phylogeography of the Chinese false gudgeon, Abbottina rivularis, in East Asia, with special reference to the origin and artificial disturbance of Japanese populations. Ichthyol Res 66:460–478

Kimura S (1997) Aphyocypris chinensis. In: Nagata Y, Hosoya K (eds) Circumstances in endangered Japanese fishes and their protection. Midori-shobo, Tokyo, pp 54–63

Kitahara Y (2009) Establishment of Aphyocypris chinensis Günther at Matsuzaki town, Izu District, Shizuoka Prefecture, Japan. Nanki Seibutsu 51:9–12

Kobayakawa M (2015) Hinamoroko: Aphyocypris chinensis Günther,1868. In: Ministry of the Environment (ed) Red data book 2014 – Threatened wildlife of Japan–, vol 4, Pisces –brackish and fresh water fishes. Gyosei Corp, Tokyo, pp 34–35

Kobayakawa M (2016) Conservation and reintroduction with the cooperation of administrations, citizens, and researchers: endangered species Hinamoroko (Aphyocypris chinensis). In: The Nature Conservation Committee of Ichthyological Society of Japan (ed) The challenges of freshwater fish conservation: concepts and practice for restoration of aquatic biodiversity. Tokai University Press, Hadano, pp 161–172

Kumar S, Stecher G, Tamura K (2016) MEGA7: molecular evolutionary genetics analysis version 7.0 for bigger datasets. Mol Biol Evol 33:1870–1874

Lehmkuhl JF (1984) Determining size and dispersion of minimum viable populations for land management planning and species conservation. Environ Manag 8:167–176

Maehata M (1997) Circumstances and problems in preservation at aquarium. In: Nagata Y, Hosoya K (eds) Circumstances in endangered Japanese fishes and their protection. Midori-shobo, Tokyo, pp 205–217

Margan SH, Nurthen RK, Montgomery ME, Woodworth LM, Lowe EH, Briscoe DA, Frankham R (1998) Single large or several small? Population fragmentation in the captive management of endangered species. Zoo Biol 17:467–480

Meirmans PG, Van Tienderen PH (2004) GENOTYPE and GENODIVE: two programs for the analysis of genetic diversity of asexual organisms. Mol Ecol Notes 4:792–794

Miya M, Sato Y, Fukunaga T, Sado T, Poulsen JY, Sato K, Minamoto T, Yamamoto S, Yamanaka H, Araki H, Kondoh M, Iwasaki W (2015) MiFish, a set of universal PCR primers for metabarcoding environmental DNA from fishes: detection of more than 230 subtropical marine species. R Soc Open Sci 2:150088

Nakajima J, Kobayakawa M, Nakamura T, Takaku K, Kano Y, Inui R, Oishi S, Onikura N, Hosoya K (2012) Phylogeography of Aphyocypris chinensis and proposal of conservation policy in Fukuoka Prefecture, northern Kyushu, Japan. Advance abstracts for the 45th annual meeting, 2012, the Ichthyological Society of Japan:41

Nihon-Tanshuigyorui-Aigokai (2003) Towns protecting introduced fish. https://tansuigyo.net/a/link0.html. Accessed 20 August 2018

Ohara K, Takagi M (2005) Hinamoroko—the fish extincted in wild. In: Katano O, Mori S (eds), Kishotansuigyo no Genzai to Mirai (The present and future of endangered freshwater fishes of Japan). Shinzansha, Tokyo, Japan, pp 157–167

Ohara K, Takagi M (2007) Survey of genetic variation at three microsatellite loci in captive populations of endangered Japanese minnow Aphyocypris chinensis with implications for reduction of inbreeding. Fish Sci 73:156–160

Ohara K, Takagi M, Kaneko Y, Takei M (2003) Allozymic variation in an endangered Japanese minnow Aphyocypris chinensis. Ichthyol Res 50:86–89

Palumbi S, Martin A, Romano S, McMillian WO, Stice L, Grabowski G (1991) The simple fool's guide to PCR. University of Hawaii, Honolulu

Pritchard JK, Stephens P, Donnelly P (2000) Inference of population structure using multilocus genotype data. Genetics 155:945–959

Rambaut A (2016) FigTree Version 1.4.3. http://tree.bio.ed.ac.uk/software/figtree/. Accessed 20 August 2018

Ronquist F, Teslenko M, van der Mark P, Ayres DL, Darling A, Höhna S, Larget B, Liu L, Suchard MA, Huelsenbeck JP (2012) MRBAYES 3.2: efficient Bayesian phylogenetic inference and model selection across a large model space. Syst Biol 61:539–542

Rousset F (2008) Genepop'007: a complete reimplementation of the Genepop software for Windows and Linux. Mol Ecol Resour 8:103–106

Saitoh K, Sado T, Mayden RL, Hanzawa N, Nakamura K, Nishida M, Miya M (2006) Mitogenomic evolution and interrelationships of the Cypriniformes (Actinopterygii: Ostariophysi): the first evidence toward resolution of higher-level relationships of the world's largest freshwater fish clade based on 59 whole mitogenome sequences. J Mol Evol 63:826–841

Soulé ME (1980) Thresholds for survival: maintaining fitness and evolutionary potential. In: Soulé ME, Wilcox BA (eds) Conservation biology: an evolutionary-ecological perspective. Sinauer, Sunderland, pp 151–169

Suyama Y and Matsuki Y (2015) MIG-seq: an effective PCR-based method for genome-wide single-nucleotide polymorphism genotyping using the next-generation sequencing platform. Sci Rep 5:16963. https://doi.org/10.1038/srep16963

Swofford DL (2002) PAUP* 4.0b10a: phylogenetic analysis using parsimony (and other methods). Sinauer, Sunderland

Takahara T, Minamoto T, Yamanaka H, Doi H, Kawabata Z (2012) Estimation of fish biomass using environmental DNA. PLoS ONE 7:e35868. https://doi.org/10.1371/journal.pone.0035868

Takaku K, Kobayakawa M, Onikura N, Ohara K, Hosoya K (2007) Disappearance of Hinamoroko (Aphyocypris chinensis) and its traditional habitat from Japanese rice fields. Jpn J Ichthyol 54:231–234

Tang KL, Agnew MK, Hirt MV, Sado T, Schneider LM, Freyhof J, Sulaiman Z, Swartz E, Vidthayanon C, Miya M, Saitoh K, Simons AM, Wood RM, Mayden RL (2010) Systematics of the subfamily Danioninae (Teleostei: Cypriniformes: Cyprinidae). Mol Phylogenet Evol 57:189–214

Tominaga K, Nakajima J, Watanabe K (2016) Cryptic divergence and phylogeography of the pike gudgeon Pseudogobio esocinus (Teleostei: Cyprinidae): a comprehensive case of freshwater phylogeography in Japan. Ichthyol Res 63:79–93

United Nations (1992) Convention of biological diversity. https://www.cbd.int/doc/legal/cbd-en.pdf. Accessed: 25 March 2019

Watanabe K, Kano Y, Takahashi H, Mukai T, Kakioka R, Tominaga K (2010) GEDIMAP: a database of genetic diversity for Japanese freshwater fishes. Ichthyol Res 57:107–109

Watanabe K, Sakai H, Sanada T, Nishida M (2018) Comparative phylogeography of diadromous and freshwater daces of the genus Tribolodon (Cyprinidae). Ichthyol Res 65:383–397

Williams SE, Hoffman EA (2009) Minimizing genetic adaptation in captive breeding programs: a review. Biol Conserv 142:2388–2400

Wu XW et al. (1964) The cyprinid fishes of China. Part I. Shanghai Science and Technology, Shanghai

Zardoya R, Doadrio I (1999) Molecular evidence on the evolutionary and biogeographical patterns of European cyprinids. J Mol Evol 49:227–237

Zhu Y, Zhao Y, Huang K (2013) Aphyocypris pulchrilineata, a new miniature cyprinid species (Teleostei: Cypriniformes: Cyprinidae) from Guangxi, China. Ichthyol Res 60:232–236
Acknowledgements
We sincerely thank N. Suzuki (Chiba Prefecture), K. Okura (Fukuoka City), O. Masuda, T. Miki, and M. Takeda (HCA), M. Murakami (HFC), T. Nagata, S. Yoshikawa, K. Yamada, T. Suzuki (LBM), Y. Suzuki, M. Nakamura (MWU), M. Onuma (National Institute for Environmental Studies, Japan), Y. Nakamura (OK Fish Farm), H. Nakashima (OMC), T. Satonaka (SML), and N. Akiyama (TKU) for providing specimens and valuable information, Y. Suyama (Tohoku University) for providing advice for the MIG-seq experiment, Y. Fuke (Kyoto University) for helping in molecular experiments, S. Nonaka (Dojyo Club) for providing a photo, and H. Akiyama and N. Daiki for helping arrangement of the photo collections in LBM. This study was supported in part by JSPS KAKENHI (nos. 18K14802 and 18H01330 to R. Tabata).
Additional information
Publisher's Note
Springer Nature remains neutral with regard to jurisdictional claims in published maps and institutional affiliations.
Electronic supplementary material
Below is the link to the electronic supplementary material.
About this article
Cite this article
Watanabe, K., Tabata, R., Nakajima, J. et al. Large-scale hybridization of Japanese populations of Hinamoroko, Aphyocypris chinensis, with A. kikuchii introduced from Taiwan. Ichthyol Res 67, 361–374 (2020). https://doi.org/10.1007/s10228-019-00730-9
Received:

Revised:

Accepted:

Published:

Issue Date:
Keywords
Captive breeding

Endangered species

Ex situ conservation

Hybridization

MIG-seq

mtDNA cytochrome b