Abstract
Metacommunity structure of stream invertebrates is contingent on complex interplays between species dispersal ability, spatial extent and watershed environmental specificities. Previous studies showed that high diversity of Chironomidae (Insecta, Diptera) is observed in southern Brazilian montane streams, although the knowledge of the processes driving such high diversity is poorly comprehended. In this study, we evaluated the relative contribution of environmental (in-stream and landscape) and spatial drivers to the metacommunity structure of larval Chironomidae in a watershed (N = 40 stream reaches) running across a forest–grassland transition landscape in southern Brazil. Overall, 51 taxa were recorded in the study region. We found similar contributions of the environmental (in-stream and landscape) and spatial (broad- and fine-scale spatial drivers) fractions to the metacommunity structure of larval Chironomidae. Our results suggest that environmental processes likely associated with the elevation and stream longitudinal gradients predominated in the assembly of the metacommunity structure of larval Chironomidae. Additionally, mass effects (exchange of individuals via dispersal) possibly associated with the short-range drift or flight and the contact zone between the fauna from each biome also accounted for the observed pattern. Finally, dispersal limitation associated with the spatial extent and the topographic heterogeneity of the study region likely played a minor role in the assembly of Chironomidae metacommunity structure.
Access options
Buy single article
Instant access to the full article PDF.
US$ 39.95
Tax calculation will be finalised during checkout.
Subscribe to journal
Immediate online access to all issues from 2019. Subscription will auto renew annually.
US$ 79
Tax calculation will be finalised during checkout.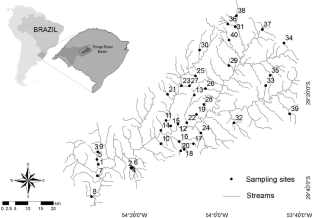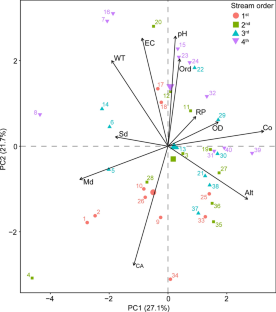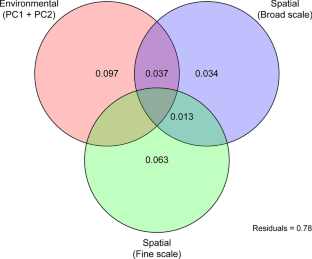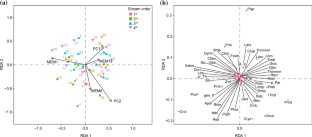 References
Allan JD, Castillo MM (2007) Stream Ecology: Structure and Function of Running Waters. Springer, Dordrecht

Alvares CA, Stape JL, Sentelhas PC, Gonçalves JLM, Gerd Sparovek (2014) Köppen's climate classification map for Brazil. Meteorol Zeitschrift 22:711728. https://doi.org/10.1127/0941-2948/2013/0507

Amorim RM, Henriques-Oliveira AL, Nessimian JL (2004) Distribuição espacial e temporal das larvas de Chironomidae (Insecta: Diptera) na seção ritral do rio Cascatinha, Nova Friburgo, Rio de Janeiro, Brasil. Lundiana 5:119–127

Armitage PD (1995) The Chironomidae. Springer, Dordrecht

Blanchet G, Legendre P, Borcard D (2008) Forward selection of spatial explanatory variables. Ecology 89:2623–2632. https://doi.org/10.1890/07-0986.1

Borcard D, Legendre P, Avois-Jacquet C, Tuomisto H (2004) Dissecting the spatial structure of ecological data at multiple scales. Ecology 85:1826–1832. https://doi.org/10.1890/03-3111

Borcard D, Gillet F, Legendre P (2018) Numerical Ecology with R. Springer, Cham

Brancalion PHS, Garcia LC, Loyola R, Rodrigues RR, Pillar VD, Lewinsohn TM (2016) A critical analysis of the Native Vegetation Protection Law of Brazil (2012): updates and ongoing initiatives. Perspect Ecol Conserv 14:1–15. https://doi.org/10.1016/j.ncon.2016.03.003

Brasil LS, Andrade AL, Calvão LB, Dias-Silva K, Faria APJ, Shimano Y, Oliveira-Junior JMB, Cardoso MN, Juen L (2020) Aquatic insects and their environmental predictors: a scientometric study focused on environmental monitoring in lotic environmental. Environ Monit Assess 192:1–10. https://doi.org/10.1007/s10661-020-8147-z

Brown BL, Swan CM (2010) Dendritic network structure constrains metacommunity properties in riverine ecosystems. J Anim Ecol 79:571–580. https://doi.org/10.1111/j.1365-2656.2010.01668.x

Brown BL, Swan CM, Auerbach DA, Campbell GEH, Hitt NP, Maloney KO, Patrick C (2011) Metacommunity theory as a multispecies, multiscale framework for studying the influence of river network structure on riverine communities and ecosystems. J North Am Benthol Soc 30:310–327. https://doi.org/10.1899/10-129.1

Brown BL, Sokol ER, Skelton J, Tornwall B (2017) Making sense of metacommunities: dispelling the mythology of a metacommunity typology. Oecologia 183:643–652

Cañedo-Argüelles M, Boersma KS, Bogan MT, Olden JD, Phillipsen I, Schriever TA, Lyt DA (2015) Dispersal strength determines meta-community structure in a dendritic riverine network. J Biogeogr 42:778–790. https://doi.org/10.1111/jbi.12457

Corbi JJ, Trivinho-Strixino S (2008) Effects of land use on lotic chironomid communities of southeast Brazil: Emphasis on the impact of sugar cane cultivation. Boletim do Museu Municipal do Funchal 13:93–100

Cordeiro JLP, Hasenack H (2009) Cobertura vegetal atual do Rio Grande do Sul. Campos sulinos: conservação e uso sustentável da biodiversidade. Ministério do Meio Ambiente, Brasília, pp 285–299

Corkum LD (1990) Intrabiome distributional patterns of lotic macroinvertebrate assemblages. Can J Fish Aquat Sci 47:2147–2157

Corkum LD (1992) Spatial distributional patterns of macroinvertebrates along rivers within and among biomes. Hydrobiologia 239:101–114

Cummins KW, Klug MJ (1979) Feeding ecology of stream invertebrates. Annu Rev Ecol Syst 10:147–172

Dodds WK, Bruckerhoff L, Batzer D, Schechner A, Pennock C, Renner E, Tromboni F, Bigham K, Grieger S (2019) The freshwater biome gradient framework: predicting macroscale properties based on latitude, altitude, and precipitation. Ecosphere 10:1–33. https://doi.org/10.1002/ecs2.2786

Dray S, Dufour A (2007) The ade4 Package: implementing the duality diagram for ecologists. J Stat Softw 22:1–20. https://doi.org/10.18637/jss.v022.i04

Epler JH (2001) Identification manual for the larval Chironomidae (Diptera) of North and South Carolina. A guide to the taxonomy of the midges of the southeastern United States, including Florida. North Carolina Department of Environment and Natural Resources, Raleigh, North Carolina, and St. Johns River Water Management District, Palatka, Florida, USA

Ferrington LC (1984) Drift dynamics of Chironomidae larvae: I. Preliminary results and discussion of importance of mesh size and level of taxonomic identification in resolving Chironomidae diel drift patterns. Hydrobiologia 114:215–227. https://doi.org/10.1007/BF00031873

Floss ECS, Kotzian CB, Spies MR, Secretti E (2012) Diversity of non-biting midge larvae assemblages in the Jacuí River Basin, Brazil. J Insect Sci 12:1–33. https://doi.org/10.1673/031.012.12101

Griffith DA, Peres-Neto PR (2006) Spatial modelling in ecology: the flexibility of eigenfunction spatial analyses. Ecology 87:2603–2613. https://doi.org/10.1890/0012-9658(2006)87[2603:SMIETF]2.0.CO;2

Grönroos M, Heino J, Siqueira T, Landeiro VL, Kotanen J, Bini LM (2013) Metacommunity structuring in stream networks: roles of dispersal mode, distance type, and regional environmental context. Ecol Evol 3:4473–4487. https://doi.org/10.1002/ece3.834

He S, Soininen J, Deng G, Wang B (2020) Metacommunity structure of stream insects across three hierarchical spatial scales. Ecol Evol 10:2874–2884. https://doi.org/10.1002/ece3.6103

Heino J, Melo AS, Siqueira T, Soininen J, Valanko S, Bini LM (2015) Metacommunity organisation, spatial extent and dispersal in aquatic systems: patterns, processes and prospects. Freshw Biol 60:845–869. https://doi.org/10.1111/fwb.12533

Henriques-Oliveira A, Dorvillé L, Nessimian J (2003) Distribution of Chironomidae larvae fauna (Insecta: Diptera) on different substrates in a stream at Floresta da Tijuca, RJ, Brazil. Acta Limnol Bras 15:69–84

Jacobsen D (2008) Tropical high-altitude streams. In: Dudgeon D (ed) Tropical stream ecology. Elsevier, EUA, San Diego, pp 219–256

Kilca RV, Longhi SJ (2011) A composição florística e a estrutura das florestas secundárias no rebordo do Planalto Meridional. In: Schumacher MV, Longhi SJ, Brun EJ, Kilca RV (eds) A Floresta Estacional Subtropical: caracterização e ecologia no planalto meridional. Universidade Federal de Santa Maria, Santa Maria, pp 53–84

König R, Santos S (2013) Chironomidae (Insecta: Diptera) of different habitats and microhabitats of the Vacacaí-Mirim River microbasin, Southern Brazil. An Acad Bras 85:975–985. https://doi.org/10.1590/S0001-37652013000300010

Kotzian CB, Martello AR, Santin LF et al (2014) Macroinvertebrados aquáticos de rios e riachos da encosta do planalto, na região central do estado do Rio Grande do Sul (Brasil). Ciência Natura 36:627–651. https://doi.org/10.5902/2179460X12949

Kotzian CB, Pires MM, Hepp LU (2020) Effects of spatial distances on the assemblage dissimilarity of macroinvertebrates with different dispersal pathways and abilities in southern Brazilian streams. Ecol Res 35:826–837. https://doi.org/10.1111/1440-1703.12149

Landeiro VL, Bini LM, Melo AS, Pes AMO, Magnusson WE (2012) The roles of dispersal limitation and environmental conditions in controlling caddisfly (Trichoptera) assemblages. Freshw Biol 57:1554–1564. https://doi.org/10.1111/j.1365-2427.2012.02816.x

Legendre P, Gallagher ED (2001) Ecologically meaningful transformations for ordination of species data. Oecologia 129:271–280

Legendre P, Legendre LF (2012) Numerical Ecology. Elsevier, Amsterdam

Leibold M, Chase J (2018) Processes in metacommunities. In: Metacommunity Ecology. Princeton University Press, Princeton, Oxford, pp 49–89. https://doi.org/10.2307/j.ctt1wf4d24.6

Leibold MA, Holyoak M, Mouquet N, Amarasekare P, Chase JM, Hoopes MF, Holt RD, Shurin JB, Law R, Tilman D, Loreau M, Gonzalez LA (2004) The metacommunity concept: a framework for multi-scale community ecology. Ecol Lett 7:601–613. https://doi.org/10.1111/j.1461-0248.2004.00608.x

Lencioni V, Marziali L, Rossaro B (2012) Chironomids as bioindicators of environmental quality in mountain springs. Freshw Sci 31:525–541

Leps M, Tonkin JD, Dahm V, Haase P, Sundermann A (2015) Disentangling environmental drivers of benthic invertebrate assemblages: the role of spatial scale and riverscape heterogeneity in a multiple stressor environment. Sci Total Environ 536:546–556. https://doi.org/10.1016/j.scitotenv.2015.07.083

Logue JB, Mouquet N, Peter H, Hillebrand H (2011) Empirical approaches to metacommunities: a review and comparison with theory. Trends Ecol Evol 26:482–491. https://doi.org/10.1016/j.tree.2011.04.009

Loskutova OA, Zelentsov NI, Shcherbina GK (2015) Fauna of chironomids (Diptera, Chironomidae) of the Kolva River (Pechora basin) in conditions of oil pollution. Inland Water Biol 8:276–286

Maloney KO, Munguia P (2011) Distance decay of similarity in temperate aquatic communities: effects of environmental transition zones, distance measure, and life histories. Ecography 34:287–295. https://doi.org/10.1111/j.1600-0587.2010.06518.x

Marcuzzo S, Pagel SM, Chiappetti MIS (1998) A Reserva da Biosfera da Mata Atlântica no Rio Grande do Sul—situação atual, ações e perspectivas. Conselho Nacional da Reserva da Biosfera da Mata Atlântica, São Paulo

Marziali L, Rossaro B (2013) Response of chironomid species (Diptera, Chironomidae) to water temperature: effects on species distribution in specific habitats. J Entomol Acarol Res 45:73–89. https://doi.org/10.4081/jear.2013.e14

Mazão GR, Bispo PC (2016) The influence of physical instream spatial variability on Chironomidae (Diptera) assemblages in Neotropical streams. Limnologica 60:1–15. https://doi.org/10.1016/j.limno.2016.03.004

McLachlan AJ (1983) Life-history tactics of rain-pool dwellers. J Anim Ecol 52:545–561

Medina A, Paggi A (2004) Composición y abundancia de Chironomidae (Diptera) en un río serrano de zona semiárida (San Luis, Argentina). Rev Soc Entomol Argent 63:107–118

Medina A, Scheibler EE, Paggi A (2008) Distribución de Chironomidae (Diptera) en dos sistemas fluviales ritrónicos (Andino-serrano) de Argentina. Rev Soc Entomol Argent 67:69–79

Nava D, Restello RM, Hepp LU (2015) Intra- and inter-annual variations in Chironomidae (Insecta: Diptera) communities in subtropical streams. Zoologia 32:207–214. https://doi.org/10.1590/S1984-46702015000300005

Nekola JC, White PS (1999) The distance decay of similarity in biogeography and ecology. J Biogeogr 26:867–878. https://doi.org/10.1046/j.1365-2699.1999.00305.x

Nicacio G, Juen L (2018) Relative roles of environmental and spatial constraints in assemblages of Chironomidae (Diptera) in Amazonian floodplain streams. Hydrobiologia 820:201–213

Oksanen J, Blanchet FG, Kindt R, Legendre P, Minchin PR, O'hara, RB, (2013) Package 'vegan.' Community Ecol Package 2:1–88

Olson D, Dinerstein E, Wikramanayake E, Burgess N, Powell G, Underwood E, D'amico JA, Itoua I, Strand HE, Morrison JC, Loucks CJ, Allnutt T, Ricketts T, Kura Y, Lamoreux J, Wettengel W, Hedao P, Kassem K (2001) Terrestrial ecoregions of the world: A new map of life on earth. Bioscience 51:933–938. https://doi.org/10.1641/0006-3568(2001)051[0933:TEOTWA]2.0.CO;2

Padial AA, Ceschin F, Declerck SAJ, De Meester L, Bonecker CC, Lansac-Tôha FA, Rodrigues L, Rodrigues LC, Train S, Velho LFM, Bini LM (2014) Dispersal ability determines the role of environmental, spatial and temporal drivers of metacommunity structure. PLoS ONE 9:1–8. https://doi.org/10.1371/journal.pone.0111227

Peres-Neto PR, Legendre P, Dray S, Borcard D (2006) Variation partitioning of species data matrices: estimation and comparison of fractions. Ecology 87:2614–2625. https://doi.org/10.1890/0012-9658(2006)87[2614:VPOSDM]2.0.CO;2

Principe RE, Boccolini MF, Corigliano MC (2008) Structure and spatial-temporal dynamics of chironomidae fauna (Diptera) in upland and lowland fluvial habitats of the Chocancharava River basin (Argentina). Int Rev Hydrobiol 93:342–357. https://doi.org/10.1002/iroh.200710974

R Core Team (2019) R: A language and environment for statistical computing. R Foundation for Statistical Computing, Vienna

Rae JG (2004) The colonization response of lotic chironomid larvae to substrate size and heterogeneity. Hydrobiol 524:115–124

Restello RM, Biasi C, Moraes PFMB, Gabriel G, Hepp LU (2014) Composition and diversity of the Chironomidae in subtropical streams: effects of environmental predictors and temporal analysis. Acta Limnol Bras 26:215–226. https://doi.org/10.1590/S2179-975X2014000200011

Roque FO, Siqueira T, Bini LM, Ribeiro MC, Tambosi LR, Ciocheti G, Trivinho-Strixino S (2010) Untangling associations between chironomid taxa in Neotropical streams using local and landscape filters. Freshw Biol 55:847–865. https://doi.org/10.1111/j.1365-2427.2009.02314.x

Saito VS, Fonseca-Gessner AA (2014) Taxonomic composition and feeding habits of Chironomidae in Cerrado streams (Southeast Brazil): impacts of land use changes. Acta Limnol Bras 26:35–46. https://doi.org/10.1590/S2179-975X2014000100006

Salvarrey AVB, Kotzian CB, Spies MR, Braun B (2014) The influence of natural and anthropic environmental variables on the structure and spatial distribution along longitudinal gradient of macroinvertebrate communities in southern Brazilian streams the influence of natural and anthropic environmental variables. J Insect Sci 14:1–23. https://doi.org/10.1093/jis/14.1.13

Sanseverino AM, Nessimian JL (2001) Hábitats de larvas de Chironomidae em riachos de Mata Atlântica no Estado de RJ. Acta Limnol Bras 13:29–38

Scheibler EE, Pozo V, Paggi AC (2008) Distribución espacio-temporal de larvas de Chironomidae (Diptera) en un arroyo andino (Uspallata, Mendoza, Argentina). Rev Soc Entomol Argent 67:45–58

Scheibler E, Roig-Juñent S, Claps M (2014) Chironomid (Insecta: Diptera) assemblages along an Andean altitudinal gradient. Aquat Biol 20:169–184. https://doi.org/10.3354/ab00554

Sensolo D, Hepp LU, Decian V, Restello RM (2012) Influence of landscape on assemblages of Chironomidae in Neotropical streams. Ann Limnol 48:391–400. https://doi.org/10.1051/limn/2012031

Smith RF, Venugopal PD, Baker ME, Lamp WO (2015) Habitat filtering and adult dispersal determine the taxonomic composition of stream insects in an urbanizing landscape. Freshw Biol 60:1740–1754. https://doi.org/10.1111/fwb.12605

Soininen J (2014) A quantitative analysis of species sorting across organisms and ecosystems. Ecology 95:3284–3292. https://doi.org/10.1890/13-2228.1

Tejerina EG, Malizia A (2012) Chironomidae (Diptera) larvae assemblages differ along an altitudinal gradient and temporal periods in a subtropical montane stream in Northwest Argentina. Hydrobiologia 686:41–54

Tonkin JD, Altermatt F, Finn DS, Heino J, Olden JD, Pauls SU, Lytle DA (2018) The role of dispersal in river network metacommunities: Patterns, processes, and pathways. Freshw Biol 63:141–163. https://doi.org/10.1111/fwb.13037

Trivinho-Strixino S (2011a) Chironomidae (Insecta, Diptera, Nematocera) do Estado de São Paulo, Sudeste do Brasil. Biota Neotrop 11:675–684

Trivinho-Strixino S (2011b) Larvas de Chironomidae: Guia de Identificação. Universidade Federal de São Carlos, São Carlos

Valente-Neto F, Saito VS, Siqueira T, Fonseca-Gessner AA (2016) Evidence of species sorting driving aquatic beetles associated with woody debris in a transitional region between Cerrado and Atlantic Forest biomes. Aquatic Ecol 50:209–220. https://doi.org/10.1007/s10452-016-9569-0

van Rensburg BJ, Levin N, Kark S (2009) Spatial congruence between ecotones and range-restricted species: implications for conservation biogeography at the sub-continental scale. Divers Distrib 15:379–389. https://doi.org/10.1111/j.1472-4642.2008.00545.x

Vieira EF (1984) Rio Grande do Sul: geografia física e vegetação. Sagra, Porto Alegre

Waters TF (1972) The drift of stream insects. Ann Rev Entomol 17:253–272

Wentworth CK (1922) A scale of grade and class terms for clastic sediments. J Geol 30:377–392. https://doi.org/10.1086/622910

Winegardner AK, Jones BK, Ng ISY, Siqueira T, Cottenie K (2012) The terminology of metacommunity ecology. Trends Ecol Evol 27:253–254. https://doi.org/10.1016/j.tree.2012.01.007
Acknowledgements
The authors thank Elzira Cecília Serafini Floss for granting access to the bibliographic database. We are grateful to the team of the former Laboratory of Aquatic Macroinvertebrates of the UFSM for their help in fieldwork and to the Ecology and Evolution Department of UFSM for providing logistic support to the sampling effort. CNPq (Conselho Nacional de Desenvolvimento Científico e Tecnológico) supported MMP with a postdoctoral fellowship (process 159829/2019-4).
Ethics declarations
Conflict of interest
The authors declare no conflict of interest.
Ethical standards
The original research projects (numbers 022778 and 025998) were approved by the Project Office (GAP) of the Centro de Ciências Naturais e Exatas (CCNE) of the Universidade Federal de Santa Maria (UFSM).
Additional information
Publisher's Note
Springer Nature remains neutral with regard to jurisdictional claims in published maps and institutional affiliations.
Handling Editor: Eric Larson.
Supplementary Information
Below is the link to the electronic supplementary material.
About this article
Cite this article
Maxwell, M.F., Secretti, E., Pires, M.M. et al. The relative importance of spatial and environmental processes in the assembly of larval Chironomidae (Insecta, Diptera) communities along a transition landscape in southern Brazilian streams. Limnology (2021). https://doi.org/10.1007/s10201-021-00652-4
Received:

Accepted:

Published:
Keywords
Community structure

Freshwater insects

Lotic ecosystems

Montane streams

Neotropical region