Abstract
Cyanobacteria are the major producers of the taste and odour compounds geosmin and 2-methylisoborneol (2-MIB) in drinking water and fish worldwide. In recent years, the outbreaks of cyanobacteria blooms in Tri An and Dau Tieng Reservoirs, Vietnam have led to an increase attention in taste and odour problems. In the present study, the two off-flavour compounds geosmin and 2-MIB were found in field samples and 50 isolated strains of planktonic cyanobacteria from Dau Tieng and Tri An Reservoirs. They were screened for the first time using headspace solid-phase microextraction and gas chromatography–mass spectrometry (HPME GC–MS). The ability to produce off-flavour compounds was determined by the presence of two molecular markers: geoA and mib. Results showed that mean geosmin and 2-MIB concentrations ranged from 13.3 to 9.6 ng/L and 4.9 to 101.7 ng/L in field samples, respectively. A total of five geosmin-producing strains [with the highest concentration: 272.9 ng/g wet weight (ww)] and nine 2-MIB-producing strains (with the highest concentration: 362.1 ng/g ww) belonging to two cyanobacteria genera Dolichospermum and Oscillatoria were identified. Four of the geosmin producers also produced 2-MIB. The 16S rRNA maximum likelihood (ML) tree showed a high diversity of the isolated strains that represented different morphotypes and genotypes. The BLAST searches revealed that the 16S rRNA gene sequence obtained in this study shared the similarity values ranging between 96.46 and 99.37% compared to the available sequences from GenBank. This is the first report of off-flavour compound producing cyanobacteria in Vietnamese waters. The combination of HPME GC–MS and polymerase chain reaction (PCR) provides a robust tool for reliably characterizing the off-flavour compound. Our results highlight that taste and odour-producing cyanobacteria belonging to Chroococcales in Vietnamese waters are unexplored and require further investigation.
This is a preview of subscription content, log in to check access.
Access options
Buy single article
Instant access to the full article PDF.
US$ 39.95
Price includes VAT for USA
Subscribe to journal
Immediate online access to all issues from 2019. Subscription will auto renew annually.
US$ 99
This is the net price. Taxes to be calculated in checkout.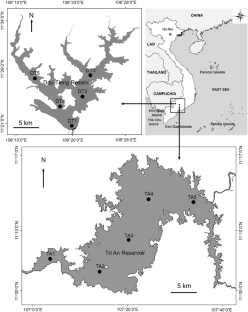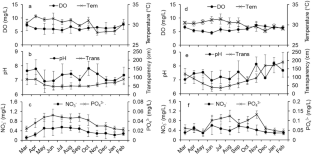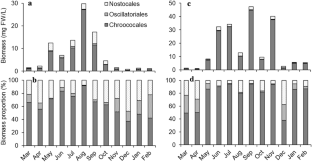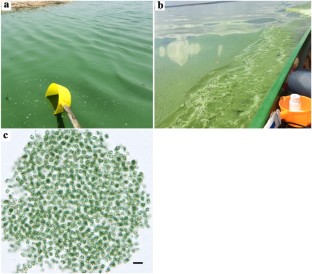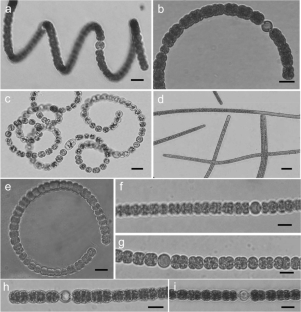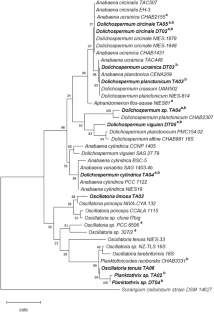 References
Agger SA, Lopez-Gallego F, Hoye TR, Schmidt-Dannert C (2008) Identification of sesquiterpene synthases from Nostoc punctiforme PCC 73102 and Nostoc sp. strain PCC 7120. J Bacteriol 190(18):6084–6096

APHA (2005) Standard methods for the examination of water and wastewater, 21st edn. American Public Health Association, American Water Works Foundation, Water Environment Federation, Washington, p 2671

Bertone E, O'Halloran K (2016) Analysis and modelling of taste and odour events in a shallow subtropical reservoir. Environments 3:22

Cai F, Yu G, Zhang K, Chen Y, Li Q, Yang Y, Xie J, Wang Y, Li R (2017) Geosmin production and polyphasic characterization of Oscillatoria limosa Agardh ex Gomont isolated from the open canal of a large drinking water system in Tianjin City, China. Harmful Algae 69:28–37

Chiu Y-T, Yen H-K, Lin T-F (2016) An alternative method to quantify 2-MIB producing cyanobacteria in drinking water reservoirs: Method development and field applications. Environ Res 151:618–627

Dao TS, Nimptsch J, Wiegand C (2016) Dynamics of cyanobacteria and cyanobacterial toxins and their correlation with environmental parameters in Tri An Reservoir, Vietnam. J Water Health 14:669–712

Dionigi CP, Lawlor TE, McFarland JE, Johnsen PB (1993) Evaluation of geosmin and 2-methylisoborneol on the histidine dependence of TA98 and TA100 Salmonella typhimurium tester strains. Water Res 27(11):1615–1618

Duong TT, Jähnichen S, Le TPQ, Ho TC, Hoang TK, Nguyen TK, Vu TN, Dang DK (2014) The occurrence of cyanobacteria and microcystins in the Hoan Kiem Lake and the Nui Coc reservoir (North Vietnam). Environ Earth Sci 71:2419–2427

Giglio S, Jiang J, Saint CP, Cane DE, Monis PT (2008) Isolation and characterization of the gene associated with geosmin production in cyanobacteria. Environ Sci Technol 42(21):8027–8032

Godo T, Saki Y, Nojiri Y, Tsujitani M, Sugahara S, Hayashi S, Kamiya H, Ohtani S, Seike Y (2017) Geosmin-producing species of Coelosphaerium (Synechococcales, Cyanobacteria) in Lake Shinji, Japan. Sci Rep 7:41928–41928

Graham JL, Loftin KA, Meyer MT, Ziegler AC (2010) Cyanotoxin mixtures and taste-and-odor compounds in cyanobacterial blooms from the Midwestern United States. Environ Sci Technol 44(19):7361–7368

Hisbergues M, Christiansen G, Rouhiainen L, Sivonen K, Börner T (2003) PCR-based identification of microcystin-producing genotypes of different cyanobacterial genera. Arch Microbiol 180(6):402–410

Hayashi S, Ohtani S, Godo T, Nojiri Y, Saki Y, Esumi T, Kamiya H (2019) Identification of geosmin biosynthetic gene in geosmin-producing colonial cyanobacteria Coelosphaerium sp. and isolation of geosmin non-producing Coelosphaerium sp. from brackish Lake Shinji in Japan. Harmful Algae 84:19–26

John N, Koehler AV, Ansell BRE, Baker L, Crosbie ND, Jex AR (2018) An improved method for PCR-based detection and routine monitoring of geosmin-producing cyanobacterial blooms. Water Res 136:34–40

Komárek J, Zapomelova E (2007) Planktic morphospecies of the cyanobacterial genus Anabaena = subg. Dolichospermum – 1. part: coiled types. Fottea 7(1):1–31

Komárek J, Anagnostidis K (1989) Modern approach to the classification system of Cyanophytes. 4 - Nostocales. Arch Hydrobiol Suppl 82(3):247–345

Komárek J, Anagnostidis K (1999) Cyanoprokaryota 1. Chroococcales, Teil, p 548

Komárek J, Anagnostidis K (2005) Cyanoprokaryota 1. Teil: Oscillatoriales (19/2):759

Komatsu M, Tsuda M, Omura S, Oikawa H, Ikeda H (2008) Identification and functional analysis of genes controlling biosynthesis of 2-methylisoborneol. Proc Natl Acad Sci USA 105(21):7422–7427

Kotai J (1972) Instructions for preparation of modified nutrient solution Z8 for algae. Norwegian Inst Water Res Oslo B-11/69:1–5

Larkin MA, Blackshields G, Brown NP, Chenna R, Mcgettigan PA, Mcwillian H, Valentin F, Wallace IM, Wilm A, Lopez R, Thompson JD, Gibson TJ, Higgins DG (2007) Clustal W and Clustal X version 2.0. Bioinformatics 23:2947–2948

Ludwig F, Medger A, Börnick H, Opitz M, Lang K, Göttfert M, Röske I (2007) Identification and expression analyses of putative sesquiterpene synthase genes in Phormidium sp. and prevalence of geoA-like genes in a drinking water reservoir. Appl Environ Microbiol 73(21):6988–6993

Mowe MAD, Mitrovic SM, Lim RP, Furey A, Yeo DCJ (2015) Tropical cyanobacterial blooms: a review of prevalence, problem taxa, toxins and influencing environmental factors. J Limnol 74(2):205–224

Nakajima M, Ogura T, Kusama Y, Iwabuchi N, Imawaka T, Araki A, Sasaki T, Hirose E, Sunairi M (1996) Inhibitory effects of odor substances, geosmin and 2-methylisoborneol, on early development of sea urchins. Water Res 30(10):2508–2511

Nguyen TVH, Takizawa S, Nguyen VMH, Phan TDP (2007) Natural and anthropogenic factors affecting seasonal variation of water quality in Dau Tieng Reservoir. Vietnam Environ Eng Res 44:23–29

Omur-Ozbek P, Little JC, Dietrich AM (2007) Ability of humans to smell geosmin, 2-MIB and nonadienal in indoor air when using contaminated drinking water. Water Sci Technol 55(5):249–256

O'Neil JM, Davis TW, Burford MA, Gobler CJ (2012) The rise of harmful cyanobacteria blooms: the potential roles of eutrophication and climate change. Harmful Algae 14:313–334

Pham T-L, Dao T-S, Shimizu K, Lan-Chi D-H, Utsumi M (2015) Isolation and characterization of microcystin-producing cyanobacteria from Dau Tieng Reservoir. Vietnam Nova Hedwigia 101(1–2):3–20

Pham T-L, Dao T-S, Tran N-D, Nimptsch J, Wiegand C, Motoo U (2017) Influence of environmental factors on cyanobacterial biomass and microcystin concentration in the Dau Tieng Reservoir, a tropical eutrophic water body in Vietnam. Ann Limnol - Int J Lim 53:89–100

Pham T-L, Dang TN (2019) Water and wastewater treatment technologies. In: Bui X-T, Chiemchaisri C, Fujioka T ,Varjani S (eds) Springer Singapore, Singapore, pp 15–36.

Roche LM, Kromschroeder L, Atwill ER, Dahlgren RA, Tate KW (2013) Water quality conditions associated with cattle grazing and recreation on national forest lands. PLoS ONE 8(6):e68127

Shang L, Feng M, Xu X, Liu F, Ke F, Li W (2018) Co-occurrence of microcystins and taste-and-odor compounds in drinking water source and their temoval in a full-scale drinking water treatment plant. Toxins (Basel) 10(1):26

Smith JL, Boyer GL, Zimba PV (2008) A review of cyanobacterial odorous and bioactive metabolites: impacts and management alternatives in aquaculture. Aquaculture 280(1):5–20

Su M, Gaget V, Giglio S, Burch M, An W, Yang M (2013) Establishment of quantitative PCR methods for the quantification of geosmin-producing potential and Anabaena sp. in freshwater systems. Water Res 47(10):3444–3454

Su M, Yu J, Zhang J, Chen H, An W, Vogt RD, Andersen T, Jia D, Wang J, Yang M (2015) MIB-producing cyanobacteria (Planktothrix sp.) in a drinking water reservoir: distribution and odor producing potential. Water Res 68:444–453

Suurnäkki S, Gomez-Saez GV, Rantala-Ylinen A, Jokela J, Fewer DP, Sivonen K (2015) Identification of geosmin and 2-methylisoborneol in cyanobacteria and molecular detection methods for the producers of these compounds. Water Res 68:56–66

Tamura K, Stecher G, Peterson D, Filipski A, Kumar S (2013) MEGA6: molecular evolutionary genetics analysis version 6.0. Mol Biol Evol 30(12):2725–2729

Tawong W (2017) Diversity of the potential 2-methylisoborneol-producing genotypes in Thai strains of Planktothricoides (Cyanobacteria). Braz Arch Biol Technol 60:e17160567

Te SH, Tan BF, Boo CY, Thompson JR, Gin KY-H (2017) Genomics insights into production of 2-methylisoborneol and a putative cyanobactin by Planktothricoides sp. SR001. Stand Genomic Sci 12(1):35

Tsao H-W, Michinaka A, Yen H-K, Giglio S, Hobson P, Monis P, Lin T-F (2014) Monitoring of geosmin producing Anabaena circinalis using quantitative PCR. Water Res 49:416–425

Urbach E, Robertson DL, Chisholm SW (1992) Multiple evolutionary origins of prochlorophytes within the cyanobacterial radiation. Nature 355(6357):267–270

Wang Z, Xiao P, Song G, Li Y, Li R (2015) Isolation and characterization of a new reported cyanobacterium Leptolyngbya bijugata coproducing odorous geosmin and 2-methylisoborneol. Environ Sci Pollut Res 22(16):12133–12140

Wang Z, Xu Y, Shao J, Wang J, Li R (2011) Genes associated with 2-methylisoborneol biosynthesis in cyanobacteria: isolation, characterization, and expression in response to light. PLoS ONE 6(4):e18665–e18665

Zaitlin B, Watson SB (2006) Actinomycetes in relation to taste and odour in drinking water: Myths, tenets and truths. Water Res 40(9):1741–1753
Acknowledgements
This study was found by the Vietnam Academy of Science and Technology under grant number "KHCBSS.02/19–21". Thank Ms. Alexis Enright from Loyola University for the reading and editing of this manuscript.
Ethics declarations
Conflict of interest
The authors declare no conflict of interest.
Additional information
Publisher's Note
Springer Nature remains neutral with regard to jurisdictional claims in published maps and institutional affiliations.
Handling Editor: Camilla Capelli.
About this article
Cite this article
Pham, T., Bui, M.H., Driscoll, M. et al. First report of geosmin and 2-methylisoborneol (2-MIB) in Dolichospermum and Oscillatoria from Vietnam. Limnology (2020). https://doi.org/10.1007/s10201-020-00630-2
Received:

Accepted:

Published:
Keywords
Off-flavour compounds

Taste and odour

Tropical water

Cyanobacteria