Abstract
Background
Arteriovenous fistula (AVF) is one of the vascular complications after allograft biopsy, and their reported incidence rates range widely. Transcatheter embolization (TE) is a common AVF treatment in kidney allografts. However, information on AVF incidence and features and TE outcomes in Japanese kidney transplant (KT) recipients is lacking.
Methods
This study investigated 270 protocol or clinically indicated kidney allograft biopsies in 129 KT recipients during 2010–2016 at a single-center using standardized methods (16-gauge needle and ultrasound guidance). We recorded the incidence and clinical features of AVF using currently recommended standardized methods of allograft biopsy and TE outcomes regarding allograft function up to 12 months after the procedure in Japanese KT recipients.
Results
AVF incidence was 2.6% (seven cases). The time from biopsy to AVF diagnosis was 7 (median, interquartile range: 5–117, range: 1–318) days. The time from biopsy to AVF diagnosis was significantly shorter in symptomatic cases (gross hematuria) than in asymptomatic cases (median 6 vs. 117 days, p = 0.034). Symptomatic patients underwent TE within a shorter time (0–6 days) than asymptomatic patients (25–104 days). There were no complications, and allograft function was stable up to 12 months after TE despite using contrast media and partial renal infarction.
Conclusions
AVF does occur in certain probabilities. AVF formation can occur without apparent bleeding and exist for a long time after allograft biopsy. TE is a safe and immediate treatment for AVF in kidney allograft.
This is a preview of subscription content, log in to check access.
Access options
Buy single article
Instant access to the full article PDF.
US$ 39.95
Price includes VAT for USA
Subscribe to journal
Immediate online access to all issues from 2019. Subscription will auto renew annually.
US$ 99
This is the net price. Taxes to be calculated in checkout.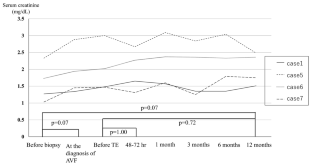 References
1.

Kidney Disease: Improving Global Outcomes Transplant Work G. KDIGO clinical practice guideline for the care of kidney transplant recipients. Am J Transplant. 2009;9 Suppl 3:S1–S155. 10.1111/j.1600-6143.2009.02834.x.

2.

Nahas WC, Mazzucchi E, Henrique A, Ianhez LE, Saldanha LB, Sabbaga E, et al. Percutaneous needle biopsy of the renal allograft using the automated needle system: evaluation of 87 procedures. J Urol. 1993;150(2 Pt 1):313–5. https://doi.org/10.1016/s0022-5347(17)35469-1.

3.

Whittier WL, Korbet SM. Timing of complications in percutaneous renal biopsy. J Am Soc Nephrol. 2004;15(1):142–7. https://doi.org/10.1097/01.asn.0000102472.37947.14.

4.

Tsai SF, Chen CH, Shu KH, Cheng CH, Yu TM, Chuang YW, et al. Current safety of renal allograft biopsy with indication in adult recipients: an observational study. Medicine. 2016;95(6):e2816. https://doi.org/10.1097/md.0000000000002816.

5.

Harrison KL, Nghiem HV, Coldwell DM, Davis CL. Renal dysfunction due to an arteriovenous fistula in a transplant recipient. J Am Soc Nephrol. 1994;5(6):1300–6.

6.

Brandenburg VM, Frank RD, Riehl J. Color-coded duplex sonography study of arteriovenous fistulae and pseudoaneurysms complicating percutaneous renal allograft biopsy. Clin Nephrol. 2002;58(6):398–404. https://doi.org/10.5414/cnp58398.

7.

Martinez T, Palomares M, Bravo JA, Alvarez G, Galindo P, Entrena AG, et al. Biopsy-induced arteriovenous fistula and venous aneurysm in a renal transplant. Nephrol Dial Transplant. 1998;13(11):2937–9. https://doi.org/10.1093/ndt/13.11.2937.

8.

Lorenzen J, Schneider A, Korner K, Regier M, Adam G, Nolte-Ernsting C. Post-biopsy arteriovenous fistula in transplant kidney: treatment with superselective transcatheter embolisation. European J Radiol. 2012;81(5):e721–6. https://doi.org/10.1016/j.ejrad.2012.01.037.

9.

Schwarz A, Gwinner W, Hiss M, Radermacher J, Mengel M, Haller H. Safety and adequacy of renal transplant protocol biopsies. Am J Transplant. 2005;5(8):1992–6. https://doi.org/10.1111/j.1600-6143.2005.00988.x.

10.

Shimmura H, Ishikawa N, Tanabe K, Tokumoto T, Ohsima T, Fuchinoue S, et al. Angiographic embolization in patients with renal allograft arteriovenous fistula. Transplant Proc. 1998;30(7):2990–2. https://doi.org/10.1016/s0041-1345(98)00900-2.

11.

Deane C, Cowan N, Giles J, Walters H, Rifkin I, Severn A, et al. Arteriovenous fistulas in renal transplants: color Doppler ultrasound observations. Urologic Radiol. 1992;13(4):211–7.

12.

Kolb LG, Velosa JA, Bergstralh EJ, Offord KP. Percutaneous renal allograft biopsy. A comparison of two needle types and analysis of risk factors. Transplantation. 1994;57(12):1742-6.

13.

Haba T. Transplant kidney biopsy. Nihon Jinzo Gakkai shi. 2005;47(8):857–62.

14.

Loffroy R, Guiu B, Lambert A, Mousson C, Tanter Y, Martin L, et al. Management of post-biopsy renal allograft arteriovenous fistulas with selective arterial embolization: immediate and long-term outcomes. Clin Radiol. 2008;63(6):657–65. https://doi.org/10.1016/j.crad.2007.11.014.

15.

Kitajima K, Fuchinoue S, Koyama I, Ishida H, Kimikawa M, Tojimbara T, et al. Embolization for arteriovenous fistula after graft biopsy in renal transplant recipients: is it essential for all cases? Transplant Proc. 2000;32(7):1911. https://doi.org/10.1016/s0041-1345(00)01488-3.

16.

Mengel M, Sis B, Haas M, Colvin RB, Halloran PF, Racusen LC, et al. Banff 2011 Meeting Report: New Concepts in Antibody-Mediated Rejection. Am J Transplant. 2012;12(3):563–70. https://doi.org/10.1111/j.1600-6143.2011.03926.x.

17.

Haas M, Sis B, Racusen LC, Solez K, Glotz D, Colvin RB, et al. Banff 2013 meeting report: inclusion of c4d-negative antibody-mediated rejection and antibody-associated arterial lesions. Am J Transplant. 2014;14(2):272–83. https://doi.org/10.1111/ajt.12590.

18.

Loupy A, Haas M, Solez K, Racusen L, Glotz D, Seron D, et al. The Banff 2015 kidney meeting report: current challenges in rejection classification and prospects for adopting molecular pathology. Am J Transplant. 2017;17(1):28–41. https://doi.org/10.1111/ajt.14107.

19.

<KDIGO-2012-AKI-Guideline-English.pdf>.

20.

van der Molen AJ, Reimer P, Dekkers IA, Bongartz G, Bellin MF, Bertolotto M, et al. Post-contrast acute kidney injury - Part 1: Definition, clinical features, incidence, role of contrast medium and risk factors : Recommendations for updated ESUR Contrast Medium Safety Committee guidelines. Eur Radiol. 2018;28(7):2845–55. https://doi.org/10.1007/s00330-017-5246-5.

21.

Nicholson ML, Wheatley TJ, Doughman TM, White SA, Morgan JD, Veitch PS, et al. A prospective randomized trial of three different sizes of core-cutting needle for renal transplant biopsy. Kidney Int. 2000;58(1):390–5. https://doi.org/10.1046/j.1523-1755.2000.00177.x.

22.

Chatziioannou A, Brountzos E, Primetis E, Malagari K, Sofocleous C, Mourikis D, et al. Effects of superselective embolization for renal vascular injuries on renal parenchyma and function. Eur J Vasc Endovasc Surg. 2004;28(2):201–6. https://doi.org/10.1016/j.ejvs.2004.05.003.

23.

Dorffner R, Thurnher S, Prokesch R, Bankier A, Turetschek K, Schmidt A, et al. Embolization of iatrogenic vascular injuries of renal transplants: immediate and follow-up results. Cardiovascular Interven Radiol. 1998;21(2):129–34. https://doi.org/10.1007/s002709900228.
Acknowledgements
The results of this paper have not been published previously in whole or part. We sincerely thank Ms. Yoshiko Ono, Ms. Mie Tagaya, and Ms. Mami Ohori, data administrators, for cooperation of this study.
Ethics declarations
Conflicts of interest
All the authors have declared no competing interest.
Ethical approval
All procedures performed in this study involving human participants were in accordance with the ethical standards of the institutional review committee of St. Marianna University School of Medicine where the study was conducted (IRB approval number No. 3618) and with the 1964 Helsinki declaration and its later amendments or comparable ethical standards.
Informed consent
Informed consent was waived in this study because of the retrospective and observational design.
Additional information
Publisher's Note
Springer Nature remains neutral with regard to jurisdictional claims in published maps and institutional affiliations.
About this article
Cite this article
Osako, K., Yazawa, M., Terashita, M. et al. Arteriovenous fistulas after ultrasound-guided needle biopsy of kidney allografts and treatment outcomes after transcatheter embolization: A single-center experience in Japan. Clin Exp Nephrol (2020). https://doi.org/10.1007/s10157-020-01922-8
Received:

Accepted:

Published:
Keywords
Allograft

Arteriovenous fistulas

Biopsy

Kidney transplantation

Therapeutic embolization

Transcatheter embolization