Abstract
Background
The Senhance robotic system provides such advantages as an eye-tracking camera control system, haptic feedback, operator comfort, and reusable endoscopic instruments. The aim of this small study was to assess the feasibility and safety of performing a reduced-port robot-assisted colectomy for colon cancer with the use of a novel robotic system.
Methods
This was a single-center retrospective study of eight patients with colon cancer who underwent single-incision plus 2-port robot-assisted colectomy with the Senhance robotic system (SILS+2-S) between December 2019 and March 2020 at our hospital. Data on perioperative outcomes, which included operative time, operative blood loss, length of hospitalization, postoperative complications, and histopathological results, were collected prospectively.
Results
The mean patient age was 70.9 years and the mean body mass index was 24.4 kg/m2. One patient was converted to laparoscopy due to a damaged scope holder. The mean operative and console times were 229.1 and 139.1 min, respectively. The mean intraoperative blood loss was 49.4 ml. The mean length of the umbilical incision was 3.0 cm. The mean number of harvested lymph nodes was 18.3. The surgical margins were negative in all eight patients. There was neither morbidity nor mortality associated with the procedure, and no Clavien–Dindo classification Grade II–IV complications occurred.
Conclusions
SILS+2-S is a safe and feasible approach for patients with colon cancer. Further studies are needed to validate the advantages of SILS+2-S and to evaluate the long-term oncological outcomes.
Access options
Buy single article
Instant access to the full article PDF.
US$ 39.95
Tax calculation will be finalised during checkout.
Subscribe to journal
Immediate online access to all issues from 2019. Subscription will auto renew annually.
US$ 79
Tax calculation will be finalised during checkout.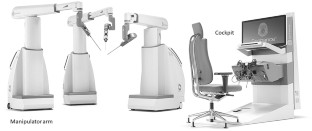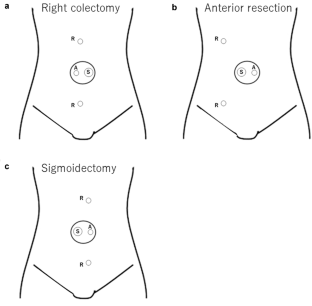 References
1.

Gidaro S, Buscarini M, Ruiz E, Stark M, Labruzzo A (2012) Telelap Alf-X: a novel telesurgical system for the 21st century. Surg Technol Int 22:20–25

2.

Stephan D, Sälzer H, Willeke F (2018) First Experiences with the New Senhance® Telerobotic System in Visceral Surgery. Visc Med 34:31–36

3.

Spinelli A, David G, Gidaro S, Carvello M, Sacchi M, Montorsi M, Montroni I (2017) First experience in colorectal surgery with a new robotic platform with haptic feedback. Colorectal Dis. https://doi.org/10.1111/codi.13882

4.

Samalavicius NE, Janusonis V, Siaulys R, Jasėnas M, Deduchovas O, Venckus R, Ezerskiene V, Paskeviciute R, Klimaviciute G (2020) Robotic surgery using Senhance® robotic platform: single center experience with first 100 cases. J Robot Surg 14:371–376
Ethics declarations
Conflict of interest
All authors declare that they have no conflict of interest.
Ethical approval
An Ethics Committee's approval was unnecessary for this small series.
Informed consent
The patients provided informed consent for publication of the details of these cases.
Additional information
Publisher's Note
Springer Nature remains neutral with regard to jurisdictional claims in published maps and institutional affiliations.
About this article
Cite this article
Hirano, Y., Kondo, H. & Yamaguchi, S. Robot-assisted surgery with Senhance robotic system for colon cancer: our original single-incision plus 2-port procedure and a review of the literature. Tech Coloproctol (2021). https://doi.org/10.1007/s10151-020-02389-1
Received:

Accepted:

Published:
Keywords
Single-incision laparoscopic surgery

Reduced-port surgery

Senhance robotic system

Colon cancer