Abstract
Background
Technical factors affect oncologic outcomes in rectal cancer surgery. The anatomy of the bony pelvis can affect technical aspects of surgery, but is seldom considered preoperatively. We performed a morphometric analysis of the bony pelvis in patients having rectal cancer resection to assess its effect on surgical specimen quality.
Methods
We performed a retrospective analysis of a prospectively maintained database of patients who had resection for rectal cancer from January 2014 to December 2017. Preoperative magnetic resonance imaging (MRI) and computed tomography (CT) images were accessed and measurements of sacrococcygeal distance, sacrococcygeal recess depth/area, sacrococcygeal angulation, anteroposterior pelvic inlet/outlet, pubic height and interspinous distance were made. Outcome measures included anatomical variation, operating time and mesorectal specimen grade. In patients having extra-levator abdominoperineal excision (eLAPE) with coccygectomy, the completeness of coccygeal resection was assessed by postoperative CT scan. Data were analysed using binomial and multinomial logistic regression and linear regression.
Results
One hundred and twenty-two consecutive rectal cancer resections were performed (39 open, 42 laparoscopic, 12 laparoscopic-converted and 29 robotic). The median age was 72 years (range: 29–88 years). The male:female ratio was 83:39. Eighty-one patients had anterior resection, 8 had low Hartmann's resection and 32 had APE. Of those who had APE, 21 had eLAPE (all with coccygectomy).
Females had a larger pelvic inlet (female: 124.9 mm, male: 114.9 mm), interspinous diameter(female:112.8 mm, male:97.6 mm), sacrococcygeal depth (female:42.6 mm, 39.35 mm) and sacrococcygeal area recess than males (female: 3697 mm2, male: 3481.5 mm2). Males had a greater pubic height (female: 51.8 mm, male: 54.05 mm) and greater sacrococcygeal distance (female: 116.7 mm, male: 123.65 mm) than females.
In patients having anterior resection, tumour distance from the anal verge (p = 0.004), sacrococcygeal distance (p = 0.006) and sacrococcygeal curvature (p = 0.002) were associated with specimen quality. In patients who had eLAPE, median preoperative coccygeal length was 41 mm (IQR: 35.1–45.5). The median length of coccygeal resection was 9 mm (IQR: 1–17.45 mm). The median length of coccyx remaining postoperatively was 33 mm (IQR: 21.35–39 mm).
Conclusions
Sacrococcygeal curvature and distance as well as tumour distance from the anal margin were associated with specimen quality in anterior resection. Coccygectomy was not performed as completely as surgeons thought. Surgeons should include sacrococcygeal bony anatomy in rectal cancer surgical planning to potentially improve outcomes in both anterior resection and eLAPE approaches.
This is a preview of subscription content, log in to check access.
Access options
Buy single article
Instant access to the full article PDF.
US$ 39.95
Price includes VAT for USA
Subscribe to journal
Immediate online access to all issues from 2019. Subscription will auto renew annually.
US$ 99
This is the net price. Taxes to be calculated in checkout.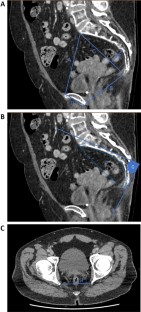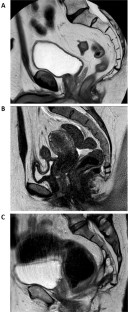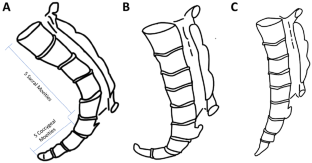 References
1.

Quirke P, Steele R, Monson J et al (2009) Effect of the plane of surgery achieved on local recurrence in patients with operable rectal cancer: a prospective study using data from the MRC CR07 and NCIC-CTG CO16 randomised clinical trial. Lancet 373(9666):821–828

2.

Heald RJ, Ryall RD (1986) Recurrence and survival after total mesorectal excision for rectal cancer. Lancet 1(8496):1479–1482

3.

Kaufmann D, Lauscher JC, Gröne J et al (2017) CT-based measurement of the inner pelvic volume. Acta Radiol 58(2):218–223

4.

Moureaux C, Boucaud-Maitre D, Brureau L et al (2018) Pelvimetrics measures as predictives factors of positives surgical margins after robot-assisted laparoscopic prostatectomy. Prog Urol 28(16):906–914

5.

Yao A, Iwamoto H, Masago T et al (2015) Anatomical dimensions using preoperative magnetic resonance imaging: impact on the learning curve of robot-assisted laparoscopic prostatectomy. Int J Urol 22(1):74–79

6.

Zur Hausen G, Gröne J, Kaufmann D et al (2017) Influence of pelvic volume on surgical outcome after low anterior resection for rectal cancer. Int J Colorectal Dis 32(8):1125–1135

7.

Ferko A, Malý O, Örhalmi J, Dolejš J (2016) CT/MRI pelvimetry as a useful tool when selecting patients with rectal cancer for transanal total mesorectal excision. Surg Endosc 30(3):1164–1171

8.

Bertani E, Chiappa A, Della Vigna P et al (2014) The Impact of pelvimetry on anastomotic leakage in a consecutive series of open, laparoscopic and robotic low anterior resections with total mesorectal excision for rectal cancer. Hepatogastroenterology 61(134):1574–1581

9.

Atasoy G, Arslan NC, Elibol FD, Sagol O, Obuz F, Sokmen S (2018) Magnetic resonance-based pelvimetry and tumor volumetry can predict surgical difficulty and oncologic outcome in locally advanced mid-low rectal cancer. Surg Today 48(12):1040–1051

10.

Akiyoshi T, Kuroyanagi H, Oya M et al (2009) Factors affecting the difficulty of laparoscopic total mesorectal excision with double stapling technique anastomosis for low rectal cancer. Surgery 146(3):483–489

11.

Shimada T, Tsuruta M, Hasegawa H et al (2018) Pelvic inlet shape measured by three-dimensional pelvimetry is a predictor of the operative time in the anterior resection of rectal cancer. Surg Today 48(1):51–57

12.

Yan HH, Lou Z, Sheng J, Zhang W, Fu CG, Meng RG (2011) Computed tomography pelvimetry as a predictor of technical difficulty in total mesorectal excision. Zhonghua Wei Chang Wai Ke Za Zhi 14(11):846–850

13.

Zhou XC, Su M, Hu KQ et al (2016) CT pelvimetry and clinicopathological parameters in evaluation of the technical difficulties in performing open rectal surgery for mid-low rectal cancer. Oncol Lett 11(1):31–38

14.

Yamamoto T, Kawada K, Kiyasu Y, Itatani Y, Mizuno R, Hida K et al (2020) Prediction of surgical difficulty in minimally invasive surgery for rectal cancer by use of MRI pelvimetry. BJS Open 28:46

15.

Ogiso S, Yamaguchi T, Hata H, Fukuda M, Ikai I, Yamato T, Sakai Y (2011) Evaluation of factors affecting the difficulty of laparoscopic anterior resection for rectal cancer: "narrow pelvis" is not a contraindication. Surg Endosc 25(6):1907–1912

16.

Wagner D, Kamer L, Sawaguchi T, Richards RG, Noser H, Hofmann A et al (2017) Morphometry of the sacrum and its implication on trans-sacral corridors using a computed tomography data-based three-dimensional statistical model. Spine J 17(8):1141–1147
Funding
There are no funding sources to declare.
Ethics declarations
Availability of data and material
Data can be made available by contacting the lead author.
Code availability
Not applicable.
Conflicts of interest
The authors declare that they have no conflict of interest.
Consent to participate
All participants gave consent.
Consent for publication
All authors have read and given consent for publication.
Ethics approval
No ethical approval was required for this work.
Additional information
Publisher's Note
Springer Nature remains neutral with regard to jurisdictional claims in published maps and institutional affiliations.
About this article
Cite this article
Simpson, G., Marks, T., Blacker, S. et al. Sacrococcygeal dimensions and curvature are associated with resection quality in rectal cancer excision. Tech Coloproctol (2020). https://doi.org/10.1007/s10151-020-02273-y
Received:

Accepted:

Published:
Keywords
Pelvic volumetry

Rectal cancer

Bony pelvis