Abstract
Background
Loose setons are often utilized. Replacements after seton loss are frequent, but the exact incidence of this loss of seton (LOS) in patients is unknown. The aim of the present study was to assess the incidence of LOS in a population with complex anal fistula, comparing the knot-free loose seton with the conventional knotted loose seton.
Methods
All consecutive patients treated with a loose seton for complex anal fistula in two large teaching hospitals in the Netherlands between January 2017 and December 2019 were included in the present study. The incidence of loss of a conventional knotted loose seton was compared with the loss of commercially available knot-free setons.
Results
There were 212 patients. Fifty-two patients were included in the knotted loose group and 160 patients were included in the knot-free seton group. Sixteen patients who were treated with both a knotted and a knot-free loose seton were included in both groups. The incidence of LOS was 12% in the knotted seton group and 28% in the knot-free loose seton group (p = 0.02). Median time to LOS was 36 days for the knotted loose seton and 89 days for the knot-free loose seton (p = 0.36). Sex (p = 0.61), age at the time of seton placement (p = 0.60), and presence of inflammatory bowel disease (p = 0.28) were not significantly associated with LOS.
Conclusions
LOS occurs frequently in patients treated for complex anal fistulas. The incidence of LOS is significantly higher in patients treated with a knot-free loose seton. Further developments in seton manufacturing should be focussed on optimisation of the closure mechanism.
This is a preview of subscription content, log in to check access.
Access options
Buy single article
Instant access to the full article PDF.
US$ 39.95
Price includes VAT for USA
Subscribe to journal
Immediate online access to all issues from 2019. Subscription will auto renew annually.
US$ 99
This is the net price. Taxes to be calculated in checkout.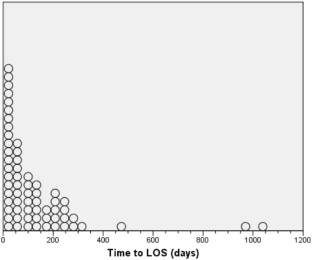 Availability of data and material
The datasets analysed during the current study are available from the corresponding author on reasonable request.
Funding
There was no external funding source for the research.
Ethics declarations
Conflict of interest
The authors declare that they have no conflict of interest.
Ethics approval
This research study was conducted retrospectively from data obtained for clinical purposes. An approval from the Ethical Review Board was not required for this study.
Informed consent
For this type of study formal consent is not required.
Consent to publication
Not applicable.
Code availability
Not applicable.
Additional information
Publisher's Note
Springer Nature remains neutral with regard to jurisdictional claims in published maps and institutional affiliations.
About this article
Cite this article
Verkade, C., Zimmerman, D.D.E., Wasowicz, D.K. et al. Loss of seton in patients with complex anal fistula: a retrospective comparison of conventional knotted loose seton and knot-free seton. Tech Coloproctol (2020). https://doi.org/10.1007/s10151-020-02254-1
Received:

Accepted:

Published:
Keywords
Rectal fistula

Complex perianal fistulas

Loose seton

Knot-free seton