This is a preview of subscription content, log in to check access.
Access options
Buy single article
Instant access to the full article PDF.
US$ 39.95
Price includes VAT for USA
Subscribe to journal
Immediate online access to all issues from 2019. Subscription will auto renew annually.
US$ 99
This is the net price. Taxes to be calculated in checkout.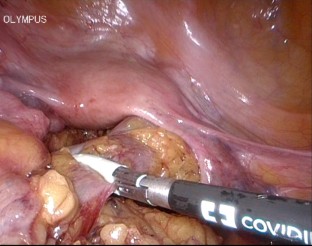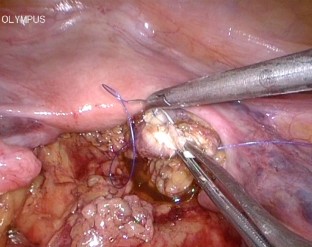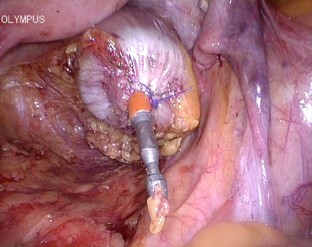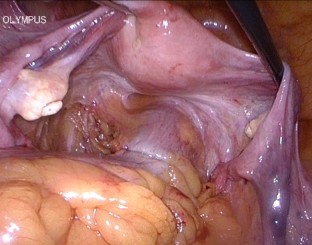 References
1.

Park JS, Choi GS, Kim SH, Kim HR, Kim NK, Lee KY, Kang SB, Kim JY, Lee KY, Kim BC, Bae BN, Son GM, Lee SI, Kang H (2013) Multicenter analysis of risk factors for anastomotic leakage after laparoscopic rectal cancer excision: the Korean laparoscopic colorectal surgery study group. Ann Surg 257:665–671

2.

Knight CD, Griffen FD (1980) An improved technique for low anterior resection of the rectum using the EEA stapler. Surgery 88:710–714

3.

Chen ZF, Liu X, Jiang WZ, Guan GX (2016) Laparoscopic double-stapled colorectal anastomosis without "dog-ears". Tech Coloproctol 20:243–247

4.

Kang J, Lee HB, Cha JH, Hur H, Min BS, Baik SH, Kim NK, Sohn SK, Lee KY (2013) Feasibility and impact on surgical outcomes of modified double-stapling technique for patients undergoing laparoscopic anterior resection. J Gastrointest Surg 17:771–775

5.

Manson RJ, Pryor AD (2008) Bipolar sealing increases mesenteric reach during bowel transection compared with stapled division: clinical evidence and laboratory support in a porcine model. Surg Endosc 22:1894–1898

6.

Landman J, Kerbl K, Rehman J, Andreoni C, Humphrey PA, Collyer W, Olweny E, Sundaram C, Clayman RV (2003) Evaluation of a vessel sealing system, bipolar electrosurgery, harmonic scalpel, titanium clips, endoscopic gastrointestinal anastomosis vascular staples and sutures for arterial and venous ligation in a porcine model. J Urol 169:697–700
Acknowledgements
This work was supported by the Science and Technology Support Program of the Science and Technology Department of Sichuan Province (Grant number: 2016SZ0043). We acknowledge Yan Yan (School of Life Sciences, Chinese University of Hong Kong), who helped prepare the video.
Ethics declarations
Conflict of interest
The authors declare that they have no conflict of interest.
Ethical approval
The procedure of the study involving human participant was in accordance with the 1964 Helsinki declaration and its later amendments or comparable ethical standards.
Informed consent
Informed consent was obtained from each patient included in the study.
Additional information
Publisher's Note
Springer Nature remains neutral with regard to jurisdictional claims in published maps and institutional affiliations.
Electronic supplementary material
Below is the link to the electronic supplementary material.
Supplementary material 1 (MP4 17899 kb)
About this article
Cite this article
Wei, M., Yang, T., Deng, X. et al. Laparoscopic colorectal anastomosis technique without ''dog ear'' formation using LigaSure for bowel transection. Tech Coloproctol 24, 207–210 (2020). https://doi.org/10.1007/s10151-019-01982-3
Received:

Accepted:

Published:

Issue Date: