Abstract
Background
The prognosis of patients with gastric cancer and positive peritoneal lavage cytology is poor, even after gastrectomy. Though the standard therapy for this population is radical gastrectomy followed by S-1 chemotherapy, treatments vary among institutions and eras. We conducted a multicenter retrospective study to investigate the prognostic factors for cytology-positive gastric cancer.
Methods
We reviewed the medical records obtained from 6 institutions, covering 2000–2019. There were 128 patients with positive cytology and no other distant metastases that underwent R1 gastrectomy. Univariate and multivariate analyses to identify prognostic factors for overall survival were conducted using Cox's proportional hazards models.
Results
The median overall survival time was 18.6 months. In univariate analyses, age (≥ 80 years vs. < 70 years), performance status (2, 3 vs. 0), prognostic nutritional index (< 35 vs. ≥ 40), the extent of lymphadenectomy (D1 vs. ≥ D2), macroscopic type (type 4 vs. non-type 4), and postoperative chemotherapy (none vs. S-1) were significantly correlated with worse survival. Multivariate analysis revealed that lymph node metastasis (pN3b vs. pN0, hazard ratio 4.46, 95% confidence interval 1.17–16.9, p = 0.03) and postoperative chemotherapy (none vs. S-1, hazard ratio 2.28, 95% confidence interval 1.16–4.45, p = 0.02) were independent risk factors for death. No postoperative chemotherapy regimen showed a survival benefit over S-1 monotherapy.
Conclusions
Massive lymph node metastasis was an independent risk factor in cytology-positive gastric cancer. Postoperative chemotherapy was also an independent prognostic factor, though the most beneficial regimen was still uncertain.
Access options
Buy single article
Instant access to the full article PDF.
US$ 39.95
Tax calculation will be finalised during checkout.
Subscribe to journal
Immediate online access to all issues from 2019. Subscription will auto renew annually.
US$ 79
Tax calculation will be finalised during checkout.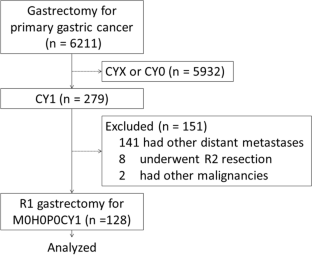 References
1.

Japanese Gastric Cancer Association (2011) Japanese classification of gastric carcinoma: 3rd English edition. Gastric Cancer 14:101–112

2.

Japanese Gastric Cancer Association (2011) annual report of the JGCA nationwide registry 2019. http://www.jgca.jp/entry/iganhtml/doc/2011_report.pdf. Accessed 26 Apr 2020

3.

Kodera Y, Ito S, Mochizuki Y, Kondo K et al (2009) A phase II study of radical surgery followed by postoperative chemotherapy with S-1 for gastric carcinoma with free cancer cells in the peritoneal cavity (CCOG0301 study). Eur J Surg Oncol 35:1158–1163

4.

Japanese Clinical Oncology Group (1999) Common Toxicity Criteria, Version2.0. Tokyo http://ctep.cancer.gov/protocolDevelopment/electronic_applications/docs/ctcv20_4-30-992.pdf. Accessed 4 Oct 2020

5.

Onodera T, Goseki N, Kosaki G (1984) Prognostic nutritional index in gastrointestinal surgery of malnourished cancer patients (in Japanese with English abstract). Nihon Geka Gakkai Zasshi (J Jpn Surg Society) 85:1001–1005

6.

Japanese Gastric Cancer Association (2020) Japanese gastric cancer treatment guidelines 2018 (5th edition). Gastric Cancer (in press). https://doi.org/10.1007/s10120-020-01042-y

7.

Kano K, Aoyama T, Maezawa Y et al (2017) The survival and prognosticators of peritoneal cytology-positive gastric cancer patients who received upfront gastrectomy and subsequent S-1 chemotherapy. Int J Clin Oncol 22:887–896

8.

Yamamoto M, Kawano H, Yamaguchi S et al (2015) Comparison of neoadjuvant chemotherapy to surgery followed by adjuvant chemotherapy in Japanese patients with peritoneal lavage cytology positive for gastric carcinoma. Anticancer Res 35:4859–4863

9.

Fukuchi M, Mochiki E, Ishiguro T et al (2016) Prognostic factors for gastric cancer with cancer cells in the peritoneal cavity. Anticancer Res 36:2481–2485

10.

Endo S, Ikenaga M, Ohta K et al (2019) Prognostic factors for cytology-positive gastric cancer. Surg Today 49:56–64

11.

Shim HJ, Kim HJ, Lee HS et al (2020) Observational study of peritoneal washing cytology-positive gastric cancer without gross peritoneal metastasis in patients who underwent radical D2 Gastrectomy. Sci Rep 10:9549

12.

Koizumi W, Narahara H, Hara T et al (2008) S-1 plus cisplatin versus S-1 alone for first-line treatment of advanced gastric cancer (SPIRITS trial): a phase III trial. Lancet Oncol 9:215–221

13.

Yamaguchi T, Takashima A, Nagashima K et al (2020) Efficacy of postoperative chemotherapy after resection that leaves no macroscopically visible disease of gastric cancer with positive peritoneal lavage cytology (CY1) or localized peritoneum metastasis (P1a): a multicenter retrospective study. Ann Surg Oncol 27:284–292

14.

Kurokawa Y, Matsuyama J, Nishikawa K et al (2020) Docetaxel plus S-1 versus cisplatin plus S-1 in unresectable gastric cancer without measurable lesions: a randomized phase II trial (HERBIS-3). Gastric Cancer. https://doi.org/10.1007/s10120-020-01112-1 ((in press))
Acknowledgements
This study was funded by Kawasaki Medical School. This study was conducted at the following 6 institutions; Higashiosaka City Medical Center, Osaka, Japan; Kawasaki Medical School Hospital, Okayama, Japan; National Hospital Organization Osaka National Hospital, Osaka, Japan; Osaka General Medical Center, Osaka, Japan; Yao Municipal Hospital, Osaka, Japan; and Kawasaki Medical School General Medical Center, Okayama, Japan. The authors would like to thank Enago (www.enago.jp) for the English language review.
Ethics declarations
Conflict of interest
Dr. Nishikawa reports personal fees from Bristol-Myers Squibb, personal fees from Chugai, personal fees from EA Pharma, personal fees from Eli Lilly, personal fees from Ono, personal fees from Taiho, personal fees from Yakult, outside the submitted work. The other authors report no financial conflicts of interest to disclose.
Additional information
Publisher's Note
Springer Nature remains neutral with regard to jurisdictional claims in published maps and institutional affiliations.
About this article
Cite this article
Endo, S., Nishikawa, K., Ikenaga, M. et al. Prognostic factors for cytology-positive gastric cancer: a multicenter retrospective analysis. Int J Clin Oncol (2021). https://doi.org/10.1007/s10147-021-01873-4
Received:

Accepted:

Published:
Keywords
Cell biology

Stomach neoplasms

Chemotherapy