Abstract
Objectives
Contrast nephropathy risk has been increasing in cancer patients. Nephrotoxic side effects of anti-vascular endothelial growth factor/receptor (anti-VEGF/R) drugs used in oncologic treatment are also prominent. The purpose of this study was to identify the possible association among anti-VEGF/R drugs use and development of the contrast-induced nephropathy (CIN) in patients with cancers.
Methods
A total of 92 patients were included in this prospective cross-sectional study. Patients whose glomerular filtration rate (GFR) of < 50 ml/min, hemoglobin of < 10 g/dl, and eastern cooperative oncology group (ECOG) score of ≥ 2 and had received nephrotoxic drugs were not included in the study. Blood samples were collected baseline at pre computed tomography (CT) and day 2, day 3 and day 7 later CT imaging. CIN was defined as either an increased serum creatinine value of 0.5 mg/dl or increased 25% to baseline. CIN frequency between groups receivingand not receiving anti-VEGF/R was compared using the chi-squared test. CIN frequency between bevacizumab and other anti-VEGF/R was also analyzed.
Results
There were 39 patients in the anti-VEGF/R (+) group and 53 patients in the anti-VEGF/R (−) group. Eleven patients (28%) in the anti-VEGF/R (+) group and 3 patients (5.6%) in the anti-VEGF/R (−) group had CIN (p = 0.006). In the anti-VEGF/R (+) group, 23 patients received bevacizumab (combined with FOLFOX/FOLFIRI), while 16 patients received other anti-VEGF/R (sunitinib, axitinib, regorafenib, aflibercept) effective treatments. CIN ratio in patients who received bevacizumab or other anti-VEGFR therapy was similar (p = 0 = 50). Of the patients, one patient had acute kidney injury leading to death.
Conclusion
CIN was significantly more frequent in cancer patients who receiving anti-VEGF/R drugs than those not receiving anti-VEGF/R drugs.
This is a preview of subscription content, log in to check access.
Access options
Buy single article
Instant access to the full article PDF.
US$ 39.95
Price includes VAT for USA
Subscribe to journal
Immediate online access to all issues from 2019. Subscription will auto renew annually.
US$ 99
This is the net price. Taxes to be calculated in checkout.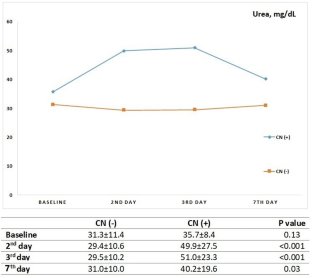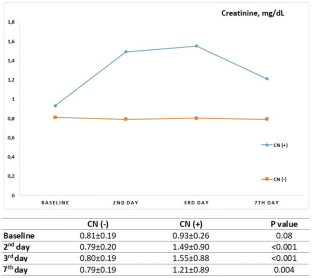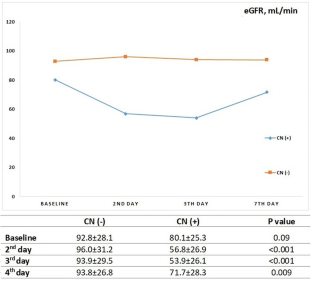 Abbreviations
VEGF:

Vasculer endothelial growth factor

CT:

Computed tomography

CIN:

Contrast-induced nephropathy

GFR:

Glomerular filtration rate
References
1.

American College of Radiology (ACR) (2018) Committee on Drugs and Contrast Media. Manual on contrast media, version 10.3. https://www.acr.org/-/media/ACR/Files/Clinical-Resources/Contrast_Media.pdf. Accessed 12 Oct 2019

2.

Lee J, Cho JY, Lee HJ et al (2014) Contrast-induced nephropathy in patients undergoing intravenous contrast-enhanced computed tomography in Korea: a multi-institutional study in 101487 patients. Korean J Radiol 15:456–463

3.

Ohno I, Hayashi H, Aonuma K et al (2013) Guidelines on the use of iodinated contrast media in patients with kidney disease 2012: digest version: JSN, JRS, and JCS Joint Working Group. Clin Exp Nephrol 17:441–479

4.

Rihal CS, Textor SC, Grill DE et al (2002) (2002) Incidence and prognostic importance of acute renal failure after percutaneous coronary intervention. Circulation 105:2259–2264

5.

Heyman SN, Clark BA, Kaiser N et al (1992) Radiocontrast agents induce endothelin release in vivo and in vitro. J Am Soc Nephrol 3:58–65

6.

Heyman SN, Rosen S, Rosenberger C (2008) Renal parenchymal hypoxia, hypoxia adaptation, and the pathogenesis of radiocontrast nephropathy. Clin J Am Soc Nephrol 3:288–296

7.

Stacul F, van der Molen AJ, Reimer P et al (2011) Contrast induced nephropathy: updated ESUR Contrast Media Safety Committee guidelines. Eur Radiol 21:2527–2541

8.

Contrast media safety committee (2013) ESUR guidelines on contrast media version 8.1.2013. https://www.esur.org/guidelines. Accessed 14 Oct 2019

9.

Cicin I, Erdogan B, Gulsen E et al (2014) Incidence of contrastinduced nephropathy in hospitalised patients with cancer. Eur Radiol 24:184–190

10.

Malyszko J, Kozlowska K, Kozlowski L et al (2017) Nephrotoxicity of anticancer treatment. Nephrol Dial Transplant 32(6):924–936

11.

Skinner R, Kaplan R, Nathan PC (2013) Renal and pulmonary late effects of cancer therapy. Semin Oncol 40(6):757–773

12.

Davenport MS, Khalatbari S, Cohan RH et al (2013) Contrast material-induced nephrotoxicity and intravenous low-osmolality iodinated contrast material: risk stratification by using estimated glomerular filtration rate. Radiology 268:719–728

13.

Andreucci M, Solomon R, Tasanarong A (2014) Side effects of radiographic contrast media: pathogenesis, risk factors, and prevention. Biomed Res Int 2014:741018

14.

Schrijvers BF, Flyvbjerg A, De Vriese AS (2004) The role of vascular endothelial growth factor (VEGF) in renal pathophysiology. Kidney Int 65:2003–2017

15.

Izzedine H, Massard C, Spano JP et al (2010) VEGF signalling inhibitioninduced proteinuria: mechanisms, significance and management. Eur J Cancer 46:439–448

16.

Cheruvu B, Henning K, Mulligan J et al (2007) Iodixanol: risk of subsequent contrast nephropathy in cancer patients with underlying renal insufficiency undergoing diagnostic computed tomography examinations. J Comput Assist Tomogr 31:493–498

17.

Hong SI, Ahn S, Lee YS et al (2016) Contrast-induced nephropathy in patients with active cancer undergoing contrast-enhanced computed tomography. Support Care Cancer 24:1011–1017

18.

Person F, Rinschen MM, Brix SR et al (2019) Bevacizumab-associated glomerular microangiopathy. Mod Pathol 32:684–700

19.

Park SY, Lee KW (2017) Renal assessment using CKD-EPI equation is useful as an early predictor of contrast- induced nephropathy in elderly patients with cancer. J Geriatr Oncol 8:44–49
Funding
There are no funding sources in this study.
Ethics declarations
Conflict of interest
All author declare that they have no conflict of interest.
Ethical approval
All procedures performed in studies involving human participants were in accordance with the ethical standards of the institutional and/or national research committee and with the 1964 Helsinki declaration and its later amendments or comparable ethical standards.
Informed consent
Informed consent was obtained from all individual participants included in the study.
Additional information
Publisher's Note
Springer Nature remains neutral with regard to jurisdictional claims in published maps and institutional affiliations.
About this article
Cite this article
Gökyer, A., Küçükarda, A., Köstek, O. et al. Contrast nephropathy in cancer patients receiving anti-VEGF therapy: a prospective study. Int J Clin Oncol (2020). https://doi.org/10.1007/s10147-020-01729-3
Received:

Accepted:

Published:
Keywords
Contrast media

Anticancer agents

Spiral CT scan