Abstract
Novel adjunctive screening aids are needed to reduce the morbidity and mortality related to cancer, and every effort should be made for early diagnosis. This systematic review aimed to evaluate salivary metabolites and their diagnostic value in patients with cancer.
The systematic review was performed in two phases and included studies that focused on the diagnostic value of salivary metabolites in humans with solid malignant neoplasms. Five electronic databases were searched, and the risk of bias in individual studies was evaluated using the revised Quality Assessment of Diagnostic Accuracy Studies criteria (QUADAS-2). All procedures were performed according to the Preferred Reporting Items for Systematic Reviews and Meta-Analyses (PRISMA) guidelines.
Of the 1151 studies retrieved, 25 were included; 13 studies used targeted and 12 untargeted metabolomics approaches. Most studies included patients with breast and oral cancer. Except for one, all studies had case–control designs, and none fulfilled all quality assessments. Overall, 140 salivary metabolites were described. The most frequently reported metabolites were alanine, valine, and leucine. Among the 11 studies that reported diagnostic test accuracy (DTA) values, proline, threonine, and histidine in combination and monoacylglycerol alone demonstrated the highest DTA for breast cancer. Combined choline, betaine, pipecolinic acid, and l-carnitine showed better discriminatory performance for early oral cancer.
This systematic review highlights the current evidence on salivary metabolites that may be used as a future strategy to diagnose cancer. Further studies including larger sample sizes with confirmation of the results by untargeted analysis are warranted.
This is a preview of subscription content, log in to check access.
Access options
Buy single article
Instant access to the full article PDF.
US$ 39.95
Price includes VAT for USA
Subscribe to journal
Immediate online access to all issues from 2019. Subscription will auto renew annually.
US$ 99
This is the net price. Taxes to be calculated in checkout.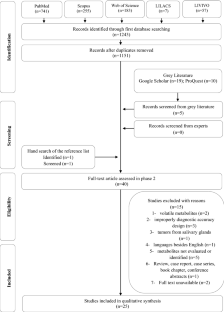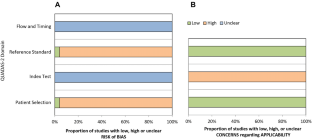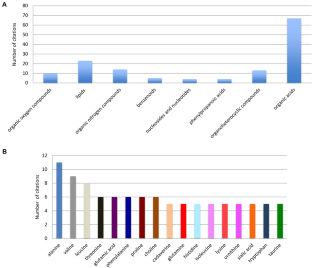 References
1.

Bray F, Ferlay J, Soerjomataram I, Siegel RL, Torre LA, Jemal A (2018) Global cancer statistics 2018 GLOBOCAN estimates of incidence and mortality worldwide for 36 cancers in 185 countries. CA Cancer J Clin 68:394–424. https://doi.org/10.3322/caac.21492

2.

Hanahan D, Weinberg RA (2001) Hallmarks of cancer: the next generation. Cell 144:646–674. https://doi.org/10.1016/j.cell.2011.02.013

3.

Jang M, Kim SS, Lee J (2013) Cancer cell metabolism: implications for therapeutic targets. Exp Mol Med 45:e45. https://doi.org/10.1038/emm.2013.85

4.

Vogelstein B, Kinzler KW (2004) Cancer genes and the pathways they control. Nat Med 10:789–799. https://doi.org/10.1038/nm1087

5.

Nalbantoglu S (2019) Metabolomics. Basic Principles Strat Mol Med. https://doi.org/10.5772/intechopen.88563

6.

Patti GJ, Yanes O, Siuzdak G (2012) Innovation: metabolomics, the apogee of the omics trilogy. Nat Rev Mol Cell Biol 13:263–269. https://doi.org/10.1038/nrm3314

7.

Wagner PD, Srivastava S (2012) New paradigms in translational science research in cancer biomarkers. Transl Res 159:343–353. https://doi.org/10.1016/j.trsl.2012.01.015

8.

Wang X, Kaczor-Urbanowicz KE, Wong DT (2017) Salivary biomarkers in cancer detection. Med Oncol 34(1):7. https://doi.org/10.1007/s12032-016-0863-4

9.

Loo JA, Yan W, Ramachandran P, Wong DT (2010) Comparative human salivary and plasma proteomes. J Dent Res 89(10):1016–1023. https://doi.org/10.1177/0022034510380414

10.

Sun F, Reichenberger EJ (2014) Saliva as a source of genomic DNA for genetic studies: review of current methods and applications. Oral Health Dent Manag 13(2):217–222

11.

Belstrøm D, Sembler-Møller ML, Grande MA, Kirkby N, Cotton SL, Paster BJ, Holmstrup P (2017) Microbial profile comparisons of saliva, pooled and site-specific subgingival samples in periodontitis patients. PLoS ONE 12:8

12.

Yamamoto AY, Mussi-Pinhata MM, Marin LJ, Brito RM, Oliveira PF, Coelho TB (2006) Is saliva as reliable as urine for detection of cytomegalovirus DNA for neonatal screening of congenital CMV infection? J Clin Virol 36(3):228–230

13.

Porto-Mascarenhas EC, Assad DX, Chardin H, Gozal D, De Luca CG, Acevedo AC et al (2017) Salivary biomarkers in the diagnosis of breast cancer: a review. Crit Rev Oncol Hematol 110:62–73. https://doi.org/10.1016/j.critrevonc.2016.12.009

14.

Guerra EN, Acevedo AC, Leite AF, Gozal D, Chardin H, De Luca CG (2015) Diagnostic capability of salivary biomarkers in the assessment of head and neck cancer: a systematic review and meta-analysis. Oral Oncol 51:805–818. https://doi.org/10.1016/j.oraloncology.2015.06.010

15.

Moher D, Liberati A, Tetzlaff J, Altman DG, PRISMA Group (2009) Preferred reporting items for systematic reviews and meta-analyses: the PRISMA statement. PLoS Med 6(7):e1000097. https://doi.org/10.1371/journal.pmed.1000097

16.

Whiting PF, Rutjes AW, Westwood ME, Mallett S, Deeks JJ, Reitsma JB et al (2011) QUADAS-2: a revised tool for the quality assessment of diagnostic accuracy studies. Ann Intern Med 155:529–536. https://doi.org/10.7326/0003-4819-155-8-201110180-00009

17.

Achalli S, Madi M, Babu SG, Shetty SR, Kumari S, Bhat S (2017) Sialic acid as a biomarker of oral potentially malignant disorders and oral cancer. Ind J Dental Res 28:395–359. https://doi.org/10.4103/ijdr.IJDR_632_16

18.

Almadori G, Bussu F, Galli J, Limongelli A, Persichilli S, Zappacosta B et al (2007) Salivary glutathione and uric acid levels in patients with head and neck squamous cell carcinoma. Head Neck 29:648–654. https://doi.org/10.1002/hed.20579

19.

Asai Y, Itoi T, Sugimoto M, Sofuni A, Tsuchiya T, Tanaka R et al (2018) Elevated polyamines in saliva of pancreatic cancer. Cancers 10(2):piiE43. https://doi.org/10.3390/cancers10020043

20.

Bahar G, Feinmesser R, Shpitzer T, Popovtzer A, Nagler RM (2007) Salivary analysis in oral cancer patients: DNA and protein oxidation, reactive nitrogen species, and antioxidant profile. Cancer 109:54–59. https://doi.org/10.1002/cncr.22386

21.

Chen Y, Cheng S, Zhang A, Song J, Chang J, Wang K et al (2018) Salivary analysis based on surface enhanced Raman scattering sensors distinguishes early and advanced gastric cancer patients from healthy persons. J Biomed Nanotechnol 14:1773–1784. https://doi.org/10.1166/jbn.2018.2621

22.

Garcia-Villaescusa A, Morales-Tatay JM, Monleon-Salvado D, Gonzalez-Darder JM, Bellot-Arcis C, Montiel-Company JM et al (2018) Using NMR in saliva to identify possible biomarkers of glioblastoma and chronic periodontitis. PLoS ONE 13:e0188710. https://doi.org/10.1371/journal.pone.0188710

23.

Ishikawa S, Sugimoto M, Kitabatake K, Sugano A, Nakamura M, Kaneko M et al (2016) Identification of salivary metabolomic biomarkers for oral cancer screening. Sci Rep 6:31520. https://doi.org/10.1038/srep31520

24.

Ishikawa S, Sugimoto M, Kitabatake K, Tu M, Sugano A, Yamamori I et al (2017) Effect of timing of collection of salivary metabolomic biomarkers on oral cancer detection. Amino Acids 49:761–770. https://doi.org/10.1007/s00726-017-2378-5

25.

Jacob TV, Ramesh M, Murali S, Ramesh K, Sanjay PR, Abraham P (2016) A non-invasive study to estimate and compare salivary sialic acid level as tumor marker in patients with pre-cancer and oral cancer. J Cancer Res Ther 12:634–639. https://doi.org/10.4103/0973-1482.148697

26.

Lohavanichbutr P, Zhang Y, Wang P, Gu H, Nagana Gowda GA, Djukovic D et al (2018) Salivary metabolite profiling distinguishes patients with oral cavity squamous cell carcinoma from normal controls. PLoS ONE 13:e0204249. https://doi.org/10.1371/journal.pone.0204249

27.

Malone JP, Snyderman CH (1994) Arachidonic acid metabolites in saliva of patients with squamous cell carcinoma of the head and neck. Oral Surg Oral Med Oral Pathol 77:636–640. https://doi.org/10.1016/0030-4220(94)90326-3

28.

Mikkonen JJW, Singh SP, Akhi R, Salo T, Lappalainen R, Gonzalez-Arriagada WA et al (2018) Potential role of nuclear magnetic resonance spectroscopy to identify salivary metabolite alterations in patients with head and neck cancer. Oncol Lett 16:6795–6800. https://doi.org/10.3892/ol.2018.9419

29.

Ohshima M, Sugahara K, Kasahara K, Katakura A (2017) Metabolomic analysis of the saliva of Japanese patients with oral squamous cell carcinoma. Oncol Rep 37:2727–2734. https://doi.org/10.3892/or.2017.5561

30.

Reddy I, Sherlin HJ, Ramani P, Premkumar P, Natesan A, Chandrasekar T (2012) Amino acid profile of saliva from patients with oral squamous cell carcinoma using high performance liquid chromatography. J Oral Sci 54:279–283. https://doi.org/10.2334/josnusd.54.279

31.

Sanjay PR, Hallikeri K, Shivashankara AR (2008) Evaluation of salivary sialic acid, total protein, and total sugar in oral cancer: a preliminary report. Ind J Dent Res 19:288–291. https://doi.org/10.4103/0970-9290.44529

32.

Sugimoto M, Wong DT, Hirayama A, Soga T, Tomita M (2010) Capillary electrophoresis mass spectrometry-based saliva metabolomics identified oral, breast and pancreatic cancer-specific profiles. Metabolomics 6:78–95. https://doi.org/10.1007/s11306-009-0178-y

33.

Takayama T, Tsutsui H, Shimizu I, Toyama T, Yoshimoto N, Endo Y et al (2016) Diagnostic approach to breast cancer patients based on target metabolomics in saliva by liquid chromatography with tandem mass spectrometry. Clin Chim Acta 452:18–26. https://doi.org/10.1016/j.cca.2015.10.032

34.

Vajaria BN, Patel KR, Begum R, Shah FD, Patel JB, Shukla SN et al (2013) Evaluation of serum and salivary total sialic acid and alpha-l-fucosidase in patients with oral precancerous conditions and oral cancer. Oral Surg Oral Med Oral Pathol Oral Radiol 115:764–771. https://doi.org/10.1016/j.oooo.2013.01.004

35.

Wang Q, Gao P, Wang X, Duan Y (2014) The early diagnosis and monitoring of squamous cell carcinoma via saliva metabolomics. Sci Rep 4:6802. https://doi.org/10.1038/srep06802

36.

Wang Q, Gao P, Cheng F, Wang X, Duan Y (2014) Measurement of salivary metabolite biomarkers for early monitoring of oral cancer with ultra performance liquid chromatography–mass spectrometry. Talanta 119:299–305. https://doi.org/10.1016/j.talanta.2013.11.008

37.

Wang Q, Gao P, Wang X, Duan Y (2014) Investigation and identification of potential biomarkers in human saliva for the early diagnosis of oral squamous cell carcinoma. Clin Chim Acta 427:79–85. https://doi.org/10.1016/j.cca.2013.10.004

38.

Wei J, Xie G, Zhou Z, Shi P, Qiu Y, Zheng X et al (2011) Salivary metabolite signatures of oral cancer and leukoplakia. Int J Cancer 129:2207–2217. https://doi.org/10.1002/ijc.25881

39.

Zermeno-Nava JJ, Martinez-Martinez MU, Ramirez-de-Avila AL, Hernandez-Arteaga AC, Garcia-Valdivieso MG, Hernandez-Cedillo A et al (2018) Determination of sialic acid in saliva by means of surface-enhanced Raman spectroscopy as a marker in adnexal mass patients: ovarian cancer vs benign cases. J Ovarian Res 11:61. https://doi.org/10.1186/s13048-018-0433-9

40.

Zhong L, Cheng F, Lu X, Duan Y, Wang X (2016) Untargeted saliva metabonomics study of breast cancer based on ultra performance liquid chromatography coupled to mass spectrometry with HILIC and RPLC separations. Talanta 158:351–360. https://doi.org/10.1016/j.talanta.2016.04.049

41.

Cheng F, Wang Z, Huang Y, Duan Y, Wang X (2015) Investigation of salivary free amino acid profile for early diagnosis of breast cancer with ultra performance liquid chromatography–mass spectrometry. Clin Chim Acta 447:23–31. https://doi.org/10.1016/j.cca.2015.05.008

42.

Alonso A, Marsal S, Julià A (2015) Analytical methods in untargeted metabolomics: state of the art in 2015. Front Bioeng Biotechnol 3:23. https://doi.org/10.3389/fbioe.2015.00023

43.

Ananieva EA, Wilkinson AC (2018) Branched-chain amino acid metabolism in cancer. Curr Opin Clin Nutr Metab Care 21:64–70. https://doi.org/10.1097/MCO.0000000000000430

44.

Coloff JL, Murphy JP, Braun CR, Harris IS, Shelton LM, Kami K et al (2016) Differential glutamate metabolism in proliferating and quiescent mammary epithelial cells. Cell Metab 23:867–880. https://doi.org/10.1016/j.cmet.2016.03.016

45.

Sousa CM, Biancur DE, Wang X, Halbrook CJ, Sherman MH, Zhang L et al (2016) Pancreatic stellate cells support tumour metabolism through autophagic alanine secretion. Nature 536:479–483. https://doi.org/10.1038/nature19084

46.

Tomita A, Mori M, Hiwatari K, Yamaguchi E, Itoi T, Sunamura M, Soga T, Tomita M, Sugimoto M (2018) Effect of storage conditions on salivary polyamines quantified via liquid chromatography–mass spectrometry. Sci Rep 8(1):1–9

47.

Burcham ZM, Garneau NL, Comstock SS, Tucker RM, Knight R, Metcalf JL (2020) Patterns of oral microbiota diversity in adults and children: a crowdsourced population study. Sci Rep 10(1):1–5

48.

Kuhajda FP, Jenner K, Wood FD, Hennigar RA, Jacobs LB, Dick JD et al (1994) Fatty acid synthesis: a potential selective target for antineoplastic therapy. Proc Natl Acad Sci 91:6379. https://doi.org/10.1073/pnas.91.14.6379

49.

Ackerstaff E, Glunde K, Bhujwalla ZM (2003) Choline phospholipid metabolism: a target in cancer cells? J Cell Biochem 90:525–533. https://doi.org/10.1002/jcb.10659

50.

Agatonovic-Kustrin S, Morton DW, Smirnov V, Petukhov A, Gegechkori V, Kuzina V, Gorpinchenko N, Ramenskaya G (2019) Analytical strategies in lipidomics for discovery of functional biomarkers from human saliva. Dis Mark 20:2019

51.

Soda K (2011) The mechanisms by which polyamines accelerate tumor spread. J Exp Clin Cancer Res 30:95. https://doi.org/10.1186/1756-9966-30-95

52.

Goldberg S, Kozlovsky A, Gordon D, Gelernter I, Sintov A, Rosenberg M (1994) Cadaverine as a putative component of oral malodor. J Dent Res 73(6):1168–1172

53.

Cooke M, Leeves N, White C (2003) Time profile of putrescine, cadaverine, indole and skatole in human saliva. Arch Oral Biol 48(4):323–327

54.

Lohinai Z, Keremi B, Szoko E, Tabi T, Szabo C, Tulassay Z, Levine M (2012) Bacterial lysine decarboxylase influences human dental biofilm lysine content, biofilm accumulation, and subclinical gingival inflammation. J Periodontol 83:1048–1056

55.

Kuboniwa M, Sakanaka A, Hashino E, Bamba T, Fukusaki E, Amano A (2016) Prediction of periodontal inflammation via metabolic profiling of saliva. J Dent Res 95(12):1381–1386

56.

Takeda I, Stretch C, Barnaby P, Bhatnager K, Rankin K, Fu H, Weljie A, Jha N, Slupsky C (2009) Understanding the human salivary metabolome. NMR Biomed Int J Devot Dev Appl Magn Resonan In Vivo 22(6):577–584

57.

Bouatra S, Aziat F, Mandal R, Guo AC, Wilson MR, Knox C, Bjorndahl TC, Krishnamurthy R, Saleem F, Liu P, Dame ZT (2013) The human urine metabolome. PLoS ONE 8:9

58.

Liebsch C, Pitchika V, Pink C, Samietz S, Kastenmüller G, Artati A, Suhre K, Adamski J, Nauck M, Völzke H, Friedrich N (2019) The saliva metabolome in association to oral health status. J Dent Res 98(6):642–651

59.

Pearce OM, Laubli H (2016) Sialic acids in cancer biology and immunity. Glycobiology 26:111–1128. https://doi.org/10.1093/glycob/cwv097

60.

Zhang Y, Sun J, Lin CC, Abemayor E, Wang MB, Wong DTW (2000) The emerging landscape of salivary diagnostics. Periodontology 2016(70):38–52. https://doi.org/10.1111/prd.12099
Ethics declarations
Conflict of interest
The authors declare no conflicts of interest in this study and no financial affiliation or involvement with any commercial organization with a direct financial interest in the content discussed in this manuscript. The research did not involve human participants and/or animals and no informed consent is demanded. Ethical approval was not required.
Additional information
Publisher's Note
Springer Nature remains neutral with regard to jurisdictional claims in published maps and institutional affiliations.
Electronic supplementary material
Below is the link to the electronic supplementary material.
About this article
Cite this article
Assad, D.X., Mascarenhas, E.C.P., de Lima, C.L. et al. Salivary metabolites to detect patients with cancer: a systematic review. Int J Clin Oncol 25, 1016–1036 (2020). https://doi.org/10.1007/s10147-020-01660-7
Received:

Accepted:

Published:

Issue Date:
Keywords
Metabolomics

Breast cancer

Saliva

Systematic review