Abstract
Purpose
Peripheral neuropathy (PN) is an intractable side effect of oxaliplatin, with no effective prophylaxis so far. Ninjin'yoeito (NYT), a Kampo medicine, is protective against oxaliplatin-induced neuronal cell injury in vitro and ameliorates oxaliplatin-induced PN in vivo. Thus, this randomized controlled trial was aimed at clarifying NYT's prophylactic effect for oxaliplatin-induced cumulative PN.
Methods
52 patients with colorectal cancers of pathological stage 3 received postoperative adjuvant chemotherapy with the CapeOX regimen: eight cycles of capecitabine (2400 mg/m2) plus oxaliplatin (130 mg/m2) at 3-week intervals. They were randomly assigned to NYT administration and non-administration groups. NYT (9.0 g/day) was administered from day 1 of cycle 1 in the NYT group. The NYT was administered orally daily throughout each cycle. The primary endpoint was the grade of cumulative PN at the end of eight cycles. The secondary endpoints included relative dose intensity (RDI) of oxaliplatin, recurrence-free survival (RFS), and overall survival (OS).
Results
40 patients (n = 20 in both groups) completed 8 chemotherapy cycles. The incidence of grade 2 or greater cumulative PN at the 8th chemotherapy cycle was significantly lower in the NYT group (2/20, 10.0%) than in the control group (11/20, 55.0%, P < 0.01). RDI of oxaliplatin was significantly higher in the NYT group than in the control group (P = 0.02). RFS and OS were better in the NYT group than in the control group, but the difference was not significant.
Conclusions
NYT may reduce the incidence of oxaliplatin-induced cumulative PN and facilitate maintenance of the CapeOX dosing regimen.
This is a preview of subscription content, log in to check access.
Access options
Buy single article
Instant access to the full article PDF.
US$ 39.95
Price includes VAT for USA
Subscribe to journal
Immediate online access to all issues from 2019. Subscription will auto renew annually.
US$ 99
This is the net price. Taxes to be calculated in checkout.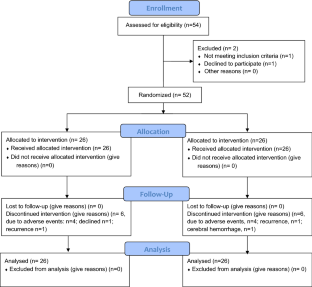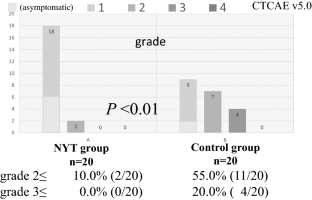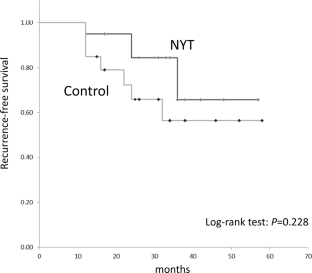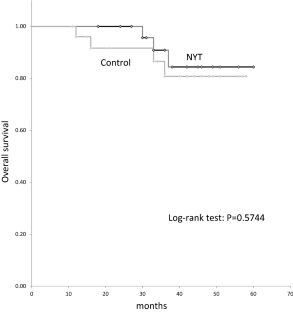 References
1.

Griffith KA, Zhu S, Johantgen M et al (2017) Oxaliplatin-induced peripheral neuropathy and identification of unique severity groups in colorectal cancer. J Pain Symptom Manage 54:701–706

2.

Nishina T, Kato T, Yamazaki K et al (2015) A phase II study of S-1, oxaliplatin, oral leucovorin, and bevacizumab combination therapy (SOLA) in patients with unresectable metastatic colorectal cancer. Cancer Chemother Pharmacol 76:547–553

3.

Motoo Y, Seki T, Tsutani K (2011) Traditional Japanese medicine, Kampo: its history and current status. Chin J Integr Med 17:85–87

4.

Motoo Y, Hakamatsuka T, Kawahara N et al (2017) Standards of Reporting Kampo Products (STORK) in research articles. J Integr Med 15:182–185

5.

Nishioka M, Shimada M, Kurita N et al (2011) The Kampo medicine, Goshajinkigan, prevents neuropathy in patients treated by FOLFOX regimen. Int J Clin Oncol 16:322–327

6.

Kono T, Hata T, Morita S et al (2013) Goshajinkigan oxaliplatin neurotoxicity evaluation (GONE): a phase 2, multicenter, randomized, double-blind, placebo-controlled trial of goshajinkigan to prevent oxaliplatin-induced neuropathy. Cancer Chemother Pharmacol 72:1283–1290

7.

Oki E, Emi Y, Kojima H et al (2015) Preventive effect of Goshajinkigan on peripheral neurotoxicity of FOLFOX therapy (GENIUS trial): a placebo-controlled, double-blind, randomized phase III study. Int J Clin Oncol 20:767–775

8.

Hoshino N, Ganeko R, Hida K et al (2018) Goshajinkigan for reducing chemotherapy-induced peripheral neuropathy: a systematic review and meta-analysis. Int J Clin Oncol 23:434–442

9.

Kuriyama A, Endo K (2018) Goshajinkigan for prevention of chemotherapy-induced peripheral neuropathy: a systematic review and meta-analysis. Support Care Cancer 26:1051–1059

10.

Motoo Y, Mouri H, Ohtsubo K et al (2005) Herbal medicine Ninjinyoeito ameliorates ribavirin-induced anemia in chronic hepatitis C: a randomized controlled trial. World J Gastroenterol 11:4013–4017

11.

Miyano K, Nonaka M, Uzu M et al (2018) (2018) Multifunctional actions of ninjinyoeito, a Japanese Kampo medicine: accumulated scientific evidence based on experiments with cells and animal models, and clinical studies. Front Nutr 5:93. https://doi.org/10.3389/fnut.2018.00093.eCollection

12.

Suzuki T, Yamamoto A, Ohsawa M et al (2015) Ninjin'yoeito and ginseng extract prevent oxaliplatin-induced neurodegeneration in PC12 cells. J Nat Med 69:531–537

13.

Suzuki T, Yamamoto A, Ohsawa M et al (2017) Effect of ninjin'yoeito and ginseng extracts on oxaliplatin-induced neuropathies in mice. J Nat Med 71:757–764

14.

Danno K, Hata T, Tamai K et al (2017) Interim analysis of a phase II trial evaluating the safety and efficacy of capecitabine plus oxaliplatin (XELOX) as adjuvant therapy in Japanese patients with operated stage III colon cancer. Cancer Chemother Pharmacol 80:777–785

15.

Mandrekar SJ, Sargent DJ (2010) Randomized phase II trials: time for a new era in clinical trial design. J Thorac Oncol 5:932–934

16.

Schmoll HJ, Tabernero J, Maroun J et al (2015) Capecitabine plus oxaliplatin compared with fluorouracil/folinic acid as adjuvant therapy for stage III colon cancer: final results of the NO16968 randomized controlled phase III trial. J Clin Oncol 33(32):3733–3740

17.

de Gramont A, Figer A, Seymour M et al (2000) Leucovorin and fluorouracil with or without oxaliplatin as first-line treatment in advanced colorectal cancer. J Clin Oncol 18:2938–2947

18.

Goldberg RM, Gill S (2004) Recent phase III trials of fluorouracil, irinotecan, and oxaliplatin as chemotherapy for metastatic colorectal cancer. Cancer Chemother Pharmacol 54:S57–64

19.

Kaku H, Kumagai S, Onoue H et al (2012) Objective evaluation of the alleviating effects of goshajinkigan on PN induced by paclitaxel/carboplatin therapy: a multicenter collaborative study. Exp Ther Med 3:60–65

20.

Abe H, Kawai Y, Mori T et al (2013) The Kampo medicine goshajinkigan prevents neuropathy in breast cancer patients treated with docetaxel. Asian Pac J Cancer Prev 14:6351–6356

21.

Seiwa C, Yamamoto M, Tanaka K et al (2007) Restoration of FcRgamma/Fyn signaling repairs central nervous system demyelination. J Neurosci Res 85:954–966

22.

González-Burgos E, Fernandez-Moriano C, Gómez-Serranillos MP (2015) Potential neuroprotective activity of Ginseng in Parkinson's disease: a review. J Neuroimmune Pharmacol 10:14–29

23.

Sato N, Seiwa C, Uruse M et al (2011) Administration of chinpi, a component of the herbal medicine ninjin-youei-to, reverses age-induced demyelination. Evid Based Complement Alternat Med 2011:617438
Acknowledgements
This study was supported in part by Grant-in-Aid for Scientific Research from the Japan Society for the Promotion of Science (No. 16K09267).
Ethics declarations
Conflict of interest
The authors declare no competing interests.
Additional information
Publisher's Note
Springer Nature remains neutral with regard to jurisdictional claims in published maps and institutional affiliations.
About this article
Cite this article
Motoo, Y., Tomita, Y. & Fujita, H. Prophylactic efficacy of ninjin'yoeito for oxaliplatin-induced cumulative peripheral neuropathy in patients with colorectal cancer receiving postoperative adjuvant chemotherapy: a randomized, open-label, phase 2 trial (HOPE-2). Int J Clin Oncol 25, 1123–1129 (2020). https://doi.org/10.1007/s10147-020-01648-3
Received:

Accepted:

Published:

Issue Date:
Keywords
Oxaliplatin

Peripheral neuropathy

Ninjin'yoeito

Colorectal cancer

Kampo