Abstract
Background
We previously developed a new plasma amino acid profile-based index (API) to detect ovarian, cervical, and endometrial cancers. Here, we compared API to serum cancer antigen 125 (CA125) for distinguishing epithelial ovarian malignant tumors from benign growths.
Methods
API and CA125 were measured preoperatively in patients with ovarian tumors, which were later classified into 59 epithelial ovarian cancers, 21 epithelial borderline malignant tumors, and 97 benign tumors including 40 endometriotic cysts. The diagnostic accuracy and cutoff points of API were evaluated using receiver operating characteristic (ROC) curves.
Results
The area under the ROC curves showed the equivalent performance of API and CA125 to discriminate between malignant/borderline malignant and benign tumors (both 0.77), and API was superior to CA125 for discrimination between malignant/borderline malignant lesions and endometriotic cysts (API, 0.75 vs. CA125, 0.59; p < 0.05). At the API cutoff level of 6.0, API and CA125 had equal positive rates of detecting cancers and borderline malignancies (API, 0.71 vs. CA125, 0.74; p = 0.84) or cancers alone (API, 0.73 vs. CA125, 0.85; p = 0.12). However, API had a significantly lower detection rate of benign endometriotic cysts (0.35; 95 % CI, 0.21–0.52) compared with that of CA125 (0.65; 95 % CI, 0.48–0.79) (p < 0.05).
Conclusions
API is an effective new tumor marker to detect ovarian cancers and borderline malignancies with a low false-positive rate for endometriosis. A large-scale prospective clinical study using the cutoff value of API determined in this study is warranted to validate API for practical clinical use.
This is a preview of subscription content,
to check access.
Access this article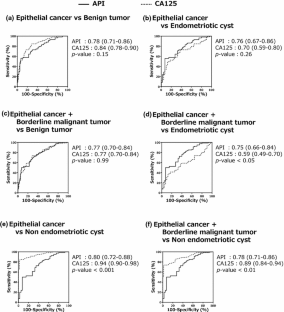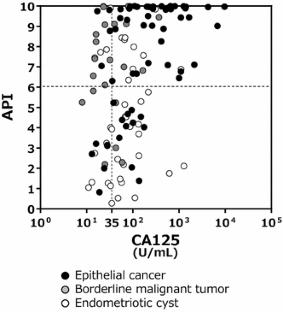 Similar content being viewed by others
References
GLOBOCAN 2012: estimated cancer mortality, incidence and prevalence worldwide in 2012. http://globocan.iarc.fr/Pages/fact_sheets_population.aspx. Accessed March 2016

Cancer Registry and Statistics. Cancer Information Service, National Cancer Center, Japan. http://ganjoho.jp/professional/statistics/statistics.html. Accessed March 2016

Yamagami W, Aoki D (2015) Annual report of the Committee on Gynecologic Oncology, the Japan Society of Obstetrics and Gynecology. J Obstet Gynaecol Res 41:1861–1869

Lu KH, Skates S, Hernandez MA et al (2013) A 2-stage ovarian cancer screening strategy using the risk of ovarian cancer algorithm (ROCA) identifies early-stage incident cancers and demonstrates high positive predictive value. Cancer (Phila) 119:3454–3461

Siegel RL, Miller KD, Jemal A (2015) Cancer statistics 2015. CA Cancer J Clin 65:5–29

Cohen JG, White M, Cruz A et al (2014) In 2014, can we do better than CA125 in the early detection of ovarian cancer? World J Biol Chem 5:286–300

Jacobs I, Stabile I, Bridges J et al (1988) Multimodal approach to screening for ovarian cancer. Lancet 8580:268–271

Menon U, Talaat A, Rosenthal AN et al (2014) Performance of ultrasound as a second line test to serum CA125 in ovarian cancer screening. BJOG 121(suppl 7):35–39

Rocconi RP, Matthews KS, Kemper MK et al (2009) The timing of normalization of CA-125 levels during primary chemotherapy is predictive of survival in patients with epithelial ovarian cancer. Gynecol Oncol 114:242–245

Cascino A, Muscaritoli M, Cangiano C et al (1995) Plasma amino acid imbalance in patients with lung and breast cancer. Anti-Cancer Res 15:507–510

Kubota A, Meguid MM, Hitch DC (1992) Amino acid profiles correlate diagnostically with organ site in three kinds of malignant tumors. Cancer (Phila) 69:2343–2348

Miyagi Y, Higashiyama M, Gochi A et al (2011) Plasma free amino acid profiling of five types of cancer patients and its application for early detection. PLoS One 6:e24143

Okamoto N (2012) Use of "AminoIndex technology" for cancer screening (in Japanese). Ningen Dock 26:911–922

Ihata Y, Miyagi E, Numazaki R et al (2014) Amino acid profile index for early detection of endometrial cancer: verification as a novel diagnostic marker. Int J Clin Oncol 19:364–372

Fukutake N, Ueno M, Hiraoka N et al (2015) A novel multivariate index for pancreatic cancer detection based on the plasma free amino acid profile. PLoS One 10:e0132223

Miyagi E, Numazaki R, Nakanishi T et al (2012) Diagnostic performance and clinical utility of novel gynecologic cancer screening method based on "Aminoindex Technology" (in Japanese). Ningen Dock 26:749–755

Shimbo K, Oonuki T, Yahashi A et al (2009) Precolumn derivatization reagents for high-speed analysis of amines and amino acids in biological fluid using liquid chromatography/electrospray ionization tandem mass spectrometry. Rapid Commun Mass Spectrom 23:1483–1492

Shimbo K, Yahashi A, Hirayama K et al (2009) Multifunctional and highly sensitive precolumn reagents for amino acids in liquid chromatography/tandem mass spectrometry. Anal Chem 81:5172–5179

Shimbo K, Kubo S, Harada Y et al (2010) Automated precolumn derivatization system for analyzing physiological amino acids by liquid chromatography/mass spectrometry. Biomed Chromatogr 24:683–691

Proenza AM, Oliver J, Palou A et al (2003) Breast and lung cancer are associated with a decrease in blood cell amino acid content. J Nutr Biochem 14:133–138

Okamoto N, Miyagi Y, Chiba A et al (2009) Diagnostic modeling with differences in plasma amino acid profiles between non-cachectic colorectal/breast cancer patients and healthy individuals. Int J Med Med Sci 1:1–8

Maeda J, Higashiyama M, Imaizumi A et al (2010) Possibility of multivariate function composed of plasma amino acid profiles as a novel screening index for non-small cell lung cancer: a case control study. BMC Cancer 10:690

Munn DH, Mellor AL (2013) Indoleamine 2,3 dioxygenase and metabolic control of immune responses. Trends Immunol 34:137–143

Suzuki Y, Suda T, Furuhashi K et al (2010) Increased serum kynurenine/tryptophan ratio correlates with disease progression in lung cancer. Lung Cancer 67:361–365

Cho KR, IeM Shih (2009) Ovarian cancer. Annu Rev Pathol 4:287–313

Kadan Y, Fiascone S, McCourt C et al (2015) Predictive factors for the presence of malignant transformation of pelvic endometriosis. Eur J Obstet Gynecol Reprod Biol 185:23–27

Jacobs IJ, Menon U, Ryan A et al (2015) Ovarian cancer screening and mortality in the UK Collaborative Trial of Ovarian Cancer Screening (UKCTOCS): a randomized controlled trial. Lancet 10022:945–956

Haruta S, Furukawa N, Yoshizawa Y et al (2011) Molecular genetics and epidemiology of epithelial ovarian cancer. Oncol Rep 26:1347–1356
Acknowledgments
The authors thank Mae Inada and Atsuko Fukui for their skilled technical assistance; Hiroshi Miyano, Hiroo Yoshida, and Naoko Kageyama for conducting amino acid analyses; Mai Yamamoto for data management; and Mariko Takasu for her patience in coordinating this study.
Ethics declarations
Conflict of interest
Etsuko Miyagi has no conflict of interest; Yasuyo Maruyama has no conflict of interest; Tae Mogami has no conflict of interest; Reiko Numazaki has no conflict of interest; Atsuko Ikeda serves as an employee of Ajinomoto Co., Inc.; Hiroshi Yamamoto serves as an employee to Ajinomoto Co., Inc.; Fumiki Hirahara has no conflict of interest.
Additional information
E. Miyagi and Y. Maruyama contributed equally to this study.
About this article
Cite this article
Miyagi, E., Maruyama, Y., Mogami, T. et al. Comparison of plasma amino acid profile-based index and CA125 in the diagnosis of epithelial ovarian cancers and borderline malignant tumors. Int J Clin Oncol 22, 118–125 (2017). https://doi.org/10.1007/s10147-016-1035-4
Received:

Accepted:

Published:

Issue Date:

DOI: https://doi.org/10.1007/s10147-016-1035-4
Keywords