Abstract
Background
Plasma amino acid profiles (PAAPs) vary in individual cancer patients, and it has been suggested that they may be useful for early detection of several types of cancer. We evaluated the diagnostic performance of a profile index for endometrial cancer composed of multiple plasma amino acids as a novel biomarker and compared its diagnostic performance with that of CA125.
Methods
Plasma amino acid levels of 80 patients with endometrial cancer, 122 with benign gynecological diseases, and 240 age- and body mass index-matched control subjects were measured using liquid chromatography and mass spectrometry. After univariate analysis, we applied a multiplex model based on the PAAP multivariate analysis to distinguish patients with endometrial cancer from control subjects. We compared the diagnostic performance of the multiple PAAP index (API) with that of CA125.
Results
The levels of several plasma amino acids were significantly different in patients with endometrial cancer. The area under the receiver operating characteristic curves (AUC) used to distinguish endometrial cancer patients from control subjects was 0.94. The AUC for API was significantly larger than that for CA125 (P = 0.0068). For the same specificity of 98.3 %, API showed a significantly higher sensitivity (60.0 %, 95 % CI, 43.3–75.1) than that of CA125 (22.5 %, 95 % CI, 10.1–38.5). In stage I cases, API showed significantly higher positivity than that of CA125 (P = 0.0002).
Conclusions
The sensitivity and disease specificity of API for early-stage detection of endometrial cancer was superior to CA125. This novel plasma biomarker has the potential to become a diagnostic and screening marker for endometrial cancer.
This is a preview of subscription content,
to check access.
Access this article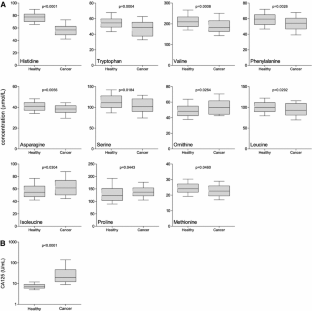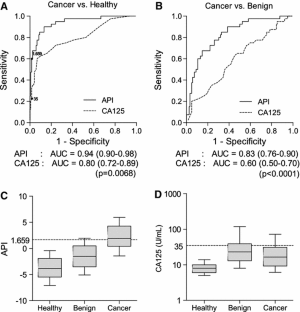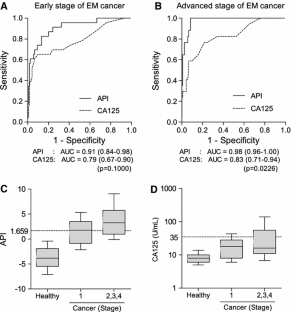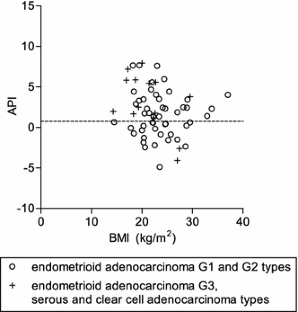 Similar content being viewed by others
References
Jemal A, Siegel R, Ward E et al (2009) Cancer statistics, 2009. CA Cancer J Clin 59:225–249

Gynecologic Cancer Committee (2009) Annual report of gynecologic cancer (in Japanese). Acta Obstet Gynaecol Jpn 61:2159–2197

Bast RC Jr, Feeney M, Lazarus H et al (1981) Reactivity of a monoclonal antibody with human ovarian carcinoma. J Clin Invest 68:1331–1337

Niloff JM, Klug TL, Schaetzl E et al (1984) Elevation of serum CA125 in carcinomas of the fallopian tube, endometrium, and endocervix. Am J Obstet Gynecol 148:1057–1058

Sood AK, Buller RE, Burger RA et al (1997) Value of preoperative CA 125 level in the management of uterine cancer and prediction of clinical outcome. Obstet Gynecol 90:441–447

Dotters DJ (2000) Preoperative CA 125 in endometrial cancer: is it useful? Am J Obstet Gynecol 182:1328–1334

Fioretti P, Gadducci A, Ferdeghini M et al (1988) Preoperative evaluation of CA 125 and CA 19–9 serum levels in patients with ovarian masses. Eur J Gynaecol Oncol 9:291–294

Goksedef BP, Gorgen H, Baran SY et al (2011) Preoperative serum CA 125 level as a predictor for metastasis and survival in endometrioid endometrial cancer. J Obstet Gynaecol Can 33:844–850

Yoshida H, Mizukoshi T, Hirayama K et al (2007) Comprehensive analytical method for the determination of hydrophilic metabolites by high-performance liquid chromatography and mass spectrometry. J Agric Food Chem 55:551–560

Lee K, Hwang D, Yokoyama T et al (2004) Identification of optimal classification functions for biological sample and state discrimination from metabolic profiling data. Bioinformatics 20:959–969

Norton JA, Gorschboth CM, Wesley RA et al (1985) Fasting plasma amino acid levels in cancer patients. Cancer (Phila) 56:1181–1186

Naini AB, Dickerson JW, Brown MM (1988) Preoperative and postoperative levels of plasma protein and amino acid in esophageal and lung cancer patients. Cancer (Phila) 62:355–360

Cascino A, Muscaritoli M, Cangiano C et al (1995) Plasma amino acid imbalance in patients with lung and breast cancer. Anticancer Res 15:507–510

Kubota A, Meguid MM, Hitch DC (1992) Amino acid profiles correlate diagnostically with organ site in three kinds of malignant tumors. Cancer (Phila) 69:2343–2348

Okamoto N, Miyagi Y, Chiba A et al (2009) Diagnostic modeling with differences in plasma amino acid profiles between non-cachectic colorectal/breast cancer patients and healthy individuals. Int J Med Med Sci 1:1–8

Peduzzi P, Concato J, Kemper E et al (1996) A simulation study of the number of events per variable in logistic regression analysis. J Clin Epidemiol 49:1373–1379

R Development Core Team (2009) R: a language and environment for statistical computing. R Foundation for Statistical Computing, Vienna

Proenza AM, Oliver J, Palou A et al (2003) Breast and lung cancer are associated with a decrease in blood cell amino acid content. J Nutr Biochem 14:133–138

Pisters PW, Pearlstone DB (1993) Protein and amino acid metabolism in cancer cachexia: investigative techniques and therapeutic interventions. Crit Rev Clin Lab Sci 30:223–272

Lai HS, Lee JC, Lee PH et al (2005) Plasma free amino acid profile in cancer patients. Semin Cancer Biol 15:267–276

Maeda J, Higashiyama M, Imaizumi A et al (2010) Possibility of multivariate function composed of plasma amino acid profiles as a novel screening index for non-small cell lung cancer: a case control study. BMC Cancer 10:690

Uyttenhove C, Pilotte L, Theate I et al (2003) Evidence for a tumoral immune resistance mechanism based on tryptophan degradation by indoleamine 2,3-dioxygenase. Nat Med 9:1269–1274

Mellor AL, Munn DH (2004) IDO expression by dendritic cells: tolerance and tryptophan catabolism. Nat Rev Immunol 4:762–774

Suzuki Y, Suda T, Furuhashi K et al (2010) Increased serum kynurenine/tryptophan ratio correlates with disease progression in lung cancer. Lung Cancer 67:361–365

Vissers YL, Dejong CH, Luiking YC et al (2005) Plasma arginine concentrations are reduced in cancer patients: evidence for arginine deficiency? Am J Clin Nutr 81:1142–1146

Deligdisch L, Holinka CF (1987) Endometrial carcinoma: two diseases? Cancer Detect Prev 10:237–246

Opolskiene G, Sladkevicius P, Valentin L (2011) Prediction of endometrial malignancy in women with postmenopausal bleeding and sonographic endometrial thickness ≥4.5 mm. Ultrasound Obstet Gynecol 37:232–240
Acknowledgments
The authors thank Mae Inada and Atsuko Fukui for their skilled technical assistance, Hiroshi Miyano, Takashi Yamamoto, Hiroo Yoshida, Mina Nakamura, and Naoko Kageyama, for conducting amino acid analyses, and Mariko Takasu for her patience in coordinating this study.
Conflict of interest
Yutaka Ihata has no conflict of interest; Etsuko Miyagi has no conflict of interest; Reiko Numazaki has no conflict of interest; Takahiko Muramatsu serves as an employee to Ajinomoto Co., Inc.; Akira Imaizumi serves as an employee to Ajinomoto Co., Inc.; Hiroshi Yamamoto serves as an employee to Ajinomoto Co., Inc.; Minoru Yamakado serves as an advisor to Ajinomoto Co., Inc.; Naoyuki Okamoto has no conflict of interest; Fumiki Hirahara has no conflict of interest.
Additional information
Yutaka Ihata and Etsuko Miyagi have contributed equally.
About this article
Cite this article
Ihata, Y., Miyagi, E., Numazaki, R. et al. Amino acid profile index for early detection of endometrial cancer: verification as a novel diagnostic marker. Int J Clin Oncol 19, 364–372 (2014). https://doi.org/10.1007/s10147-013-0565-2
Received:

Accepted:

Published:

Issue Date:

DOI: https://doi.org/10.1007/s10147-013-0565-2
Keywords