Abstract
Background
Trastuzumab demonstrates significant clinical benefits in HER2-positive metastatic breast cancer (MBC), and recent clinical trials suggest that trastuzumab should be continued in combination with other chemotherapy beyond progression. There is an urgent need to assess if patients could substantially benefit from continuing trastuzumab-based therapy.
Methods
We reviewed 91 patients with HER2-positive MBC treated with trastuzumab and investigated correlations between survival and clinical response to first trastuzumab-based therapy and biological markers, time to first tumor progression (1st TTP), response rate (RR), estrogen receptor (ER), Ki-67, and p53 overexpression.
Results
With a median follow-up of 33 months, 76 patients had received two or more lines of consecutive trastuzumab-based therapy. Median 1st TTP was 8.6 months; patients who received trastuzumab with chemotherapy had a longer 1st TTP and better RR than those without chemotherapy. In terms of survival after first progression, patients with a longer 1st TTP (≥8.6 months) had significantly better survival compared with those who had a shorter 1st TTP (24.3 months vs. 15.4 months, P = 0.024), and multivariate analysis revealed that 1st TTP was a significant prognostic factor (HR 0.44, 95% CI 0.23–0.82, P = 0.01). There were no correlations between survival and ER or Ki-67; however, there was a correlation with p53 overexpression (HR 1.92, 95% CI 1.01–3.64, P = 0.045).
Conclusions
1st TTP is a significant prognostic factor for patients who receive subsequent trastuzumab-based therapy. This factor should be considered when determining the efficacy of continuing trastuzumab or switching to another anti-HER2 therapy beyond progression.
Access options
Buy single article
Instant access to the full article PDF.
US$ 39.95
Tax calculation will be finalised during checkout.
Subscribe to journal
Immediate online access to all issues from 2019. Subscription will auto renew annually.
US$ 79
Tax calculation will be finalised during checkout.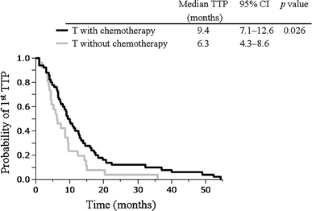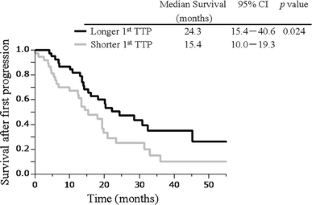 References
1.

Hudis CA (2007) Trastuzumab: mechanism of action and use in clinical practice. N Engl J Med 357:39–51

2.

Dawood S, Broglio K, Buzdar AU et al (2010) Prognosis of women with metastatic breast cancer by HER2 status and trastuzumab treatment: an institutional-based review. J Clin Oncol 28:92–98

3.

Marty M, Cognetti F, Maraninchi D et al (2005) Randomized phase II trial of the efficacy and safety of trastuzumab combined with docetaxel in patients with human epidermal growth factor receptor 2-positive metastatic breast cancer administered as first-line treatment: the M77001 study group. J Clin Oncol 23:4265–4274

4.

Slamon DJ, Leyland-Jones B, Shak S et al (2001) Use of chemotherapy plus a monoclonal antibody against HER2 for metastatic breast cancer that overexpresses HER2. N Engl J Med 344:783–792

5.

Pietras RJ, Pegram MD, Finn RS et al (1998) Remission of human breast cancer xenografts on therapy with humanized monoclonal antibody to HER-2 receptor and DNA-reactive drugs. Oncogene 17:2235–2249

6.

Blackwell KL, Burstein HJ, Storniolo AM et al (2010) Randomized study of Lapatinib alone or in combination with trastuzumab in women with ErbB2-positive, trastuzumab-refractory metastatic breast cancer. J Clin Oncol 28:1124–1130

7.

von Minckwitz G, du Bois A, Schmidt M et al (2009) Trastuzumab beyond progression in human epidermal growth factor receptor 2-positive advanced breast cancer: a German Breast Group 26/Breast International Group 03–05 study. J Clin Oncol 27:1999–2006

8.

Geyer CE, Forster J, Lindquist D et al (2006) Lapatinib plus capecitabine for HER2-positive advanced breast cancer. N Engl J Med 355:2733–2743

9.

Scaltriti M, Rojo F, Ocana A et al (2007) Expression of p95HER2, a truncated form of the HER2 receptor, and response to anti-HER2 therapies in breast cancer. J Natl Cancer Inst 99:628–638

10.

Nagata Y, Lan KH, Zhou X et al (2004) PTEN activation contributes to tumor inhibition by trastuzumab, and loss of PTEN predicts trastuzumab resistance in patients. Cancer Cell 6:117–127

11.

Lu Y, Zi X, Zhao Y et al (2001) Insulin-like growth factor-I receptor signaling and resistance to trastuzumab (Herceptin). J Natl Cancer Inst 93:1852–1857

12.

Metro G, Giannarelli D, Gemma D et al (2010) Time to first tumor progression as outcome predictor of a second trasuzumab-based therapy beyond progression in HER-2 positive metastatic breast cancer. Breast J 16:66–72

13.

Therasse P, Arbuck SG, Eisenhauer EA et al (2000) New guidelines to evaluate the response to treatment in solid tumors. European Organization for Research and Treatment of Cancer, National Cancer Institute of the United States, National Cancer Institute of Canada. J Natl Cancer Inst 92:205–216

14.

Kai K, Nishimura R, Arima N et al (2006) p53 expression status is a significant molecular marker in predicting the time to endocrine therapy failure in recurrent breast cancer: a cohort study. Int J Clin Oncol 11:426–433

15.

Nishimura R, Osako T, Okumura Y et al (2010) Ki-67 as a prognostic marker according to breast cancer subtype and a predictor of recurrence time in primary breast cancer. Exp Ther Med 1:747–754

16.

Molina MA, Codony-Servat J, Albanell J et al (2001) Trastuzumab (herceptin), a humanized anti-Her2 receptor monoclonal antibody, inhibits basal and activated Her2 ectodomain cleavage in breast cancer cells. Cancer Res 61:4744–4749

17.

Hayashi M, Kai K, Okumura Y et al (2011) Shift in cytotoxic target from estrogen receptor-positive to estrogen receptor-negative breast cancer cells by trastuzumab in combination with taxane-based chemotherapy. Oncol Lett 2:303–308

18.

Extra JM, Antoine EC, Vincent-Salomon A et al (2010) Efficacy of trastuzumab in routine clinical practice and after progression for metastatic breast cancer patients: the observational Hermine study. Oncologist 15:799–809

19.

Scaltriti M, Eichhorn PJ, Cortes J et al (2011) Cyclin E amplification/overexpression is a mechanism of trastuzumab resistance in HER2+ breast cancer patients. Proc Natl Acad Sci USA 108:3761–3766

20.

Vogel CL, Cobleigh MA, Tripathy D et al (2002) Efficacy and safety of trastuzumab as a single agent in first-line treatment of HER2-overexpressing metastatic breast cancer. J Clin Oncol 20:719–726

21.

Yamashita H, Toyama T, Nishio M et al (2006) p53 protein accumulation predicts resistance to endocrine therapy and decreased post-relapse survival in metastatic breast cancer. Breast Cancer Res 8:R48

22.

Mohsin SK, Weiss HL, Gutierrez MC et al (2005) Neoadjuvant trastuzumab induces apoptosis in primary breast cancers. J Clin Oncol 23:2460–2468
Acknowledgments
We thank the staff of the Department of Clinical Pathology at Kumamoto City Hospital for their technical assistance.
Conflict of interest
H. Iwase received honoraria from Pfizer and research funding from Chugai-Roche and Novartis. The other authors report no conflict of interest.
About this article
Cite this article
Hayashi, M., Okumura, Y., Osako, T. et al. Time to first tumor progression as a predictor of efficacy of continued treatment with trastuzumab beyond progression in human epidermal growth factor receptor 2-positive metastatic breast cancer. Int J Clin Oncol 16, 694–700 (2011). https://doi.org/10.1007/s10147-011-0251-1
Received:

Accepted:

Published:

Issue Date:
Keywords
Trastuzumab

Time to progression

Treatment beyond progression

Human epidermal growth factor receptor 2

Metastatic breast cancer

p53 overexpression