Abstract
Preserving cortical frontal bridging veins draining into the superior sagittal sinus is a factor of good neurological outcome in anterior interhemispheric transcallosal approaches, classically performed to reach intraventricular tumors. Challenging the idea that veins are utterly variable, we propose a statistical analysis of 100 selective cerebral angiographies to determine where to place the craniotomy in order to expose the most probable vein-free area. The mean distance to the first pre-coronal vein was 6.66 cm (± 1.73, 1.80 to 13.00) and to the first post-coronal vein 0.94 cm (± 0.92, 0 to 3.00) (p < 0.001). The probability of absence of bridging veins was 92.0% at 4 cm anterior to the coronal suture versus 37.5% at 1 cm and 12.5% at 2 cm posteriorly. The length of the surgical corridor (distance between the first pre-coronal and post-coronal vein) was 7.60 cm (± 1.72, 3.00 to 14.10). Overall, the ideal centering point of the craniotomy was 2.86 cm (± 1.08, − 0.65 to 6.50) ahead of the coronal suture. The mean number of veins within 6 cm behind the coronal suture was 8.47 (± 2.11, from 3 to 15) versus 0.530 (± 0.82, from 0 to 3) ahead of the coronal suture (p < 0.001). These findings support a purely pre-coronal 5 cm craniotomy for interhemispheric approaches.
Access options
Buy single article
Instant access to the full article PDF.
US$ 39.95
Tax calculation will be finalised during checkout.
Subscribe to journal
Immediate online access to all issues from 2019. Subscription will auto renew annually.
US$ 79
Tax calculation will be finalised during checkout.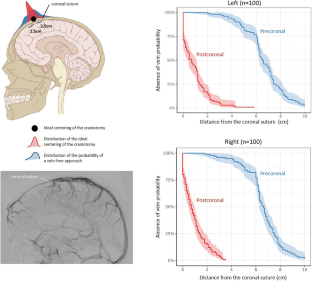 References
1.

Apuzzo MLJ (1993) Brain surgery: complication avoidance and management. Churchill Livingstone

2.

Aryan HE, Ozgur BM, Jandial R, Levy ML (2006) Complications of interhemispheric transcallosal approach in children: review of 15 years experience. Clin Neurol Neurosurg 108:790–793. https://doi.org/10.1016/j.clineuro.2005.10.009

3.

Brockmann C, Kunze SC, Schmiedek P, Groden C, Scharf J (2012) Variations of the superior sagittal sinus and bridging veins in human dissections and computed tomography venography. Clin Imaging 36:85–89. https://doi.org/10.1016/j.clinimag.2011.05.003

4.

Greenberg MS Handbook of neurosurgery

5.

Hassaneen W, Suki D, Salaskar AL, Levine NB, DeMonte F, Lang FF, McCutcheon IE, Dorai Z, Feiz-Erfan I, Wildrick DM, Sawaya R (2010) Immediate morbidity and mortality associated with transcallosal resection of tumors of the third ventricle. J Clin Neurosci 17:830–836. https://doi.org/10.1016/j.jocn.2009.12.007

6.

Hernesniemi J, Romani R, Dashti R, Albayrak BS, Savolainen S, Ramsey C, Karatas A, Lehto H, Navratil O, Niemelä M (2008) Microsurgical treatment of third ventricular colloid cysts by interhemispheric far lateral transcallosal approach-experience of 134 patients. Surg Neurol 69:447–453. https://doi.org/10.1016/j.surneu.2007.11.005

7.

McNatt SA, Sosa IJ, Krieger MD, McComb JG (2011) Incidence of venous infarction after sacrificing middle-third superior sagittal sinus cortical bridging veins in a pediatric population: clinical article. J Neurosurg Pediatr 7:224–228. https://doi.org/10.3171/2010.11.PEDS09261

8.

Ohara K, Inoue T, Ono H, Kiyofuji S, Tamura A, Saito I (2017) Technique for rerouting a bridging vein that hinders the anterior interhemispheric approach: a technical note. Acta Neurochir (Wien) 159:1913–1918. https://doi.org/10.1007/s00701-017-3285-y

9.

Oka K, Rhoton AL, Barry M, Rodriguez R (1985) Microsurgical anatomy of the superficial veins of the cerebrum. Neurosurgery 17:711–748. https://doi.org/10.1227/00006123-198511000-00003

10.

Quiñones-Hinojosa A (2012) Schmidek and sweet operative neurosurgical techniques: indications, methods, and results: Sixth Edition. Elsevier Inc.

11.

Rhoton AL, Yamamoto I, Peace DA (1981) Microsurgery of the third ventricle: Part II. Operative approaches. Neurosurgery 8:357–373. https://doi.org/10.1227/00006123-198103000-00007

12.

Sakaki T, Kakizaki T, Takeshima T, Miyamoto K, Tsujimoto S (1995) Importance of prevention of intravenous thrombosis and preservation of the venous collateral flow in bridging vein injury during surgery: an experimental study. Surg Neurol 44:158–162. https://doi.org/10.1016/0090-3019(95)00160-3

13.

Sampei T, Yasui N, Okudera T, Fukasawa H (1996) Anatomic study of anterior frontal cortical bridging veins with special reference to the frontopolar vein. Neurosurgery 38:971–975. https://doi.org/10.1097/00006123-199605000-00024

14.

Sindou M (2009) Practical handbook of neurosurgery: from leading neurosurgeons. Springer-Verlag

15.

Sindou MP, Auque J, Jouanneau E (2005) Neurosurgery and the intracranial venous system. Acta Neurochir Suppl 94:167–175. https://doi.org/10.1007/3-211-27911-3_27

16.

Tsutsumi K, Shiokawa Y, Sakai T, Aoki N, Kubota M, Saito I (1991) Venous infarction following the interhemispheric approach in patients with acute subarachnoid hemorrhage. J Neurosurg 74:715–719. https://doi.org/10.3171/jns.1991.74.5.0715
Ethics declarations
Ethics approval
Local committee approval.
Informed consent
Use of anonymized data, with patients' consents
Conflict of interest
The authors declare no conflict of interest.
Additional information
Publisher's note
Springer Nature remains neutral with regard to jurisdictional claims in published maps and institutional affiliations.
About this article
Cite this article
Aldea, S., Apra, C., Chauvet, D. et al. Interhemispheric transcallosal approach: going further based on the vascular anatomy. Neurosurg Rev (2021). https://doi.org/10.1007/s10143-021-01480-x
Received:

Revised:

Accepted:

Published:
Keywords
Angiography

DSA

Veins

Coronal suture

Callosotomy

Parasagittal vein