Abstract
The superficial anatomy of the occipital lobe has been described as irregular and highly complex. This notion mainly arises from the variability of the regional sulco-gyral architecture. Our aim was to investigate the prevalence, morphology, and correlative anatomy of the sulci and gyri of the occipital region in cadaveric specimens and to summarize the nomenclature used in the literature to describe these structures. To this end, 33 normal, adult, formalin-fixed hemispheres were studied. In addition, a review of the relevant literature was conducted with the aim to compare our findings with data from previous studies. Hence, in the lateral occipital surface, we recorded the lateral occipital sulcus and the intraoccipital sulcus in 100%, the anterior occipital sulcus in 24%, and the inferior occipital sulcus in 15% of cases. In the area of the occipital pole, we found the transverse occipital sulcus in 88% of cases, the lunate sulcus in 64%, the occipitopolar sulcus in 24%, and the retrocalcarine sulcus in 12% of specimens. In the medial occipital surface, the calcarine fissure and parieto-occipital sulcus were always present. Finally, the basal occipital surface was always indented by the posterior occipitotemporal and posterior collateral sulci. A sulcus not previously described in the literature was identified on the supero-lateral aspect of the occipital surface in 85% of cases. We named this sulcus "marginal occipital sulcus" after its specific topography. In this study, we offer a clear description of the occipital surface anatomy and further propose a standardized taxonomy for clinical and anatomical use.
Access options
Buy single article
Instant access to the full article PDF.
US$ 39.95
Tax calculation will be finalised during checkout.
Subscribe to journal
Immediate online access to all issues from 2019. Subscription will auto renew annually.
US$ 79
Tax calculation will be finalised during checkout.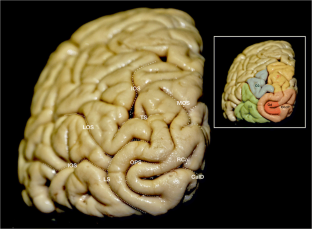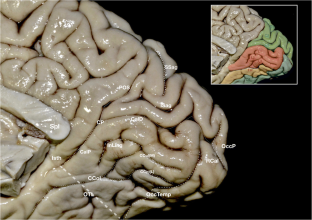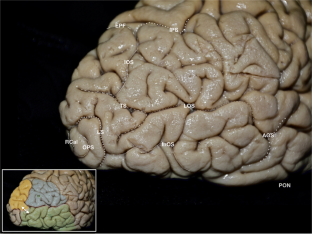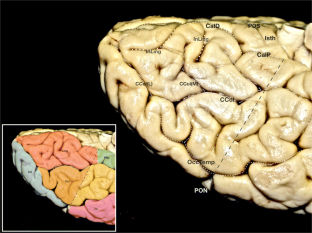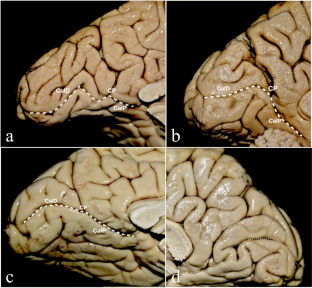 References
1.

Allen JS, Bruss J, Damasio H (2006) Looking for the lunate sulcus: a magnetic resonance imaging study in modern humans. Anat Rec A Discov Mol Cell Evol Biol 288:867–876. https://doi.org/10.1002/ar.a.20362

2.

Alves RV, Ribas GC, Parraga RG, de Oliveira E (2012) The occipital lobe convexity sulci and gyri. J Neurosurg 116:1014–1023. https://doi.org/10.3171/2012.1.JNS11978

3.

Anderson SJ, Holliday IE, Singh KD, Harding GF(1996) Localization and functional analysis of human cortical area V5 using magneto-encephalography. Proc Biol Sci 22;263(1369):423–431.

4.

Brodmann K (1909) Vergleichende Lokalisationslehre der Grosshirnrinde in ihren Prinzipien dargestellt auf Grund des Zellenbaues. Johann Ambrosius Barth, Leipzig

5.

Chau AM, Stewart F, Gragnaniello C (2014) Sulcal and gyral anatomy of the basal occipital-temporal lobe. Surg Radiol Anat 36:959–965. https://doi.org/10.1007/s00276-014-1294-6

6.

Connolly CJ (1950) External morphology of the primate brain. Charles C, Thomas, Springfield, Illinois

7.

Cunningham DJ, Horsley V, Birmingham Medical I (1892) Contribution to the surface anatomy of the cerebral hemispheres. Academy House ; Hodges, Figgis, & Co. ; Williams & Norgate, Dublin

8.

Duvernoy HM, Vansson JL (1999) The human brain: surface, three-dimensional sectional anatomy with MRI, and blood suply. Springer, Wien

9.

Eberstaller O (1884) ZurOberflächen-Anatomie derGrosshirn-Hemisphären. WienMed Blätter. 7:610–616

10.

Economo CV, Koskinas GN (1925) Die Cytoarchitektonik der Hirnrinde des erwachsenen Menschen. Atlas Atlas. Springer, Wien

11.

Eliyas JK, Glynn R, Kulwin CG, Rovin R, Young R, Alzate J, Pradilla G, Shah MV, Kassam A, Ciric I, Bailes J (2016) Minimally invasive transsulcal resection of intraventricular and periventricular lesions through a tubular retractor system: multicentric experience and results. World Neurosurg 90:556–564. https://doi.org/10.1016/j.wneu.2015.12.100

12.

Flores LP (2002) Occipital lobe morphological anatomy: anatomical and surgical aspects. Arq Neuropsiquiatr 60:566–571

13.

Germano IM (1996) Transsulcal approach to mesiotemporal lesions. Anatomy, technique, and report of three cases. Neurosurg Focus 1:e4

14.

Gurer B, Bozkurt M, Neves G, Cikla U, Hananya T, Antar V, Salamat S, Baskaya MK (2013) The subparietal and parietooccipital sulci: an anatomical study. Clin Anat 26:667–674. https://doi.org/10.1002/ca.22277

15.

Harkey HL, al-Mefty O, Haines DE, Smith RR (1989) The surgical anatomy of the cerebral sulci. Neurosurgery 24:651–654. https://doi.org/10.1227/00006123-198905000-00001

16.

Iaria G, Petrides M (2007) Occipital sulci of the human brain: variability and probability maps. J Comp Neurol 501:243–259. https://doi.org/10.1002/cne.21254

17.

Jabre A, Patel A (2006) Transsulcal microsurgical approach for subcortical small brain lesions: technical note. Surg Neurol 65:312–313; discussion 313-314. https://doi.org/10.1016/j.surneu.2005.06.033

18.

Koutsarnakis C, Liakos F, Liouta E, Themistoklis K, Sakas D, Stranjalis G (2016) The cerebral isthmus: fiber tract anatomy, functional significance, and surgical considerations. J Neurosurg 124(2):450–62. https://doi.org/10.3171/2015.3.JNS142680.

19.

Koutsarnakis C, Liakos F, Kalyvas AV, Liouta E, Emelifeonwu J, Kalamatianos T, Sakas DE, Johnson E, Stranjalis G (2017) Approaching the atrium through the intraparietal sulcus: mapping the sulcal morphology and correlating the surgical corridor to underlying fiber tracts. Oper Neurosurg (Hagerstown) 13:503–516. https://doi.org/10.1093/ons/opw037

20.

Koutsarnakis C, Liakos F, Kalyvas AV, Skandalakis GP, Komaitis S, Christidi F, Karavasilis E, Liouta E, Stranjalis G (2017) The superior frontal transsulcal approach to the anterior ventricular system: exploring the sulcal and subcortical anatomy using anatomic dissections and diffusion tensor imaging tractography. World Neurosurg 106:339–354. https://doi.org/10.1016/j.wneu.2017.06.161

21.

Koutsarnakis C, Kalyvas AV, Komaitis S, Liakos F, Skandalakis GP, Anagnostopoulos C, Stranjalis G (2018) Defining the relationship of the optic radiation to the roof and floor of the ventricular atrium: a focused microanatomical study. J Neurosurg:1-12. doi:https://doi.org/10.3171/2017.10.JNS171836

22.

Kuhlenbeck (1928) Bemerkungen zur Morphologie das Occipital- lappens des menschlichen Grosshirns. Anat Anz 65:273–294

23.

Malikovic A, Vucetic B, Milisavljevic M, Tosevski J, Sazdanovic P, Milojevic B, Malobabic S (2012) Occipital sulci of the human brain: variability and morphometry. Anat Sci Int 87:61–70. https://doi.org/10.1007/s12565-011-0118-6

24.

Mikuni N, Hashimoto N (2006) A minimally invasive transsulcal approach to the paracentral inner lesion. Minim Invasive Neurosurg 49:291–295. https://doi.org/10.1055/s-2006-955070

25.

Miyagi Y, Shima F, Ishido K, Araki T, Kamikaseda K (2001) Inferior temporal sulcus as a site of corticotomy: magnetic resonance imaging analysis of individual sulcus patterns. Neurosurgery 49:1394–1397; discussion 1397-1398. https://doi.org/10.1097/00006123-200112000-00017

26.

Nagata S, Sasaki T (2005) Lateral transsulcal approach to asymptomatic trigonal meningiomas with correlative microsurgical anatomy: technical case report. Neurosurgery 56:E438; discussion E438. https://doi.org/10.1227/01.neu.0000156553.94932.dd

27.

Ono M, Abernathy CD, Kubik S (1990) Atlas of the cerebral sulci. Georg Thieme Verlag, Stuttgart

28.

Pia HW (1986) Microsurgery of gliomas. Acta Neurochir 80:1–11. https://doi.org/10.1007/bf01809550

29.

Rhoton AL Jr (2002) The cerebrum. Neurosurgery 51:S1–S51. https://doi.org/10.1097/00006123-200210001-00002

30.

Ribas GC (2010) The cerebral sulci and gyri. Neurosurg Focus 28:E2. https://doi.org/10.3171/2009.11.FOCUS09245

31.

Ribas GC, Yasuda A, Ribas EC, Nishikuni K, Rodrigues AJ Jr (2006) Surgical anatomy of microneurosurgical sulcal key points. Operative. Neurosurgery 59:ONS-177–ONS-211

32.

Seeger W (1978): Atlas of Topographical Anatomy of the Brain and Surrounding Structures. Vienna, Springer

33.

Sereno MI, Tootell RBH (2005) From monkeys to humans: what do we now know about brain homologies? CONEUR Curr Opin Neurobiol 15:135–144

34.

Smith GE (1904) The morphology of the retrocalcarine region of the cortex cerebri. procroyasocilon3. Proc R Soc Lond 73:59–65

35.

Testut L, Jacob O (1932). Topographic Anatomy Textbook, edn 5. Barcelona: Salvat

36.

Tootell RBH, Hadjikhani N (2001) Where is'Dorsal V4'in human visual cortex? Retinotopic, topographic and functional evidence. Cereb Cortex 11:298

37.

Tootell RBH, Mendola JD, Hadjikhani NK, Ledden PJ, Liu AK, Reppas JB, Sereno MI, Dale AM (1997) Functional analysis of V3A and related areas in human visual cortex. J Neurosci 17:7060–7078

38.

Yasargil MG (1999) A legacy of microneurosurgery: memoirs, lessons, and axioms. Neurosurgery 45:1025–1092. https://doi.org/10.1097/00006123-199911000-00014

39.

Yasargil MG, Abdulrauf SI (2008) Surgery of intraventricular tumors. Neurosurgery 62:1029–1040; discussion 1040-1021. https://doi.org/10.1227/01.neu.0000333768.12951.9a

40.

Yasargil MG, Cravens GF, Roth P (1988) Surgical approaches to "inaccessible" brain tumors. Clin Neurosurg 34:42–110

41.

Yasargil MG, Adamson TE, Lang AT¸Re U, Roth P (1994) CNS tumors: surgical anatomy, neuropathology, neuroradiology, neurophysiology, clinical considerations, operability, treatment options. G. Thieme ; Thieme Medical Publishers, Stuttgart
Funding
No funding was received for this study.
Ethics declarations
Conflict of interest
The authors declare no conflict of interest regarding the materials or methods used in the current study or the findings specified in this paper.
Ethical approval
This is a cadaveric study not involving human participants and/or animals and therefore does require authorization of ethical committee (ethical approval).
Informed consent
This is a cadaveric study not involving human participants or patient information and therefore does not require ethical approval or informed consent.
Additional information
Publisher's note
Springer Nature remains neutral with regard to jurisdictional claims in published maps and institutional affiliations.
About this article
Cite this article
Koutsarnakis, C., Komaitis, S., Drosos, E. et al. Mapping the superficial morphology of the occipital lobe: proposal of a universal nomenclature for clinical and anatomical use. Neurosurg Rev 44, 335–350 (2021). https://doi.org/10.1007/s10143-019-01212-2
Received:

Revised:

Accepted:

Published:

Issue Date:
Keywords
Occipital surface anatomy

Occipital lobe

Sulci

Gyri

Brain anatomy