Abstract
Despite the increasing utility of the endoscopic endonasal approach (EEA) for management of anterior skull base (ASB) pathologies, the optimal treatment strategy for olfactory groove meningiomas (OGM) remains unclear. This project sought to systematically compare outcomes of EEA management with conventional transcranial approach (TCA) for the treatment of OGMs. A systematic review was performed to identify studies that compared outcomes following EEA and TCA for OGMs. Data extracted from each study included gross total resection (GTR), incidence of cerebrospinal fluid (CSF) leaks, and post-operative complications including anosmia. The results of the search yielded 5 studies which met the criteria for inclusion and analysis. All studies compared TCA (n = 922) with EEA (n = 141) outcomes for OGMs. Overall, the rate of gross total resection (GTR) was lower among the endoscopic group (70.9%) relative to the transcranial group (91.5%). The rate of post-operative CSF leak was 6.3% vs. 25.5% for the transcranial and endoscopic groups, respectively. Post-operative anosmia was higher for patients undergoing EEA (95.9%) compared with patients in the transcranial group (37.4%). In this analysis, EEA was associated with a lower rate of GTR and higher incidences of CSF leaks and post-operative anosmia. However, with increasing surgeon familiarity of the endoscopic anatomy and technique for managing ASB pathologies, a nuanced approach may be used to minimize patient morbidity and widen the spectrum of skull base surgery.
This is a preview of subscription content, log in to check access.
Access options
Buy single article
Instant access to the full article PDF.
US$ 39.95
Tax calculation will be finalised during checkout.
Subscribe to journal
Immediate online access to all issues from 2019. Subscription will auto renew annually.
US$ 99
Tax calculation will be finalised during checkout.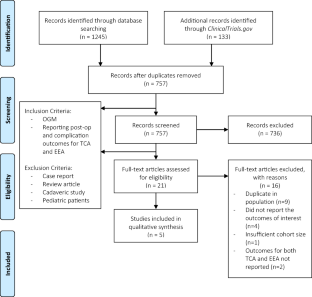 References
1.

Linsler S, Keller C, Urbschat S et al (2016) Prognosis of meningiomas in the early 1970s and today. Clin Neurol Neurosurg 149:98–103

2.

Nakamura M, Struck M, Roser F et al (2007) Olfactory groove meningiomas: clinical outcome and recurrence rates after tumor removal through the frontolateral and bifrontal approach. Neurosurgery. 60(5):844–852

3.

Spektor S, Valarezo J, Fliss DM et al (2005) Olfactory groove meningiomas from neurosurgical and ear, nose, and throat perspectives: approaches, techniques, and outcomes. Neurosurgery. 57(4 Suppl):268–280

4.

Jho HD, Ha HG (2004) Endoscopic endonasal skull base surgery: Part 1--The midline anterior fossa skull base. Minim Invasive Neurosurg 47(1):1–8

5.

Gardner PA, Kassam AB, Thomas A et al (2008) Endoscopic endonasal resection of anterior cranial base meningiomas. Neurosurgery. 63(1):36–52

6.

Van Gompel JJ, Frank G, Pasquini E et al (2011) Expanded endonasal endoscopic resection of anterior fossa meningiomas: report of 13 cases and meta-analysis of the literature. Neurosurg Focus 30(5):E15

7.

de Divitiis E, Esposito F, Cappabianca P, Cavallo LM, de Divitiis O, Esposito I (2008) Endoscopic transnasal resection of anterior cranial fossa meningiomas. Neurosurg Focus 25(6):E8

8.

Dehdashti AR, Ganna A, Witterick I et al (2009) Expanded endoscopic endonasal approach for anterior cranial base and suprasellar lesions: indications and limitations. Neurosurgery 64(4):677–687

9.

Komotar RJ, Starke RM, Raper DM, Anand VK, Schwartz TH (2012) Endoscopic endonasal versus open transcranial resection of anterior midline skull base meningiomas. World Neurosurg 77(5-6):713–724

10.

Shetty SR, Ruiz-Treviño AS, Omay SB et al (2017) Limitations of the endonasal endoscopic approach in treating olfactory groove meningiomas. A systematic review. Acta Neurochir 159(10):1875–1885

11.

de Almeida JR (2015) Carvalho F, Vaz Guimaraes Filho F, et al. Comparison of endoscopic endonasal and bifrontal craniotomy approaches for olfactory groove meningiomas: a matched pair analysis of outcomes and frontal lobe changes on MRI. J Clin Neurosci 22(11):1733–1741

12.

Banu MA, Mehta A, Ottenhausen M et al (2016) Endoscope-assisted endonasal versus supraorbital keyhole resection of olfactory groove meningiomas: comparison and combination of 2 minimally invasive approaches. J Neurosurg 124(3):605–620

13.

Liu JK, Silva NA, Sevak IA, Eloy JA (2018) Transbasal versus endoscopic endonasal versus combined approaches for olfactory groove meningiomas: importance of approach selection. Neurosurg Focus 44(4):E8

14.

Muskens IS, Briceno V, Ouwehand TL et al (2018) The endoscopic endonasal approach is not superior to the microscopic transcranial approach for anterior skull base meningiomas—a meta-analysis. Acta Neurochir 160(1):59–75

15.

Mansouri A, Klironomos G, Taslimi S, Kilian A, Gentili F, Khan OH, Aldape K, Zadeh G (2016) Surgically resected skull base meningiomas demonstrate a divergent postoperative recurrence pattern compared with non-skull base meningiomas. J Neurosurg 125(2):431–440

16.

Koutourousiou M et al (2012) Endoscopic endonasal approach for resection of cranial base chordomas: outcomes and learning curve. Neurosurgery. 71(3):614–625

17.

Liu JK et al (2012) Surgical nuances for nasoseptal flap reconstruction of cranial base defects with high-flow cerebrospinal fluid leaks after endoscopic skull base surgery. Neurosurg Focus 32(6):E7

18.

Wheless SA et al (2011) Nasoseptal flap closure of traumatic cerebrospinal fluid leaks. Skull Base 21(2):93–98
Ethics declarations
Conflict of interest
The authors declare that they have no conflict of interest.
Ethical approval
This article does not contain any studies with human participants or animals performed by any of the authors.
Informed consent
Only published studies were used for our analysis, and no patient medical records were accessed in completing this article. Thus, patients' consent was not required.
Additional information
Publisher's note
Springer Nature remains neutral with regard to jurisdictional claims in published maps and institutional affiliations.
Electronic supplementary material
Supplemental Digital Content [1]. Methods. Appendix A. The search strategy in PubMed, Embase, Cochrane, Web of Science, Scopus, CINAHL, and ClinicalTrials.gov (PDF 60 kb)
About this article
Cite this article
Purohit, A., Jha, R., Khalafallah, A.M. et al. Endoscopic endonasal versus transcranial approach to resection of olfactory groove meningiomas: a systematic review. Neurosurg Rev 43, 1465–1471 (2020). https://doi.org/10.1007/s10143-019-01193-2
Received:

Revised:

Accepted:

Published:

Issue Date:
Keywords
Craniotomy

Endoscopy

Meningioma

Olfactory groove

Skull base