Abstract
The purpose of this study was to evaluate the natural history of patients with these heterogeneous aneurysms to provide guidance for their treatment. This retrospective analysis was performed at a single institution and included 137 patients with complex intracranial aneurysms who underwent a natural history evaluation. Among the 115 patients who underwent bypass surgery, stroke (n = 39, 33.9%) was the most common clinical symptom followed by progressively severe headaches (n = 25, 21.7%). Of the 104 patients with follow-up information, 87 (83.7%) returned to a normal life within a mean follow-up of 4.17 ± 2.09 years. Ten deaths (9.6%) occurred after a mean of 1.3 ± 0.9 years. Among the 22 patients who selected nonsurgical treatment, mass effect (n = 9, 40.9%) was the most common clinical presentation, and 14 deaths (63.6%) occurred after a mean of 3.3 ± 2.5 years. The modified Rankin scale (mRS) scores of 5 survivors (5/22, 22.7%) progressed from 0–2 at initial presentation to 3–4. Bypass surgical treatment for these aneurysms appears to be effective and can achieve good clinical outcomes without additional limitations related to individual aneurysms despite the impact of recent endovascular techniques on vascular surgery.
This is a preview of subscription content, log in to check access.
Access options
Buy single article
Instant access to the full article PDF.
US$ 39.95
Tax calculation will be finalised during checkout.
Subscribe to journal
Immediate online access to all issues from 2019. Subscription will auto renew annually.
US$ 99
Tax calculation will be finalised during checkout.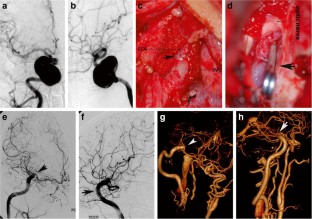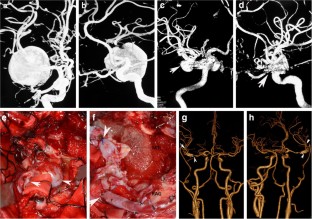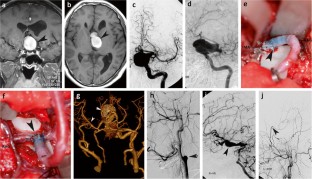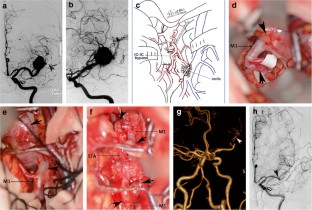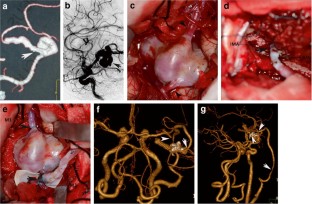 References
1.

Bohnstedt BN, Ziemba-Davis M, Sethia R, Payner TD, DeNardo A, Scott J, Cohen-Gadol AA (2017) Comparison of endovascular and microsurgical management of 208 basilar apex aneurysms. J Neurosurg 127:1342–1352. https://doi.org/10.3171/2016.8.Jns16703

2.

Christiano LD, Gupta G, Prestigiacomo CJ, Gandhi CD (2009) Giant serpentine aneurysms. Neurosurgical focus 26:E5. https://doi.org/10.3171/2009.2.Focus0918

3.

Hanel RA, Spetzler RF (2008) Surgical treatment of complex intracranial aneurysms. Neurosurgery 62:1289–1297; discussion 1297-1289. https://doi.org/10.1227/01.neu.0000333794.13844.d9

4.

Jing L, Zhong J, Liu J, Yang X, Paliwal N, Meng H, Wang S, Zhang Y (2016) Hemodynamic effect of flow diverter and coils in treatment of large and giant intracranial aneurysms. World Neurosurg 89:199–207. https://doi.org/10.1016/j.wneu.2016.01.079

5.

Jo KI, Kim HR, Yeon JY, Hong SC, Kim JS (2015) Treatment outcomes of surgical clipping for unruptured anterior circulation aneurysm-single institute experiences in the era of neurophysiologic monitoring and endovascular treatment. Neurosurg Rev 38:677–682. https://doi.org/10.1007/s10143-015-0642-2

6.

Kalani MY, Zabramski JM, Nakaji P, Spetzler RF (2014) Twenty-year follow-up of flow reversal and revascularization for a giant serpentine basilar artery aneurysm. Neurosurgery 10 Suppl 3:E493-497; discussion E497. https://doi.org/10.1227/neu.0000000000000438

7.

Kandemirli SG, Cekirge S, Oran I, Saatci I, Kizilkilic O, Cinar C, Islak C, Kocer N (2018) Intracranial serpentine aneurysms: spontaneous changes of angiographic filling pattern. AJNR American journal of neuroradiology 39:1662–1668. https://doi.org/10.3174/ajnr.A5746

8.

Molyneux A, Kerr R, Birks J (2013) Barrow ruptured aneurysm trial. J Neurosurg 119:139–141. https://doi.org/10.3171/2012.11.Jns121406

9.

Nossek E, Langer DJ (2018) Internal maxillary artery to middle cerebral artery cranial bypass: the new "work horse" for cerebral flow replacement. World Neurosurg 115:44–46. https://doi.org/10.1016/j.wneu.2018.03.214

10.

Passero SG, Rossi S (2008) Natural history of vertebrobasilar dolichoectasia. Neurology 70:66–72. https://doi.org/10.1212/01.wnl.0000286947.89193.f3

11.

Peerless SJ, Drake CG (1990) Management of aneurysms of the posterior circulation. In: Youmans J, ed Neurological surgery Philadelphia, PA: WB Saunders Co:1764-1808

12.

Sedat J, Chau Y, Mondot L, Vargas J, Szapiro J, Lonjon M (2009) Endovascular occlusion of intracranial wide-necked aneurysms with stenting (neuroform) and coiling: mid-term and long-term results. Neuroradiology 51:401–409. https://doi.org/10.1007/s00234-009-0502-2

13.

Shi X, Qian H, Fang T, Zhang Y, Sun Y, Liu F (2015) Management of complex intracranial aneurysms with bypass surgery: a technique application and experience in 93 patients. Neurosurg Rev 38:109–119; discussion 119-120. https://doi.org/10.1007/s10143-014-0571-5

14.

Shi X, Qian H, CK K, Zhang Y, Zhou Z, Sun Y (2011) Bypass of the maxillary to proximal middle cerebral artery or proximal posterior cerebral artery with radial artery graft. Acta Neurochir (Wien) 153:1649–1655; discussion 1655. https://doi.org/10.1007/s00701-011-1070-x

15.

Shi X, Qian H, Singh KC, Zhang Y, Zhou Z, Sun Y, Liu F (2013) Surgical management of vertebral and basilar artery aneurysms: a single center experience in 41 patients. Acta Neurochir (Wien) 155:1087–1093. https://doi.org/10.1007/s00701-013-1656-6

16.

Sughrue ME, Saloner D, Rayz VL, Lawton MT (2011) Giant intracranial aneurysms: evolution of management in a contemporary surgical series. Neurosurgery 69:1261–1270; discussion 1270-1261. https://doi.org/10.1227/NEU.0b013e31822bb8a6

17.

Vendrell JF, Costalat V, Brunel H, Riquelme C, Bonafe A (2011) Stent-assisted coiling of complex middle cerebral artery aneurysms: initial and midterm results. AJNR American journal of neuroradiology 32:259–263. https://doi.org/10.3174/ajnr.A2272

18.

Wang L, Shi X, Qian H (2017) Flow reversal bypass surgery: a treatment option for giant serpentine and dolichoectatic aneurysms-internal maxillary artery bypass with an interposed radial artery graft followed by parent artery occlusion. Neurosurg Rev 40:319–328. https://doi.org/10.1007/s10143-016-0778-8

19.

Wiebers DO, Whisnant JP, Huston J, 3rd, Meissner I, Brown RD, Jr., Piepgras DG, Forbes GS, Thielen K, Nichols D, O'Fallon WM, Peacock J, Jaeger L, Kassell NF, Kongable-Beckman GL, Torner JC (2003) Unruptured intracranial aneurysms: natural history, clinical outcome, and risks of surgical and endovascular treatment. Lancet (London, England) 362:103-110

20.

Wolters FJ, Rinkel GJ, Vergouwen MD (2013) Clinical course and treatment of vertebrobasilar dolichoectasia: a systematic review of the literature. Neurological research 35:131–137. https://doi.org/10.1179/1743132812y.0000000149

21.

Xu DS, Levitt MR, Kalani MYS, Rangel-Castilla L, Mulholland CB, Abecassis IJ, Morton RP, Nerva JD, Siddiqui AH, Levy EI, Spetzler RF, Albuquerque FC, McDougall CG (2018) Dolichoectatic aneurysms of the vertebrobasilar system: clinical and radiographic factors that predict poor outcomes. J Neurosurg 128:560–566. https://doi.org/10.3171/2016.10.Jns161041
Funding
Beijing Municipal Science and Technology Commission provided financial support in the form of a Natural Science Foundation of Beijing Municipality funding grant (no. 7161005 to Xiang'en Shi) and a Capital Foundation of Medical Development grant (no. Z161100000516019 to Xiang'en Shi).
Ethics declarations
Conflict of interest
The authors declare that they have no conflict of interest.
Ethical approval
All procedures performed in studies involving human participants were in accordance with the ethical standards of the institutional and/or national research committee (Beijing Municipal Science and Technology Commission) and with the 1964 Helsinki Declaration and its later amendments or comparable ethical standards.
Patient consent
Written informed consent was obtained from all patients included in this study.
Additional information
Publisher's note
Springer Nature remains neutral with regard to jurisdictional claims in published maps and institutional affiliations.
About this article
Cite this article
Zhang, J., Shi, X., Liu, F. et al. Natural history and clinical outcomes in patients with complex intracranial aneurysms: a review of 115 bypass cases and 22 nonsurgical cases. Neurosurg Rev 43, 1605–1613 (2020). https://doi.org/10.1007/s10143-019-01191-4
Received:

Revised:

Accepted:

Published:

Issue Date:
Keywords
Complex intracranial aneurysms

Outcome

Bypass

Natural history