Abstract
Fedor Krause's inspiring biography shows the value of translational thinking: one of the fathers of modern neurosurgery, this gifted child was recognized for his musical talent; he was able to study medicine thanks to financial support in recognition for his study performances. He wrote his doctor thesis on pneumology, and contributed to general surgery, neuroanaesthesiology, and neurosurgery application of novel technologies in neurosurgery and ethics. More in detail, in the neurosurgical field, he performed the first lumbar discectomy, set up intraoperative nerve monitoring, and pioneered trigeminal and acusticus nerve surgery, epilepsy surgery, and cortical mapping. His passion and engagement for surgery allowed him to make small centers turn into great centers recognized as renowned academic environments.
Access options
Buy single article
Instant access to the full article PDF.
US$ 39.95
Tax calculation will be finalised during checkout.
Subscribe to journal
Immediate online access to all issues from 2019. Subscription will auto renew annually.
US$ 79
Tax calculation will be finalised during checkout.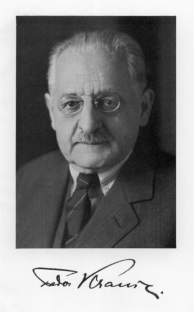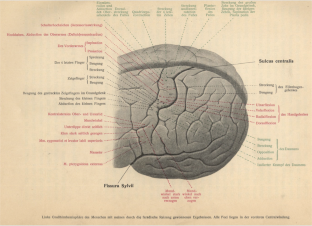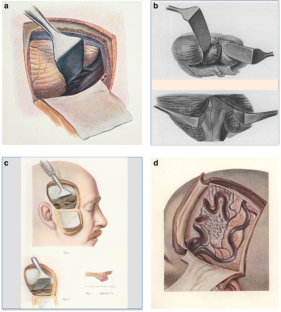 References
1.

Krause F (1941) Die spezielle Chirurgie der Gehirnkrankheiten, Bd. III Reihe Neue Deutsche Chirurgie, Band 50. F. Enke-Verlag, Stuttgart

2.

Alexander E Jr, Alexander E III (1981) German influences on the work of Harvey Cushing, the pioneer of neurosurgery in America. Neurosurgery 9(5):501–505

3.

Buchfelder M (2005) From trephination to tailored resection: neurosurgery in Germany before World War II. Neurosurgery 56(3):605–613

4.

Bushe KA (1991) How it all came about". On the beginnings of current neurosurgery in Germany up to the beginning of the "Zentralblatt für Neurochirurgie. Zentralbl Neurochir 52(1):7–16

5.

Costea CF, Turliuc DM, Sava A, Dumitrescu GF, Cucu AI, Patrașcanu E, Trandafir D, Turliuc Ș (2016) Fedor Krause (1857-1937): the father of German neurosurgery. Rom Neurosurg 30(2):241–247

6.

Greenblatt SH, Dagi TF, Epstein MH (eds) (1997) History of neurosurgery. The American Association of Neurological Surgeons, Park Ridge

7.

Horwitz NH (1996) Fedor Krause (1857-1937). Neurosurgery 38(4):844–848

8.

Krause F (1911) Die Chirurgie des Gehirns und Rückenmarks nach eigenen Erfahrungen (Band 2), Urban und Schwarzenberg, Berlin und Wien (Source: Archiv für Geschichte der Deutschen Neurochirurgie, Würzburg)

9.

Vilensky JA, Gilman S (2002) Horsley was the first to use electrical stimulation of the human cerebral cortex intraoperatively. Surg Neurol 58(6):425–426

10.

Jackler RK, Whinney D (2001) A century of eighth nerve surgery. Otol Neurotol 22(3):401–416

11.

Feindel W, Leblanc R, de Almeida AN (2009) Epilepsy surgery: historical highlights 1909-2009. Epilepsia 50(Suppl 3):131–151

12.

Schijns OE, Hoogland G, Kubben PL, Koehler PJ (2015) The start and development of epilepsy surgery in Europe: a historical review. Neurosurg Rev 38(3):447–461

13.

Castro ID, Santos DP, Christoph Dde H, Landeiro JA (2005) The history of spinal surgery for disc disease: an illustrated timeline. Arq Neuropsiquiatr 63(3A):701–706

14.

Collmann H, Vitzthum HE (2008) Historical perspective on neurosurgery in Germany after World War II. Neurosurgery 63(5):989–999 discussion 999-1000

15.

Gruber P, Sciatica BT (2015) From stretch rack to microdiscectomy. Unfallchirurg. 118(Suppl 1):53–65

16.

Krause F (1908) Die Chirurgie des Gehirns und Rückenmarks nach eigenen Erfahrungen (Band 1), Urban und Schwarzenberg, Berlin und Wien (Source: Archiv für Geschichte der Deutschen Neurochirurgie, Würzburg)

17.

Jefferson G (1961) Fedor Krause and neurological surgery (Fedor-Krause-Gedächtnisvorlesung - Fedor Krause und die neurologische Chirurgie). Acta Neurochir 9(5):661–664

18.

Kuhlendahl H (1973) Beginnings of neurosurgery in Germany: Fedor Krause. With comments on the understanding of medical history. Z Neurol 204(3):159–163

19.

Reisch R, Perneczky A, Filippi R (2003) Surgical technique of the supraorbital key-hole craniotomy. Surg Neurol 59(3):223–227

20.

Rosegay H (1992) Historical vignette: the Krause operations. J Neurosurg 76(6):1032–1036

21.

Thomas JL (1938) Operation upon the Gasserian ganglion by the Hartley-Krause method for facial neuralgia: three years after. Br Med J 1(1938):487–488

22.

Lanier WL (2012) The history of neuroanesthesiology: the people, pursuits, and practices. J Neurosurg Anesthesiol 24(4):281–299

23.

Elhadi AM, Kalb S, Martirosyan NL, Agrawal A, Preul MC (2012) Fedor Krause: the first systematic use of X-rays in neurosurgery. Neurosurg Focus 33(2):E4

24.

Collmann H, Halves E, Arnold H (2002) Neurosurgery in Germany from 1880 to 1932. In Neurosurgery in Germany. History. 50 years of German Society of Neurosurgery. Hansisches Verlagskontor, Lübeck, pp 39-52

25.

Menon J, Riskin DJ (2015) Technological innovation and ethical response in neurosurgery. Virtual Mentor 17(1):62–68

26.

Figueiredo EG, Almeida da Silva S, Jacobsen Teixeira M, Belykh E, Carotenuto A, Moreira LB, Spetzler RF, Dagi TF, Preul MC (2019) Travels to the tropics: Deutschtum and Fedor Krause's visits to Brazil. J Neurosurg 5:1–8

27.

Shucart WA (1975) Fedor Krause, 1856-1937. Surg Neurol 3(3):115–117

28.

Tertsch D (1989) The 100th anniversary of neurosurgery in Halle. Zentralbl Neurochir 50(1):1–8
Acknowledgments
The authors wish to thank Prof. Hartmut Collmann, Würzburg, for helpful and important comments and for the images.
Ethics declarations
The present study is a historical review and thus neither ethics approval nor informed consent were required.
Conflict of interest
The authors declare that they have no conflict of interest.
Additional information
Publisher's note
Springer Nature remains neutral with regard to jurisdictional claims in published maps and institutional affiliations.
About this article
Cite this article
Bacigaluppi, S., Bragazzi, N.L. & Martini, M. Fedor Krause (1857–1937): the father of neurosurgery. Neurosurg Rev 43, 1443–1449 (2020). https://doi.org/10.1007/s10143-019-01186-1
Received:

Revised:

Accepted:

Published:

Issue Date:
Keywords
Fedor Krause

History of neurosurgery

Epilepsy surgery

Cortical stimulation

Trigeminal nerve surgery

Cranial nerve decompression

Lumbar disc surgery

Vestibular schwannoma